Get started with a FREE 30-Minute Account Analysis!
Recommended by 225 businesses and counting
★★★★★
"We've already saved hundreds of dollars in wasted ad spend since talking to Luke, and will add thousands of dollars more in revenue over the next year. It's really is a no brainer if you're serious about your ecommerce business."
Matt, Armstrong, Amerika Pain Relief
★★★★★
"Luke pointed out at least 3 major areas of my ad campaign that were losing me money. I've since made several thousand in extra sales based on his advice. His advice is 100% recommended. Thank you, Luke."
Chris, Hibermate, Sleep Solutions
Get a free account analysis to learn how we can double, triple or 10x your Google Ads leads using our 90-day sprints.
"I'm running Google ads, but my results
be better."
It's a story we hear over and over from clients who have hired a different Google Ads agency that got great results at first and then disappeared off the face of the Earth, while still charging a monthly fee.
Maybe your results WERE good, and have plateaued. The market is always changing, so if your ads strategy isn't changing to reflect that, it's time to get another set of eyes on your Google Ads account.
Even if your results ARE still good, you deserve the confidence that your Google Ads Agency is doing all they can to take a proactive approach.
That's why Grow My Ads offers a FREE Ads Analysis!
We want to help you understand what's working and what's not so you can be sure that you're on the right path to maximize your results.
Here's how to get a step-by-step guide that shows you EXACTLY what to change to make your Google Ads Conversions and ROI EXPLODE
Best of all, it's risk-free because you pay nothing unless you hire us for a 90-Day Growth Sprint.
Now is your chance to get your ad account tuned up, dialed in and producing 50-100% better results than ever previously — all at no cost (usually $500). Book your Ads Analysis Call now to get better results from your Google Ads starting today (limited availability).
From $100/mo in sales to consistent $100,000/mo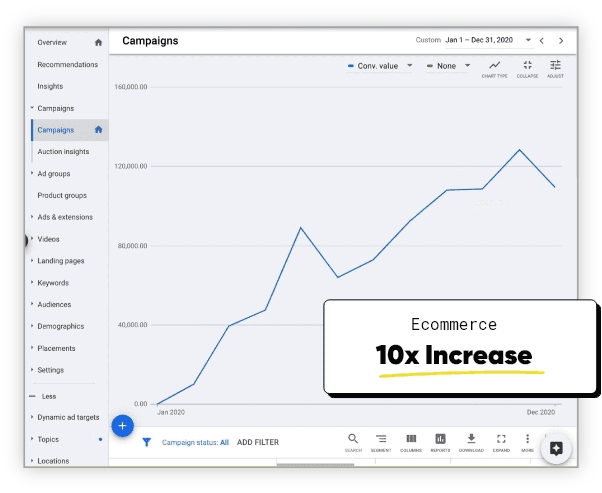 From $100/mo in sales to consistent $100,000/mo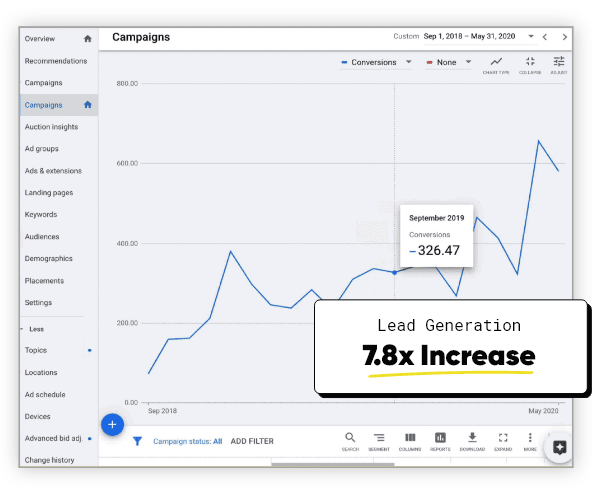 From $28k/mo in sales to $368k/mo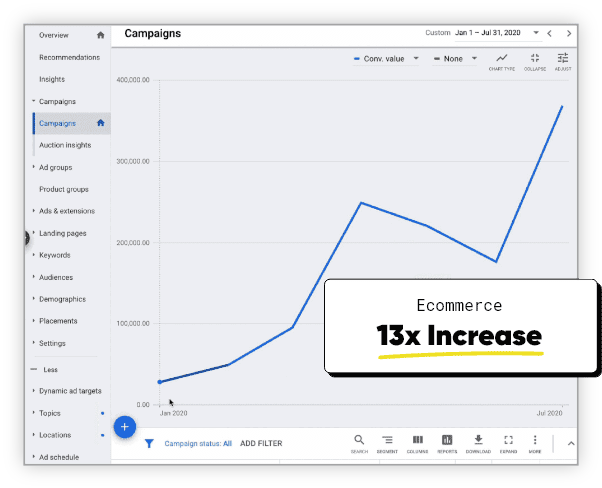 From $3k/mo in sales to $37k/mo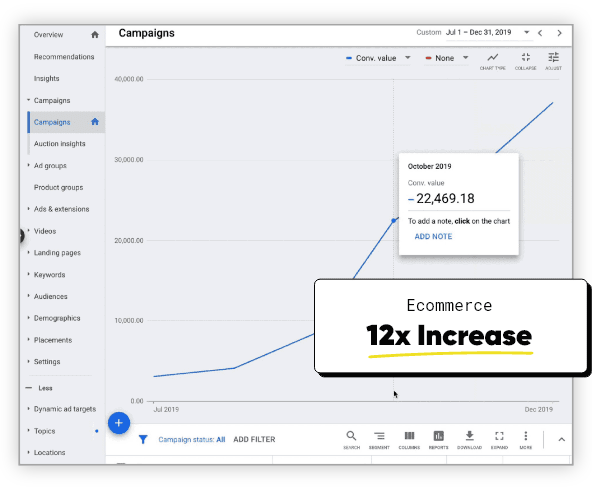 Now you can take advantage of our breakthrough
limited time only

)

– at no cost – by booking a personalized, 1-on-1 Google Ads account review & roadmap for your business (

Here's a sample of the results we're helping clients get:
This is a custom tailored, in depth analysis of your Google Ads account that reveals day one improvements to your campaigns.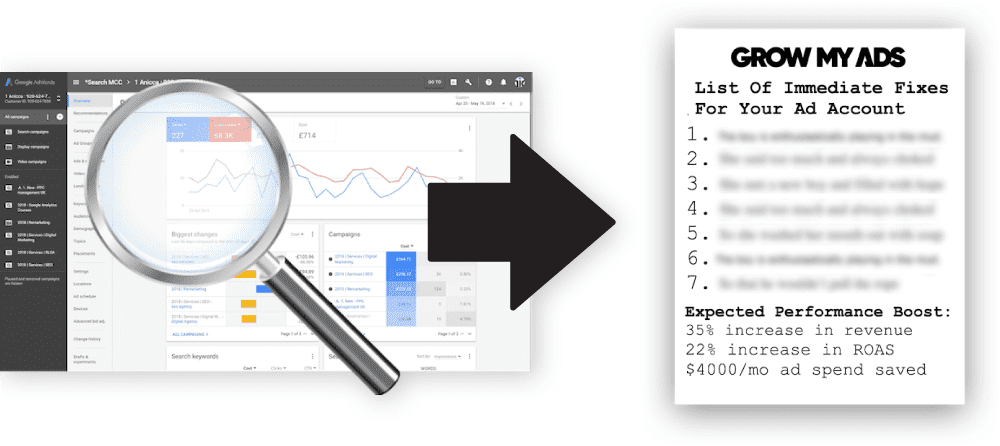 This means more conversions, leads and sales, more profit and less waste.
It also shows you how to implement them step by step so you can increase your orders, revenue & profit in the next 30-90 days — at no cost!
The GrowMyAds account review has helped over 225 businesses to get better results from their existing Google Ad campaigns
Here are some of the ways we send clients' Google Ads into the stratosphere.
Pinpoint any expensive holes in your current Google Ads strategy.
Eliminate wasted ad spend and avoid Google's money grabs
See exactly what changes to make to increase your conversions & ROI
Get a step by step list of changes to make to grow your results
Here's what your FREE Google Ads Account Analysis and Roadmap will include:
Google Ads Tracking & Goals Review:
Broken/incorrect tracking is a hugely common problem and big reason why ad accounts fail. We'll look at whether you are focused on the right measures of success, whether your tracking is actually working AND whether you have the right strategy to make your account effective at driving revenue and ROI.
Conversion Rate Review & Optimization:
If you're running a perfect account but your page doesn't convert, you can't get good results. We'll be reviewing your site – either your landing page or online store – and you'll be given a list of fast fixes that will multiply your conversion rate. This means more of the clicks you're already paying for actually convert into a lead or customer — which improves the ROI on your ad spend.
Google Ads Campaigns Review & Optimization:
Here we'll determine if your account is set up correctly and whether it is structured for maximum efficiency. We'll also be identifying key areas where money is being wasted and eaten up by Google— as well as where is money being left on the table. Working out where you need to focus your spend 80/20 is the key to improving results. Last we'll be showing you how you can take control of google's algorithm and use it to drive more conversions and revenue.
90 Day Google Ads Growth Roadmap:
A plan for the next 30-90 days that if implemented will result in fast, dramatic increases in conversions, sales and return, and set your account up for long term success.
Get a free account analysis to learn how we can double, triple or 10x your Google Ads leads using our 90-day sprints.
★★★★★
"I learned what areas we were wasting budget on. Would recommend to others that you stop wasting money and let Luke get you on track!"
Cathy, Carnival Savers
★★★★★
"We followed the recommendations Luke gave us and it completely changed our business. His analysis was extremely useful and showed us some big flaws in our Adwords strategy."
Maureen, Stem Organics Skincare
Meet Luke Donoghue
Head of Growth
Dedicated. Focused. Disciplined. Results oriented. With millions of dollars of yearly managed Google Ads spend in experience.
Our sole focus is helping advertisers increase their conversions, sales, leads and ROI from Google Ads. Leads, orders, return on ad spend and month on month growth are the real measure of success. Vanity metrics like visits and clicks are secondary.
Our mission as a company is to help our clients take back control of their advertising, fully
Leverage search traffic without being fleeced by Google and win in crowded marketplaces. We care deeply about our clients & their results. The whole team rallies around our client successes and we celebrate as a team when they expand their business, grow & hit their goals.
We look forward to helping you take your results from Google Ads to the next level and growing your business to new heights.
From Google Ads Starting Today
Book your free Google Ads account review