The creatives side of Google Ads can be tricky, especially once you start incorporating visual elements.
Video and display ads, for example, center largely around visuals— some static, some dynamic.
Previously, advertisers have had to utilize third-party tools and have specialized skills in order to generate high-quality creatives that will get clicks.
Now, though, Google has made the process more accessible with the full-scale launch of their Ads Creative Studio. Let's take a look at what it is, how to use it, and what it means for advertisers moving forward.
What is Google's Ads Creative Studio?
Google's Ads Creative Studio is a free tool provided by Google that makes it easier for advertisers to create, edit, and customize visuals that will be used for Display and Video ads on the platform.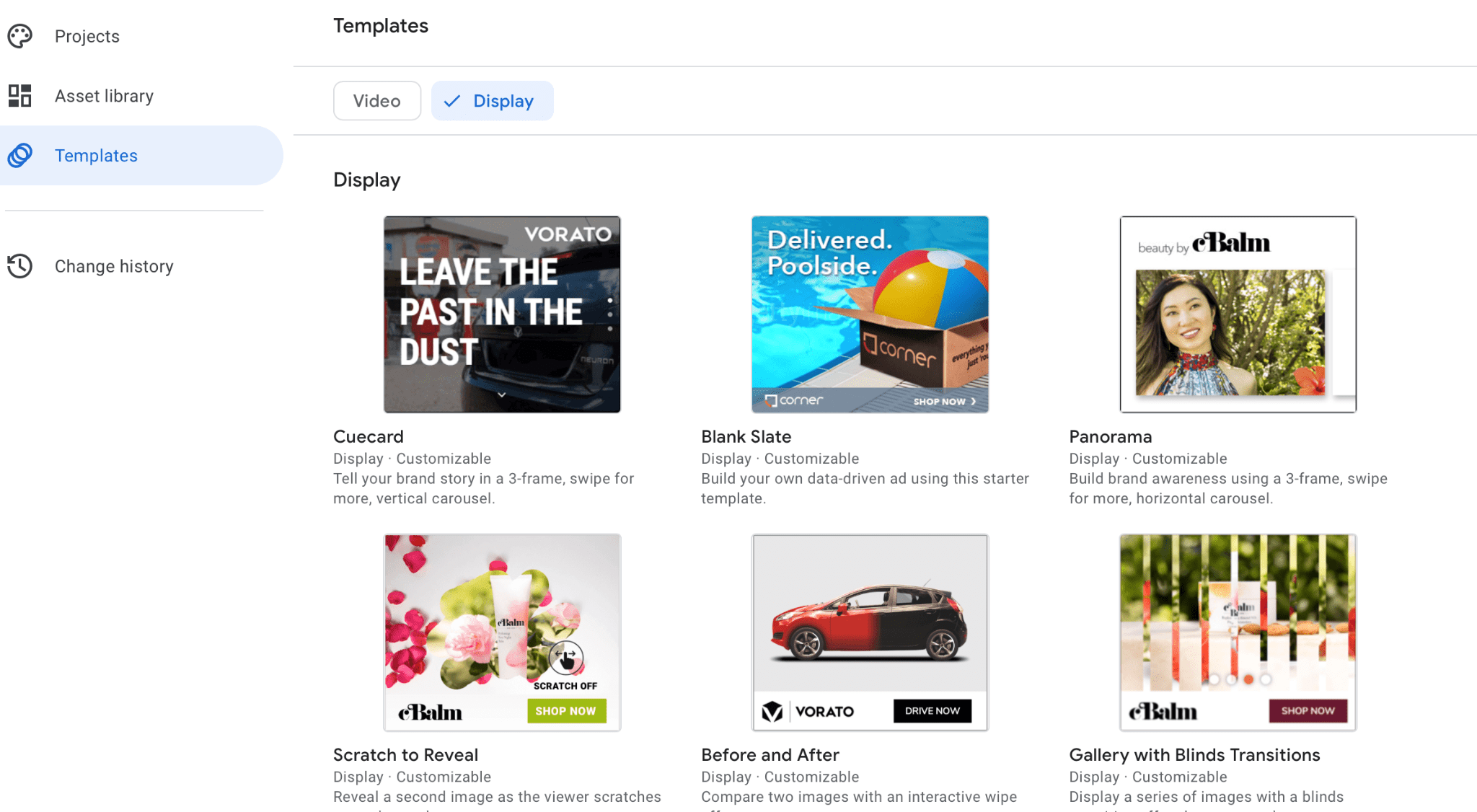 You upload images and videos to your Asset Library, and can then edit them to create stunning, high-converting ads. This includes:
Choosing from templates (pictured above) for either video or display ads that can get you started
Adding multiple variants that can be tested automatically through Google ("swappable" elements) by bulk creating ads at once
Adding custom text overlay for video and text ads, as well as customization options like choosing a background color
Creating ads in different languages at scale
Google automatically adds a single image to a variety of differently-sized templates, truly allowing for bulk creation at scale; there's no need to have a team member manually creating each option.
You can get a quick idea of how it works by watching their promotion video here:
Last year, Google quietly rolled out the beta version of their Ads Creative Studio, but earlier this month they announced the full launch. It's come with new features, and it's now accessible for everyone.
The 3 Google Ads Creative Studio Benefits
We've already mentioned the main focus of the Ads Creative Studio: Easy production at scale.
There are a few key features and benefits that we want to make sure we highlight here though to explain why the Ads Creative Studio can be so beneficial even just beyond creating great-looking images or videos even for those who don't have professional design experience.
1. Have "Swappable" Elements
We mentioned this above, but we want to highlight it again.
When you're creating Video creatives, you'll see the option to add "variants" and to make them "swappable."
Tell Google which elements you want to make "swappable" in order to create different versions of the same video.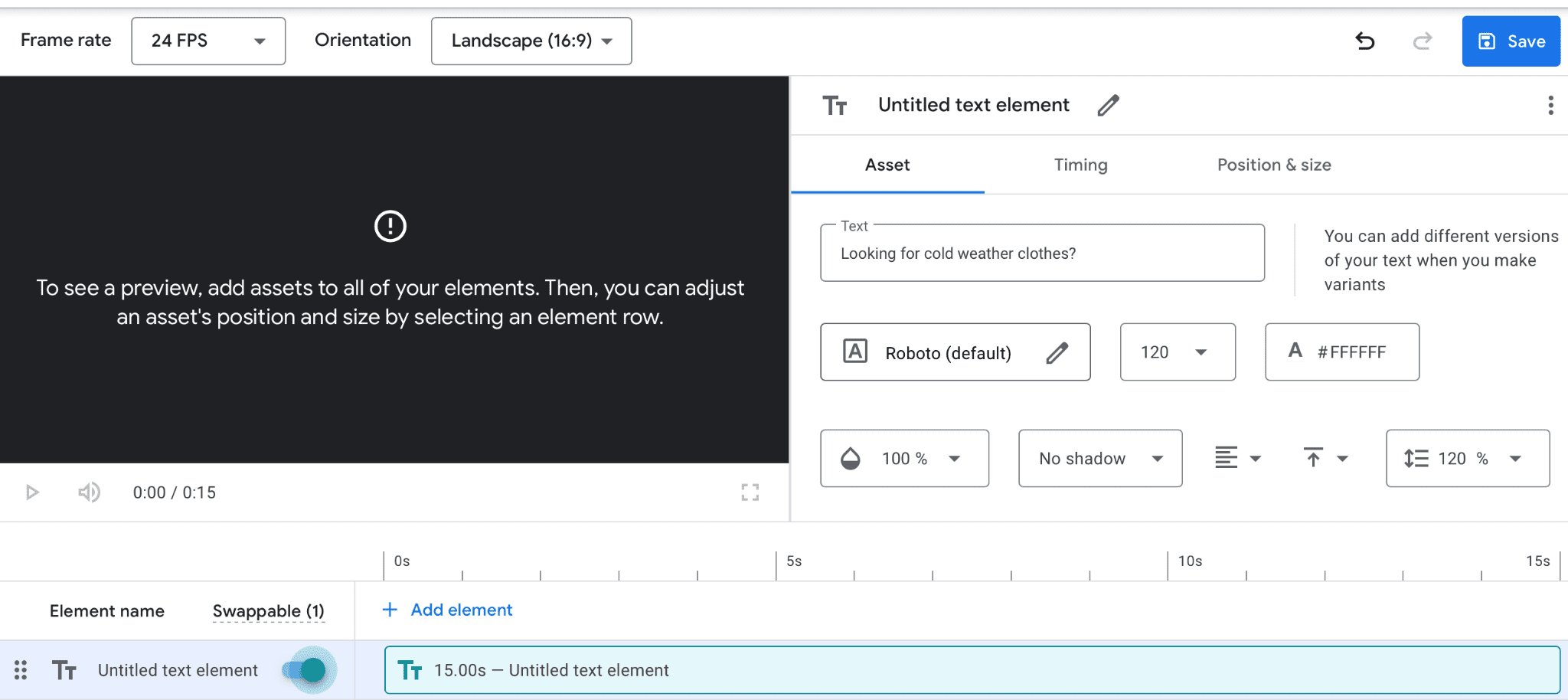 If you were a realtor, for example, you may want to have different text on your ads to appeal to users whether they're in market to buy or to sell a home.
You can also create "rules" for your videos, which can be applied quickly to all of the videos you're creating, rendering different versions in just a few minutes. Each video will be available for download or use through the linked Google Ads account.
2. Streamlined Sharing for Improved Workflow
You'll notice we mentioned above that you can export the creatives from the CAds Creative Studio library as a download, but you can also export them straight to the Google Ads asset library of any linked account.
Advertisers can send these creatives straight to their client's account, streamlining the workflow process significantly across the board.
You can also connect your Ads Creative Studio account to Campaign Manager 360.
Right now, this is only true for images, but soon they'll release the capability for video exporting, too.
3. Easier Creative Split Testing
Generating new creatives can be exhausting.
Not only do you need to customize your images and videos based on audience, stage of the funnel, and use case, but you also need to account for variations used for split testing.
You might have a single video, for example, that showcases your home security equipment.
You target three different audiences:
Homeowners
Parents
People looking to buy their first home
These are three distinct ads that you might create, with unique text all placed over the same video showcasing your products up close.
Then, on top of that, you want to split test different messaging.
So you try three different text versions for each audience. This brings us up to 9 versions.
You also want to split test the video itself, so you replicate the entire process with a new video.
We're now at 18 different ads off of two video clips that typically would all need to be manually created. That takes an enormous amount of time and energy, but the Ads Creative Studio makes it possible within a few minutes. Split testing becomes easier and more efficient, and often less costly.
Getting Started with Ads Creative Studio
The Google Ads Creative Studio takes a little bit of practice to get used to (especially for video ads) but it's a fairly straightforward tool and it's easy to get started.
First, sign up for your free account here. You'll be asked to create an account name and provide very basic business information.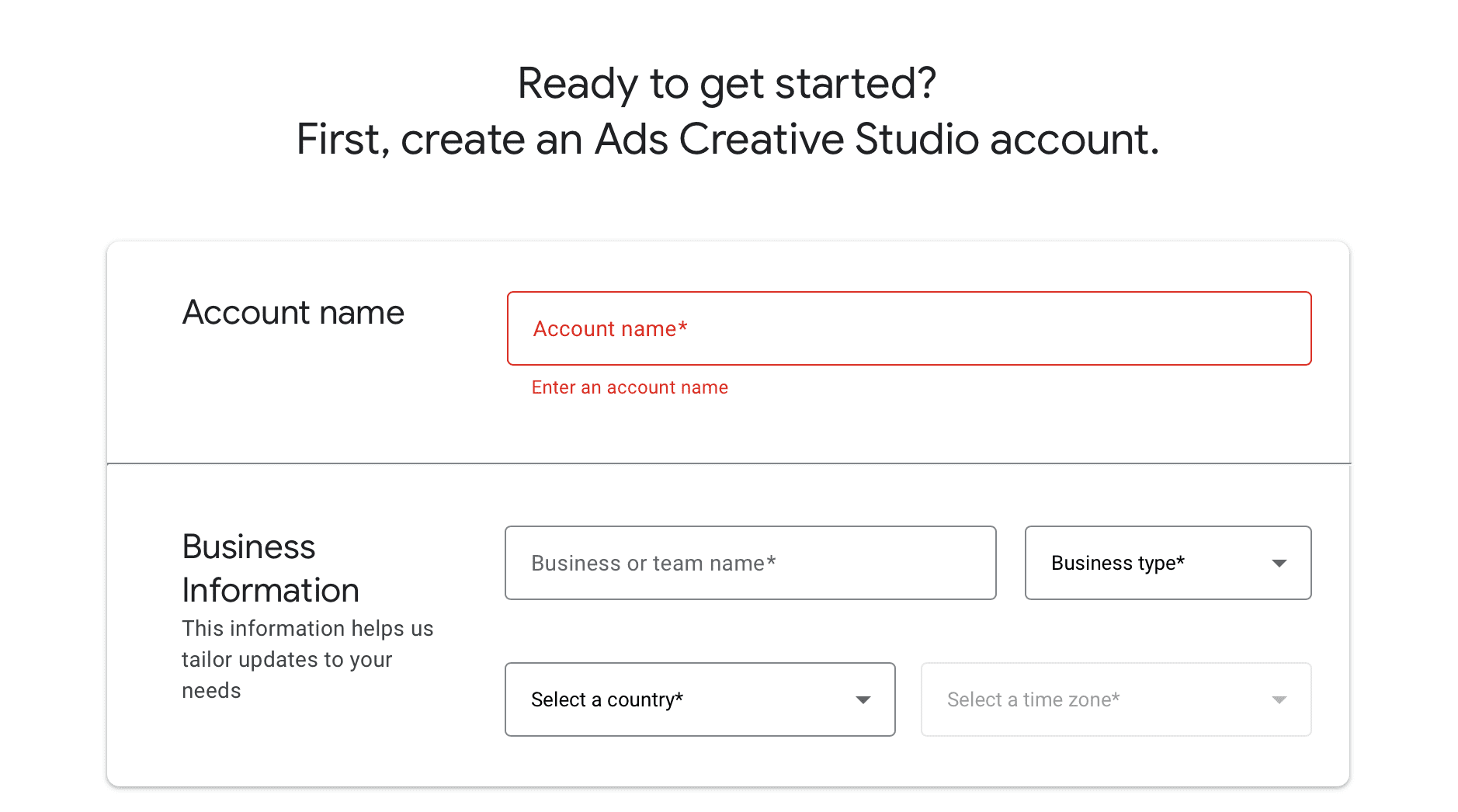 Once you're in, you'll see the ability to get started on a new project. Click the "+ New" and then choose either Display or Video, and you can then choose to either get started with a template or HTML5.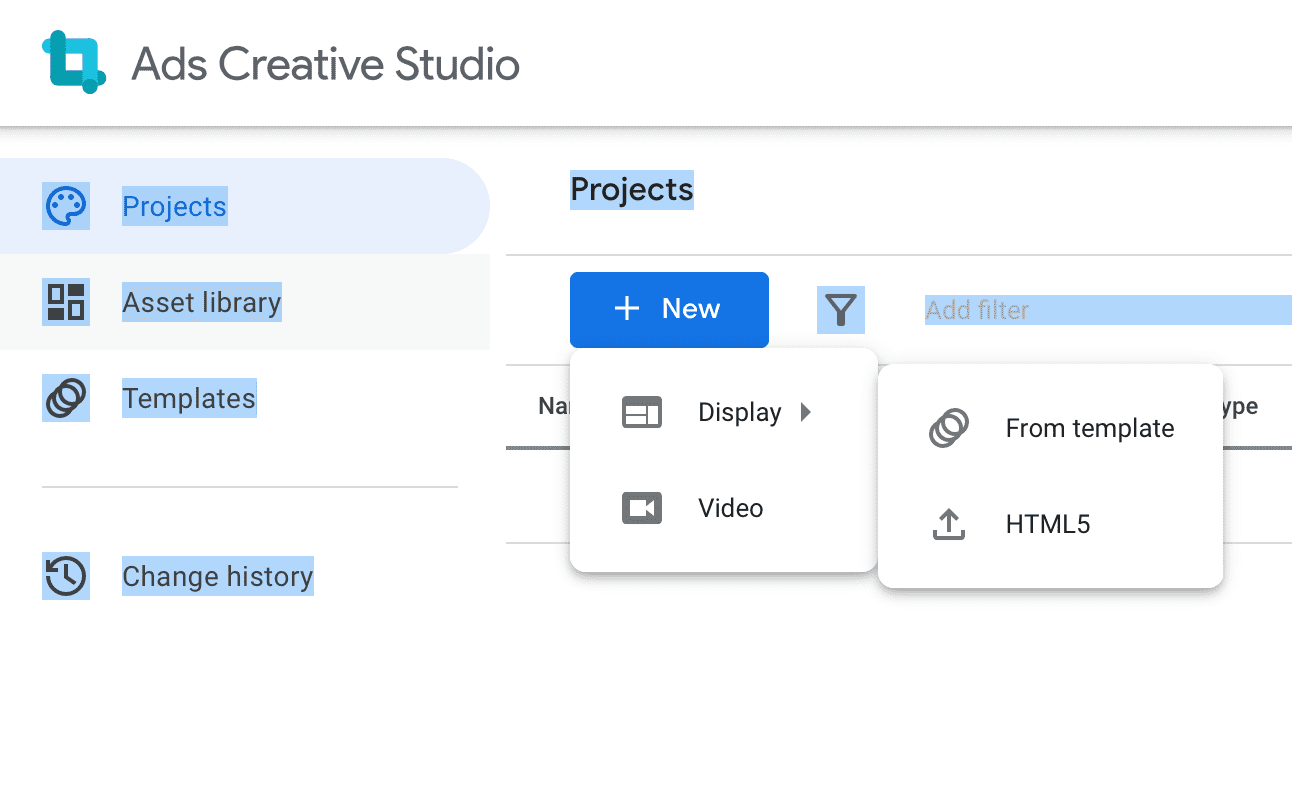 You can then get started, uploading an image or video either from your computer or your asset library. Add in the elements that you want, and go from there!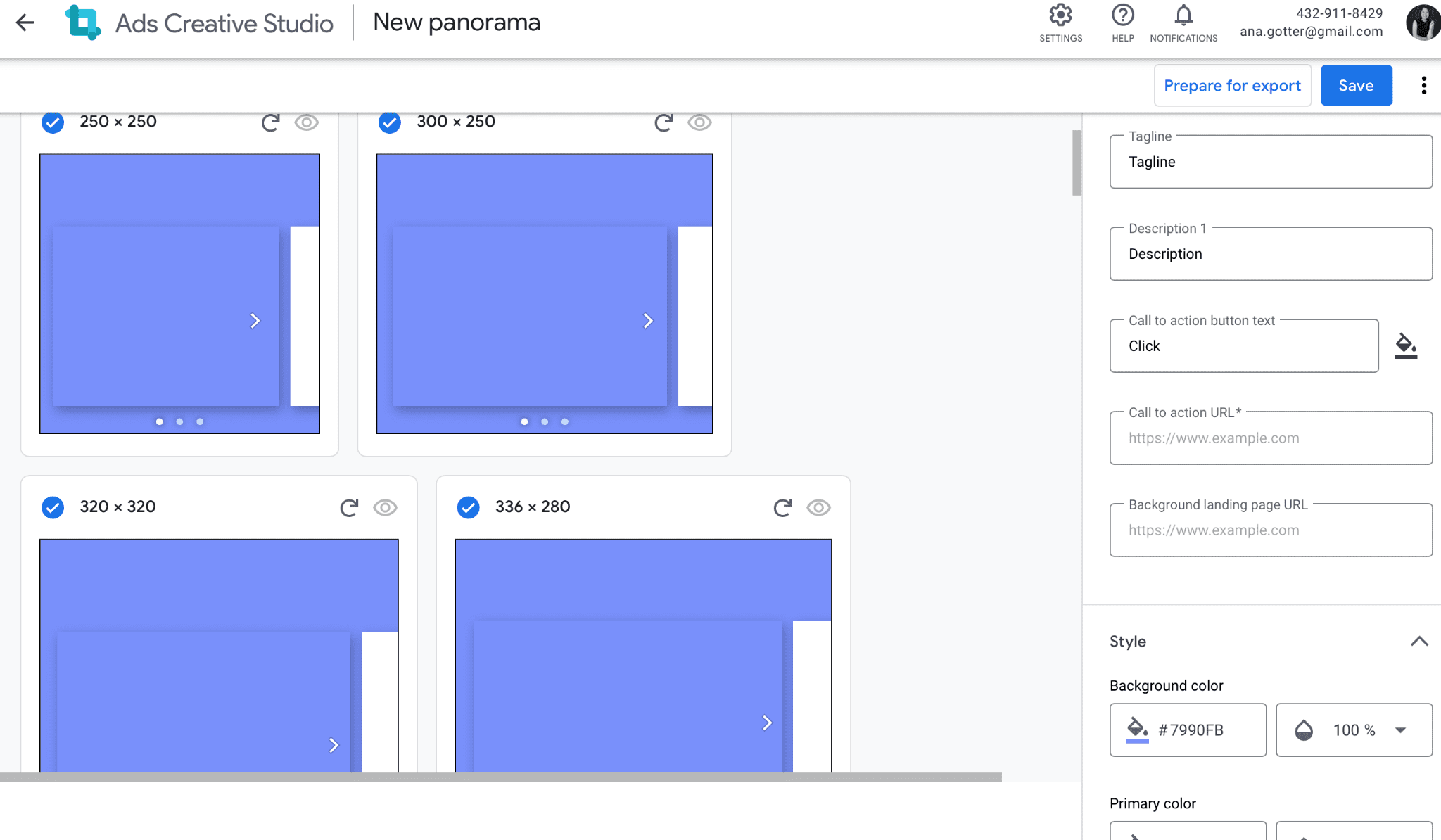 How to Link Your Google Ads Account with the Ads Creative Studio
To link your Google Ads account, go to "Settings" at the top of the page. When you click, you'll see the "Linked accounts" option— click that.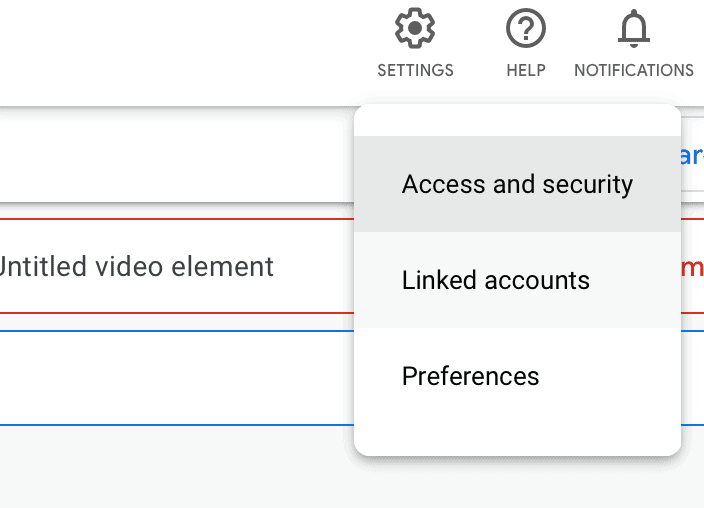 You'll see three options— Campaign Manager 360, Display & Video 360, or Google Ads. Select which account type you want to link, and click.

For this example, we've selected Google Ads. You'll press "Link Account," and then enter in the account ID number on the account you want to link to. This can be found inside your Google Ads account at the top of the page.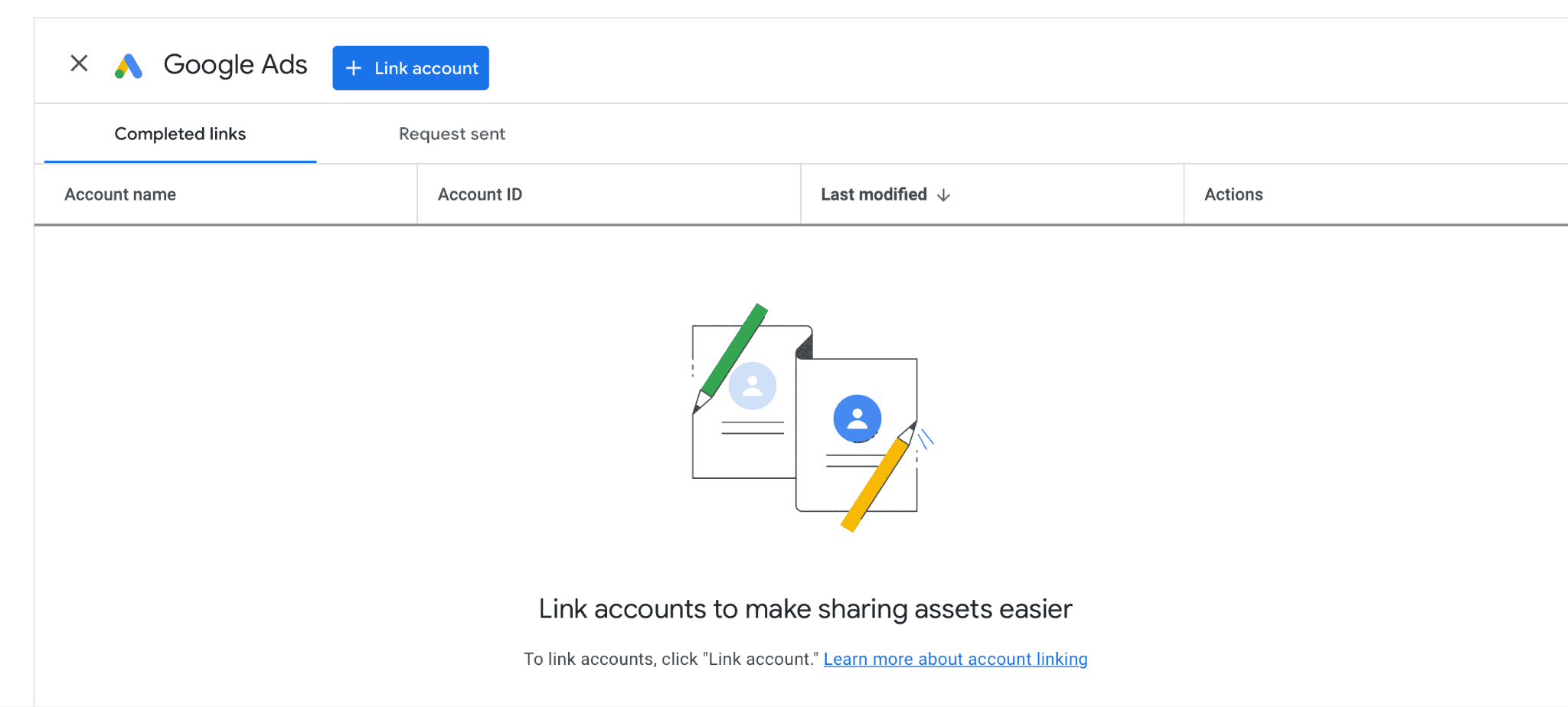 Once you do this, the Admins of that account will receive a message asking for approval. After it is approved, the accounts are linked.
Final Thoughts
Display and Video creatives can be overwhelming and intimidating for many brands (and some advertisers!) to actually generate— even before you account for the bulk creation needed for split testing.
These stunning templates, easy-to-use and largely automated customization tools, and "swappable" features are going to be exceptionally beneficial to a large number of brands and advertisers. It doesn't account for the strategy side of the equation, but solid creatives are half the battle.
Need help with the strategic side of your Google Ad campaigns? We can help with that! Learn more about how we work here. Find out how we use data-focused Google Ads services to maximize your campaigns.
​​