We've said it before and we'll say it again: Google likes to keep us on our toes.
Google is always rolling out new changes, whether it's to the search algorithm, their pay-per-click platform, or (like right now) their analytics tools.
Google Analytics 4 is one of the big changes happening in the Google universe right now. It was launched in 2020, but as of next year, it will be our only option for Google-driven analytics.
So what is Google Analytics 4? How is it different from Google's Universal Analytics, and what do you need to know to get started?
We're going to answer all that and more.
What is Google Analytics 4?
Google Analytics 4 is the latest version of Google's free online analytics software for website owners.
And it's not just a new interface; it's essentially a completely new tool. It even has its own unique property that's completely separate from the Universal Analytics property.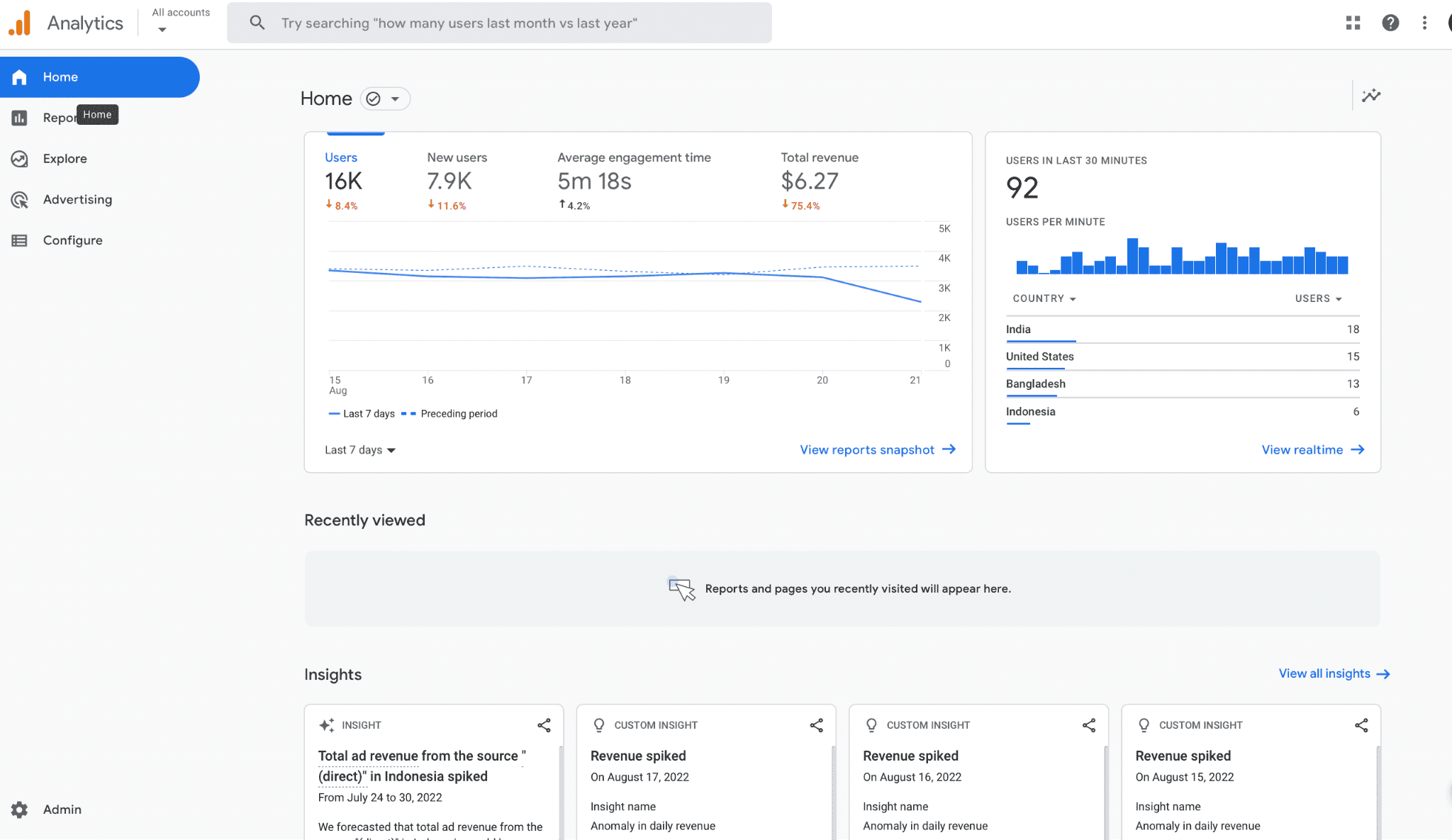 Google Analytics 4 (GA4) uses event-based data in order to shed light on user behavior, sales funnels, and more accurate attribution data across both your site and any integrated apps. It comes with more built-in insight features to help you notice trends and patterns, which will make it a valuable asset to eCommerce brands and the advertisers that work for them.
Why Every Brand Needs to Learn GA4 Now
As of October 2020, all new Google Analytics accounts created were automatically GA4 accounts, but those with Universal Analytics have still had access to their existing properties— even once creating a GA4 property, too.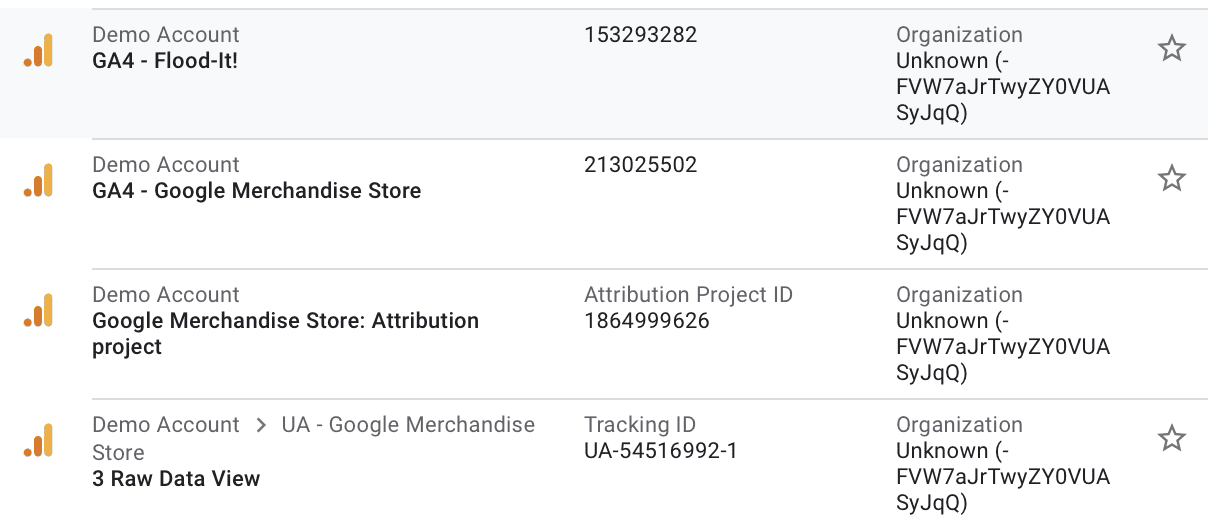 Because of this, some brands (especially those reluctant to learn new platforms) shied away from using GA4 altogether. There is a learning curve with the new platform, largely because it's not just a new interface, it's acting like an entirely different tool.
This was already a loss, since GA4 has some exceptional analytic capabilities that Universal Analytics (UA) lacks.
But there's another good reason, too: Next summer, Google will be sunsetting Universal Analytics altogether. So while you can still check your UA property to see data there you can't get from GA4 in the meantime, we strongly recommend adapting to GA4 now so that you know how to use it before it's crunch time.
Google Analytics 4 vs. Universal Google Analytics: What's the Same & What's Different?
There are major differences between Google Analytics 4 and Universal Analytics, and that's partially because they really are two different platforms at this point.
Some of data is staying the same; you'll still be able to get basic insights about user activity on your site, including the following:
Number of users (new and returning alike) visiting your site within a set time frame
Basic demographic information on users visiting your site, including gender, age, location, and general interests
Data about referral traffic and on site behavior
Insight into revenue earned (though this is tracked differently)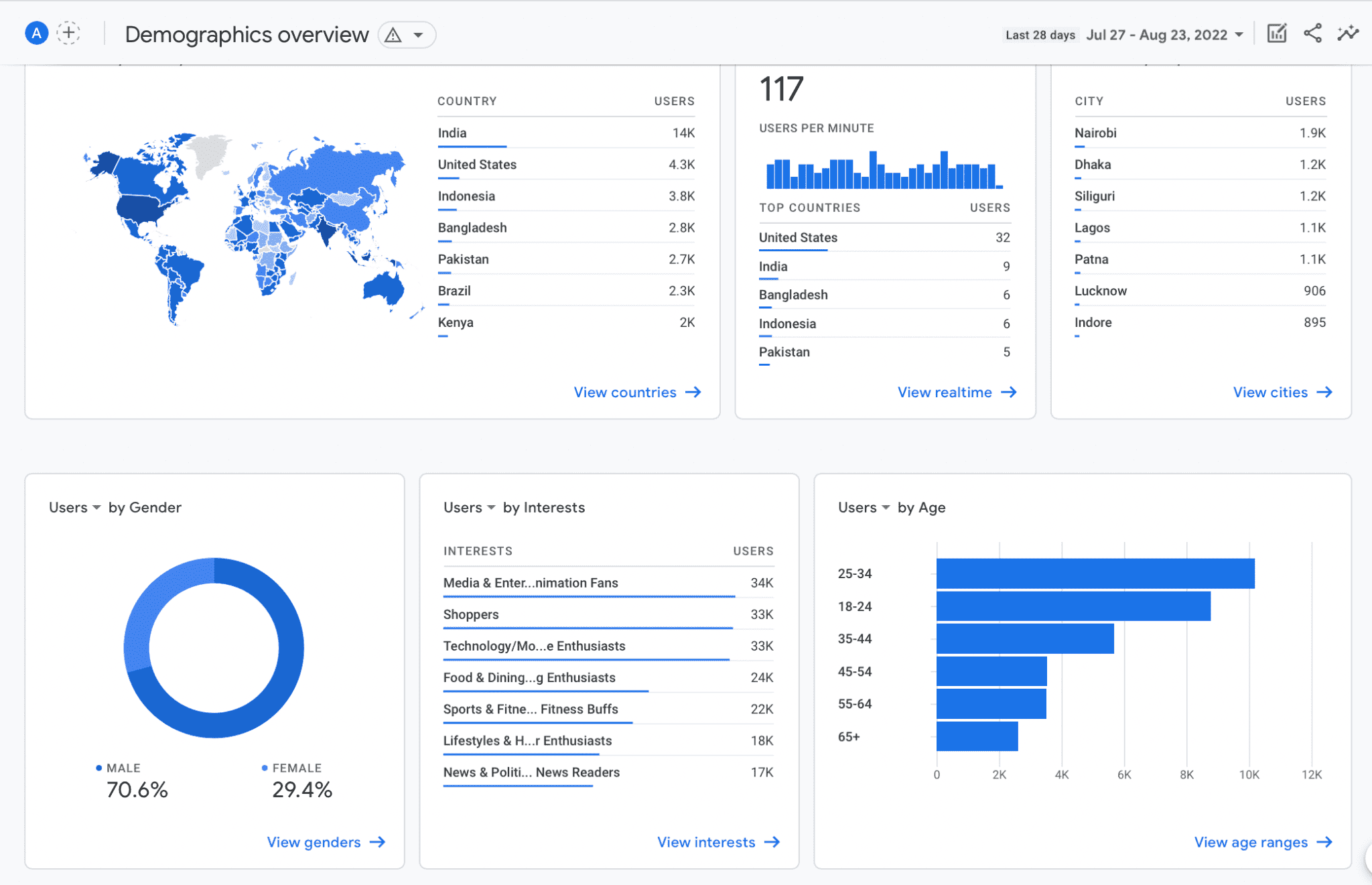 While some of this core information is similar, the details of the data are largely changing, including how Google tracks revenue and the information we're receiving about referral sources and on-site activity.
Let's take a look at some of the differences.
GA4 Uses Enhanced Learning to Fill in Data Gaps
Universal Analytics is fairly to-the-point; they share the data that they can track, and leave it at that. There's nothing inherently wrong with that, but there sometimes can be gaps in the data.
GA4, on the other hand, has incredible predictive analysis capabilities. They also use enhanced learning to fill in the gaps of the data that you're getting, along with offering insight into site and app performance that's downright useful and fairly actionable.
GA4 Is Less Reliant on Cookie-Based Tracking
Another significant change in GA4 is that it doesn't rely on cookie-based tracking quite as much as UA does.
Universal Analytics used cookie-based tracking to track conversions through custom goals.
GA4, on the other hand, automatically logs different types of hits as events. You can create custom events to better understand user behavior, but page views, transactions, and user timing aren't just "hits" like they were in UA; they're now all individual events.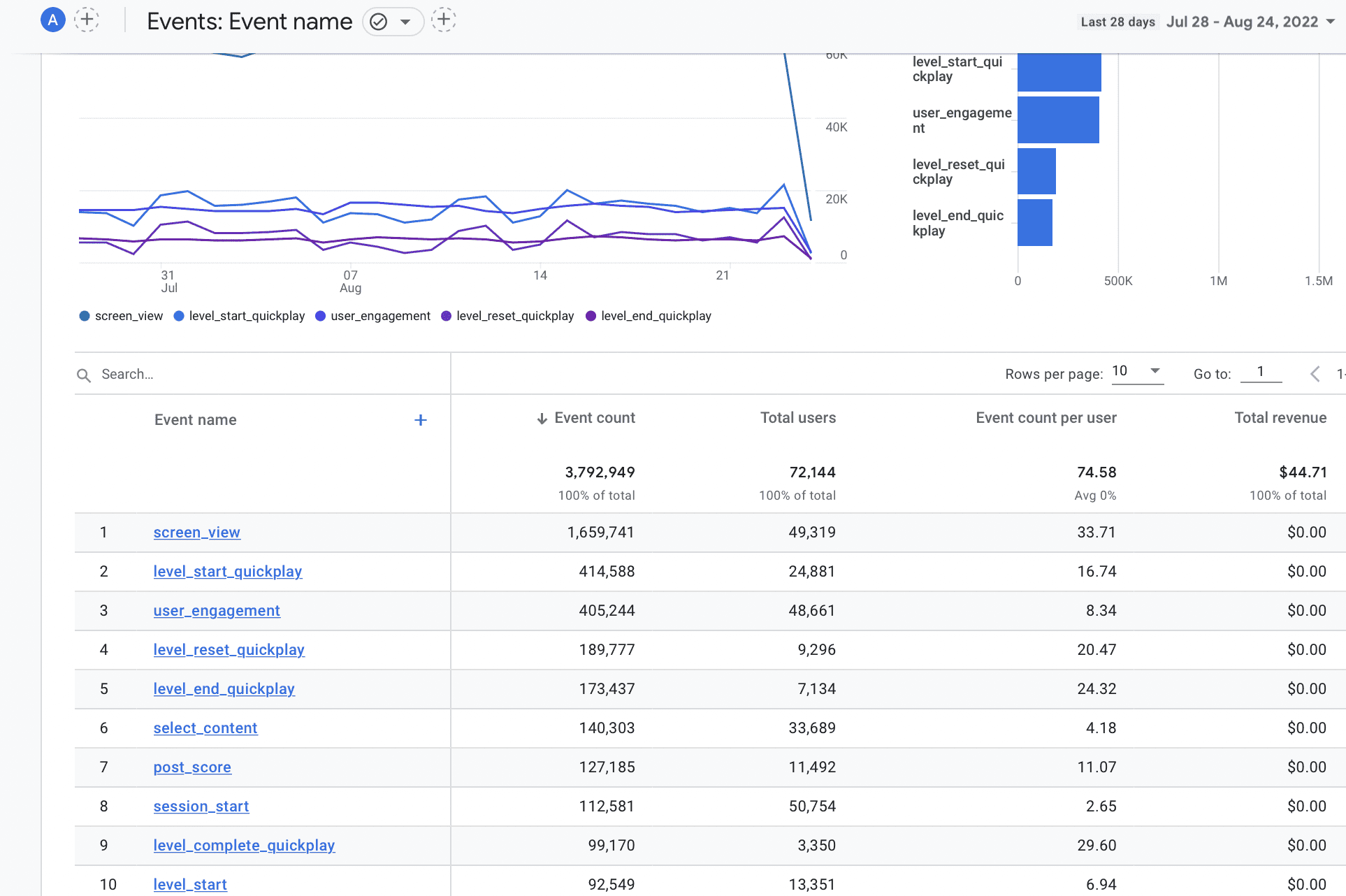 This is perhaps the most significant change when it comes to GA4 compared to UA, because it's a fundamental data difference. There's no category action or label for the events in GA4, but you also get more detailed data about paths to conversions.
User IDs Work Differently
The User ID feature in GA4 and UA serve a similar purpose: They create an "identity space" for users to analyze their data. You can map user IDs anonymously.
The difference with GA4, however, is that you're going to be getting a cross-platform and cross-device view of how users interact with your website and your app if relevant. They may view your app on their mobile device, and then complete the purchase on their laptop a day later.
This gives you that full look at the user funnel and gives you a much stronger idea of how your online customer journey is actually working for your brand.
GA4 Is Less Specific About Referral Traffic
As of right now, GA4 does give slightly less specific data about referral traffic sources compared to Universal Analytics.
UA will break it down by the specific site that sent users your way, showing you the URL that was clicked. This includes social media sites, if relevant.

As of right now, GA4 does not list specific websites. They'll show you instead categories of where your traffic is coming from. This includes direct searches, organic search, display ads, paid search, referrals, and more.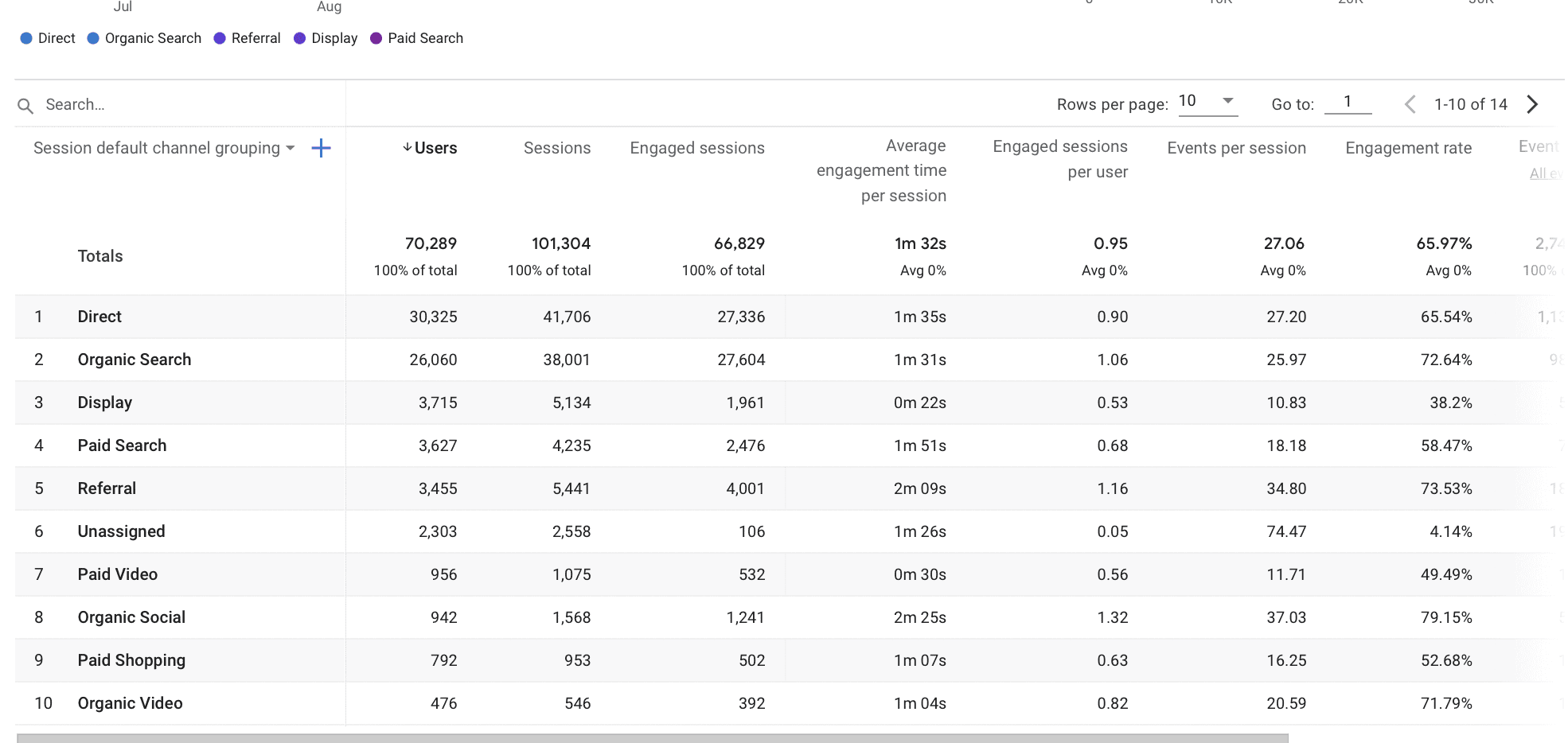 This is one particular area where UA has the upper hand, and for that reason alone we recommend keeping your Universal Analytics account until it gets it's official sunset next summer.
How to Get Started with Google Analytics 4
Want to get started with Google Analytics 4?
It's free, it's relatively fast, and it's easy.
You'll need to create an entirely new Google Analytics property for GA4, even if you already have one for UA.
To do so, head to your Google Analytics account.
If you haven't created a GA4 property for the site yet, you will see banner text across your screen encouraging you to make the change. Click the blue "Let's go" CTA on the banner ad to do so. .

After you click that "Let's go" CTA, you'll get these options: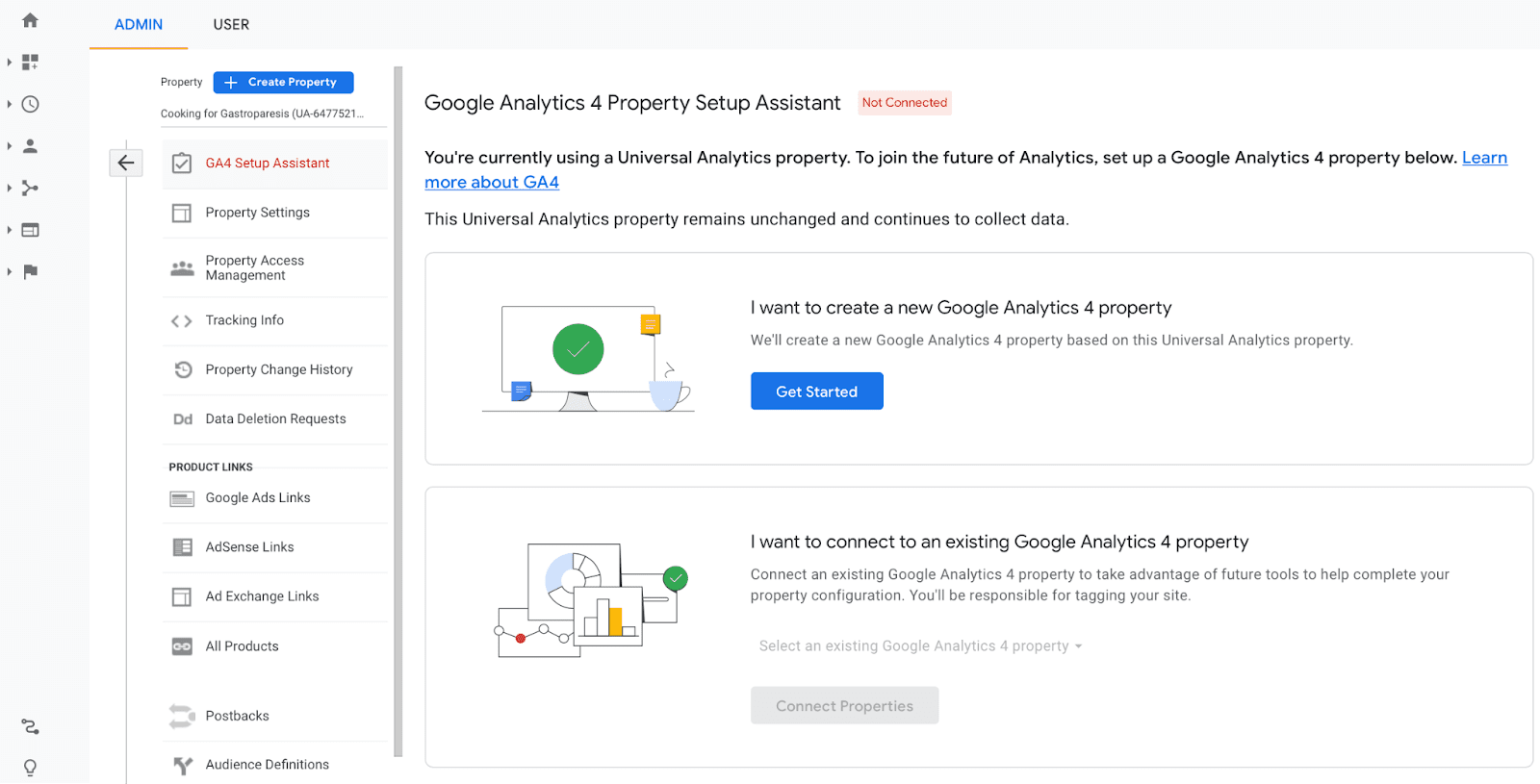 You can either create a new GA4 property or connect to an existing one. Click on "Get Started" to create the new property.
When you click, you'll see a pop-up that allows you to copy over basic settings from your UA property. You can also choose to enable data collection using your existing tags, but they warn that they can't migrate tag customizations; make sure that enabling data collection is the right choice for your account, therefore, before you select it.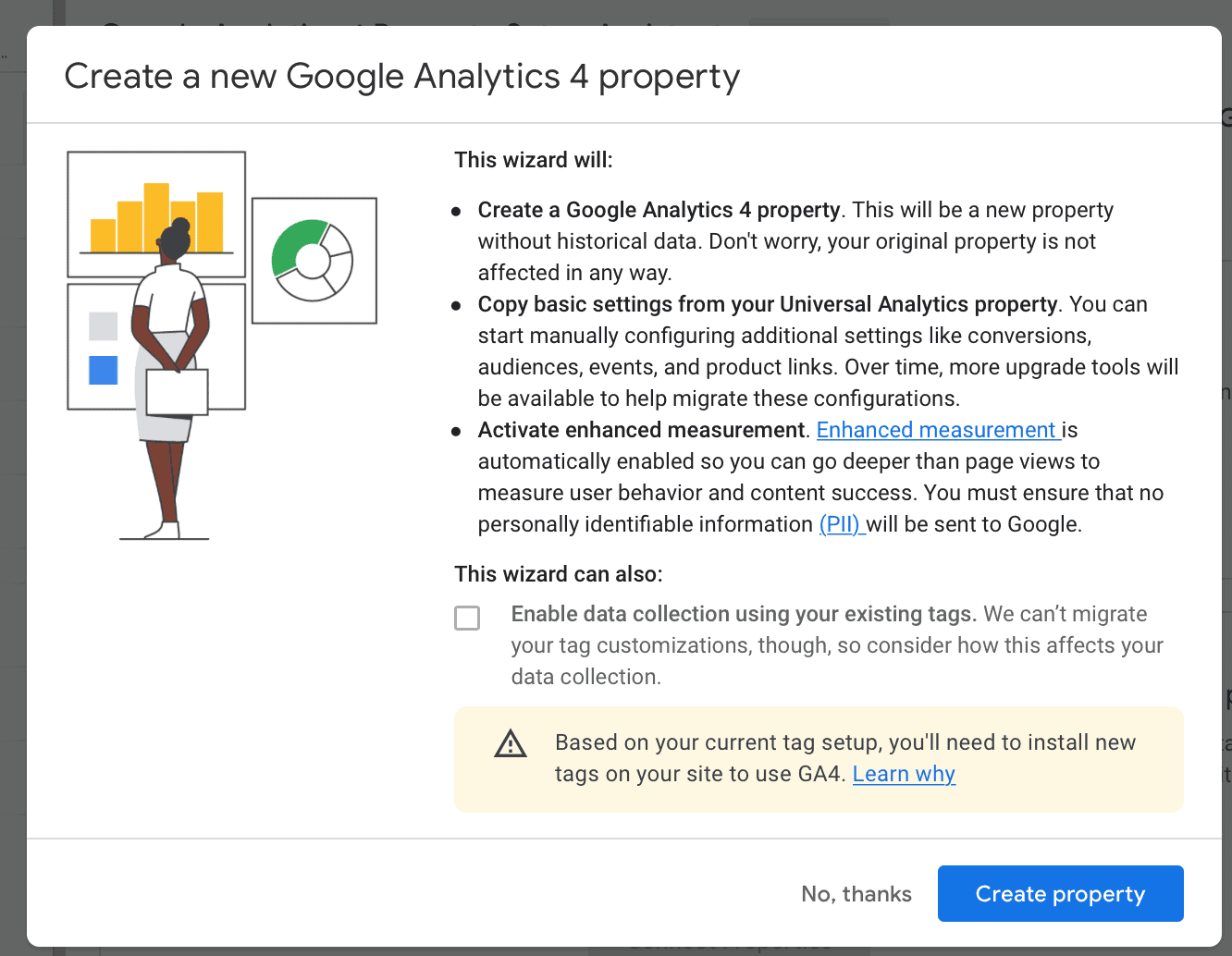 After you make your decision about enabling data collection or not, click "Create Property."
The Google Analytics set up tab will now look like this: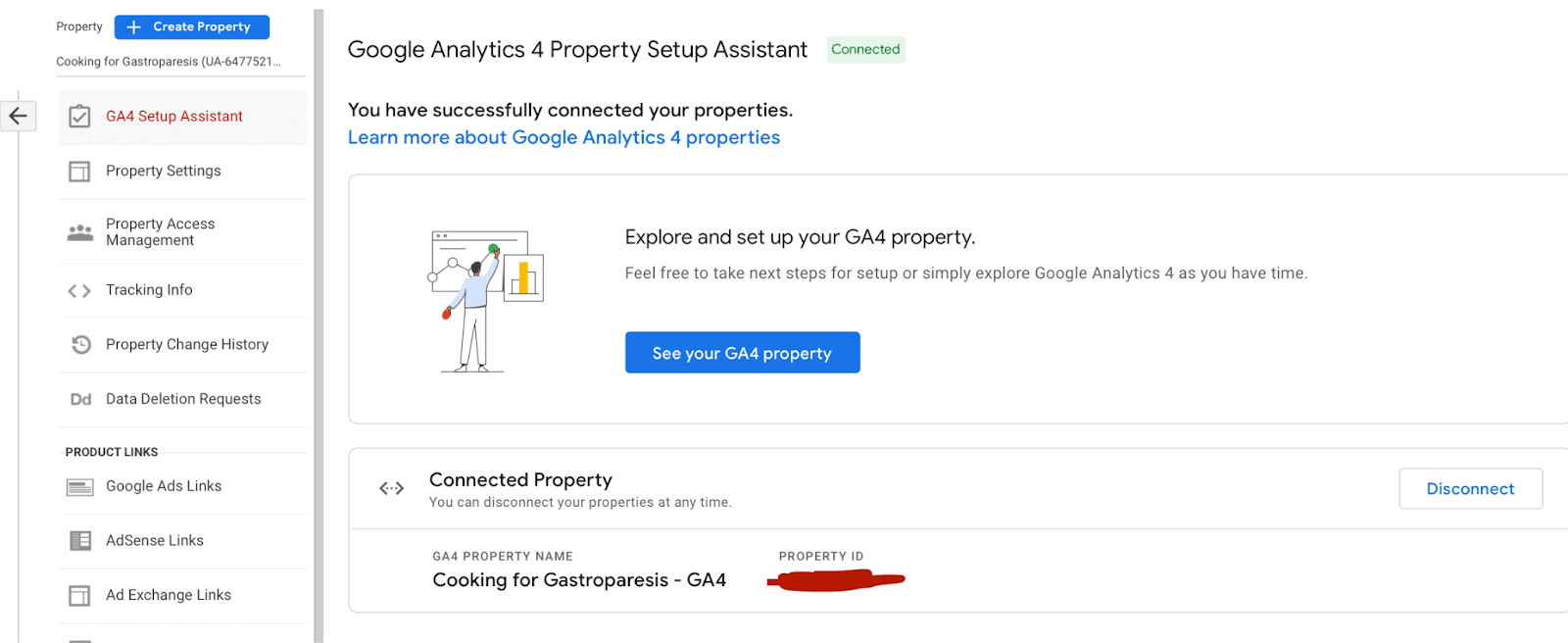 Moving forward, if you really hate GA4 for now and want to use Universal Analytics for now, you have that option. You'll see both the GA4 and the UA properties listed in your Google Analytics account. As far as we know, you'll be able to access both at any time until UA is faded out next year.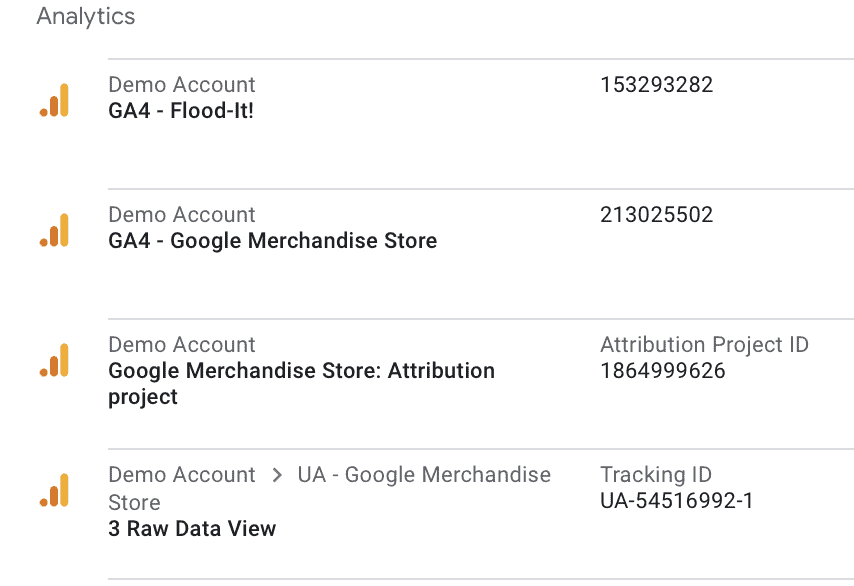 How to Complete 3 Core Tasks in Google Analytics 4
Ready to get your new Google Analytics 4 account all set up and ready for business?
Know that you can access the Setup Assistant any time during the process to help with the basics of set up. There are also a few more customization options that you'll want to make sure you set up.
Let's take a look at three important tasks you don't want to miss, all of which are accessible by finding the "Admin" button all the way at the bottom of the navigational dashboard. This will open up the admin settings options you see here.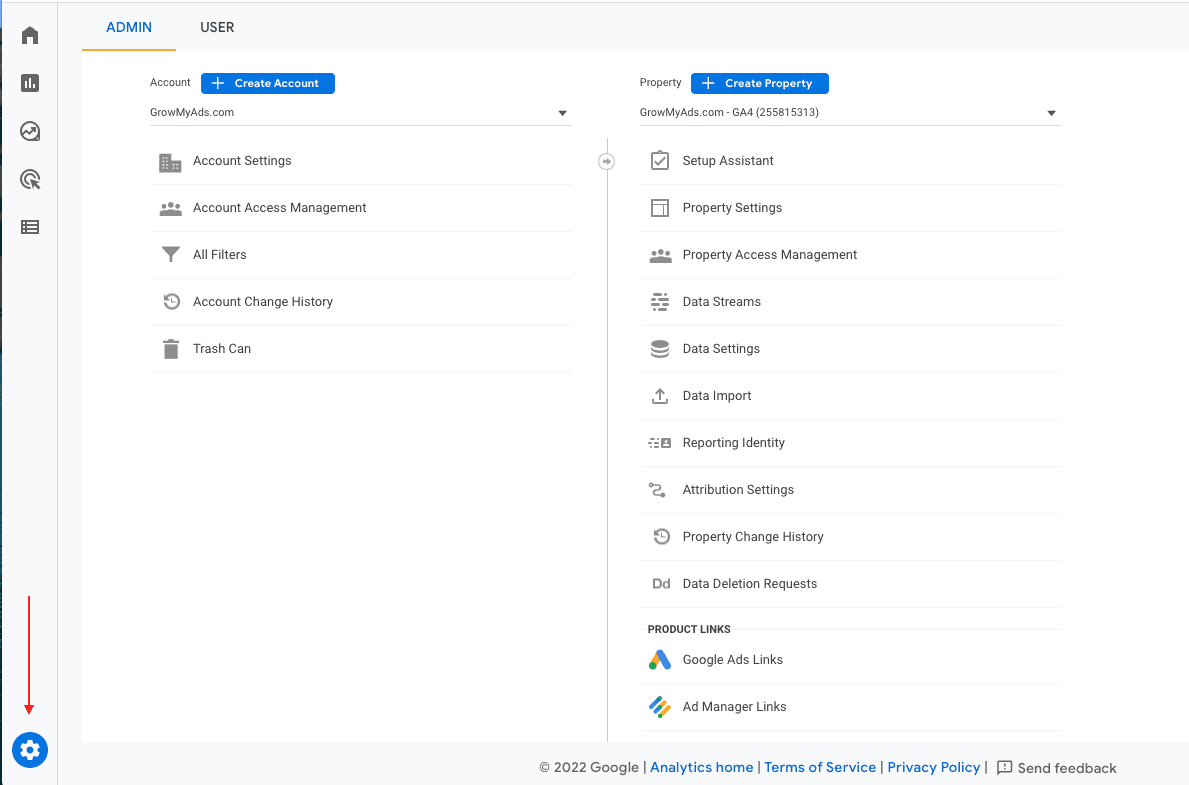 1. Adjusting Attribution
Not every business is going to have the same attribution windows. GA4's defaults are 30 days for acquisition conversion events like a first open or visit, and 90 days for all other conversion events.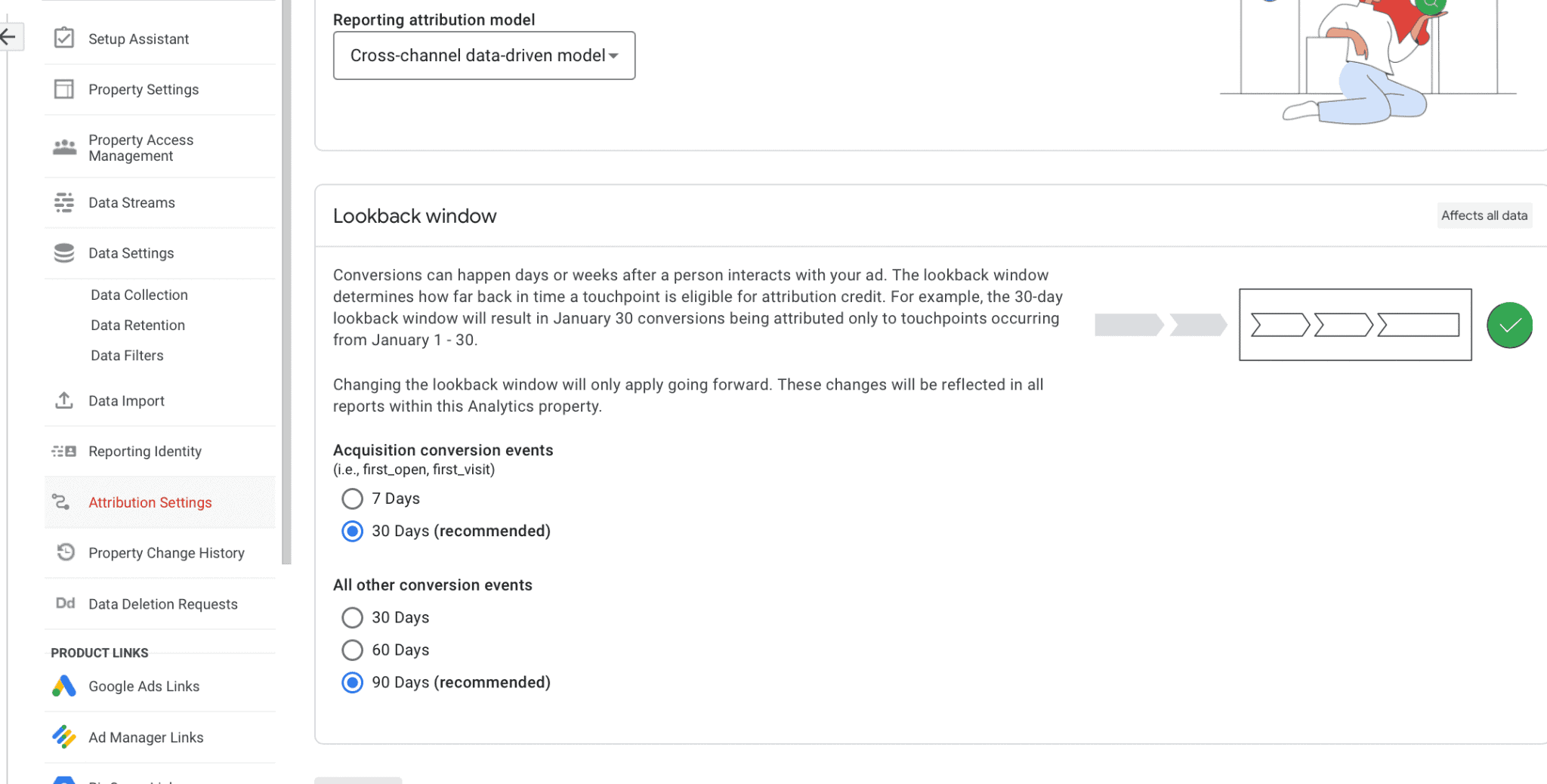 If your attribution windows are different for your business, you can always change this, though you're restricted to just a few other options offered by Google.
You can also choose your reporting attribution model in addition to your lookback windows.
This is found under "attribution settings" underneath the Admin tab.
2. Linking Your Google Ads Account
We always recommend that brands link their Google Ads account with their Google Analytics account. More information is passed back and forth between the two, and this also allows for personalized advertising features and auto-tagging features in GA4.
To link the two accounts, head to your Admin tab, and then scroll down until you see "Google Ads Links" under the Product Links section. If no account is linked, click on that blue "Link" button in the top right corner of this dashboard.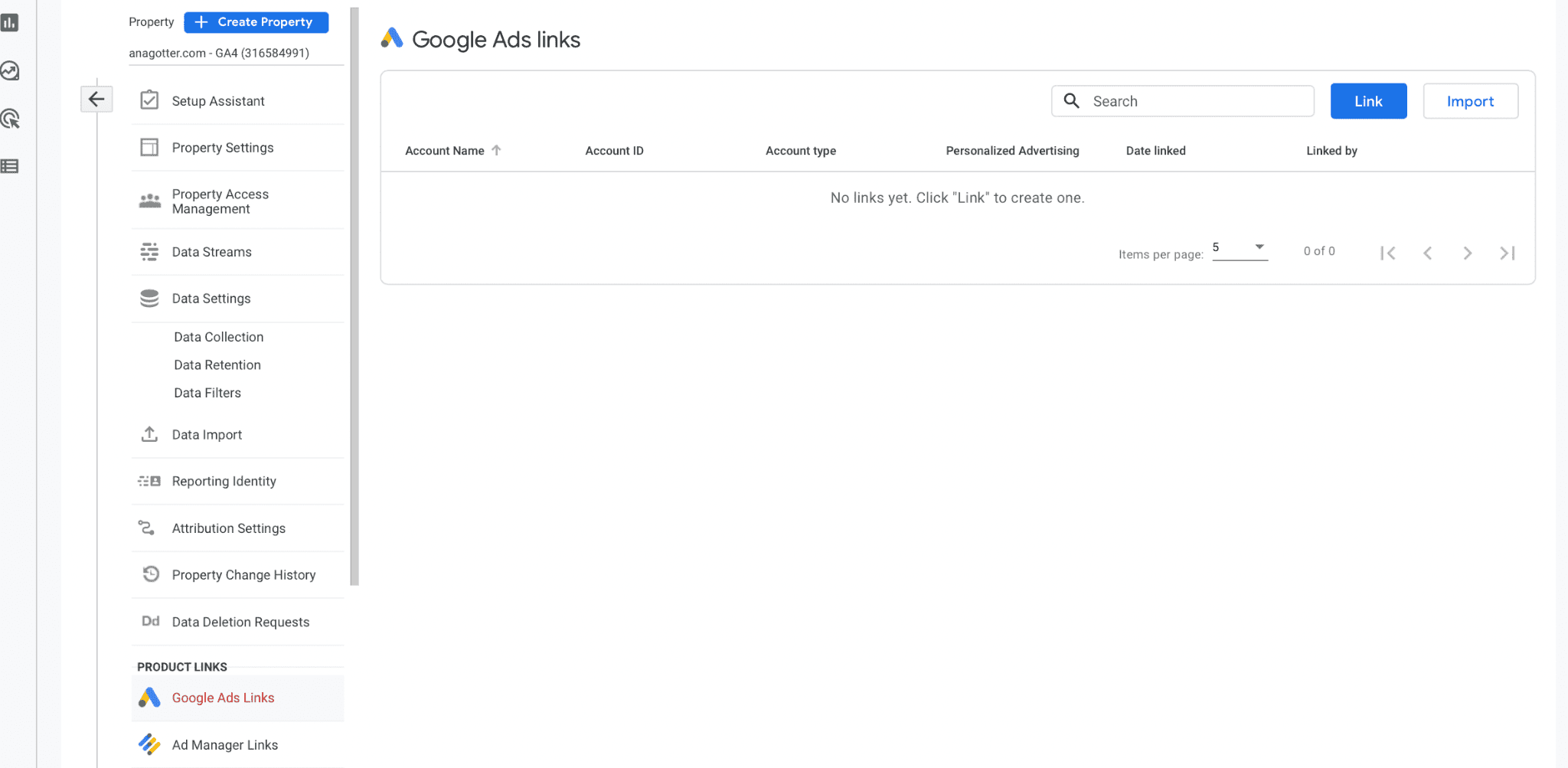 You can choose which accounts you want to link to; they'll automatically provide the names of your own Google Ads accounts to make this easier for you.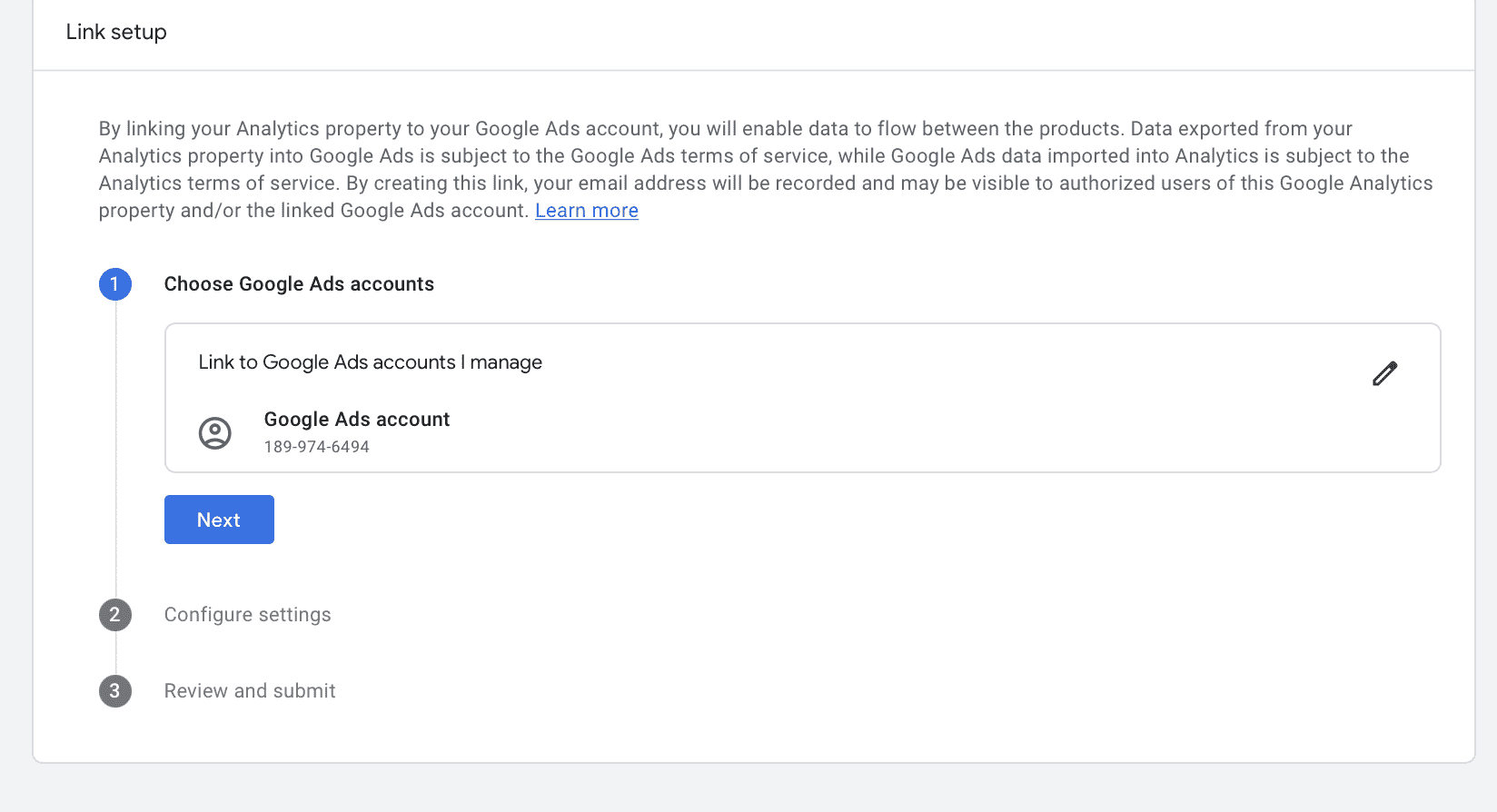 Then, you can choose to configure the settings. You can enable personalized advertising and auto-tagging. These are both great options for some brands.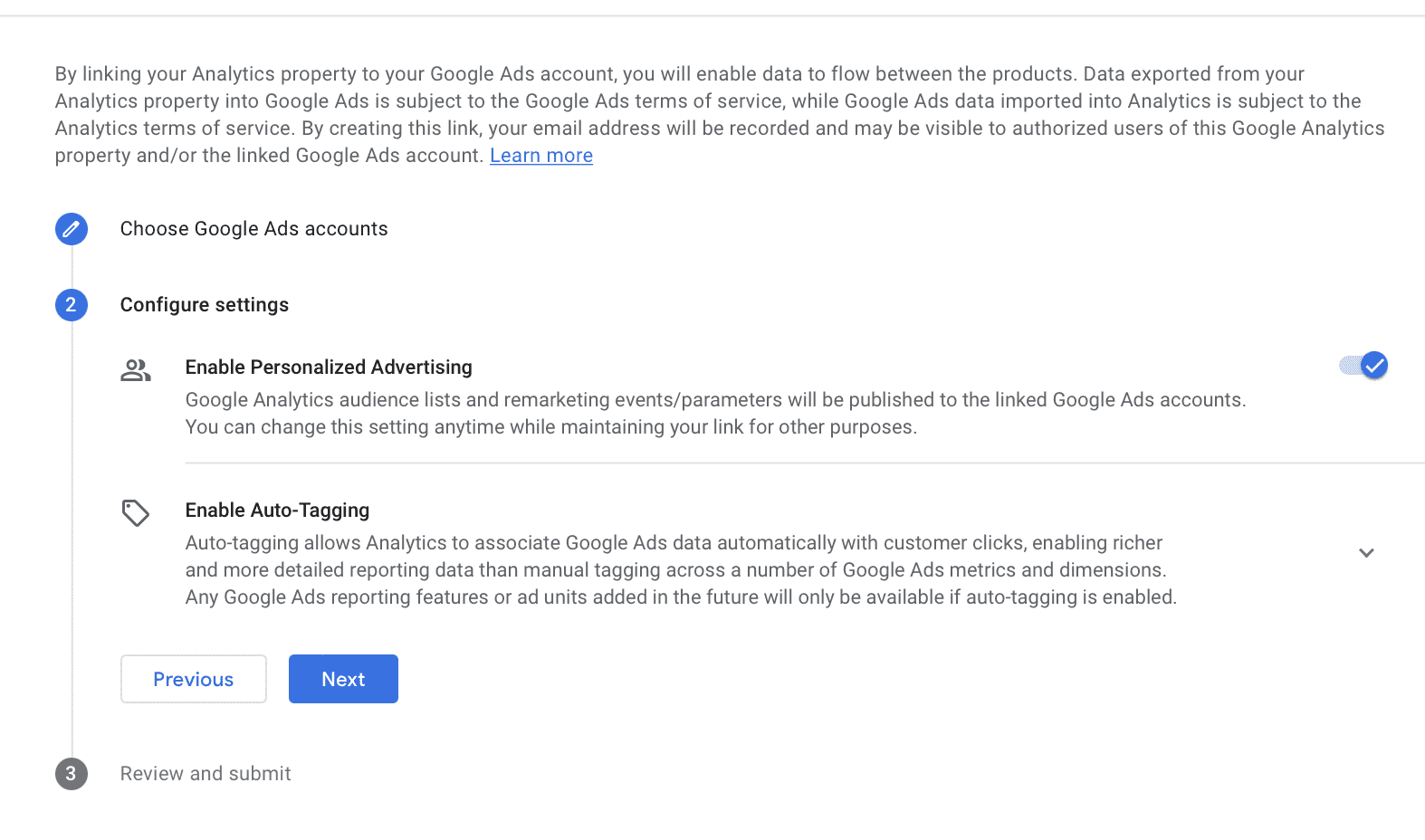 Once complete, click "Next" and you can submit the link request for the two accounts.
3. Adding New Data Streams
Want to add new data streams for GA4?
Also easy to do. Data streams can come from your website, but they can also come from your iOS or Android apps.
Go to the Admin tab and find "Data streams" to get started here.
The process is remarkably easy. For website streams, you'll enter in your URL and choose if you want to enable enhanced measurement. As of right now, we recommend enabling this for that "fill in the gaps" data and strong insights.

Then, you'll see a pop-up giving you different options for how to install the tracking tags on your site. You can select any of the options listed, including installing the tag manually, in order to sync data from the data source to Google Analytics.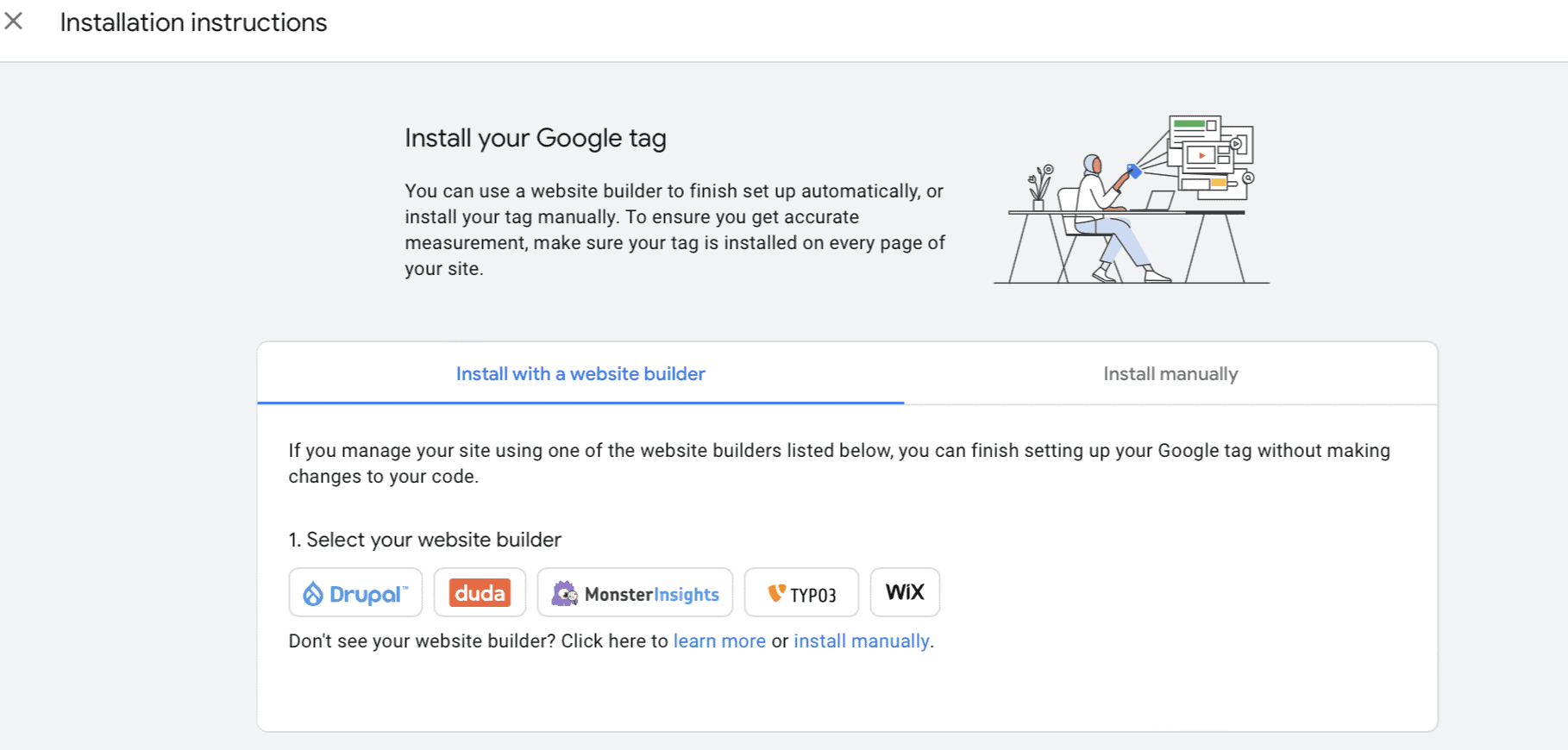 Final Thoughts
Google Analytics 4 is definitely going to take some getting used to for those who haven't already started adjusting. The interface is different, conversion tracking is different, and there are a large number of small changes that need a minute to adjust to.
That being said, we are excited about the potential for enhanced data, especially since GA4 is much less reliant on cookie tracking than UA.
We're excited to see how the platform develops, and if any changes happen that make it even more valuable for tracking long-term results from your PPC campaigns, we'll let you know.
Google Analytics 4 isn't the only thing new to Google this year. See how to optimize your campaigns in 2022 here.