The GrowMyAds.com team is very proud to announce that we've been recently recognized for our incredible efforts and hard work in the industry! Today, The Manifest has named us as one of the most reviewed PPC agencies globally. This is huge news for us and we are very happy to share this with all of you.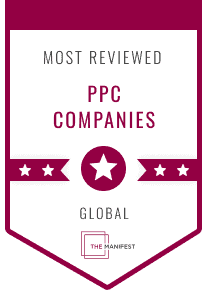 For those of you who don't know, The Manifest is a business blog website that aims to gather and verify the hard data, expert insights, and actionable advice that you need to build your brand and grow your business – to provide the practical business wisdom that manifests in your success.
This is a huge accomplishment for us and we are proud to be a leader on The Manifest! This global recognition speaks volumes about our services and the solutions we offer to our clients and to the industry. Of course, this award wouldn't have been possible without an amazing team. You guys are the reason why we are able to deliver exceptional results for our clients and we are lucky to have you in our company.
With that being said, we would like to extend our gratitude to our clients and partners for helping us achieve this award. You've been supporting us incredibly throughout these years and we are honored to be your digital partner.
Lastly, we would like to thank The Manifest and their team for making this award possible. Thank you for your efforts in making the B2B space a better one.
Get in touch with us today and we'll happily provide a Free Google Ads strategy session!