As advertisers, we want all of our ads to be well-placed, relevant, and immediately appealing to our target audience. This is the goal. We want attention, clicks, and conversions.
As consumers who use the internet ourselves, however, we know that this isn't always the case. Ads can be annoying. They can slow down site loading times, keeping you from the content you want to see or making it hard to access the content you're trying to read. Some are wildly irrelevant, and others downright feel like spam.
Google knows this. They also know every year, an increasing number of users implement ad blockers to prevent negative experiences, which is now at around 27% by some estimates. This costs them money.
In order to reduce the number of users who feel the need to download an ad blocker or who are overwhelmingly annoyed by ads, they've rolled out their Better Ad Standards.
Google's Better Ad Standards are pretty straightforward, so let's take a look at what they are and what they mean for advertisers.
What Are Google's Better Ad Standards?
Google's Better Ad Standards are essentially a list of policies based on user research conducted by experts who came together to form the Coalition of Better Ads. This is a new standard that determines how to reduce and resolve disruptive and experiences with Google Display Ads.
These standards comprise eight mobile web display ad experiences and four desktop web display ad experiences that companies should avoid to promote and maintain a good user experience— and a happy customer.
These standards detail how publishers should be placing ads on their sites for a strong user experience, and advertisers are given recommendations for the types of ads they should be creating. These are specific guidelines designed to improve the user experiences and ultimately drive more ad revenue for publishers and more clicks and conversions for advertisers.
How Google's Better Ad Standards Were Created
A group of industry experts came together to form the Coalition of Better Ads, which then conducted extensive user research about which ad experiences and formats customers found the most disruptive or annoying. Over 66,000 customers have been surveyed from around the world, representing 70% of global online advertising spend.
Why You Need to Care
Ads or websites that are identified as having poor ad experiences can be flagged by Google. Publishers may be asked to review, adjust, and re-submit their sites for review if flagged. Ads can also be flagged, and the advertiser may be asked to revise them.
Google has stated the following:
Publishers who already follow the Better Ads Standard experience an "improved ecosystem," which results in an improvement of advertising spend due to positive ad experiences. Better ad experiences means more clicks, and it also means a reduced user demand for ad blockers.
Publishers who aren't following the Standards but change to do so will improve the user experience, which can increase user engagement and their own brand perception. It's not uncommon for users to avoid (or lose respect) for sites that spam them with too many ads.
Advertisers who are buying ad inventory and create ads that adhere to the Better Ad Standards will have a better chance of success because their ads won't disrupt the user experience.
So What's Included in Google's Better Ad Standards?
Google's Better Ad Standards has a list of "do's and don'ts" for advertisers and publishers alike with both desktop and mobile ad formats.
Google does recommend using the following formats on desktop:
Long, skinny ad on the right-hand side of the webpage
Static large image ad at the top (sometimes known as "banner ads")
Static inline ads
Google does recommend using the following formats on mobile:
A small sticky top banner (meaning it does not move when users scroll)
Sticky ad on the bottom or footer of the mobile page
Small static inline ad
Google does not recommend the following on desktop:
Auto-playing video ads without sound
Prestitial ads with countdown
Pop-up ads
Large sticky ads that take up a big portion of the screen
Google does not recommend the following formats on mobile:
Pop-up ads
Large sticky ads
Flashing animated ads
Auto-playing video without sound
Ad density higher than 30%
Full-screen scrollover ads
Each of the suggested formats are simple, commonly used, and present without being disruptive.
All of the formats they don't recommend are typically those that are going to be most frustrating for users. They're distracting at best, but may actually prevent them from being able to access their content easily at worst.
To keep it simple, you can save the following graphic from Google, which sums it up quickly: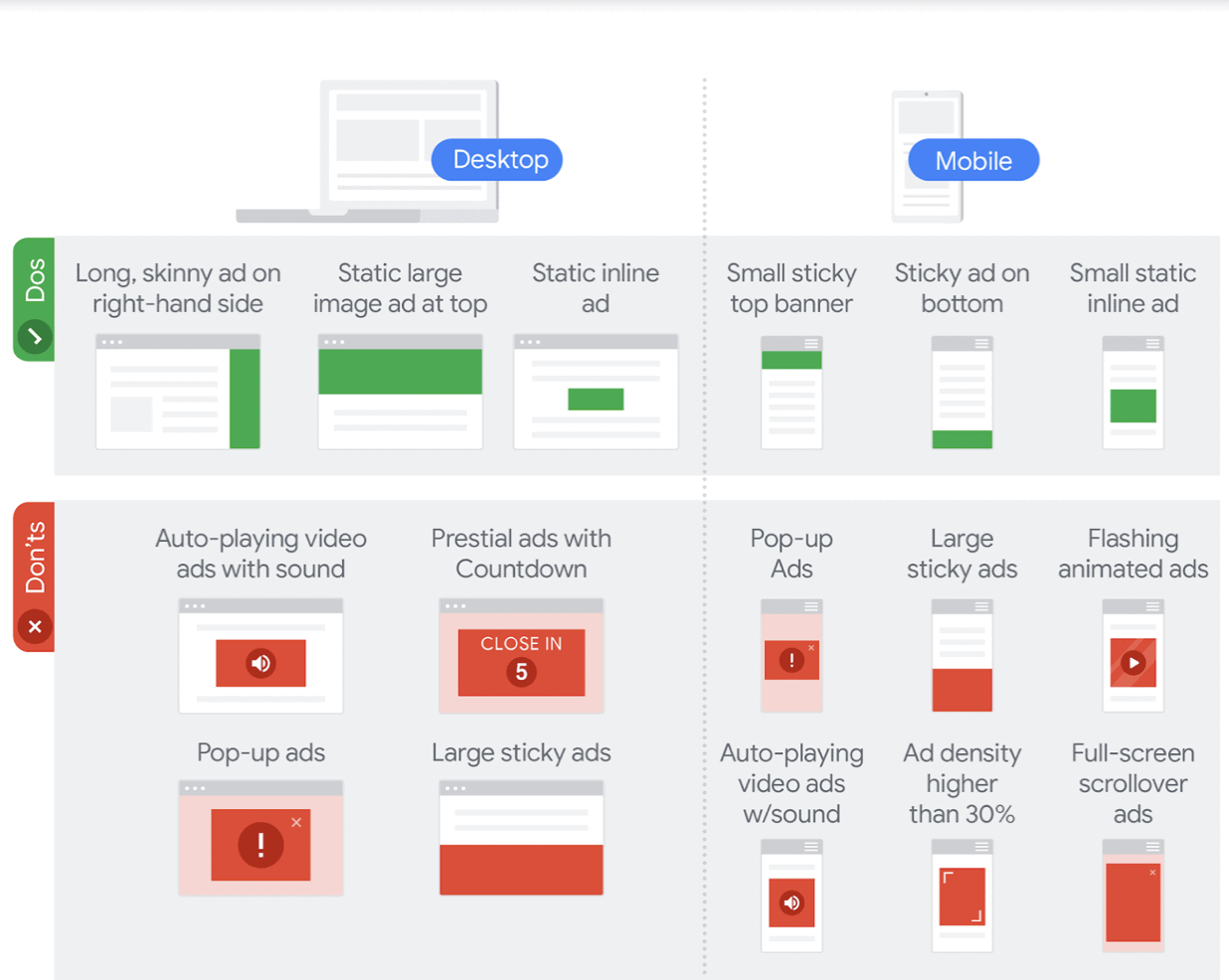 What Else Do I Need to Know About Google's Better Ad Standards?
There are a few more things to keep in mind when considering the Better Ad Standards.
First is the Ad Experience Report. This is available in the Google Search Console, and it will flag when Google has identified a set of ad experiences that violate the standards. It can offer suggestions for remediation, and after the issues are fixed, publishers can request a re-review of their site.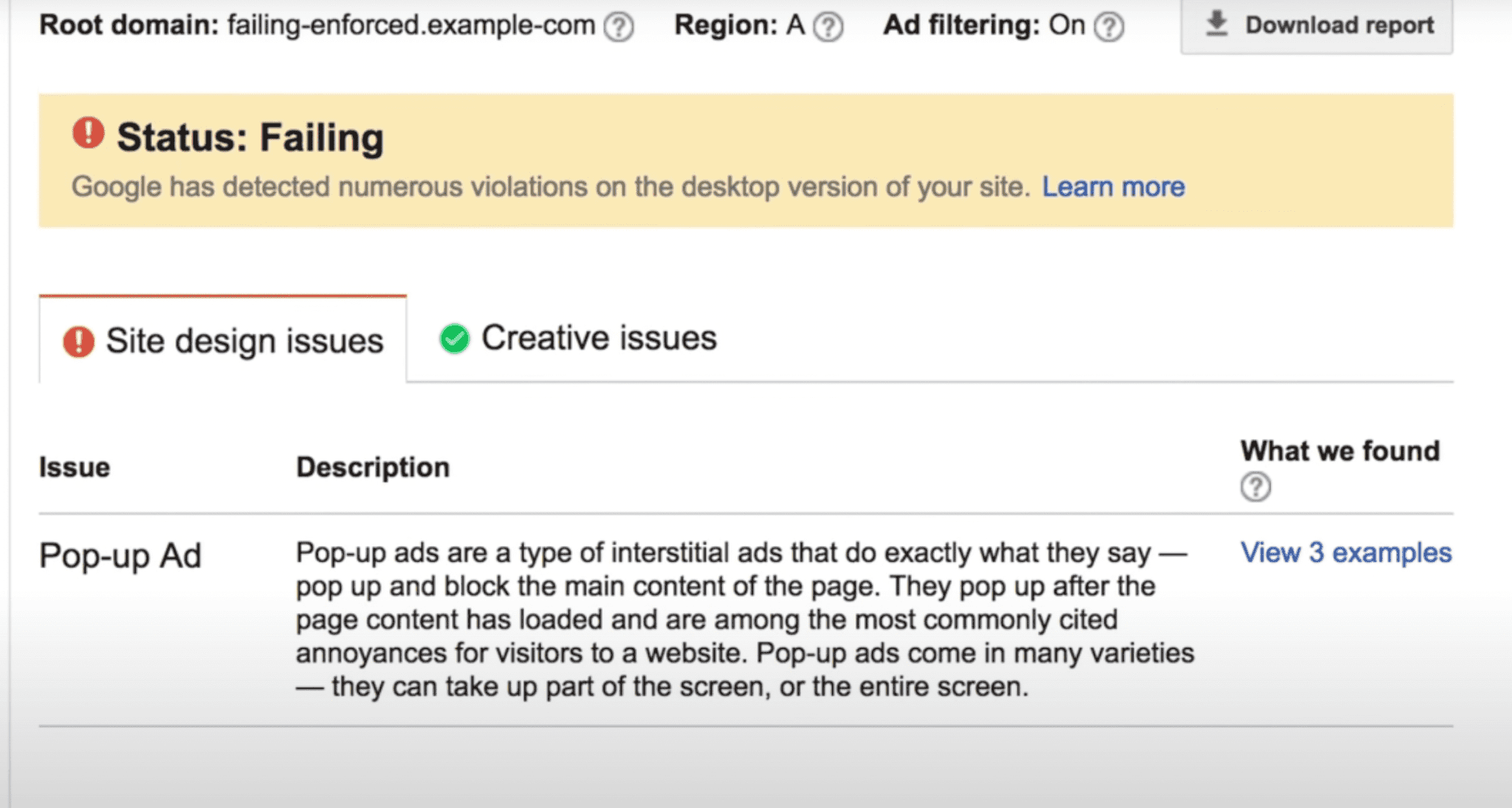 Another is Google's Funding Choices feature. This allows publishers to automatically identify users who are implementing ad-blocking plugins and show them a pop-up that asks them to disable the ad blocker on the site. It also allows publishers to fund content in an alternative way through Contributor, allowing users to buy an ad removal pass.
Finally, it's important to look at Chrome filtering. Several years ago, the Google Chrome browser automatically began filtering ads on sites globally that have a failing status in the Ad Experience Report. These sites would receive a notice to resolve the violations 30 days before the filtering would begin. There are penalties involved, even if some sites "manage to get away with it."
Final Thoughts
Google's Better Ad Standards were a solid start to strongly encouraging publishers and advertisers to work a little harder to create a positive, less-annoying user experience. It's important for publishers and advertiser to stick to the standards, and not only to avoid being flagged by Google— a better user experience means better results (and profit) for everyone involved.
Need help creating stronger ad campaigns that deliver an outstanding user experience? Learn more about how we work here.