When you're advertising on Google Ads, the majority of your keywords have likely been curated to focus on finding high-intent users who are seeking out products exactly like yours.
These are often product- or service-focused keywords, like "hair diffusers" or "personal injury attorney" or "gym near me." This is a great way to gain visibility, clicks, and hopefully sales.
But what if they're already searching for your brand in particular?
This is where bidding on brand names as keywords can come into play. In this post, we'll show you how and why you should.
What Are Google Ads Brand Campaigns & Why Do They Matter?
Let's start with an example.
I need a new mattress. I search for "Tempur-pedic mattress," because I've heard they're great and they're often known as being at the top of their industry.
When I make this search, I see an ad from another brand in the top ad spot. Nectar mattresses talks about "the last mattress you'll need to buy" and a "Forever Warranty." That's appealing, and they have $399 off.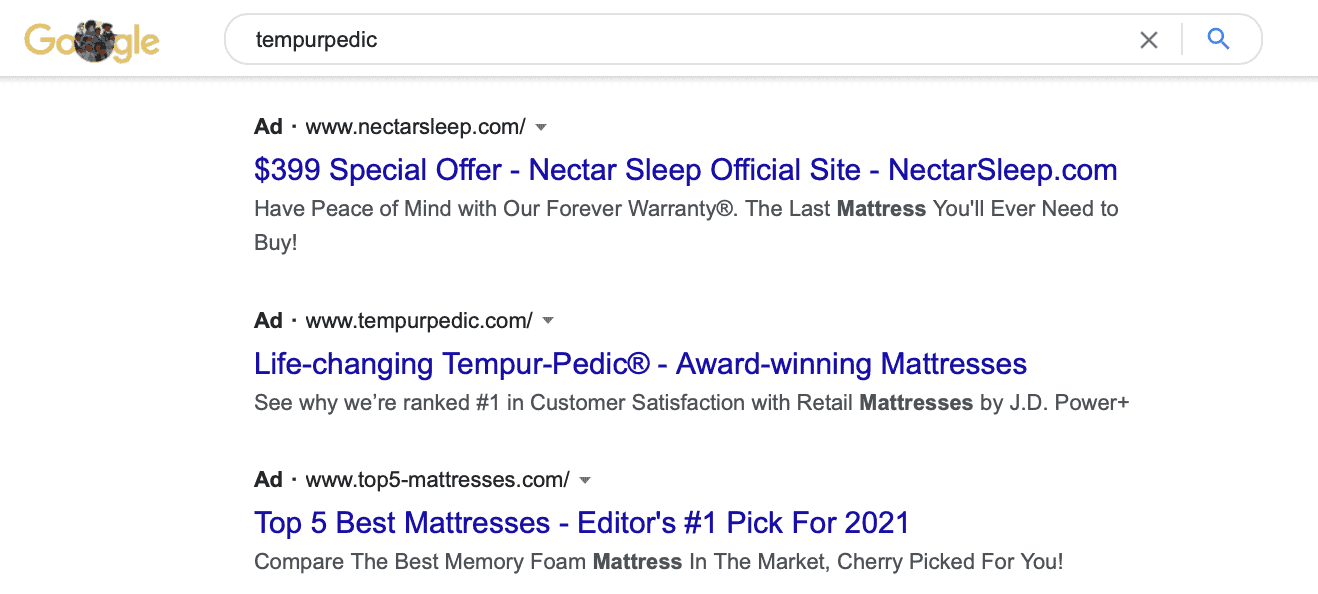 I know Tempur-pedic is great… but why not check out this ad first?
A few things from this example can be used as a good learning lesson on brand terms:
Nectar Sleep just beat Tempur-pedic for their own branded keyword by taking the #1 ad position in this case – they also have an enticing offer with a $399 Special Offering being displayed right in Headline 1 of their ad. This ad in my opinion is better than what Tempur-pedic is showing.
Tempur-pedic is bidding on their own brand keywords as we can see their ad right below Nectar Sleep. However, they failed in this case. They let Nectar Sleep take the top ad position from them and with a better ad. I can almost guarantee Nectar Sleep has stolen business away from Tempur-pedic by this ad for this particular search.
I get it. Why spend money on my own company name? Yup – it sucks. Blame Google.
The example of this Tempur-pedic search is exactly why you must treat your brand keywords with special treatment.
Most advertisers get lazy with their own brand terms. They just throw up some generic ad and don't watch their impression share closely enough.
You know what happens when you do that?
Your competitors eat your lunch.
I don't know about you, but if someone is searching for my company directly, my ad better be in the #1 ad position, 100% of the time to drown out my competitor's ads and protect my hard-earned territory.
5 Reasons to Use Branded Keywords in Your Campaigns
We know that spending any of your tight Google Ads budget on branded keywords may not seem like a great use of funds. It's up to you, but there are five reasons why you should consider it.
1. Dominate Your Brand's Own Impression Share
When you're bidding on your own brand, your ads are almost guaranteed to be relevant. This is an important measure in quality score, which can lower costs and increase deliverability. This can also help you rank higher and have your ad show up more often.
This can help you dominate the impression share of branded keywords, making it harder for your competitors to try to snag your searches – AKA steal your customers.
2. Improve Your Customer Experience
You can make it easier for customers to find what they're searching for with brand ads, which can streamline their search process and improve their experience.
Examples of this may include the following:
Running special promotions and baking this right into the ad copy
Using ad extensions to show them reviews in the ad copy if they're searching for "[brand name] review"
Featuring popular product categories or best selling products from the ad searching for similar items
An example of this would be a search for Adidas Ultra Boost. Instead of a generic Adidas ad that leads you to the homepage, Adidas has created an Ultra Boost specific ad with relevant ad copy that leads you directly to the Ultra Boost shoe category page – making the path to purchase that much easier.

3. Share Multiple Relevant Links with Users in an Ad
When people are searching for your brand name, that's a relatively high intent search. The ability to meet these searches with high-quality, relevant links is valuable.
There are plenty of options for this. You can use extensions, for example, to showcase more of your inventory, share reviews to show your brand's quality, and promos to entice them to come your way. These can all give you an edge.
Live Bearded does a great job of using all the available ad copy space by highlighting their features and making it easy for the searcher to navigate directly to one of their popular product categories.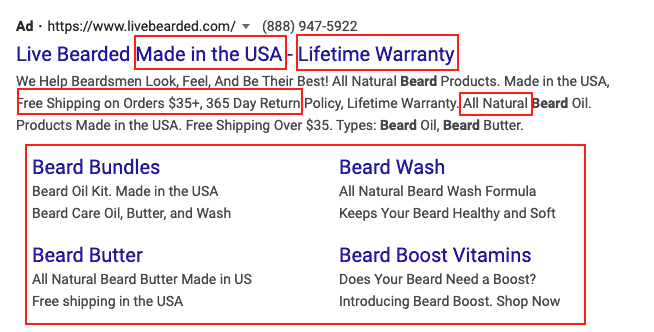 4. It's Dirt Cheap
Think of bidding on your brand terms as a type of insurance protection. Thankfully this is a very cheap insurance plan to protect your sales.
Brand terms are generally going to be inexpensive to bid on – typically less than $1 per click depending on your brand name.
Below is an example of a cosmetic brand client of ours who spent $21k in a year (less than 10% of their overall ad spend) on their brand terms and generated $500k+ in sales. That's a 2,400+% ROAS!

You're not going to get that type of return on anything else. Our client has plenty of competitors bidding on their name, and they managed to prevent these competitors from stealing any of that $500k in sales away from them.
5. Dominate the SERP
Think of the SERP (search engine results page) as a monopoly board. The more real estate you own on the SERP, the higher the chances of a searcher clicking to your website.
An example below is a search for "Nike." You'll notice they have Shopping Ads at the top, a text ad below, and their organic listing. They essentially own this search page – as they should.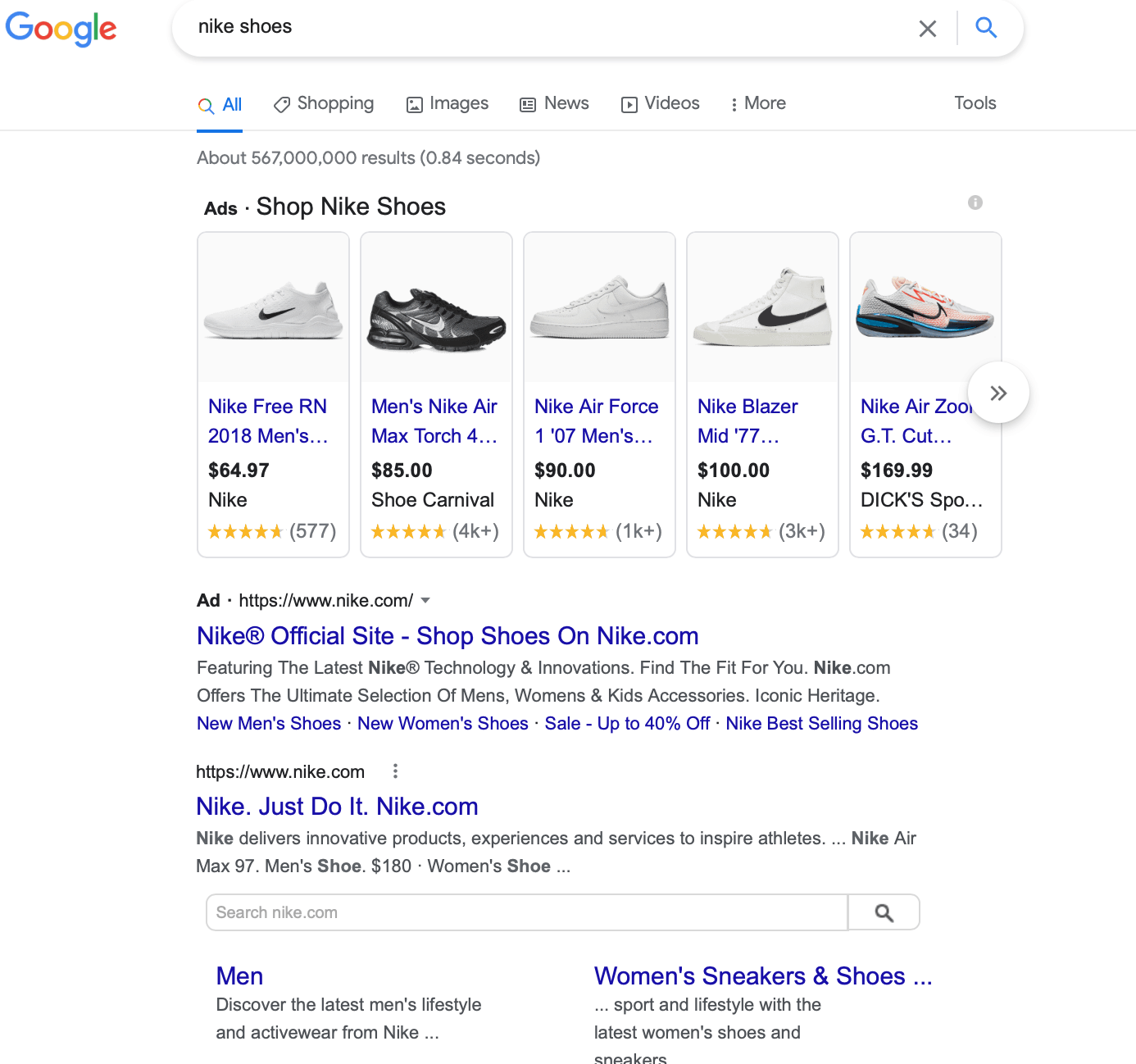 How to Bid On Brand Keywords
Setting up brand keywords is simple. Just add in the branded keywords of your choice to a brand specific campaign.
If I sell running shoes, for example, I might target my own brand name in one campaign. Associated keywords might be "My Running Shoes LLC," "My Running Shoes," "My Running Shoes products."
When you're bidding on brand keywords, it's essential to remember the following:
You want to separate brand ads from other campaigns. Otherwise this will skew the data and can make your non-branded campaigns appear to be performing better than they actually are.
Create a negative keyword list of your brand name for all non-brand campaigns. This prevents branded terms from appearing in your non-brand campaigns, since the goal in those will be to reach new users instead of those who are already searching for you. Brand ads will capture the users who are searching for you.
Segment your campaigns by product types or categories if the volume is high enough. If you're getting plenty of searches on distinct products or product categories, take advantage of that. You can either use extensions to create relevant structured snippets and site links or create individual ads for each term.
KitchenAid does this with high-performing products, like their often-searched-for mixers. This creates a more relevant search result and prevents other companies from snagging the top spot.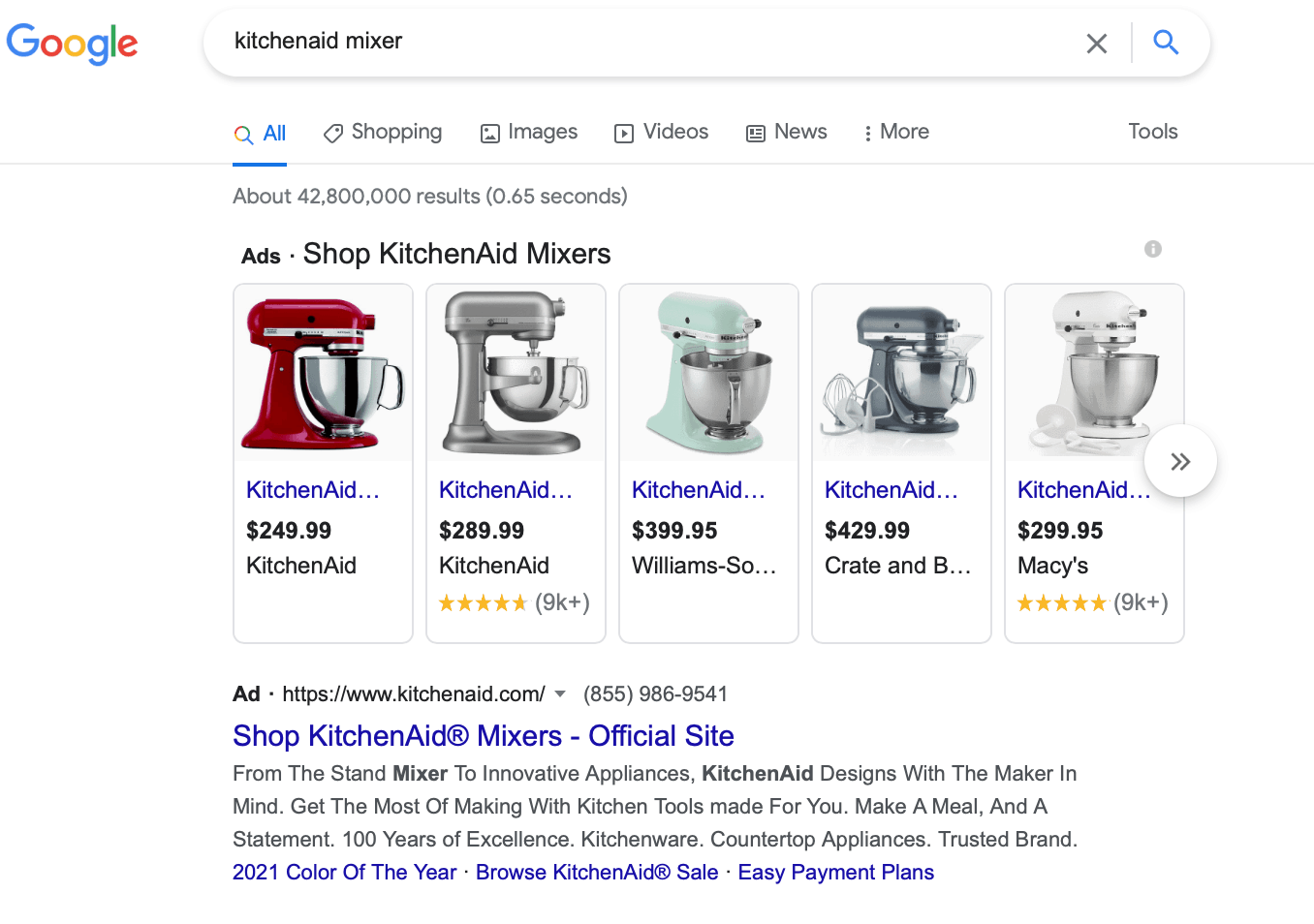 Consider avoiding certain types of branded terms that aren't related to search intent. Someone might search for "Shopify" to learn how to become a customer. They might also be searching for "Shopify jobs" or "Shopify stock value." You need to use negative keywords to avoid some of these common searches that could lead to less-than-relevant clicks.
A professional Google Ads company can help you set up brand-specific campaigns and transform your PPC strategy.
Brand Ad Comparison Ads: Bonus Strategy
You can also run comparison searches, which are "review" or "vs" -based keywords that you can use to attract high-value, high-intent users. If someone searches "[Your Brand] vs. [Your Competitor]," you can have an ad targeting that keyword and a landing page that highlights your selling points compared to the competition.
Blue Apron cleverly is targeting "Hello Fresh vs Blue Apron" and showing an ad that aggressively states "Blue Apron is Better" and offers a $90 coupon.
You can never use your competitors brand name in the ad copy, but you'll notice Blue Apron sneaks in Hello Fresh ad copy by stating "Say Hello to Fresh, Chef-Designed Delicious Meals in Your Home." which helps their ad "pop" with bold keywords
4 Branded Keyword Campaigns to Draw Inspiration From
Want to take a look at what some of these brand ads look like in the wild? Here are 4 branded keyword campaigns that do their job well to draw inspiration from.
Planoly
Let's look at an ad from the company Planoly.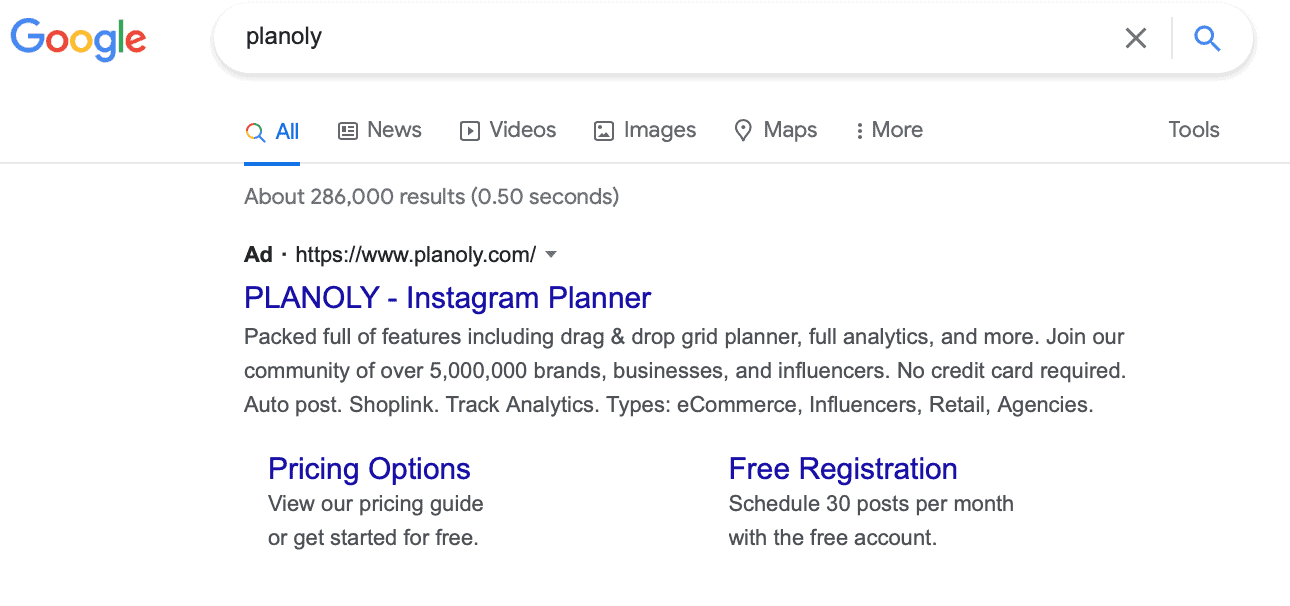 Planoly knows that they're a smaller brand who is growing, and they do the following well:
They've got social proof with the mention of 5M brands, businesses, and influencers
They overcome an objection with "no credit cards required"
They feature some of their best offers, like "track analytics" and "drag-and-drop grid planner"
They use an extension to get users the links they need to see, including pricing options and free registration and free registration
Starbucks
In the example here, Starbucks bids on their own brand name. They use the ad space to quickly offer core information that users might be looking for.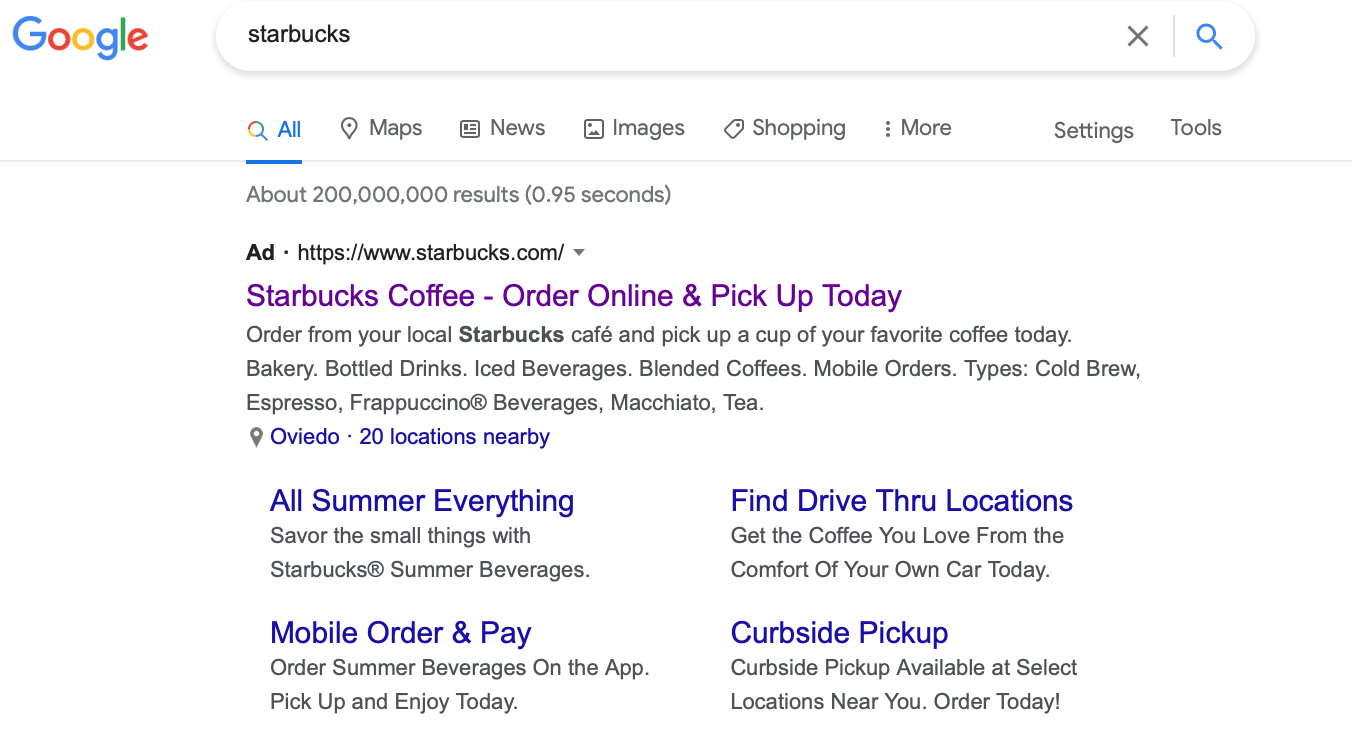 This information includes:
A list of types of drinks offered
"20 locations nearby" the user's search location
Featured summer drinks
Quick search for drive through locations and curbside pick up
Mobile order and pay links for quick service
They're making it so easy for users to purchase from them that hopefully they won't be enticed to try a competitor instead who may be advertising in their space.
Mixbook
Mixbook's ad is all about highlighting their available discounts and some of their most popular items.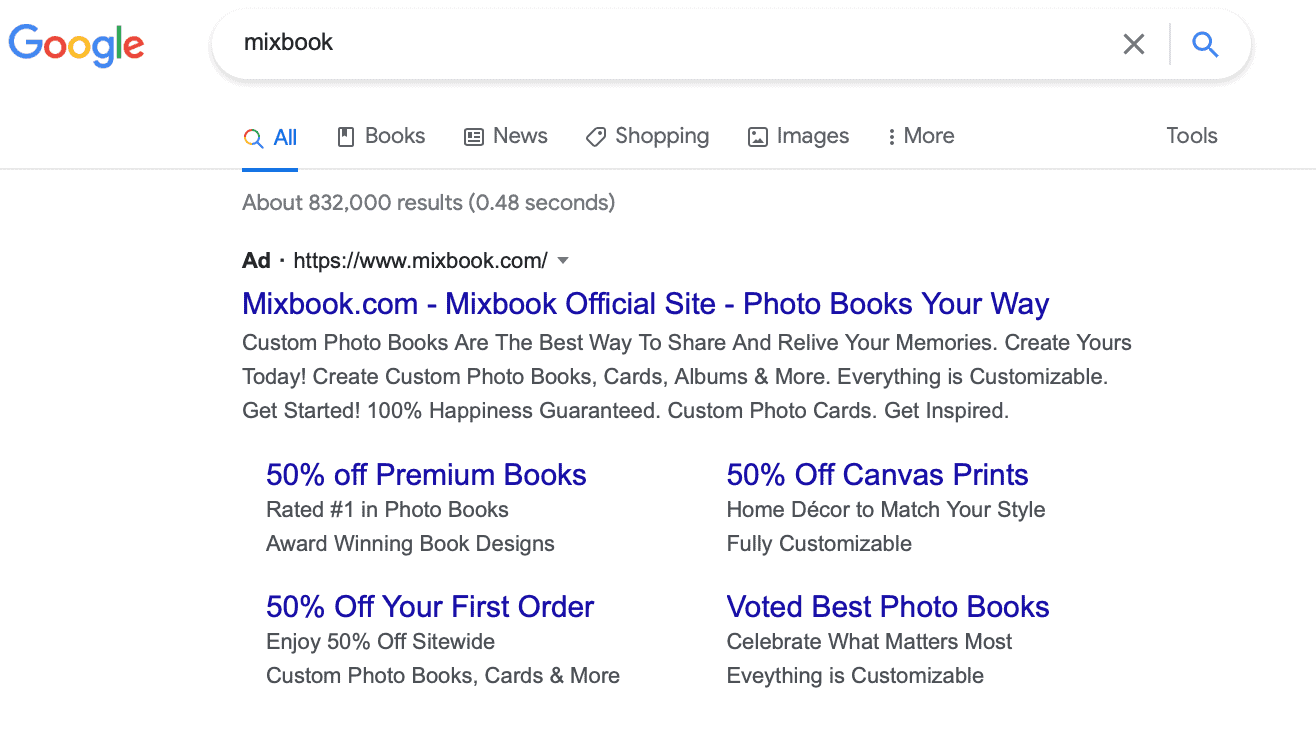 Here's what they do well:
They mention some of their most popular products, including custom photo books, cards, albums, and more
They stress that there's 100% happiness guaranteed
They offer 50% off a number of different products
They leverage UGC with "voted best photo books"
Bloomscape
This is an ad showing how eCommerce companies can bid on their own branded keywords to offer a streamlined customer experience.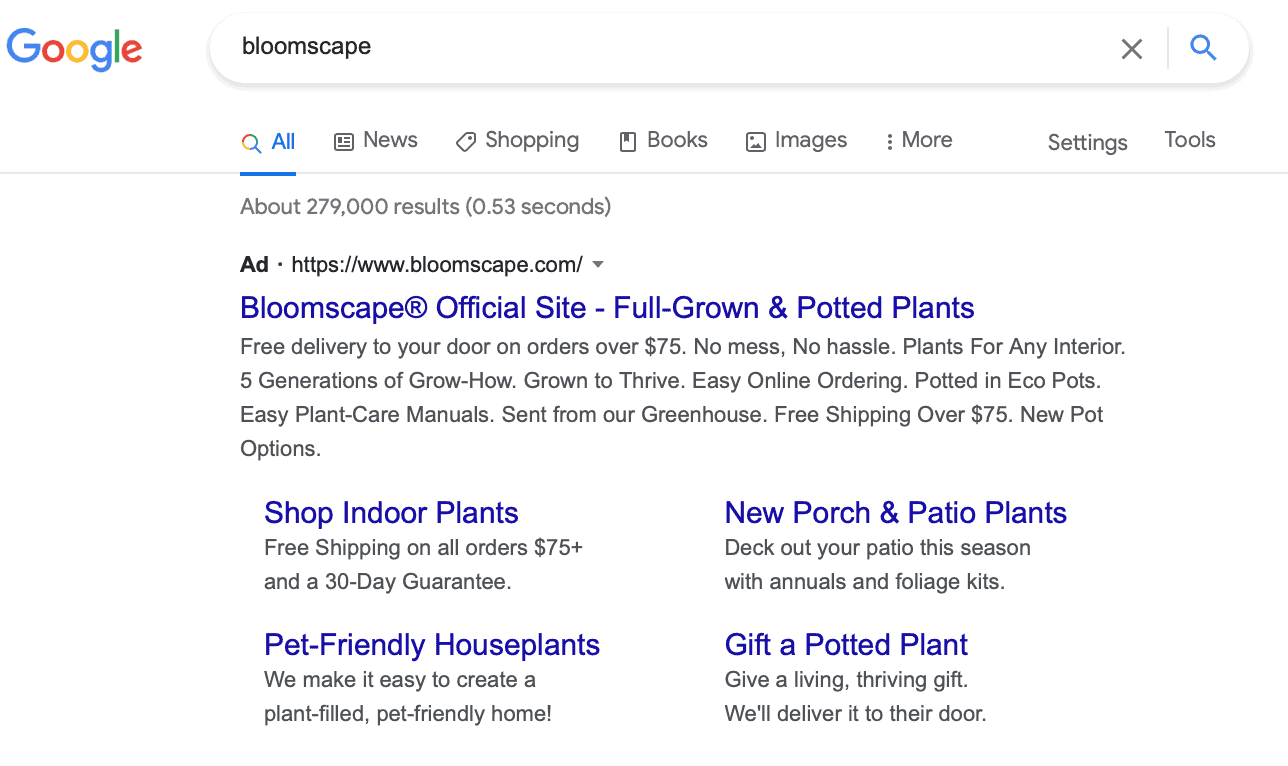 Alt text: Bloomscape brand ad in Google Ads
This ad from Bloomscape does the following well:
They immediately list an offer, which is free delivery over $75
They list benefits, like "grown to thrive," "potted in eco pots," "easy care manuals" and "easy online ordering."
They feature links in their extension that shows their vast array of offerings, including porch/patio plants, indoor plants, pet-friendly plants, and gifts
It's easy for users to quickly scan whether or not this is the right company for them and if the brand offers what they need. And then, hopefully, to click and convert.
Mistakes to Avoid with Branded Keyword Campaigns
Want to rock your brand ads on Google? You'll want to avoid these branded keyword mistakes:
Lumping them in with other campaigns. We've already addressed this above; this is the last thing you want to do. Create dedicated branded keyword campaigns.
Not monitoring impression share. Don't get lazy with your brand campaigns – it is not a set it and forget it campaign. We've seen campaign budget constraints and improper bid strategies cause brand campaigns to actually be outranked by competitors.
Using dynamic keyword insertion. The last thing you want is to have another brand's name show up in your copy where you don't want it. For that reason, it's best to skip keyword insertion tactics on these campaigns.
When Not to Bid on Brand Ads
99% of the time you should be bidding on your brand terms.
However, the only time when it may not make sense to bid on your own brand is if you're 100% sure you have absolutely no competitors who are bidding on your name. If this is the case and you're working with a small budget, it's not worth the investment.
There's no need to give Google any more of your money if you don't have to, right?
Final Thoughts
Bidding on brand names in Google Ads allows you to create brand ads that can help improve the customer experience and protect your sales against competitors – and all at an extremely high ROI.
Still not convinced? Test it! Get a brand campaign running for the next 30 days and analyze what the data shows.