One of the biggest strengths of Google Ads and other online PPC platforms is the data.
When you advertise in a newspaper, for example, you're making marketing decisions based on factors like paper distribution. With Google Ads, you can actually see which ads drove how many clicks and at what costs.
No data, of course, is ever truly perfect, and conversion tracking has always had the potential to be slightly muddled. It's why people sometimes struggle with choosing different attribution models.
But good news: There are plenty of ways to improve your data accuracy, and one option is to use the Google Ads enhanced conversions feature.
What Is the Google Ads Enhanced Conversions Feature?
Enhanced conversions is a Google Ads feature that's designed to improve the accuracy of your conversion data. It does this by supplementing existing tracked conversions by pulling first-party conversion data from your website and sending it to Google by using a one-way hashing algorithm.
Don't worry— privacy is still a focus, so user data is kept anonymous. It works by hashing your first-party customer data like names and emails before it's sent to Google, which is then matched with signed-in Google accounts to better attribute your campaign conversions to specific ad events like clicks or views.
How You Can Benefit from Google Ads Enhanced Conversions
Here's the biggest benefit that you'll get from using Google Ads enhanced conversions: There's less ambiguity about which actions are driving results, giving you more concrete data.
That's an enormous advantage. Better quality data is everything, and it allows both you and Google to improve the optimization of your campaigns.
The ability to better track how specific ad events drive conversions while still maintaining protection of user data is a huge win.
It will:
Give you a better understanding of your customer journeys
Make your conversion data more accurate across your individual campaigns so you know what's really working
Give you more data that you can use for retargeting campaigns
When working with a Google Ads company, you should select an agency that focuses on data-driven to define an effective digital strategy.
How to Set Up Enhanced Conversions
You have two different main options for setting up enhanced conversions on Google Ads: Manually through the Google Tag Manager, or using the Global Site Tag. You an also use set them up using an API connection.
To enable any of these options, you'll first need to get to the specific action you want to add enhanced conversions to.
To do this, go to Google Ads, and then click "Tools and Settings" in the top corner. Find "Conversions" under "Measurements" and click.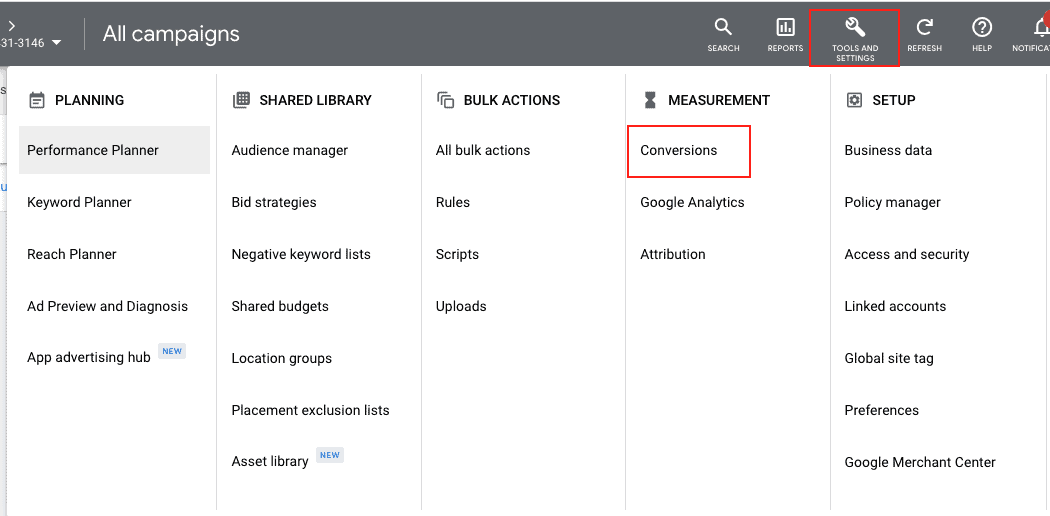 You'll see a list of different conversion events you can track. Click on one.
At the bottom of the next screen, you'll see "Enhanced conversions" under a drop down menu. Click it, and then click "Turn on enhanced conversions" and choose your option for set up.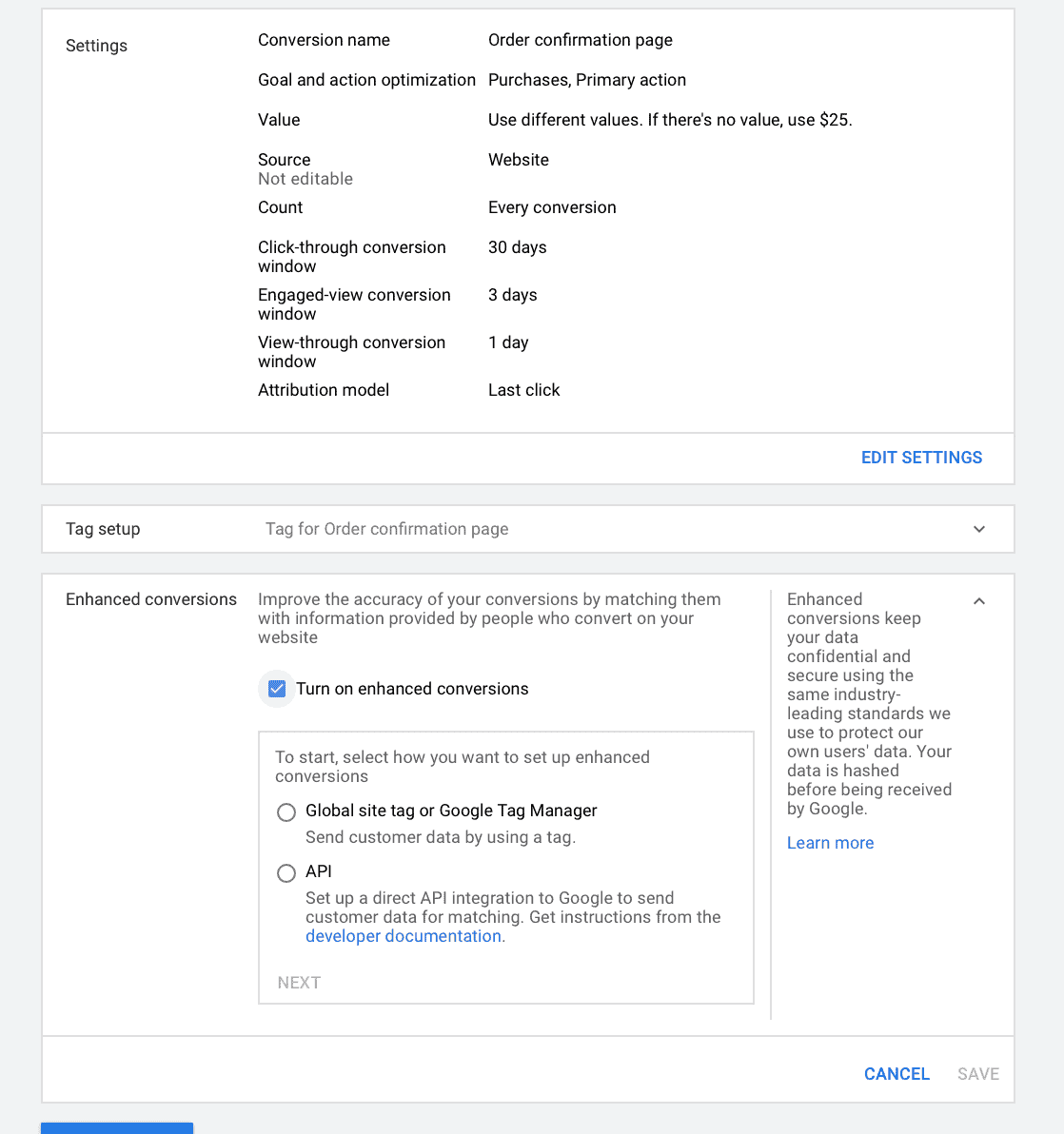 Setting Up Enhanced Conversions with the Google Tag Manager or a Global Site Tag
Google Tag Manager is a tag management system that allows you to add and update code snippets (in this case tags) on your site. You may already be using it for conversions tracking.
These are the most common options, as setting up an API can be complicated if you don't have one already up and running.
You'll be asked to enter in the name of your site to assess existing tags.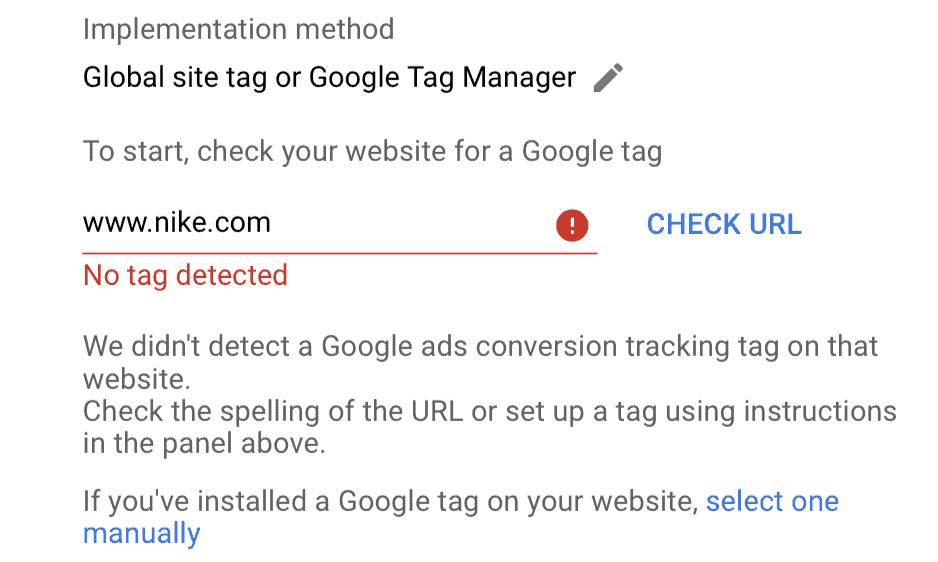 If a tag is found, you'll have the option to edit it and add enhanced data with a few clicks. If not, like you see above, you'll need to use a global site tag and install it manually.
You can follow the instructions from the developer here on how to do this, using either CSS or Java or to edit the code yourself. The code transformation on your site will look something like this: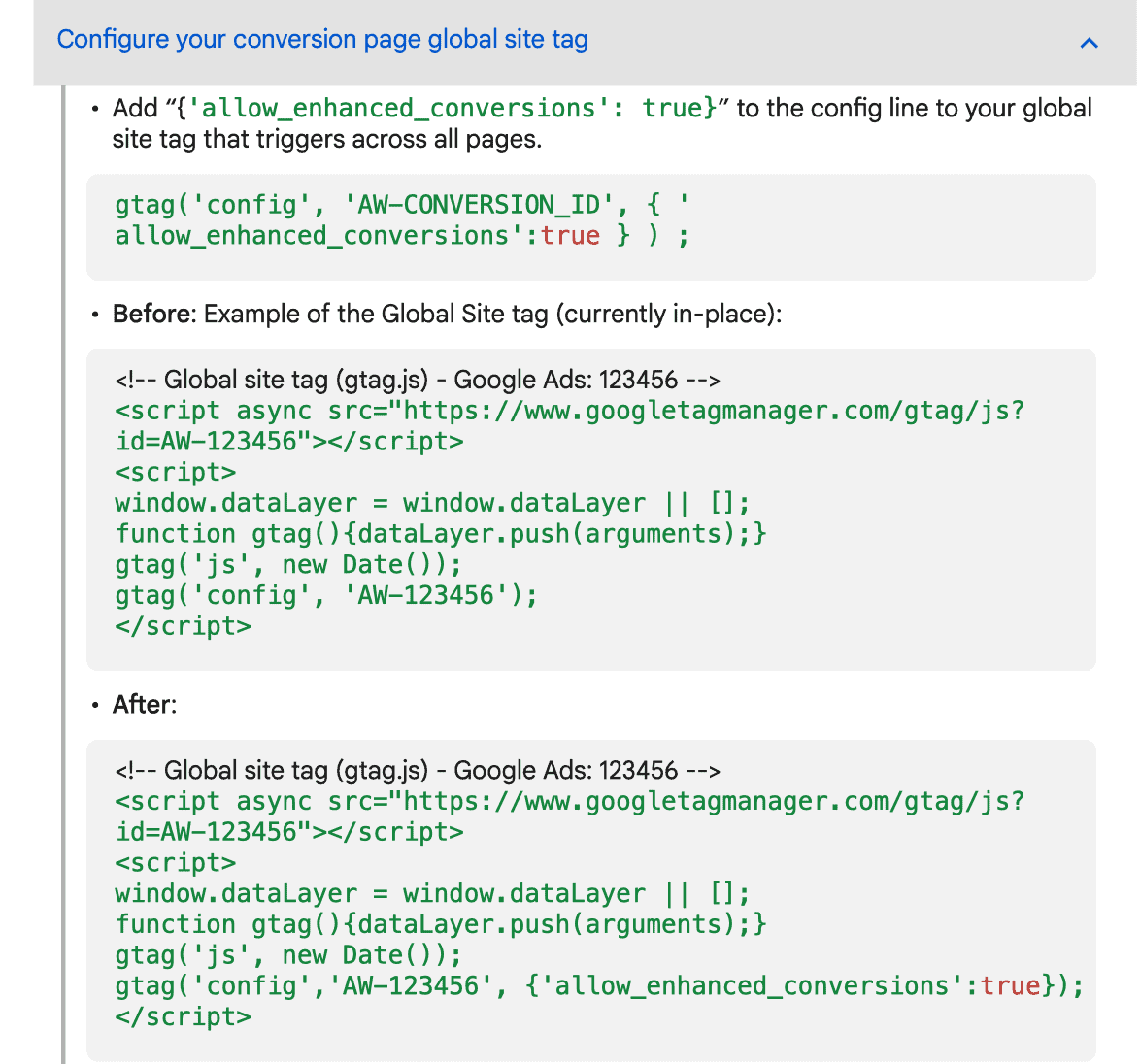 If you opt to use CSS or Java to set up enhanced conversions, you can choose which information you want to send.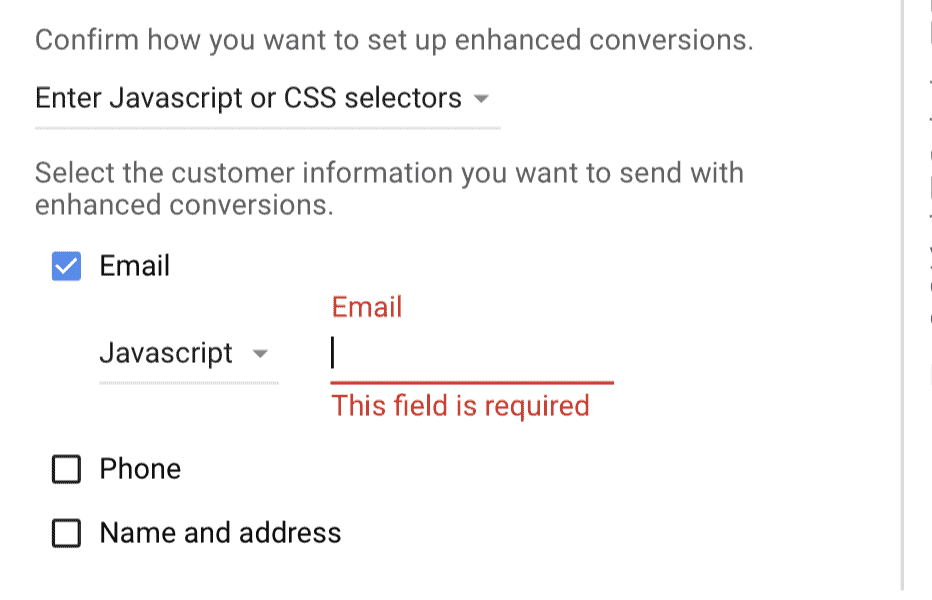 3 Things To Keep in Mind with Enhanced Conversions
Ready to set up enhanced conversions for your Google Ad campaigns? We're big fans of the feature, but as always, there are a few crucial things that you'll want to keep in mind, including the following:
The data that you're getting is still completely anonymous conversion data. You aren't going to know which users took specific actions based off of ads, as their data is still protected; don't expect to access this sort of individual information
Enhanced conversions are only going to work for conversion types where customer data is present. This includes email sign ups, subscriptions to something, and purchases.
This feature relies on one or more essential pieces of data being available. This can be email (preferred), phone number (which can only be used if used in conjunction with one of the other two options), or name and home address.
Since email can stand alone and is the lowest barrier of access to get user data in most cases, that's what we'd recommend focusing on.
Final Thoughts
More data can be great, but Google's enhanced conversions feature doesn't just give you more data; it gives you more accurate data. The ability to really understand how individual ads are impacting specific conversion events gives you invaluable insight into your customer journey.
And with three different options for how to set up enhanced conversions, it's a relatively painless process that takes just a few minutes but can drive significant long-term results. You just have to set it up for each event, not each campaign.
This information can help you create stronger ads that drive more results beyond clicks or views, which makes your ad campaigns more relevant, more click-worthy, and more profitable. That's a hard advantage to say no to.
Want to learn more about how you can optimize your Google Ads to drive more conversions? Check out how we help our clients skyrocket their CTR, ROI, and ROAS here.