Think fast: How diverse is your Google Ads strategy really?
I'm not asking how many ads you're running, or how many ad groups you have. I'm talking about how many different strategies you're using to capture as many clicks as you possibly can.
A large number of brands just have a singular search ad strategy. They create different versions of copy that list their best products or highlight their best features, and hope for a click. While this is typically going to be an essential part of many campaigns, there are also additional strategies that you can use to diversify and improve your ads across the board.
In this post, we're going to take a look at 6 different Google search ad strategies and discuss how and when to use them to capture users at every stage of the sales funnel, connecting you with potential sales that you may have missed otherwise.
Why You Need to Diversify Your Search Ad Strategy
The standard Google Ad strategy is fairly self explanatory. Pick a keyword that users are likely to search for when looking for products or services like yours.
BarkBox sells dog toys and treats, so it makes sense that they'd bid on the simple keyword "dog toys."

They also have campaigns for niche products, like their Super Chewer products which appear for keywords like "dog toys for tough chewers."

As we're about to discuss though, there are keywords outside of strictly-product-based search terms to consider. You can promote specific products, promotions, or use creative combinations of keywords to snag search traffic from the competition.
This helps you cast a wider net to catch more users coming from more searches, which ultimately can give you more opportunity to drive sales.
More visibility in relevant searches is hard to say no to, especially when some of these keywords may offer lower costs per action while still yielding the potential to drive sales.
6 Google Search Ad Strategies to Test
We're going to take a look at 6 different Google search ad strategies outside of the standard approach. I want to note that these won't all be relevant for every business, but it's often worth testing the strategies that are a fit for yours.
1. Go Hard on Your USP
What makes you different from the competition? Why are customers going to purchase from you instead of the next person listed in the SERPs?
This is your unique selling proposition, or your USP, and it's often invaluable with marketing.
Many brands, without even realizing it, are already trying to add in elements of their USP to their ads.
Let's take a look at an example. We have two different ads from two different companies here for hurricane shutters. One stresses "beautiful and durable retractable screen systems." Another focuses on "highest grade aluminum" and "over 20 years experience." These are small identifying value propositions that set the two apart.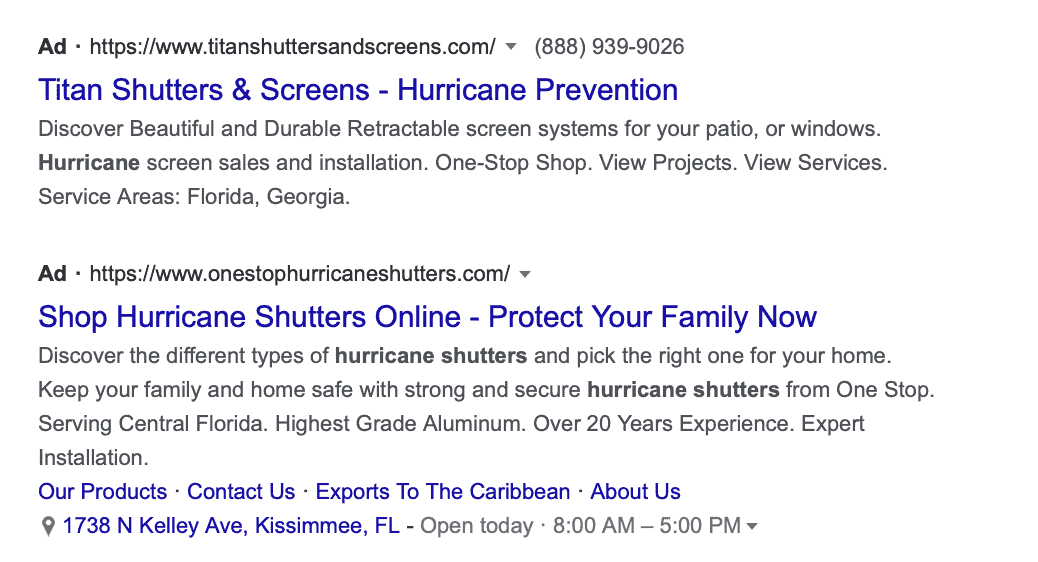 Take some time to consider not just what's good about your brand but what truly makes you different. What will customers read and think "I need to purchase from them."
Hurricane shutters are notoriously unattractive, so "beautiful" is a solid USP from the first ad. Others are deeply concerned about effectiveness and longevity, so "highest grade aluminum" is a great choice.
As a tip, you can search for the keywords you want to target and see what other brands are saying. This may give you new ideas for how to stand out.
And don't forget, you can use Call Out extensions to feature more of what makes you great.
2. Target Your Brand's Keywords
They're already searching for me, why would I need to target my own branded keywords?
This is why: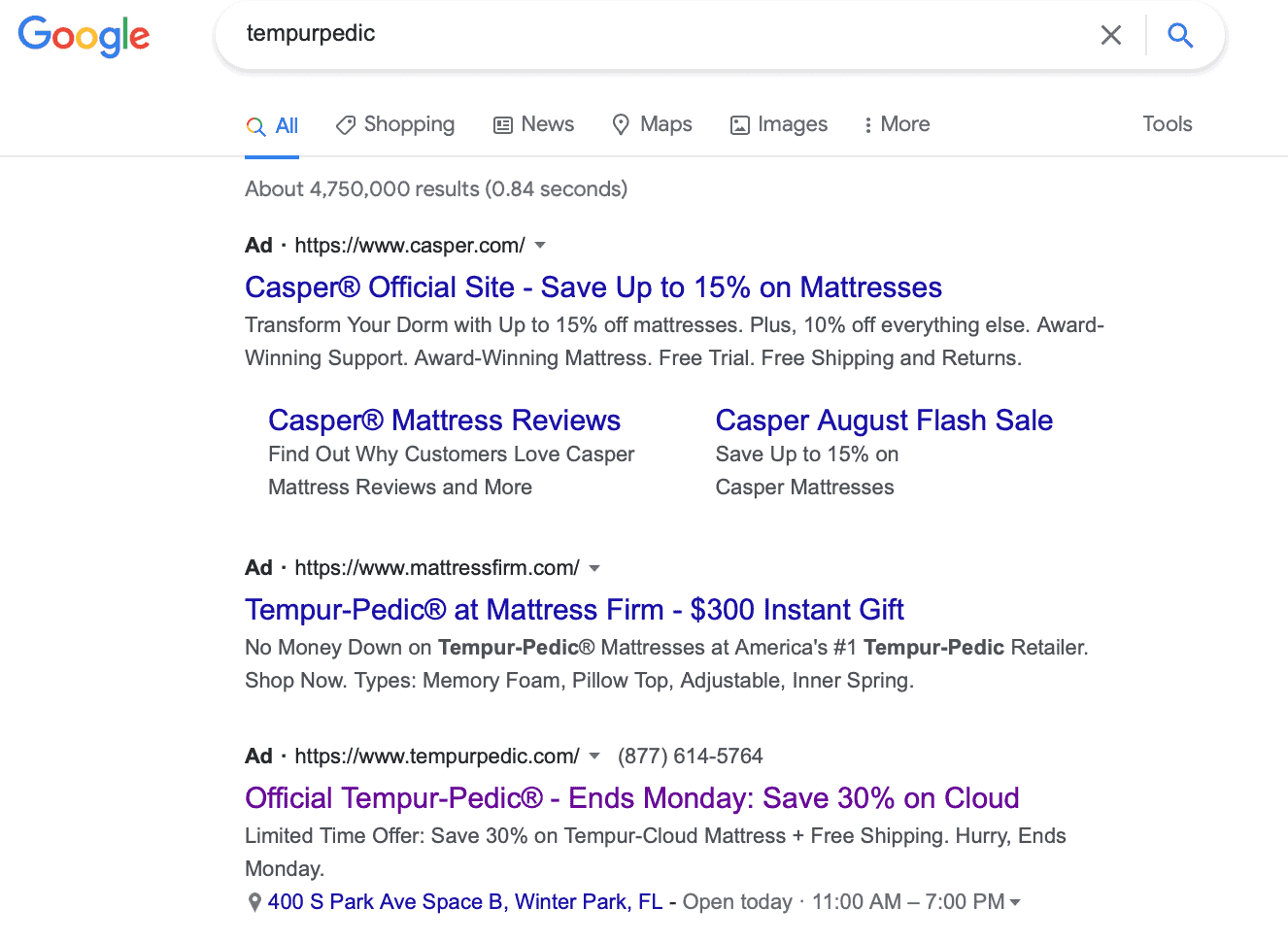 I searched for "tempurpedic" and the first two results weren't even from Tempur-pedic directly. One was from an entirely competing brand, and another was a company that sells Tempur-pedic and other products (and doesn't really care which items are sold).
It's Tempur-pedic's keyword and the very first thing that users see is a high quality ad from a direct competitor, with an enticing "find out why customers love us" message and a discount being promoted for the entire month.
Having strong branded ad campaigns is a little like working defensively. It allows you to protect your turf, preventing your competition from stealing any of your very hard-earned potential sales away from you.
We dive deep into bidding on your own branded keywords here, but these are a few simple tips to get started:
Run separate ad campaigns for branded keywords ("Tempur-pedic") than you would with other keywords ("mattress")
Remind users why you're great, mentioning great reviews if possible
Use extensions to dominate the search results real estate when applicable
3. Target Your Competition's Branded Keywords
Okay, we know why you should bid on your own branded keywords. Now let's take a look at the same example from a different perspective.
Tempur-Pedic is often known as a gold standard when it comes to memory foam mattresses. It's a household name. Casper is a newer brand, and they've made a lot of progress with online advertising but they're still working to establish brand recognition.
Casper bids on Tempur-Pedic as a keyword, and they manage to snag the first spot. They feature reviews to show why it's so great, mention that it's got award-winning support and reviews. It stresses free trial, free turns, and discounts. This is pretty low risk, and for 15% off mattresses and 10% off everything else, that's a pretty enticing offer.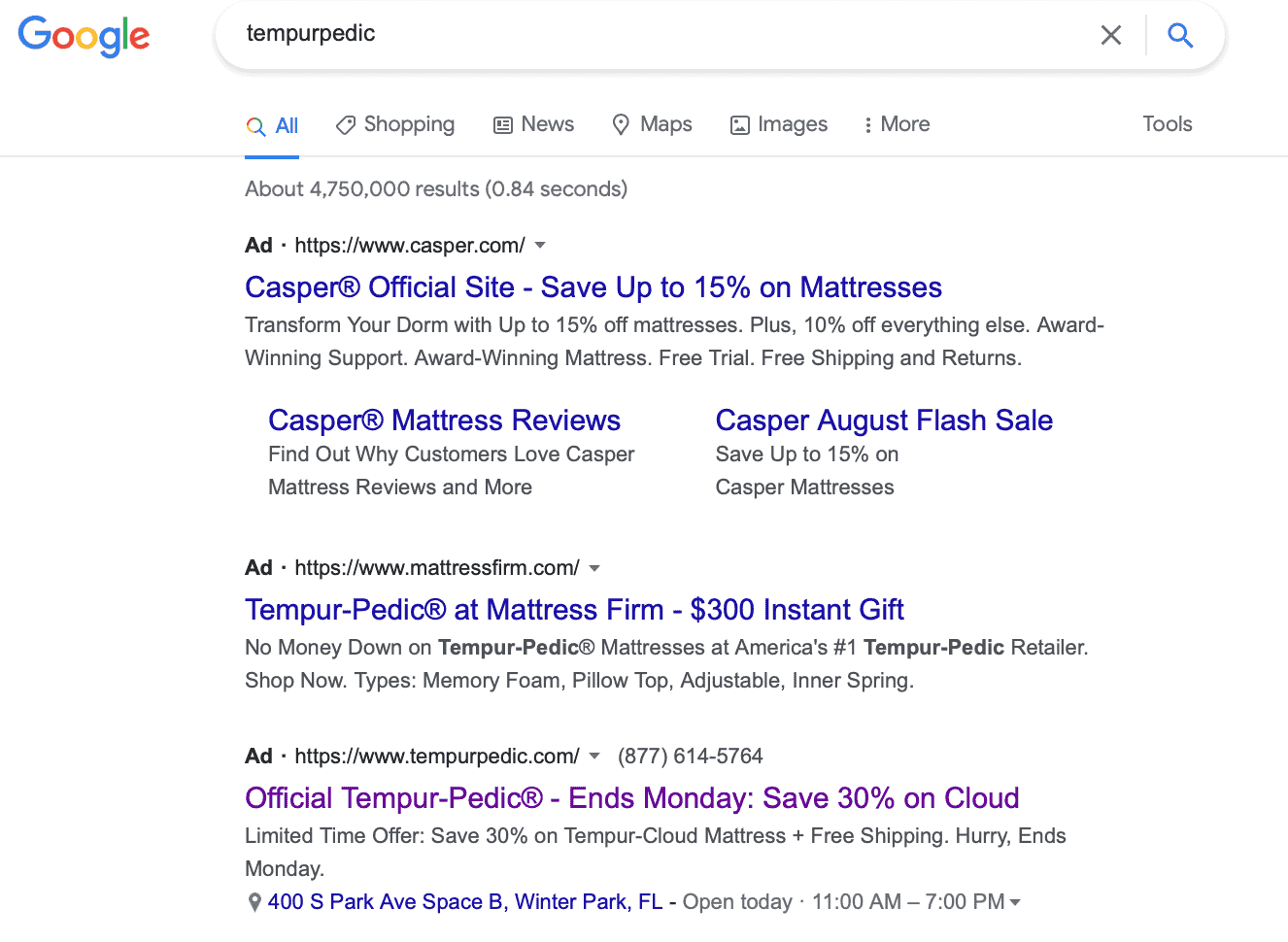 While this is a less-than-ideal scenario for Tempur-Pedic, it's exceptional for Casper. And you can expect that Casper did at the least drive clicks from people who wanted to see what it was about and if they could get a great product at a lower price, thinking that since Casper popped up for this keyword that the products are at least likely comparable.
It is harder to take branded searches away from the actual brand so we don't recommend allocating significant portions of your ad spend to it, but it can work so it can be part of your strategy. And remember that even if it doesn't work all the time, even a few sales are worth it. Leverage their brand awareness to your benefit.
When it comes to best practices here, remember to have hyper niche campaigns. You can even have individualized ad groups for each individual competing brand you're targeting. You're also going to want to avoid using dynamic keyword insertion so it doesn't sound like you're selling the competitor's products.
4. Feature Current Promotions
Are you running any great promotions for new or existing customers? Is half of your merchandise on sale, or can users get their first subscription box for free?
Whatever promos you have available, it's a good idea to test promoting them through Google Search Ads. When customers see a great deal, it's hard not to click to see what they could save. It can directly impact which ad customers click and whether or not they convert.
The ad below promises free shipping on all orders, but the headline promotes $100 for your first four weeks. That's a substantial amount, and it's likely enough to at least capture some users' interest.

When using this strategy, you can highlight the offer in the headline and/or in a promotion extension to help it stand out more. You can also say that there's a time limit for the deal to increase urgency (like "Through August" or "two week sale"). Just make sure to end the campaign when it's over, or to update the copy if you want to extend the deal.
5. Highlight Landing Pages for Every Part of the Customer Journey
We all have different high-value pages that are essential to driving conversions overall; it's typically not just one page that users need to see in order to make a purchase. Using Google Ads extensions to feature different landing page links and potentially descriptions below your core ad is, therefore, an outstanding strategy.
Here's a great example. Misfits Market sells organic "ugly and imperfect" product at low costs, which is delivered to customers through the mail. They explain the service in the ad copy, but then have landing pages taking users to see how boxes are built, an FAQ section, an About Us talking about fighting food waste, and a "join the waitlist" option for users who are outside the current delivery area.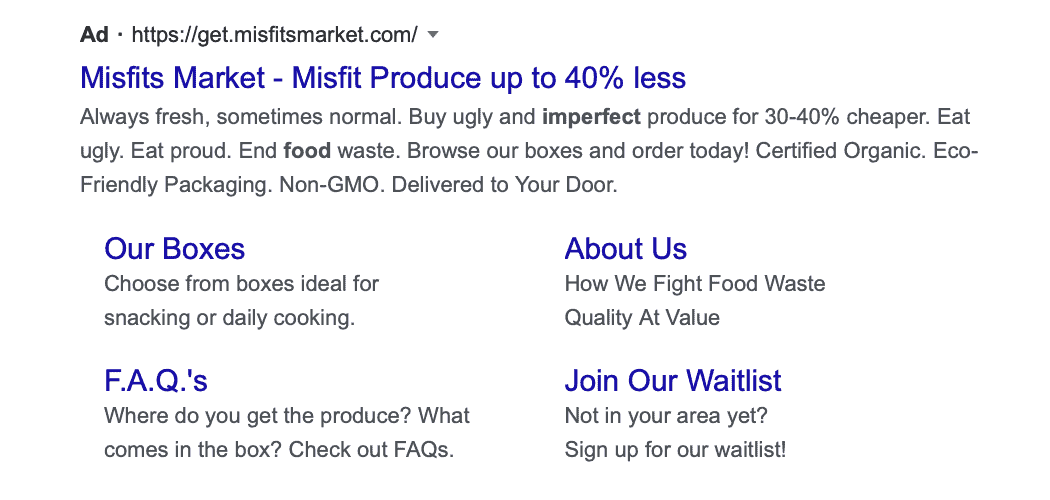 This strategy allows you to extend the reach of a single ad by making it more relevant to as many users as possible. People who have different questions or objections (like how the brand targets food waste, or where the products come from) can get quick access to whatever they're looking for.
When you're choosing which links to feature, you can take a look at your Google Analytics data. Which pages are visited most frequently right before users end up on the page where they make a purchase? What's the typical path to conversion? Think about your customer journey and what they need to see before they'll initiate a checkout process. And as always, test!
6. Target Comparison Keywords
This is an underused strategy that most advertisers have never even considered, making it a valuable opportunity for brands who want to jump on it.
Sometimes, customers know that two products are great and are trying to find information to help them choose between the two. They'll use terms like "vs," "comparison," or "which is better" and list the two brand names.
Here's an example. I searched for Hootsuite vs. Agorapulse (two popular social media management tools), and an ad from Loomly showed up first. This ad is brilliant, declaring that Loomly is THE alternative solution that you need, not any of those other tool. They mention the free trial, risk free, no credit card required, and they use the extension to list different popular features.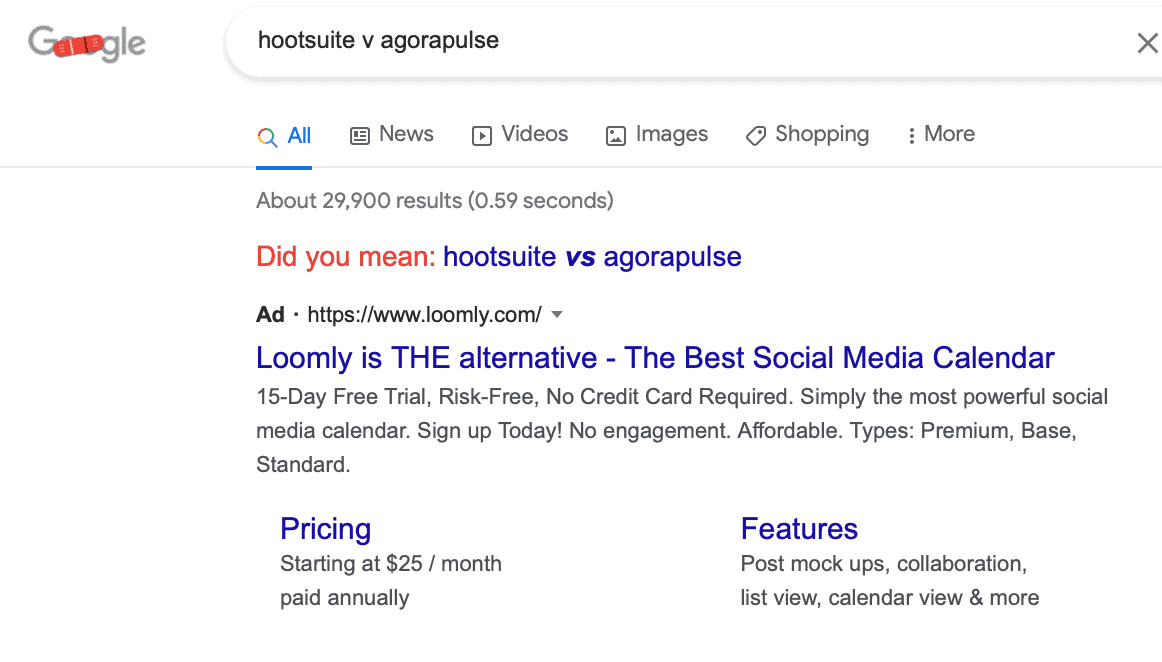 It would be hard not for users to at least consider clicking to check it all out, right?
You can target your own brand name here or exclusively target your competitors' brand names. This can help you throw your name in the ring when people are exclusively considering other options.
To improve your copy here, you're going to want to do the following:
Really stress what makes you unique upfront. If that's a lower cost, great. If you have more features, perfect. Just make sure to mention it.
Mention yourself as a top-ranking competitor. This is a great place to mention your thousands of customers or highly-rated reviews.
Leverage extensions to your benefit. Get as much information about who you are and what makes you different from the direct competitors you're targeting with the keywords so you can stand out. You can run different campaigns for each branch of competitors if relevant.
Final Thoughts
There are so many different options to consider when you're running Google Ad search campaigns, and the last thing you want to do is limit yourself with just one type of campaign.
While not every Google search ad strategy works for every brand, finding even one or two more that works for you can help you extend your reach and capture more sales that you otherwise would have been nearly certain to miss. A Google Ads agency can help with diversifying your strategies and finding new ones that work for your brand.
And don't forget, there's more to Google Ads than just search ads. We strongly recommend that our clients use a multi-touch approach and also use Google's Display Ads to retarget site visitors. This is a great way to recapture traffic that visited your site but didn't convert initially, potentially increasing the overall efficacy of your total campaigns even more.
Want to learn more about how to grow your ads and their success rates quickly? Book a free Google Ads review with one of our specialists at the bottom of the page here!