What Are Google Search Ads?
When people think of "Google Ads," the first thing they typically think of is Google's Search Ads.
Google's Search Ads are a high-powered and high-potential pay–per-click ad platform that allows advertisers and brands of all shapes and sizes to connect with users based on their search results.
Google Ads is currently the largest platform for search advertising on the market, and the performance is incredible even compared to organic results on their own platform in some cases. One study found that Google Ads gets 65% of clicks for keywords that are "buying keywords" or high intent keywords, and organic results only get 35% of those clicks.
And since users are at least 4x more likely to click on paid search ads on Google than any other platform (63% compared to Amazon's 15%, YouTube's 9%, and Bing's 6%), this is a platform you do not want to ignore.
Still wondering what the Google Search Ads platform really is and how it works? Let's take a closer look.
What Are Google's Search Ads?
Google's Search Ads utilize a pay-per-click auction system that allows advertisers to "bid" to have their ad appear in user searches that include specific keywords.
When users enter a search query, they'll see the "winning" ads at the very top of their results, featured above the organic results. This automatically gives the ad enhanced visibility.
The search ads are made up of the following elements:
The link of the landing page users will be directed to when they click the ad
The headline, which is broken down into two phrases and appears in large blue font
The ad copy, which is made up of one or two descriptions
Optional extensions, which can add everything from ratings to extra links or phone numbers to your ad that may increase the odds of getting users to convert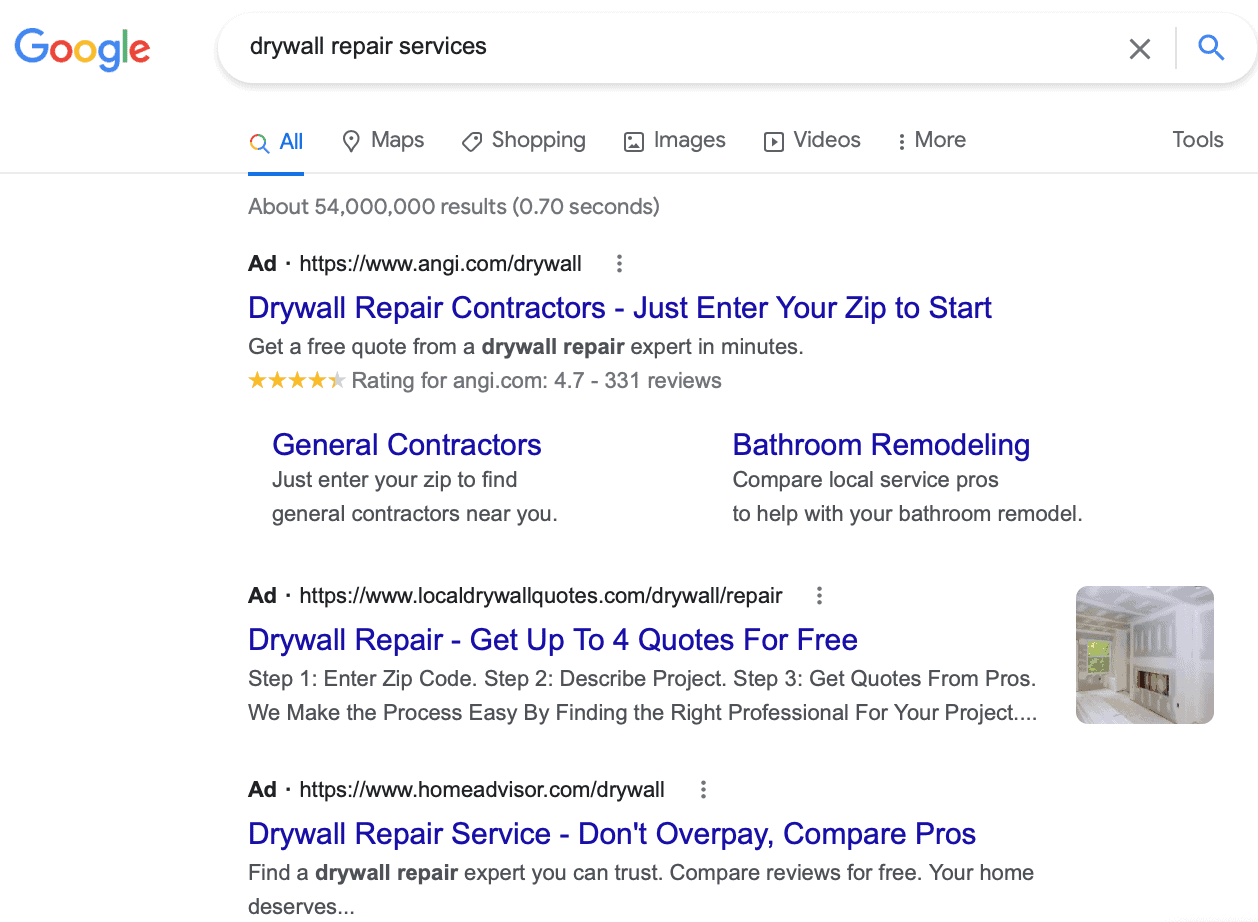 Many high-intent keywords will have between three and five ads showing up, with the most relevant ads appearing at the top of search results. If users keep scrolling down and through multiple search pages, however, they'll see more ads.
Just because you're bidding on a keyword doesn't guarantee that you'll place for it, but you'll likely end up receiving some part of the impression share.
Why Brands Use Google's Search Ads
We know that 80% of brands who are running PPC campaigns put a solid focus on Google Ads, and that users are converting on them at fairly high rates overall. But why?
There are a few solid reasons.
The first is that Google Ads allows you to connect with high-intent buyers who are actively searching for whatever it is that you sell. Imagine paying $2 for a click that could land you a customer that converts for $20, $200, or even 2k.
This becomes even more appealing when Google Ads gives you the chance to show up at the top of search results that you know you don't rank well for organically. If you're not in the top 5 search results for a high-intent and competitive keyword, Google Ads is your in.
As you can see below, Blueair and Honeywell are able to position their products at the top of Google's search feeds for the search "air purifier," showing up in front of the top organic search result from the New York Times.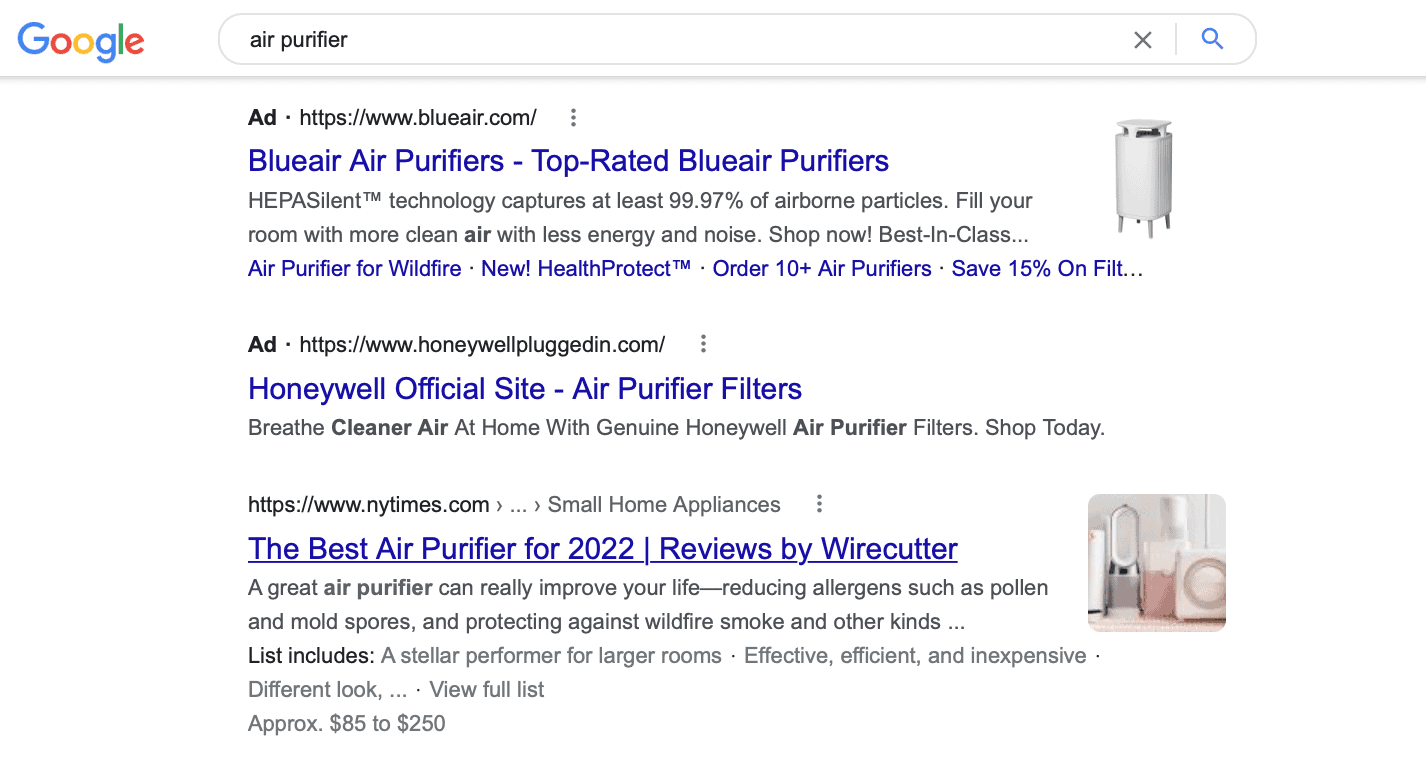 The cost is also competitive. While some other PPC platforms cost less, the amount you pay will vary depending on your bid (which you control) and the competitiveness of the keyword. Some keywords can even cost under $1 for a click, and you're only paying for that click. While a click is never a guaranteed conversion, it's still a step up compared to just paying for an ad placement.
Finally, Google Ads is approachable and accessible. While it can get expensive and costs can add up, you get to control your budget and how much you're willing to spend for each click. It's also a fairly easy-to-learn system, at least at the base level, and there are few barriers of entry.
How Do Google Search Ads Work?
Google Search Ads work on an auction system, with all participating advertisers bidding on keywords. The advertisers who are bidding on the same keywords that you are become your competition, and you're bidding against them. This makes keyword research essential.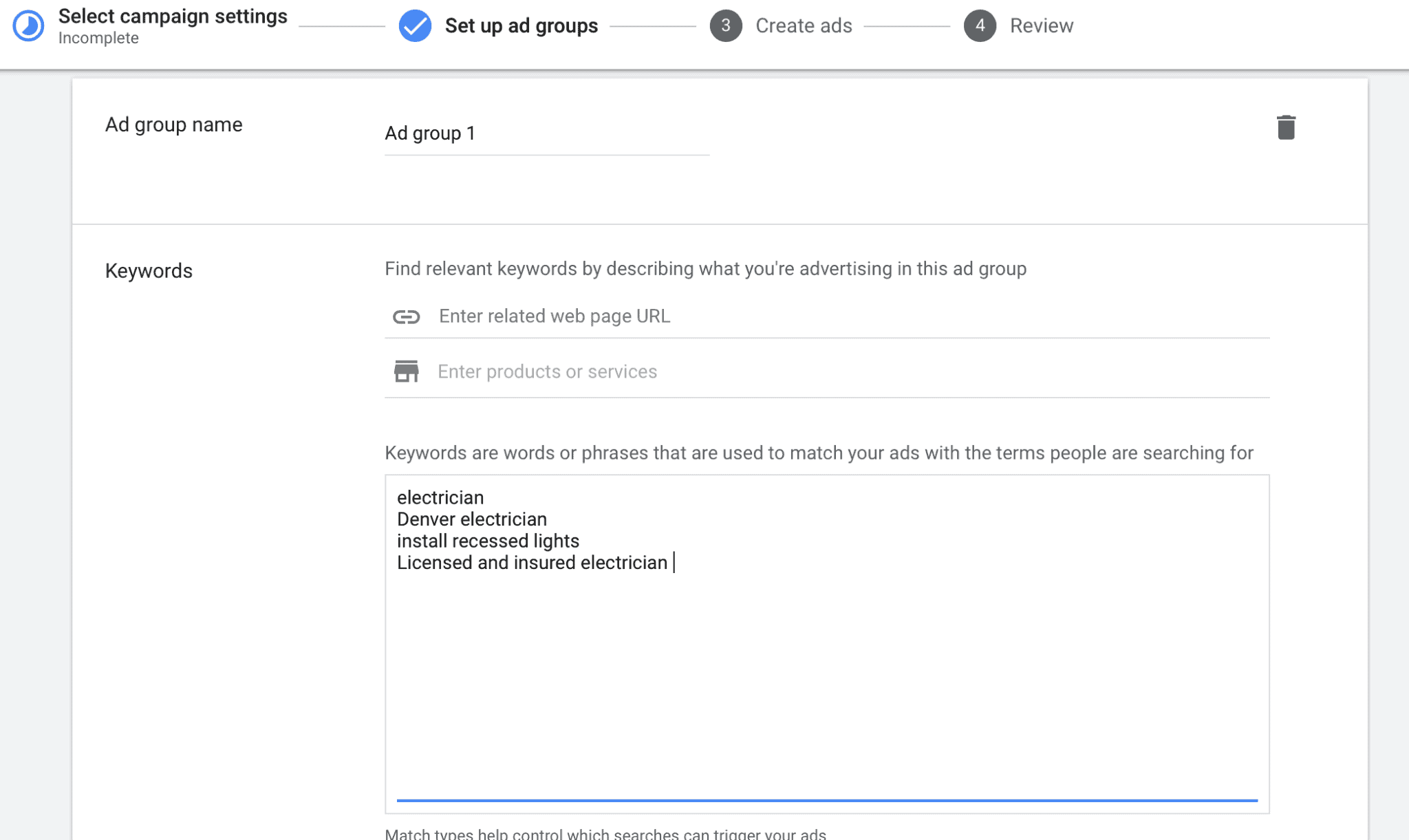 Your campaigns should ideally be segmented according to the keywords that you're targeting, allowing you to create relevant copy that will be most likely to drive clicks. Ads that are most relevant (and have the most relevant landing pages) will end up with higher quality scores, which means you'll likely receive more placements, better ranking placements, and lower costs.
Many brands offer a variety of products and services, and that should typically be reflected in your keywords.
An electrician, for example, will want to target "Denver electrician" and "Denver electrician licensed and insured" to capture users searching for broad terms. They may also want to target keywords like "install recessed lights," "rewiring," and "install new outlets," as some users will likely search for these specific services.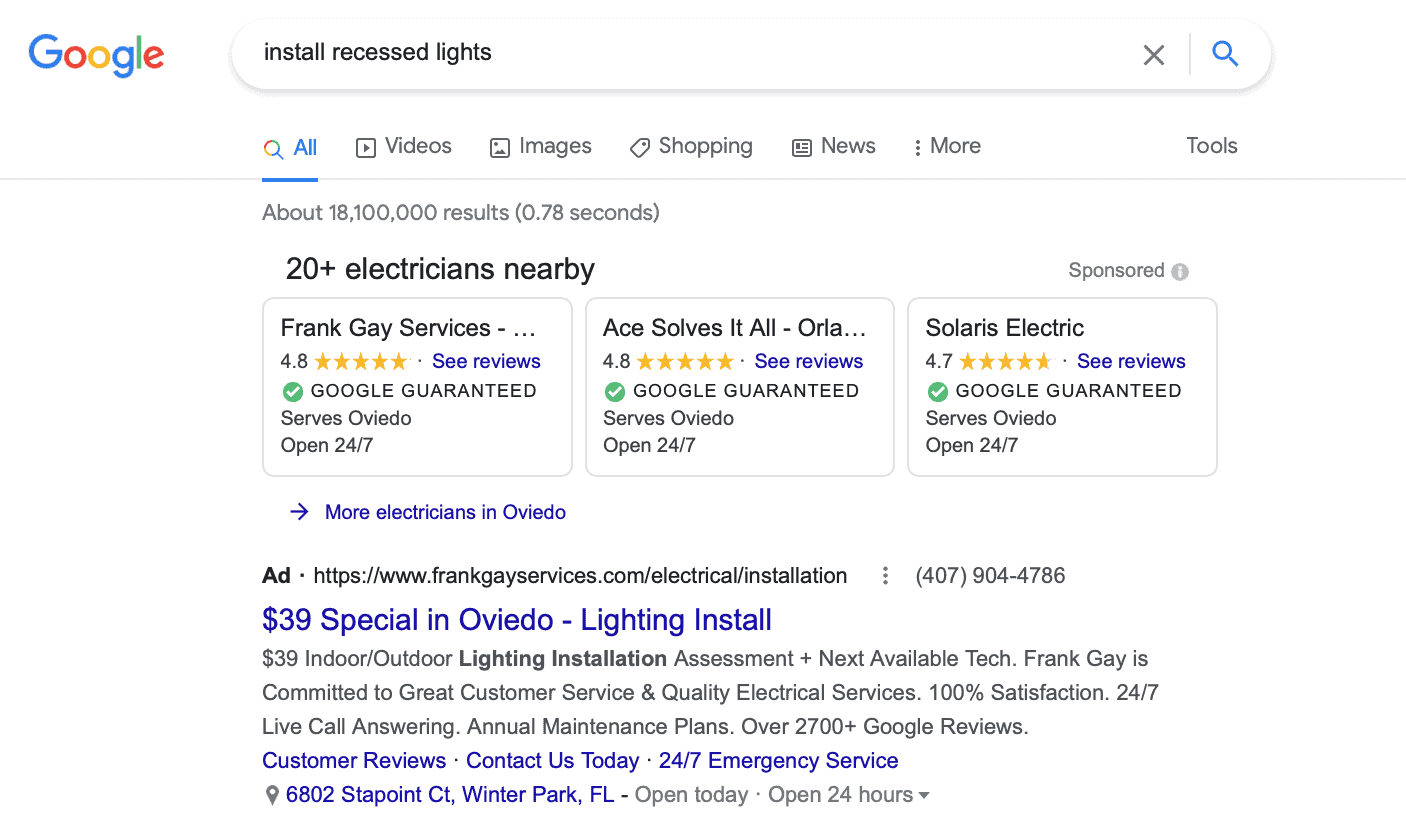 You create Google Search Ads yourself through Google's self-serve ad platform. It's free to join and create an account. The only cost is the cost of clicks on an ad that's running.
While the basic Google Ads creation process is straightforward, you can also use advanced techniques like the following:
Final Thoughts
Google Search Ads make up a huge portion of what we help our clients with, and that's because it can be an enormous driver of customers, sales, and profit. You can scale up and down with ad campaigns as it suits your business and your budget, giving you a great amount of control over what you're spending and what you're willing to spend it on.
Throughout this Hub series, we're going to dive deep into everything you need to know about Google Search Ads, including how the search network works, how to create Search Ads, and more.
Keep an eye on the Hub and check out our other Google Search Ad resources here.
Need help with search campaign ads? We can help. Learn more about our data-driven Google Ads services here.