The Ultimate Guide to Google Ads Extensions in 2022
When you're running PPC campaigns, the goal is always to find as many ways as possible to make your ad more effective. We all want more reach, more clicks, and more conversions.
Google Ad extensions are an easy way to make your ads more effective, with massive potential to boost your results. They allow you to add more context, information, and valuable links for searchers to view. This can make your ad more relevant and increase conversions accordingly.
There are so many different extensions, and there's so much to cover. In this Ultimate Guide to Google Ads Extensions, we're going to go over what they are, why they matter, how to use them, and every type of extension option to choose from.
What Are Google Ad Extensions?
Google Ad extensions are dynamic snippets of information that can be added to your ads to offer additional links, resources, or information that users may need. This can help make your ads more relevant to your audience.
Here's an example of your standard, run of the mill Google Ads without an extension:

Simple, clean, no frills. You get 30 characters for the headline, 90 for the ad copy, and a link at the top to send users to their destination.
Here's what an ad with Google extensions looks like: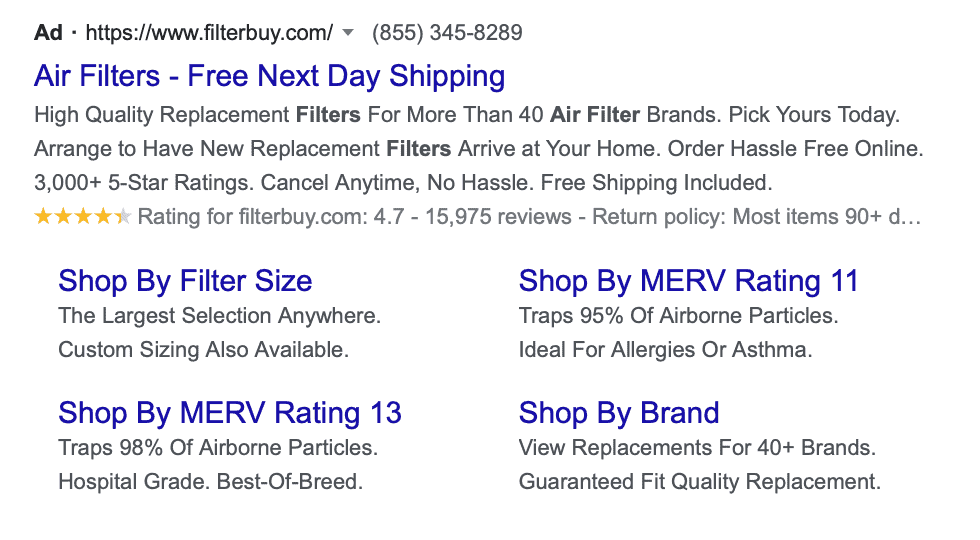 The ad above actually has multiple extensions, which are highlighted here: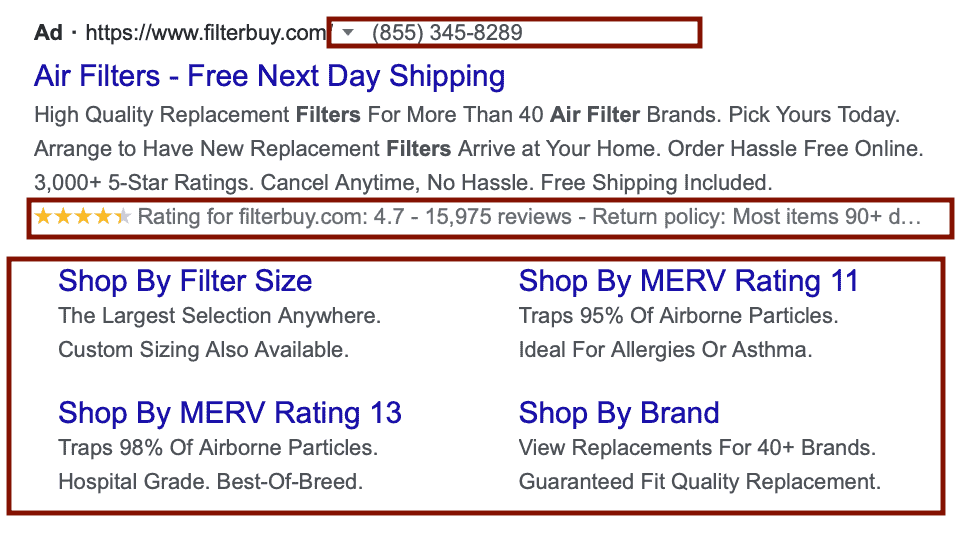 They've used extensions to add a phone number, highlight reviews (and show a 4+ star rating) and add multiple links and extra text to their ad.
Why Do Google Ad Extensions Matter?
Google Ad extensions are useful for a number of different reasons.
First, they offer additional relevant information for people who have made the search. You get to go beyond those initial character counts, adding in extra links or snippets of information that are directly tied to what the users were searching for. This is automatically a plus, because it means that you have more room to convince users to click on your link.
It's important to note, too, that Google ad extensions don't just share more information; they also physically take up more space, making your ad different and more noticeable. If your ad has a five star rating visually represented and your competitors don't, that catches attention. If you have four extra links and your competitors don't, boom– more attention.
This is why well-placed Google Ad extensions can lead to pretty significant increases in click-through and conversion rates. Which, by the way, is extremely well documented in case studies showing dramatic increases (sometimes up to 20% or more) in CVR and CTR.
We've seen this time and time again. After a little split testing, adding extensions to one of our clients' campaigns saw a 4x increase in conversion rate month-over-month. Nothing else was changed.
How Many Google Ad Extensions Can I Add to Each Ad?
When you're reading this guide, you don't have to stress about which single extension is best; you can add multiple extensions to every ad.
Google itself even encourages you to use as many ad extensions as are relevant to your goal and your campaign. Since they'll only show the extensions that they believe are relevant to the search intent, there's no risk with adding them on here.
You can see an example here, which uses multiple ad extensions. They have their address listed through an extension, additional text added to the copy, and sitelinks attached to key pages.

If you want to specifically test the individual value of different extensions, that might be the only time when you only want to run one extension per ad. These split tests can help you determine which are most impactful to find stronger combinations moving forward.
What Do Google Ad Extensions Cost?
Here's some of the best news so far (which is really saying something): Google ad extensions cost absolute nothing.
In fact, they could theoretically increase CTR, which can in turn improve your quality score. As your quality score goes up, your ad cost can actually go down. Remember that a high quality score may decrease your ad costs by as much as 50%.
So Google ad extensions may actually save you money, lowering ad costs and increasing your ROAS.
How to Add Google Ad Extensions to Your Campaigns
Adding Google Ad extensions to your campaigns is actually almost shockingly easy, so there's really no downside at all to using them in your campaign.
When you're creating a search campaign in Google Ads, the first page will ask you to designate your budget, audiences, and languages. All the way at the bottom of the page, you'll see the Ad Extensions section. This is where you can add relevant extensions to your campaigns.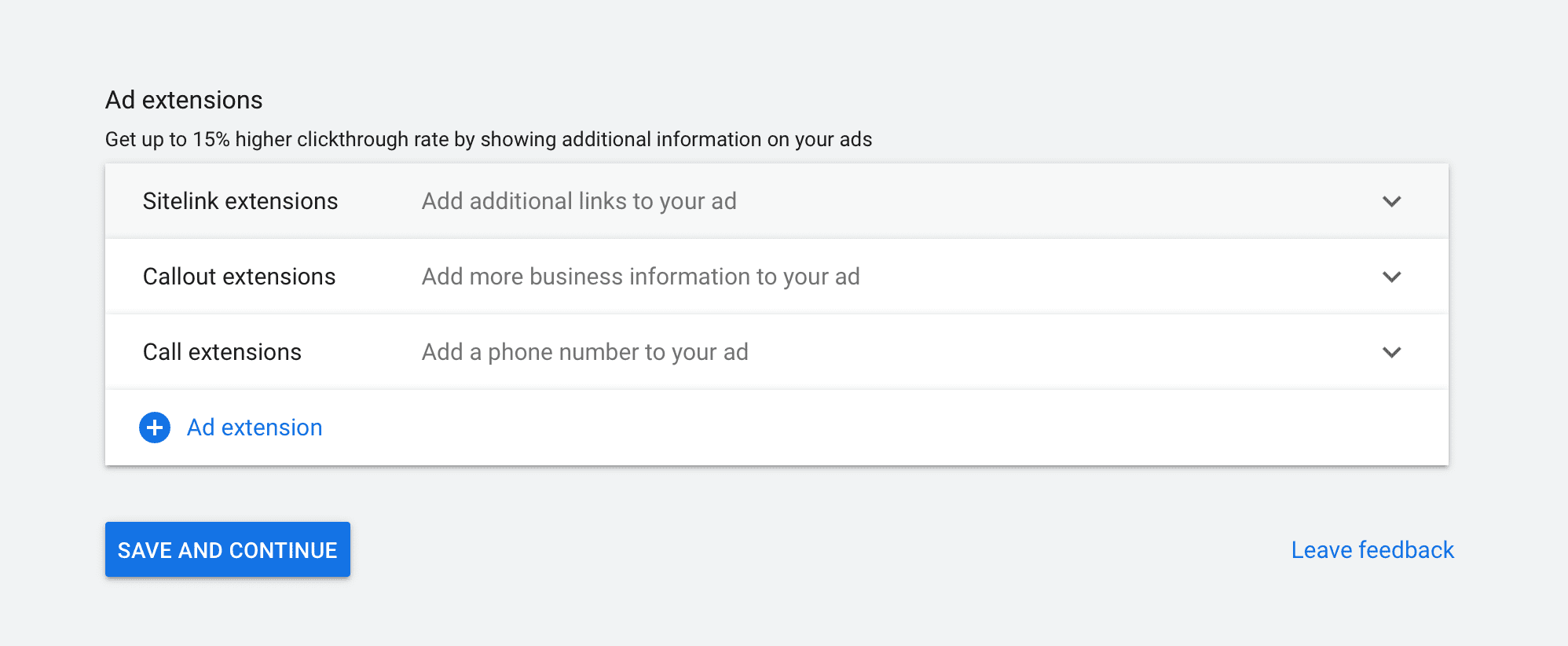 You can either add additional types of extensions to the list, or customize the extensions available by clicking on the drop-down menu on the right. Each extension will provide instructions about what information you need to include where.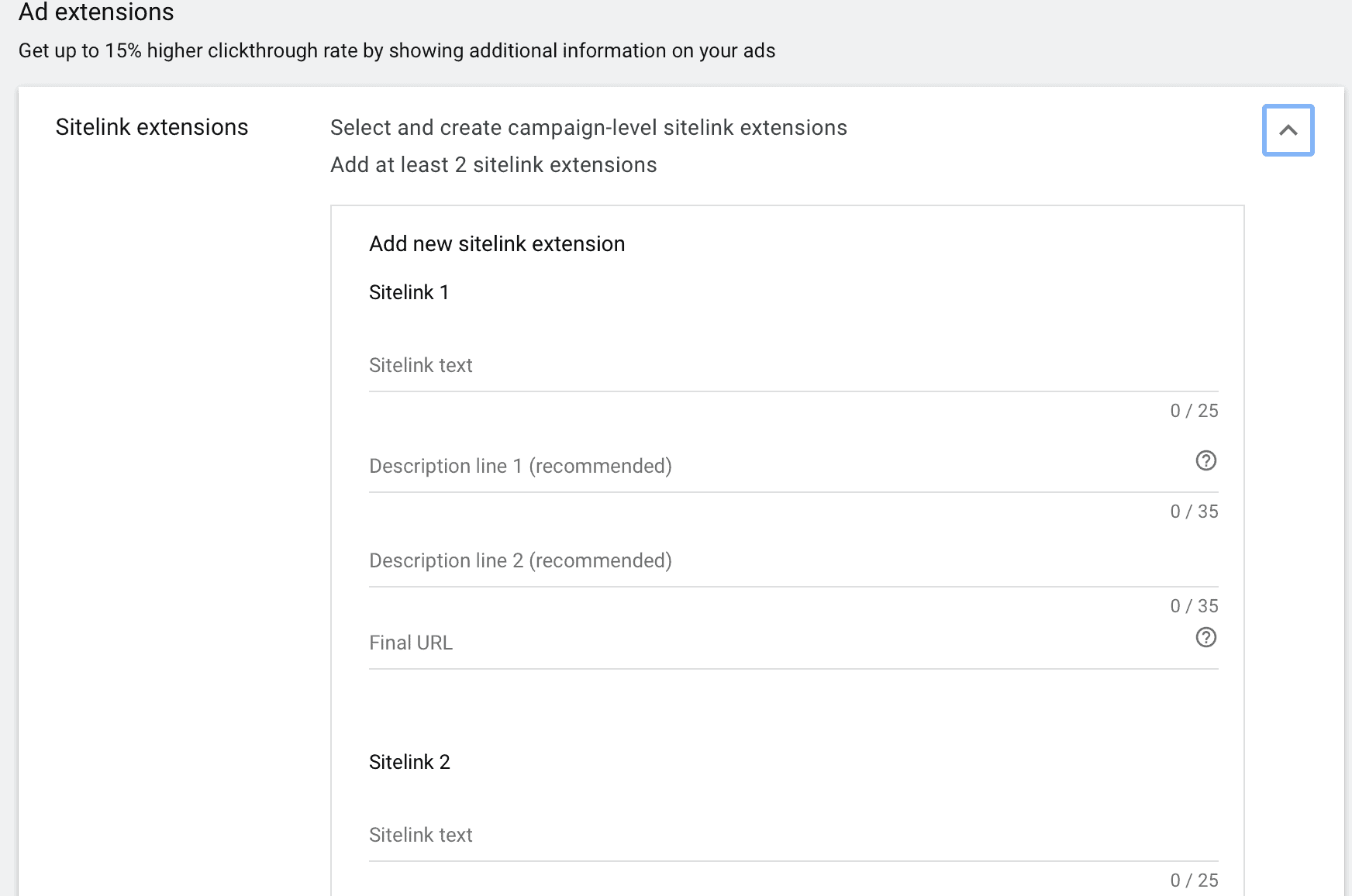 Some, like the Call Out extension, may have "Advanced" features that you can use, like choosing to display the extension on mobile or at certain times of the day. You can use these to optimize your campaign, but remember that you don't need to use these features if they won't benefit your campaign.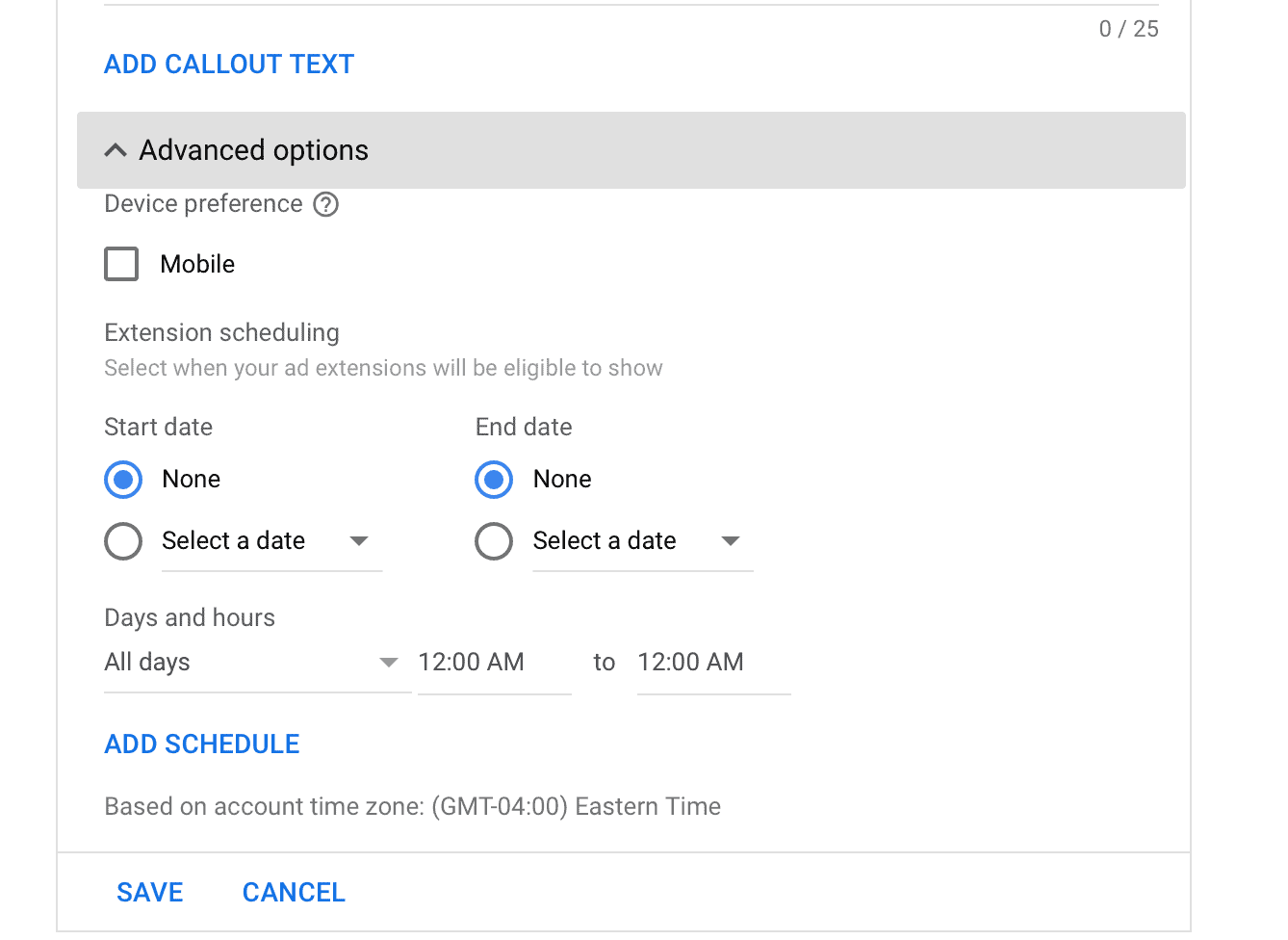 How to Create Google Ad Extensions in Ads Manager
Some people prefer to create their extensions in the Ads Manager instead of during the app creation process.
Some find it easier to do so that the campaign creation process is streamlined, only needing to select a previously-created extension to their campaign. Others choose to add extensions to their campaigns after the fact. (And yes; you can apply a single extension to multiple campaigns at once using this method).
To do this, go to the "Extensions" tab in the left hand navigation menu. You'll see the option to create new extensions, which opens a drop down menu that shows you all the available extensions you can choose from, both for dynamic and static options.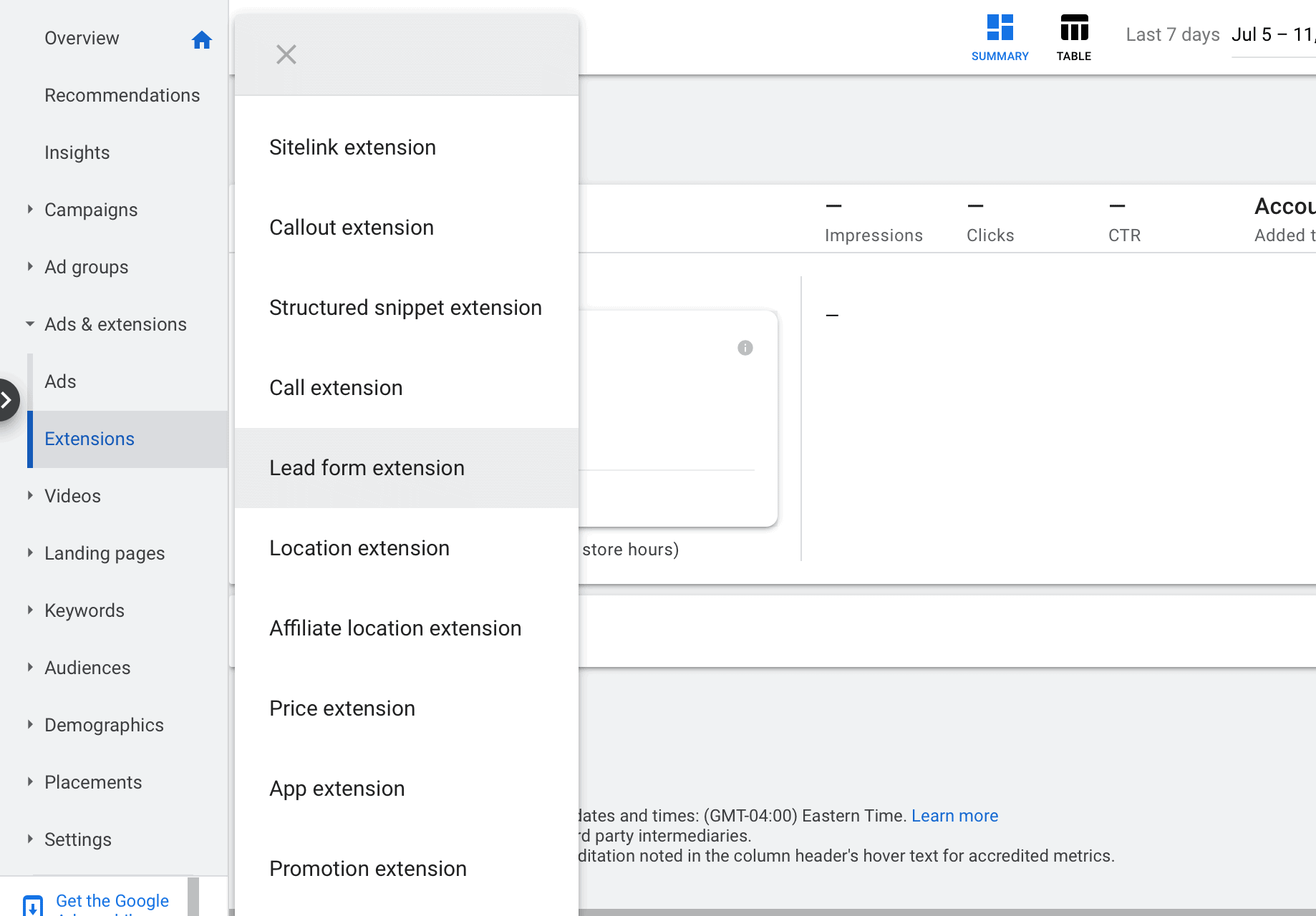 Click on the type of extension that you want to create. You can then customize the information as you see fit. To add the extension to multiple campaigns or ad groups, select "Add to," and then pick "Select."
This will open a window that allows you to add the extension to multiple campaigns or ad groups if you choose.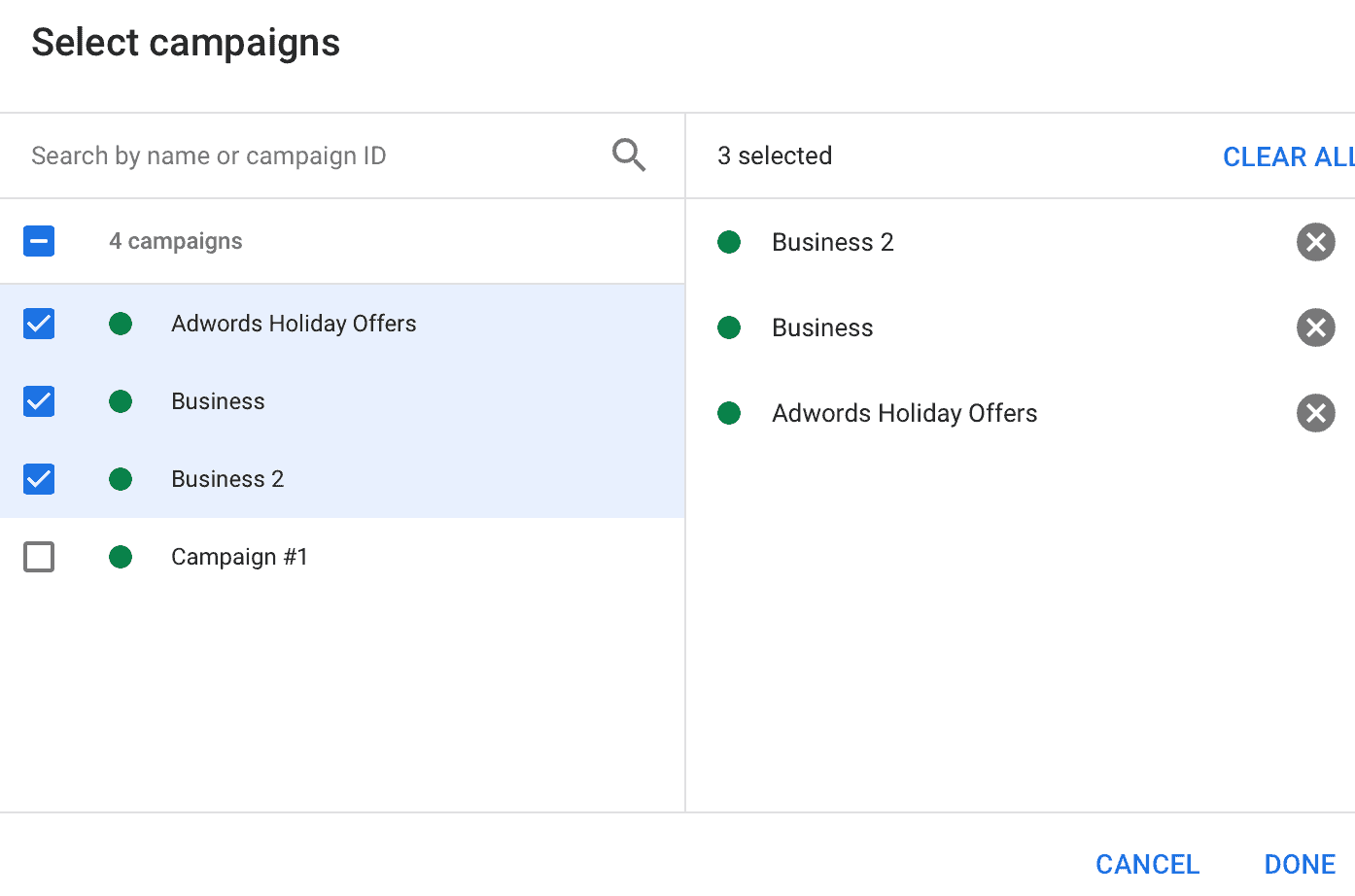 Every Type of Static Google Ad Extension
There are plenty of different types of Google Ad extensions, but there are two core categories: Static and dynamic.
Static extensions allow you to determine what information exactly will be shared in the extension and how it will appear. Dynamic extensions allow Google to automatically fill in the data they believe will be most relevant to the search in question.
To get started, let's take a look at each available kind of static Google Ad extension (we'll look at dynamic extensions in the next section) and discuss what they are, how to use them, and best practices.
1. Location Extensions
Location extensions allow you to add your address to the bottom of your ad. When users click (which they're encouraged to do since it's clearly hyperlinked), it opens Google Maps to show them where your business is at and how far away it is from their current location.

Location extensions can show up on Google's search ads, in some Display ads if users are nearby, and YouTube video Ads when users are nearby or have shown interest in your local area based on their search activity.
When to Use It & Why
If users are searching for certain types of businesses like a dentist, a cupcake shop, or a mechanic, they want to find someone nearby and probably relatively soon (if not immediately). This means that your location compared to theirs is directly relevant to whether or not they'll convert.
Location extensions make it easy for users on both desktop and mobile to see where you're located and how easy it is to get to you. And if users are familiar with where you're located either because they're local, they visit often, or they're researching for a trip (all of which could trigger the location extension to appear), they may even recognize where you're at and head over.
With so many searches happening on-the-go, you should absolutely use this extension if you want to drive foot traffic into your location.
Extension Best Practices
This is a pretty straightforward extension so there aren't a lot of complicated best practices to keep in mind.
A good one to consider would be using the extension with location settings and/or location-based keywords. That way your ad for mechanic services (which clients often have an urgent need) won't show up in Seattle when the searcher is in Utah.
Make sure that you update this information if your business changes. It's also a good idea to combine this extension with other storefront-based extensions, like the Call extension to add a phone number users can call quickly if needed.
2. Affiliate Location Extensions
This extension has a similar premise to the last one, with the approach being a bit different. In this case, you're sharing locations of retailers who sell your products in-person, making it easier for customers to find stores selling your goods.
Honda, for example, doesn't sell cars directly; they have dealers who sell cars. They still want to make a profit, so they can run affiliate location ads.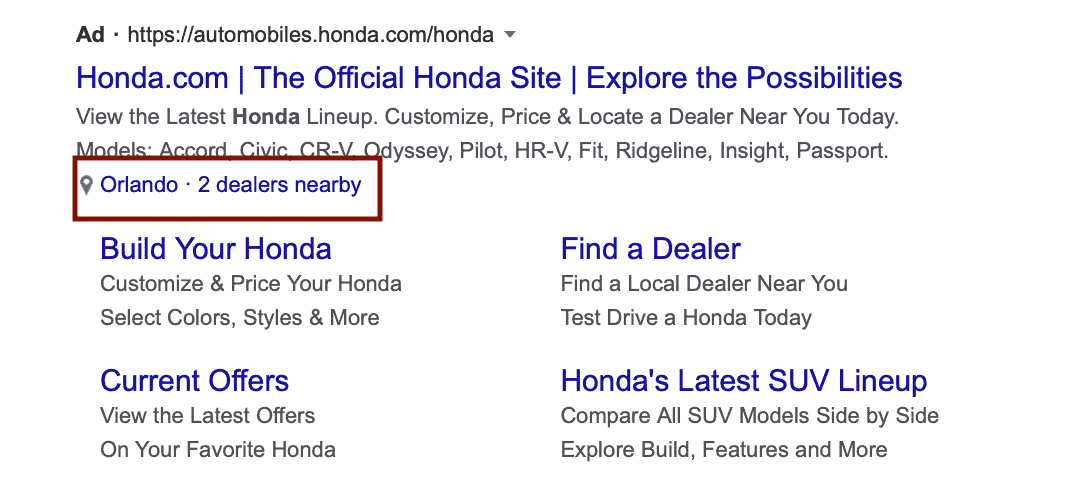 This will show the searcher the nearest locations that sell your product, which (like location extensions) they can then pull up on a map to get directions.
These work on Google search ads, and relevant Display and YouTube ads just as location ads do.
When to Use It & Why
Manufacturers who distribute their products to other retailers to sell can take advantage of this extension. It allows you to be proactive in marketing your product and getting it sold, even if your product isn't necessarily the priority of local retailers who have a number of products from different suppliers to sell.
One thing to note is that if you're selling items online and would much rather have customers purchase directly from your site, using the affiliate location extension may not be the best option.
This could be the case if you have significantly lower profit margins when users purchase in-store, or when you want to get users to purchase from your site to hopefully capture their email and maintain a direct relationship with them.
Extension Best Practices
In order to use this extension, you'll need to set up the extension at the account level and add the retailers of your choice to your list.
Aside from that, the best practices for this extension are similar to the location extensions above. One thing to note, though, is to check the list regularly to make sure that all of the listed retailers are still carrying your products regularly so you don't end up with frustrated would-be customers.
3. Callout Extensions
Callout extensions are a little like a free for all, letting you add additional text to the main ad copy. There aren't really a lot of restrictions about it, but the goal is to show more detailed information about your business, products, or services.
You can see an example of a Callout Extension here:

These are specifically designed for Google search ads since it's all about the ad copy.
When to Use It & Why
Google's ad copy limits are so tight, getting some extra space with a callout extension can go a long way to letting you stand out and show off what makes you different or why users should click.
If you have more to say, go ahead and use it. But keep in mind that more ad space doesn't always mean better results; don't use words just because you can, and explain in the most concise way possible why users should click.
Extension Best Practices
When you're using this extension, remember that it can apply to all ads in a campaign or ad group.
This is something to consider very carefully, because it isn't just a phone number or location that's attached to an ad, which fits in no matter what the ad says. It's actually part of the ad, so if it doesn't match the first part of the copy, it's going to look a little odd.
For this extension, we typically recommend applying the extension to narrow ad groups and to check each individual ad to make sure that the ad copy and extension copy work well together. The lasting thing you want is to sabotage an ad by making it appear disjointed or unfocused.
4. Call Extensions
If you want users to call your business (or at least to have the option to call), go ahead and add the call extension to your ad.

This will display your phone number on desktop and mobile. On mobile, users can click the number to open the phone app, where they can make the call instantly. When they click on the phone number, it counts as a click on the ad itself, and it costs the same as a headline click.
You can track calls made as conversions by enabling call reporting in your account, which will only track calls made from the search network.
When to Use It & Why
If you think users may need or want to call your business for any reason, go ahead and include this extension.
If they're looking at two competing ads and they have a question like "how soon can you help me make a cross country move?" they're going to go with the path of least resistance if all else is equal. If your phone number is visible and the competitor's isn't, that could be all it takes.
Keep in mind that if you place your phone number in the ad text without an extension, it could cause the ad to be approved. It also won't be clickable on mobile, which reduces the convenience. The extension is the way to go and it frees up additional ad space.
Extension Best Practices
If you have a number of different locations, either run segmented ads based on the appropriate location using location targeting or have the phone number go to the main business line.
It's also not a terrible idea to set up scheduling so that your phone number is only listed during the hours when your business actually takes phone calls. You can schedule this extension to only run at certain hours of the day, preventing you from coming back the next day to a full list of emails; during these hours, you can either have the extension off or consider running something like a lead form extension instead to capture user information.
5. Sitelink Extensions
Sitelink extensions are one of the most popular extensions available, and for good reason. They allow you to add additional links to your ad that will take users to different high-value pages that may be relevant to what they're looking for.
Here's a great example.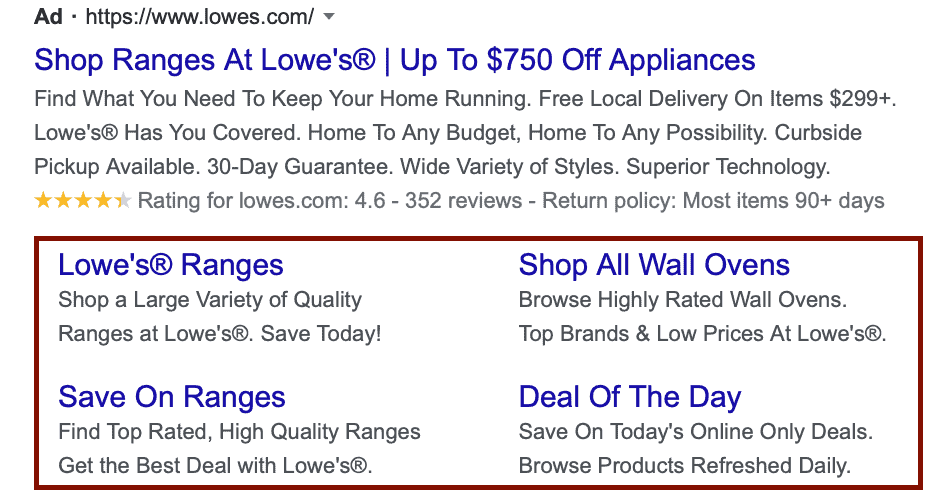 When I search for "kitchen ranges," I see an ad from Lowes offering links to the following:
The headline link takes me to the general product category page
The first link in the extension does the same
The second link promotes ranges on sale
The third takes me to something specific: Wall ovens, a niche category
There's a promotion for a "deal of a day" to increase urgency
These are insanely easy to set up, allowing you to customize each headline, URL, and two lines of ad copy for each sitelink.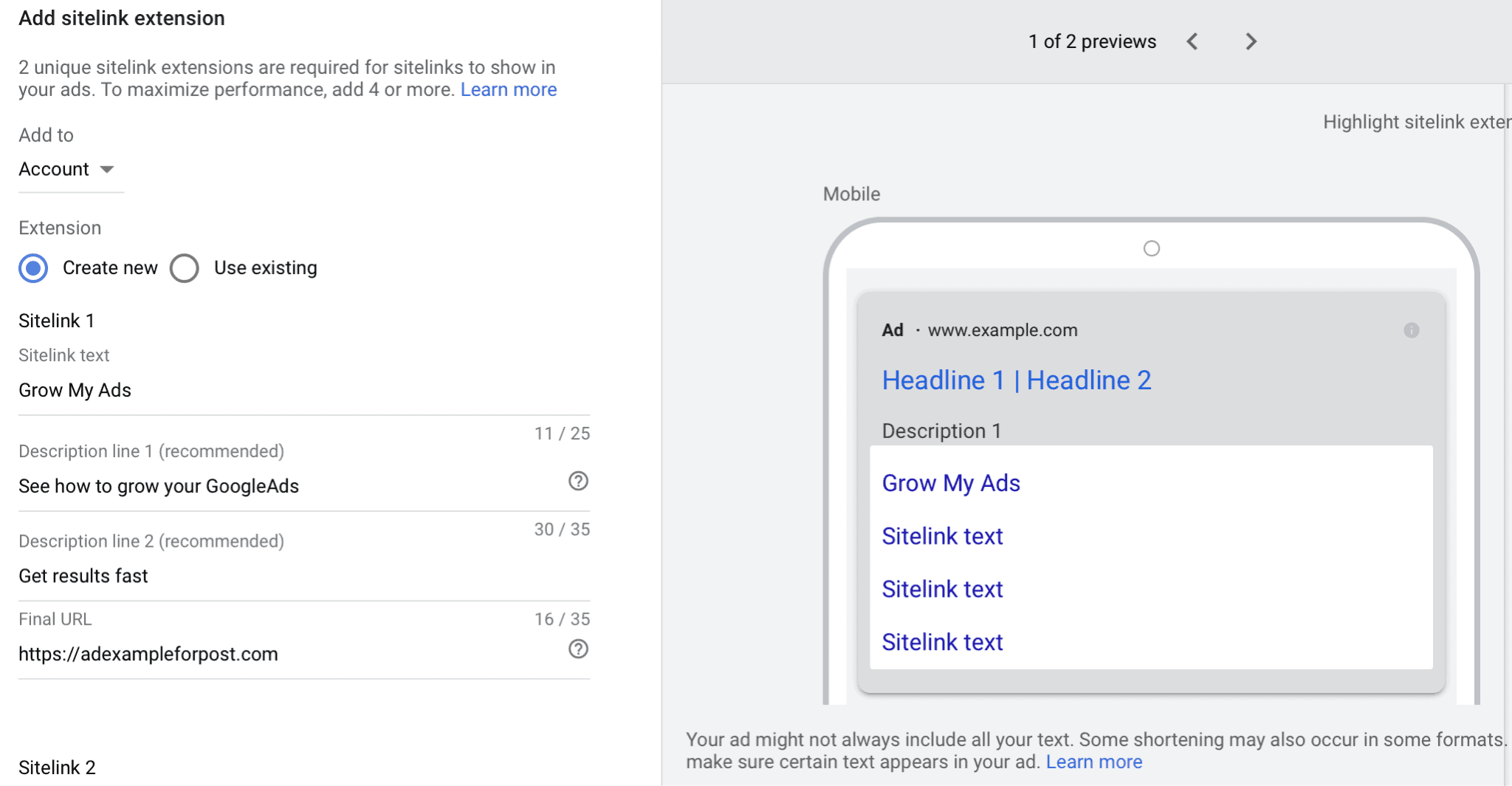 When to Use It & Why
If you've got multiple high-value pages on your site, this is a great extension to use. It's an easy way to appeal to users who are looking for different niche products or services, or who are at different stages of the funnel.
One user might be ready to contact you right away, while another wants to learn about your brand or see if you carry a specialized product. When you understand your buyer's journey and your audience segments, this ad extension can become invaluable.
Extension Best Practices
We've referenced it above, but having a solid understanding of your buyer's journey and your audience segments will be paramount here.
If I'm selling landscaping services, I might realize that I have audience segments who want lawn service maintenance, some who want aeration, some who need tree trimming, and some who want landscaping design and implementation. Having a different sitelink for each could drink clicks.
Because these extensions aren't just a simple phone number or address, they're so important to test and watch carefully. The right combination can increase results dramatically.
6. Structured Snippet Extensions
Structured snippets allow you to highlight specific features, benefits, services, or products that you offer. This text is brief (hence the "snippets") and appears below the main ad text.

They're meant entirely for search ads, as they show up as part of the ad text.
When to Use It & Why
The structured snippets above use the extension to highlight some of their core benefits (constant monitoring, unlimited support, experts).
There are plenty of ways to use this though. You could list features of your products (organic. Vegan. cruelty-free). A travel agency could use this to list destinations they can help plan vacations for (Disney. Hawaii. Japan.)
If you're looking to highlight different specific features, values, products, or services, this is an easy way to show off what you can deliver without the ad becoming overwhelming.
Extension Best Practices
The biggest thing to watch here is to ensure that the extension lines up with the search intent, especially since users are going to read it as a seamless part of the ad copy itself.
Say you have a yoga studio that also has a boutique store attached. Users are searching for "yoga mats." The ad text promotes the items that you sell, including yoga mats, yoga blocks, and yoga attire. The structured snippets, though, are focused only on your yoga class offerings.
This ad:
"Quality Yoga Experiences
Get the equipment you need to deepen your yoga experience with mats, blocks, and more."
Becomes confusing regarding search intent when it turns into this with the wrong extension:
"Quality Yoga Experiences
Get the equipment you need to deepen your yoga experience with mats, blocks, and more.
Hatha yoga class. Beginners yoga class. Bikram yoga class."
It looks like it's advertising using the products in class as opposed to purchasing them outright. The user is now unlikely to click.
7. Price Extensions
Price extensions let you add items (which can be products or services) to your ad and share starting price points for each item.
You can see a great example of this here: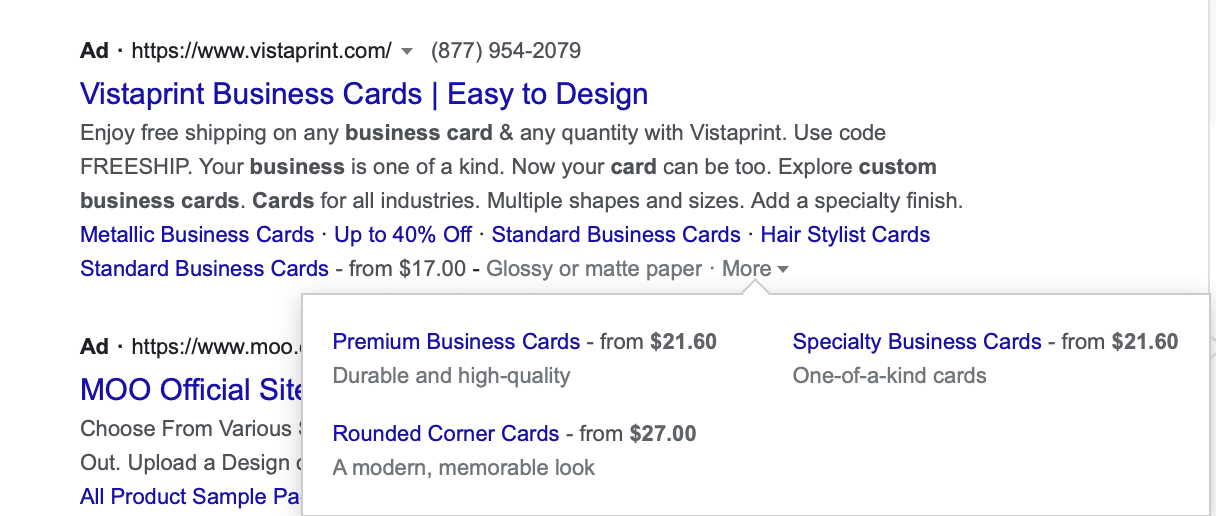 These extensions are for Google search ads, and they're an outstanding way to show users some individual products or services and their respective price points.
When to Use It & Why
We know as an agency that price matters for the consumer.
Seeing that your business's products or services are in budget can drive a click, especially when that information from other brands isn't available or compatible to the user's needs.
And here's another plus: If your price point isn't right, and if you're too expensive, it will prevent users from clicking on an ad when they were never going to convert to begin with. This saves you from paying from someone who is guaranteed to not convert.
It's also worth pointing out that these ads are a great way to showcase individual products that you offer and send users right those individual product pages.
Extension Best Practices
When using this extension, it may be wise to test the following strategies:
Promote your most-searched for items here, to increase the likelihood of capturing more users
Promote a range of different item price points, like "basic" business cards starting at $10 and pro-level thick business cards at $29; you may capture more users this way despite audience segment
Promote your best-selling items or those you're most well known for
Try adding in a few new products that you want to push to increase their visibility
8. App Extensions
App extensions are designed to increase the downloads and usage of your mobile app. They will, therefore, show up on mobile devices where the apps can be downloaded.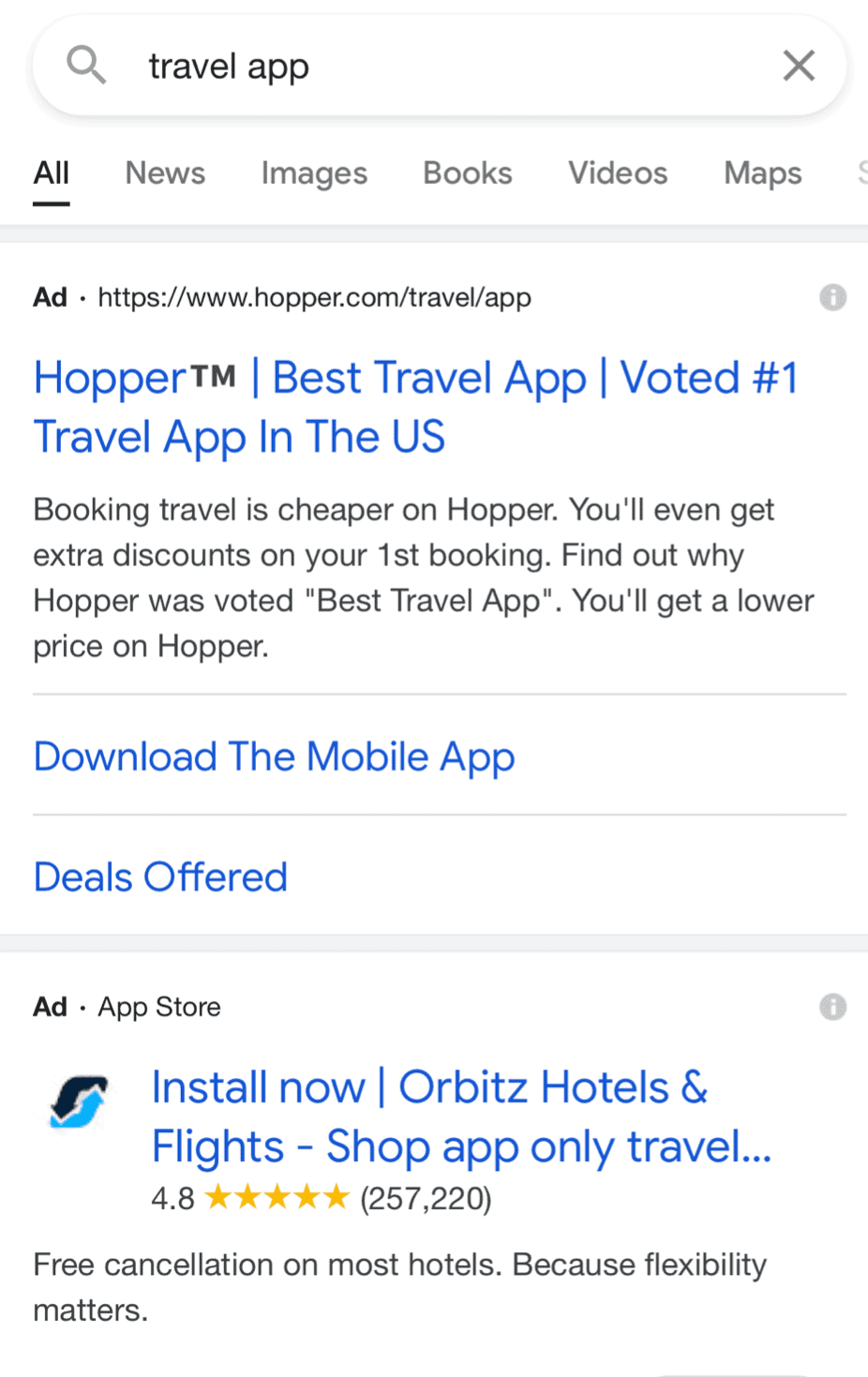 When users click on "Download the Mobile App," they're taken straight to the relevant app store listing where they can install the app on their devices.
When to Use It & Why
Have a mobile app you want to promote? Go ahead and attach this extension to your ad campaigns.
This is one of the easiest ways to drive users to download your app as they're getting to know your brand, and if they're on mobile, in many cases your app can offer an improved mobile experience. This is crucial for long-term conversions and retention.
Extension Best Practices
Make sure that you've got the right app store featured for all device types. You can use targeting features to ensure that iOS users are sent to Apple's app store, for example, and that Android users are sent to Google's app store.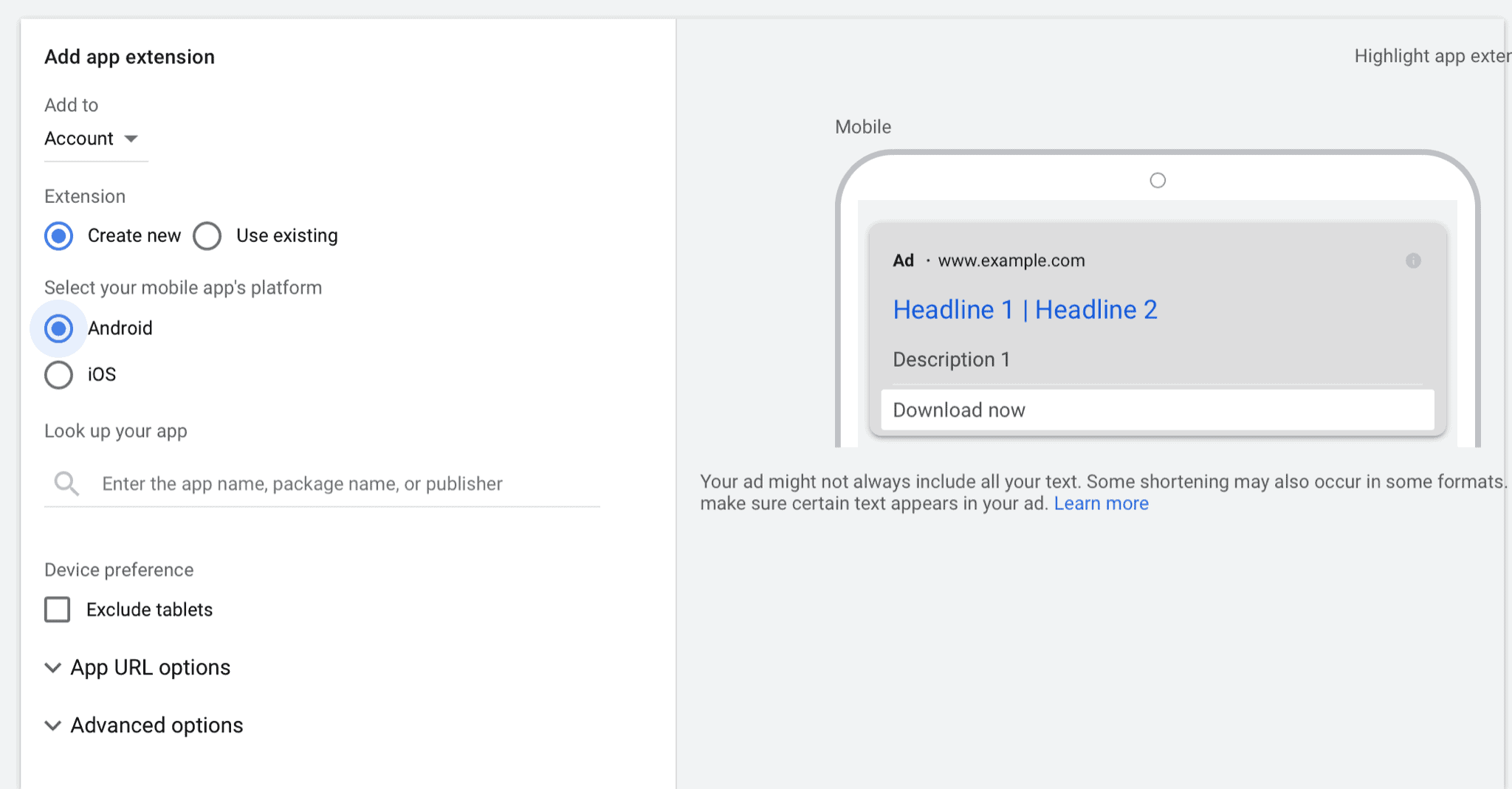 9. Promotion Extensions
Who doesn't love a good deal? Everyone loves sales, discounts, and the chance to save money. Most Google Ads don't heavily promote sales; this extension, therefore, can give you a leg up.
The promotion extension lets you add sale information to your ad campaign, including a reason for the sale, what the discount is or special offer is, and when the offer is valid through.
Here's a straightforward example:

The ability to customize deal details and both start and end dates can leverage urgency and scarcity. You can combine it with ad copy promoting the offer if you want, but you can also attach them to general ads that promote your business, services, or products in general.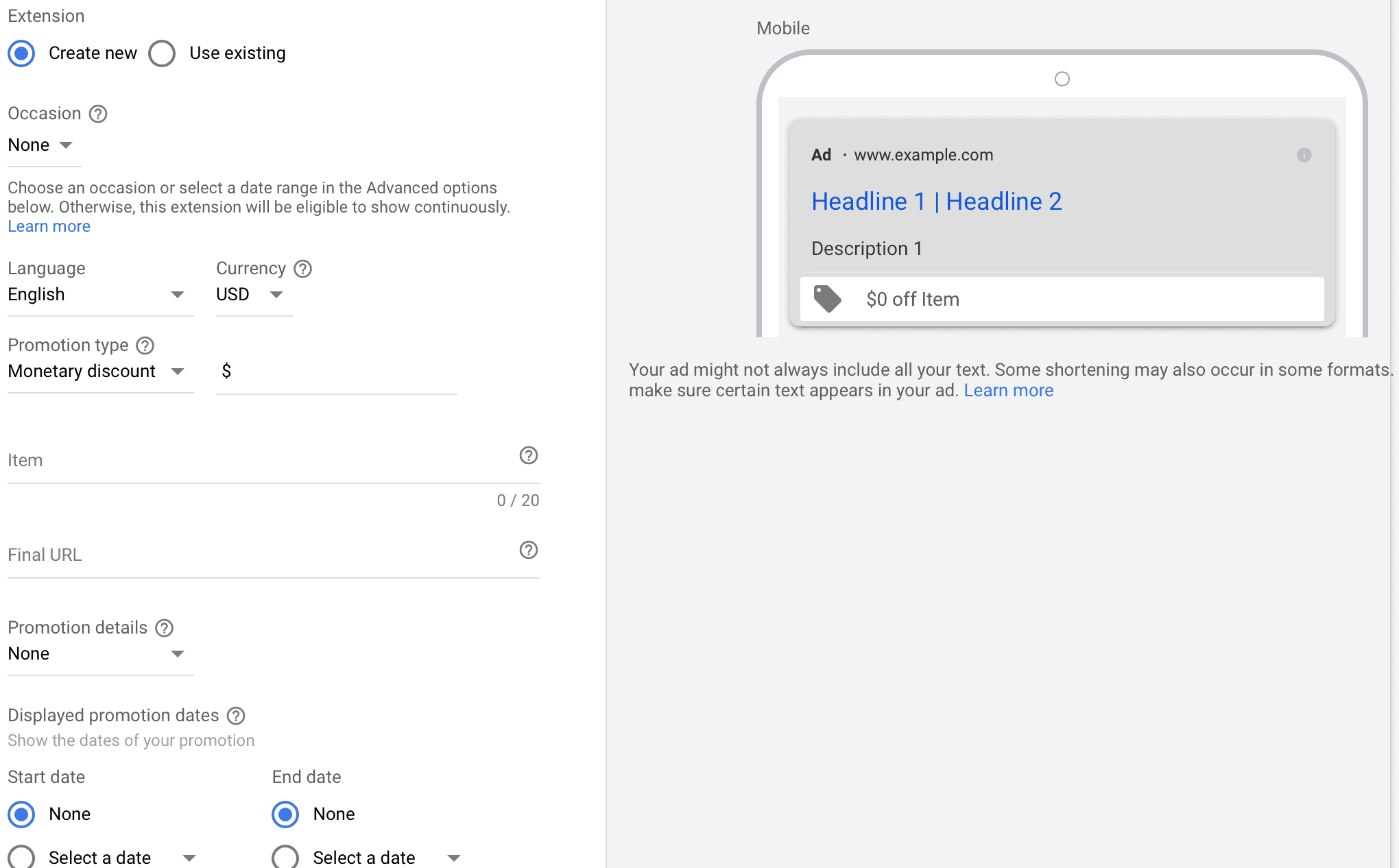 When to Use It & Why
Have a great deal going on? Add it to your ad.
If you're offering $15% off for a week, it's easy enough to add that offer to an extension that can be scheduled to end as soon as the offer is over.
It gives you more visibility without having to use up precious space in the ad copy to heavily promote the deal; instead, you can promote why the product is great and add the promotion extension like a cherry on top of the ice cream Sunday.
Extension Best Practices
Schedule this extension based on when the offer is valid, aligning it with offer start and end dates.
And if you're continually offering a certain promo like $100 off $500 or "first box ships free," either skip the valid dates or continually update the extension to say "valid for this week only" even if you just renew it the next week. Urgency is a major factor here, so leverage it for all its worth.
10. Image Extensions
Image extensions are new, having only recently rolled out, but they're an exceptional asset when you're looking to promote physical products and goods. They allow you to share images alongside your ad, which can go a long way in helping it stand out amongst other results.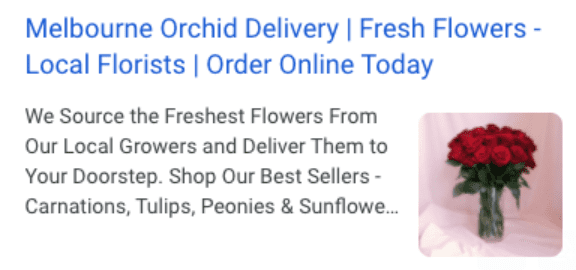 When to Use It & Why
Images absolutely stand out in the SERPs, especially if you're among search results and ads that are text-only.
If you have physical products that you want to promote, this is an easy way to do it. It can help set you apart and show exactly what you can offer right from the get-go. If users like it, excellent— click. If what you have to offer turns out not to be what they're looking for stylistically, then it prevents a click that wouldn't convert.
Extension Best Practices
Make sure that the images are lining up with the copy you're using (especially if you're using dynamic keyword insertion) so that it increases the likelihood of clicks overall.
If you're trying to show up for "rose bouquet delivery" and the picture that shows up is promoting daisies, there could be a discrepancy where the customer thinks that you can't deliver what they need.
11. Lead Form Extensions
Last but most certainly not least, we have the lead form extension for Google Ads.
If you're familiar with Facebook's lead ads, the idea is similar; you can create a CTA in your ad which opens a lead form. Users can fill out the form, which will be sent to your ads manager or an integrated CRM. You can offer a lead magnet in exchange, or just encourage users to complete it to get more information or a custom quote.
These are almost impossible to find in the wild, but this is what it will look like when clicked: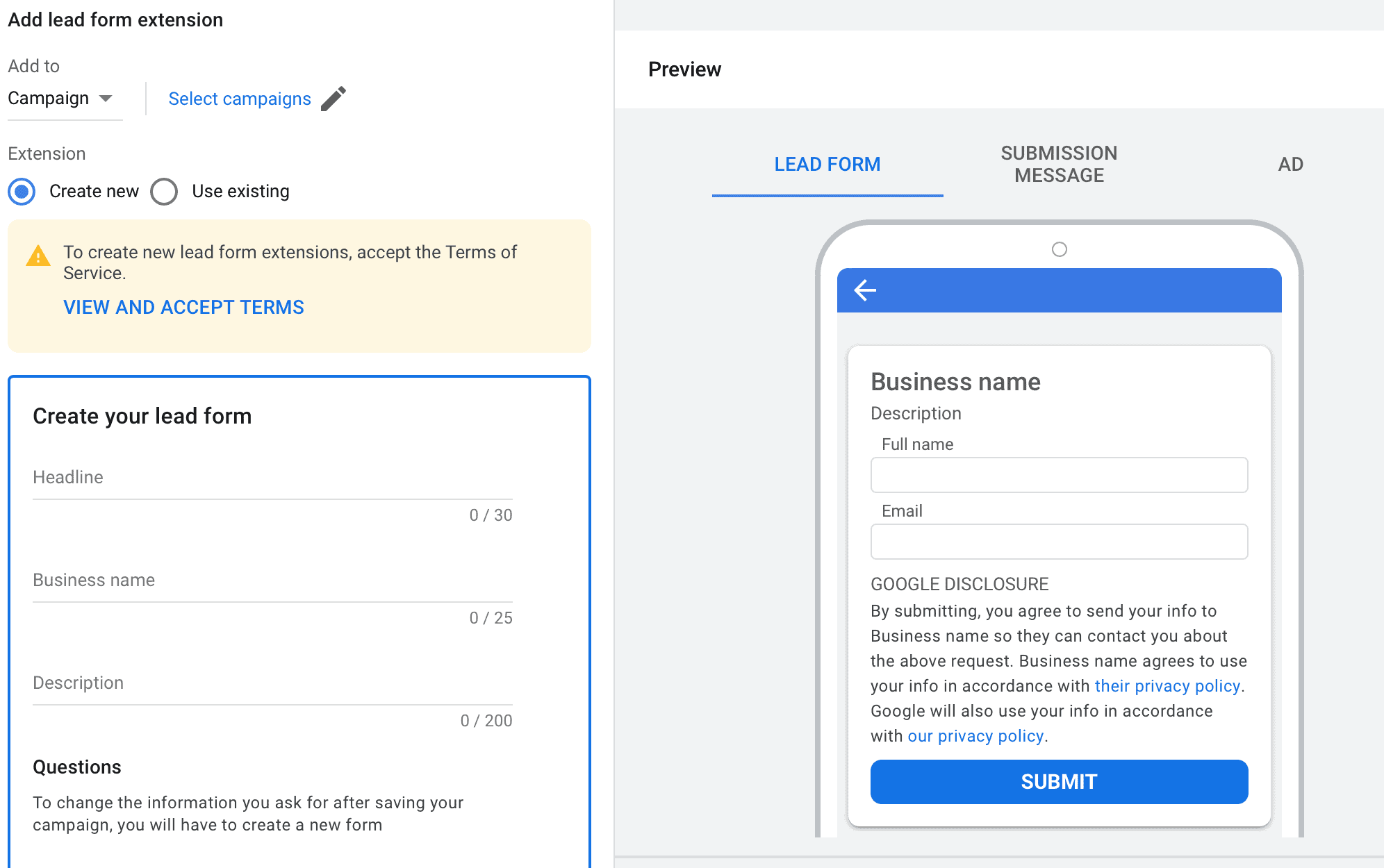 You can then send users a message to confirm that the form was submitted, and let them know that you'll be reaching out, sending a download, or taking whatever action you've promised shortly.
When to Use It & Why
Want to generate leads for your business? Whether you're a moving company, a landscaper, or a graphic designer who needs to give out custom quotes, this is a great way to get people interacting with you in a way that doesn't feel intimidating or like it's asking "too much."
These are a newer ad format, released only within the past two years, so it's still not something that many brands know about. You can use this to your advantage, capturing user interest right from Google without them ever needing to click away.
Keep in mind, though, that form submissions do count as a click, so you'll be charged for it.
Extension Best Practices
One thing we want to flag with lead forms is that you can choose to optimize for more leads, or higher quality leads when creating lead ads. You need to make a choice.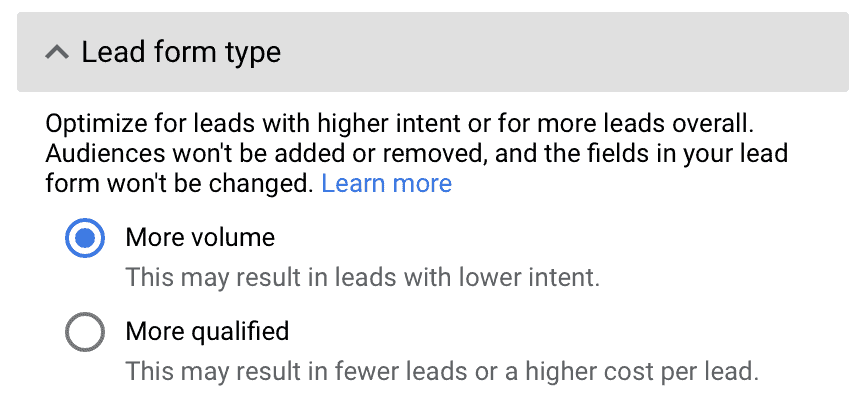 Google will automatically have the system optimized to generate as most leads as possible. While marketing is a numbers game, paying more for higher-quality leads can go a long way. 1 high quality lead for $6 that converts is worth more than 10 at $1 a piece when one converts on a low-value package.
That being said, test and see what works for you. Every business is different.
Dynamic Automated Ad Extensions
We've talked about static ad extensions; now let's take a look at dynamic, automated ad extensions.
Google can automatically create and optimize almost every type of extension that we've already covered, including location extensions, site link extensions, structured snippet extensions, and more.
These show up and work exactly like their static counterparts, with the only difference being that Google will generate the information automatically themselves. They may pull information from your landing page, existing manual extensions, or the ad itself.
If you want a super scalable option for a large business, and aren't too particular about what exactly appears in each extension, this can be a good option to test out.
In order to use these extensions, you must be running manual extensions on your campaigns already. You can find this at the bottom of the "Extensions" page in your ad manager, and when you click it will open the tab to create, manage, and monitor automated extensions.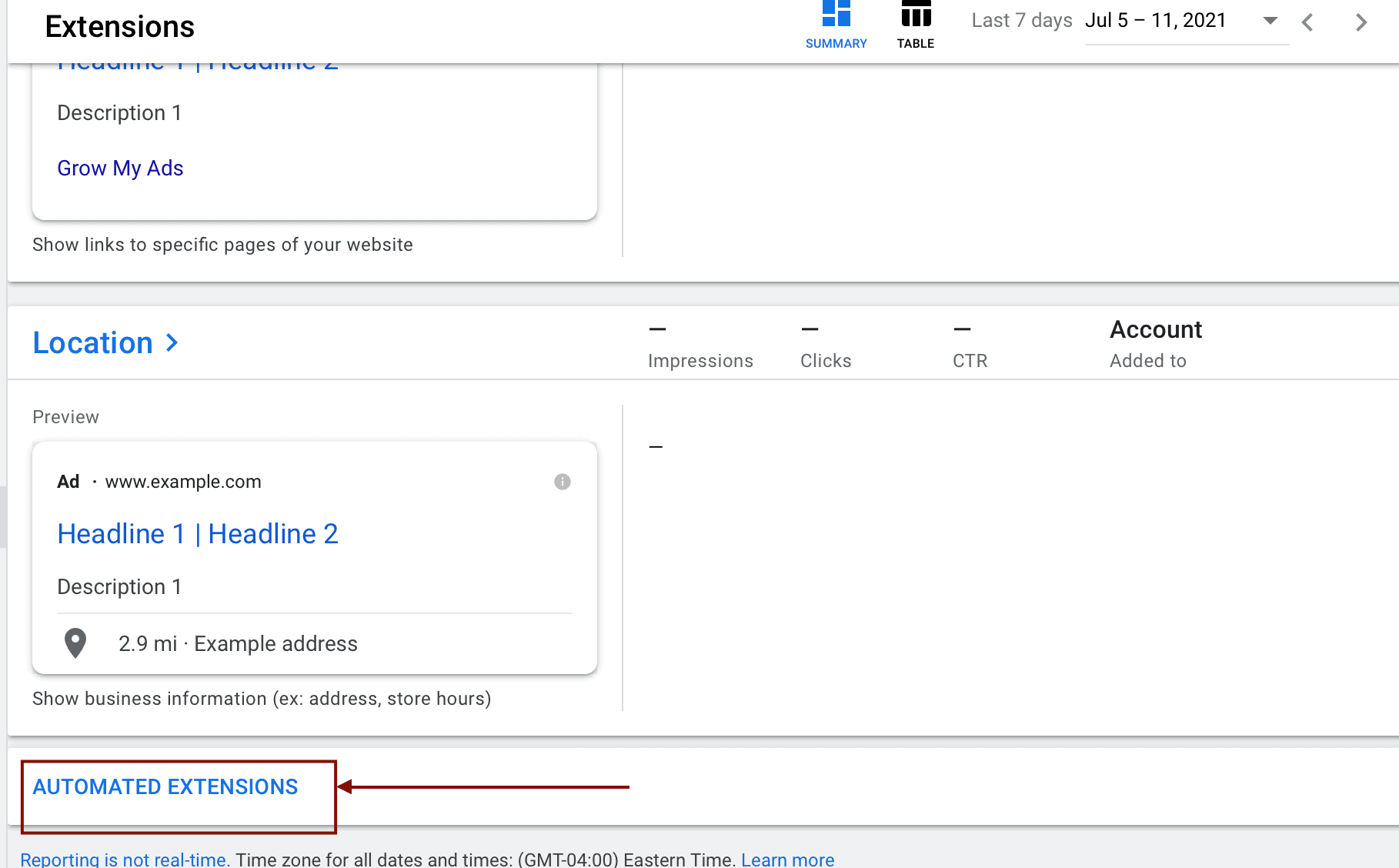 There are a few pros and cons to automated extensions:
Pro: It's scalable. Having an automated system run by Google's own algorithm choosing what extensions appear in your ads and what they say is much easier than trying to create the combinations yourself.
Pro: Google optimizes automatically. Again, Google is the one with all the data, so they have some insider's insight as to what may work well.
Con: There's less control. Control can be vital in ad campaigns, especially when you're paying for clicks. Automation is only so accurate, and not every automated extension may promote your brand as well as you could.
As with most aspects of Google Ads, we recommend testing it out for your brand to see if it works if you need to scale your campaigns. Otherwise, sticking with manual extensions is a perfectly valid approach that gives you full control over your own campaigns, especially since Google will only show extensions they feel are relevant to the search inquiry.
As an important note: We do not recommend using automated extensions for image extensions, even if you're using them for everything else.
Google can interpret text pretty well, but that's not always true with images. They can't distinguish between a picture of roses and daisies, aside from an alt text label, which means that they can very easily serve the wrong images to the wrong ads. It's much easier to keep automated image extensions disabled.
How to Enable or Disable Automated Extensions
To enable or disable all or some automated extensions, go to the Extensions tab in Google Ads. At the top, click on "Extensions" and then go to "Automated Extensions."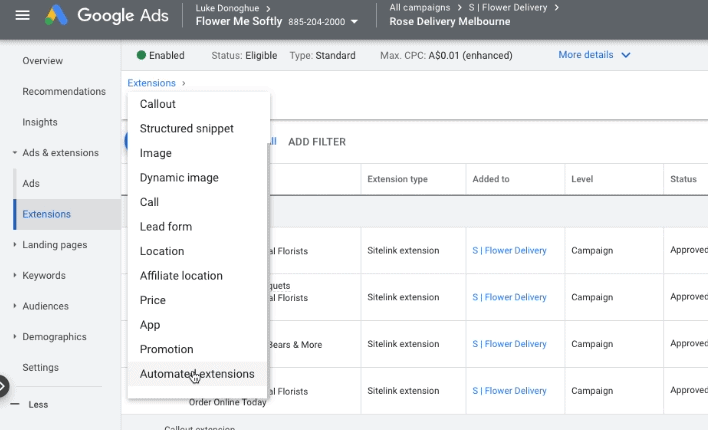 Once you're viewing automated extensions, find the "More" and the three dots towards the top right hand side. Click on it.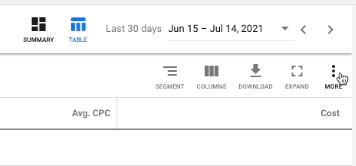 You'll see the option to enable and disable automated extensions. Click on the drop down menu for each one to manually change their status.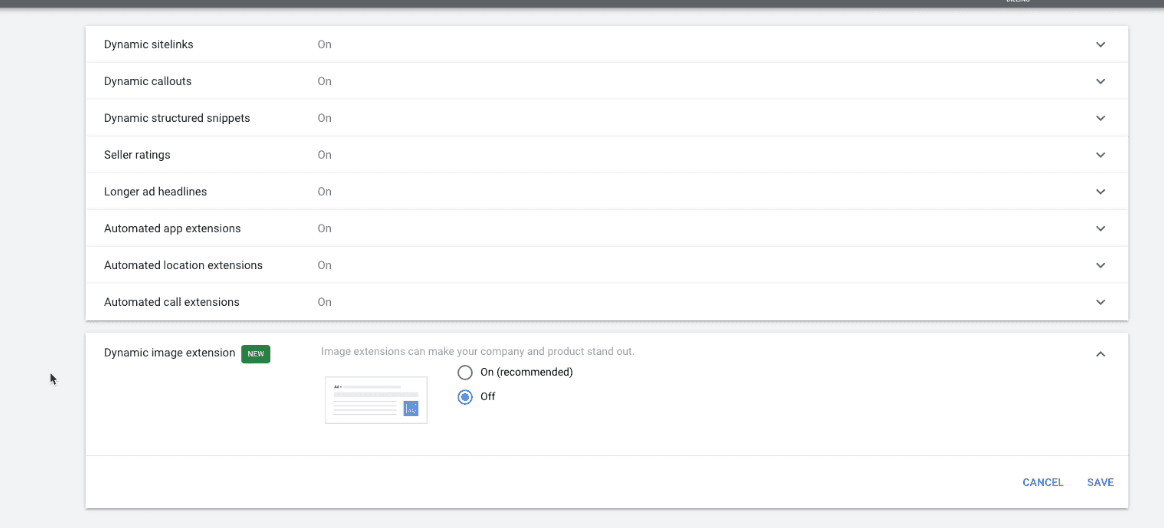 Why You Should Split Test Google Ad Extensions
You can add multiple extensions to every individual ad that you run, but we mentioned early on in this post that you may want to consider running dedicated split tests specifically with the goal of determining which ad extensions are helping you to drive results.
Here's why this matters: There's no point in adding additional information onto an ad just because. Users are still going to make a snap-judgment and scan an ad quickly, so if you have an extension that isn't benefiting you, it could be taking away attention from the more important parts of the ad.
It's also possible that when you're running an ad with several extensions that you're attributing success to the wrong ones. This makes it difficult to properly optimize your campaigns moving forward.
Run A/B tests that assess the efficacy of individual extensions, and then consider running tests to assess the impact of multiple high-performing extensions together. More data is always a good thing in the long run, because we just don't know what will work well until we try.
Why Didn't My Extension Show Up in an Ad?
Have you ever searched for a keyword you're bidding on in Google Ads from your personal computer to hopefully see it in the wild?
Some users do this, and then find out that their added-on extensions didn't show up in the ad.
Or, they realize that some extensions aren't being shown when looking at the Extension Performance part of their analytics.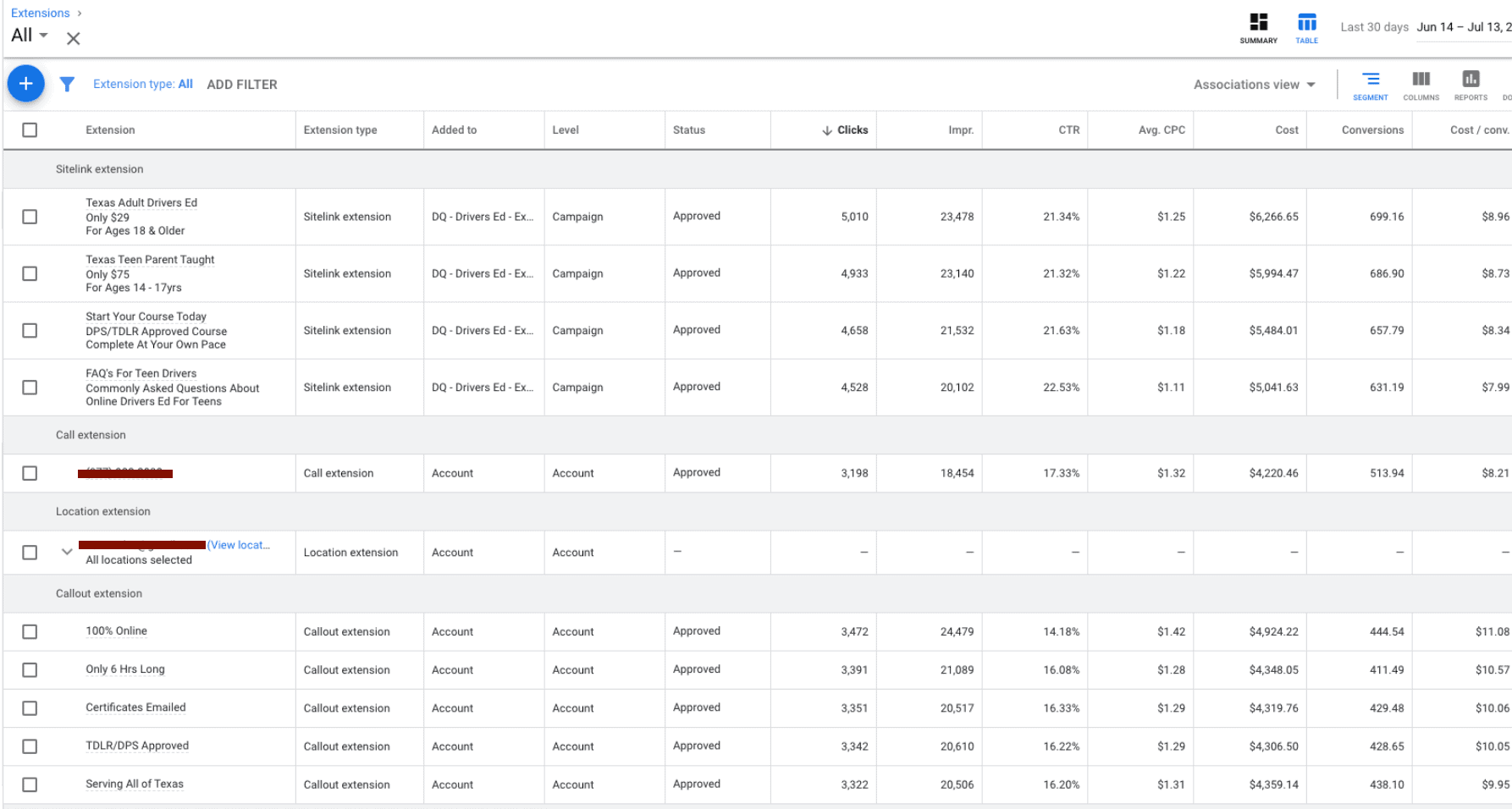 There are several reasons why this may be the case:
Google didn't feel that the extension(s) in question would improve ad performance or be relevant to the user's search
The ad position wasn't high enough for the extensions to show; you need an ad rank high enough to increase the likelihood of your extensions appearing
They showed some of your extensions, not but all of them; if this is the case, you can remove less-essential extensions to see if Google will prioritize the ones you value most moving forward
Focusing on increasing the overall quality of your ad and prioritizing the extensions that matter most to your campaign are a good start to rectifying the issue.
Final Thoughts
Google Ad extensions are an exceptional way to stand out in the search results and gain more visibility, clicks, and ideally conversions for your ad. When combined with a high-quality campaign, they can increase CTR rates by at least 15%, giving you a massive edge.
It's an easy, free, and consequence-free way to optimize your campaigns for better performance, so there's absolutely no reason you should skip these on your search ads. Start testing today and let us know what you think!
Need help with optimizing your campaigns? We can help. Find out how our data-focused Google Ads services can take your PPC ads to the next level.