Black Friday and Cyber Monday are one of the biggest shopping events of the year, and for eCommerce businesses, that means it's got the potential to be one of the most high-profit times of the year. It can both draw in new customers and drive sales from existing customers alike, making it an extremely valuable opportunity.
In order to get your piece of the Black Friday sales pie, however, it's essential to know how to market your products properly. Google Ads will expand your reach and put your ad campaigns— and your products— directly in front of people looking for them.
The hard part, of course, is that a solid chunk of your competitors are already planning on using Google Ads to promote their Black Friday sales, too. And you don't want the worst case scenario to happen where you don't get any sales— and unfortunately, I've seen that happen.
In this post, we're going to go over 15 Google Ads Black Friday Tips for 2023 so that you can increase your impression share, reach your target audience, and maximize your sales.
It's one of the biggest sales days for you or your clients— let's show you how to make the most of it.
1. Your Offer Has to Be Good
This is one place we see brands lose a massive share of potential sales: Their offer isn't competitive, and ultimately it's just not good.
Black Friday and Cyber Monday is your chance to show up with the best deals that you've got, and you know that even if you don't, your competitors will.
What this means: 10% off isn't going to cut it; it probably won't even make a dent. People are looking for 20-30%+, and that seems to be the average percentage that actually moves the needle.
We're not the only ones who have seen this firsthand. This database reviewed over 700 eCommerce ads and found the same thing— and that average discounts have been increasing year-over-year. You need to purchase the full report to access it (which we recommend), but you can see the year-over-year changes here: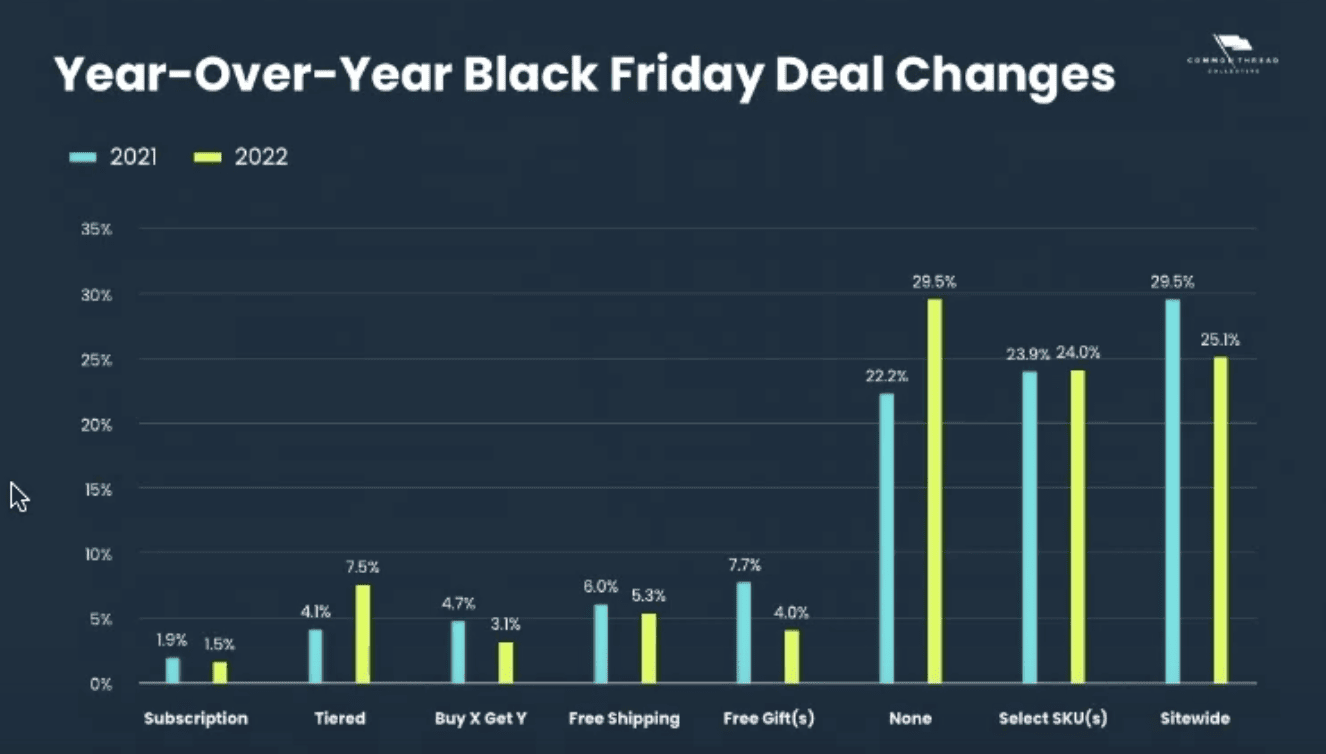 Image source: Common Thread
Keep in mind that you don't necessarily need to run discounts on Black Friday if your profit margins can't handle it; you can keep your standard pricing. But if you're a resale company or in a competitive market, you need to go big or go home.
2. Mention Black Friday Deals in Your Ad Copy
People who go shopping on big sales events aren't just doing their generic holiday shopping. They're looking for the best deals on the market.
And while sometimes they're looking for gifts for someone else, they may be using Black Friday to find essential items they desperately want or need. Consumers may be hoping to snag a deal on that gaming console they've been saving for all year or relying on Black Friday to buy the kitchen appliances they want for their new build home at a decent price.
Because of this, they're not looking for the best products; they may already know what they want and want to find great deals. Mentioning the words "Black Friday" and "Cyber Monday sale" in your ad copy can signal to users that you've got the savings they're looking for.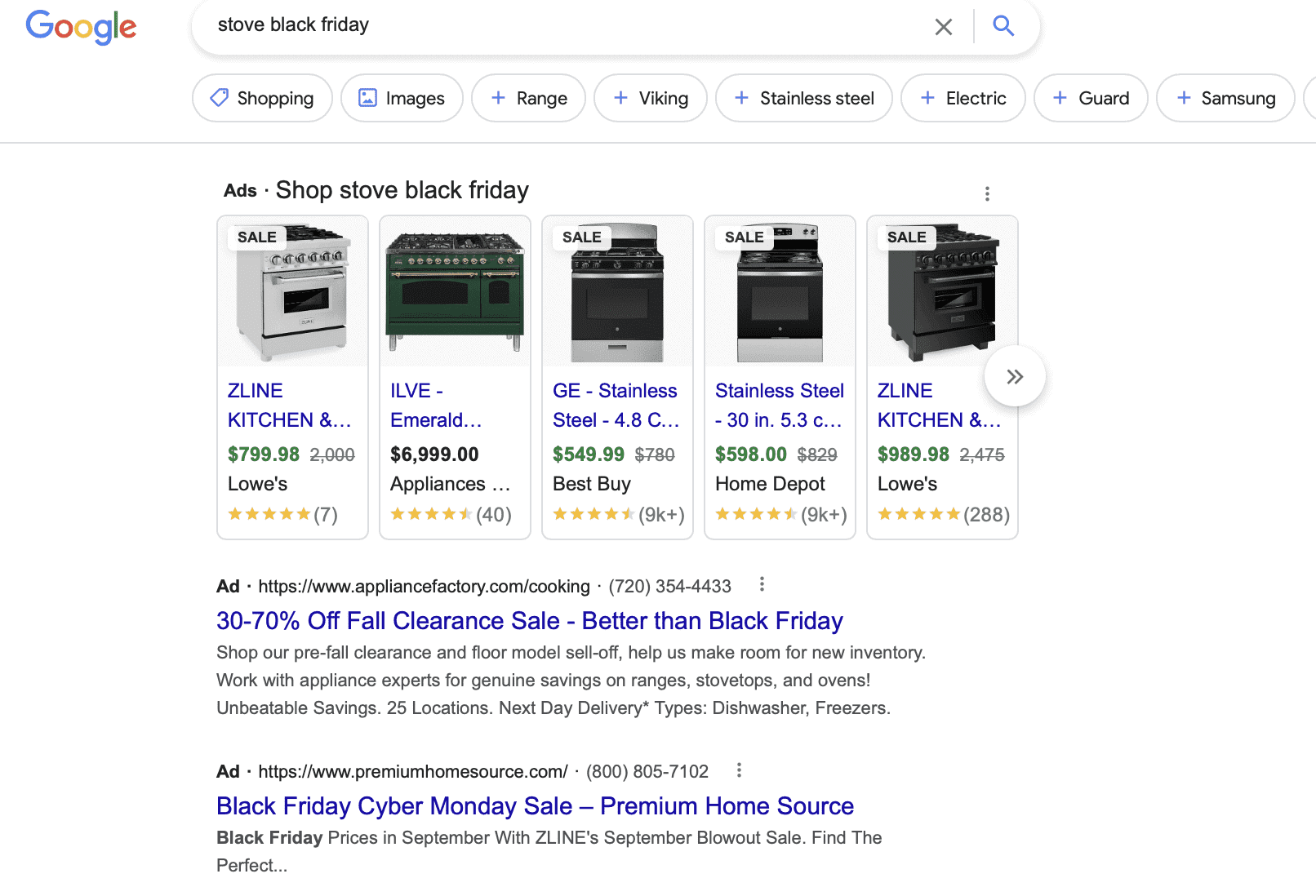 Consider testing phrases like "Black Friday sale," "Black Friday Cyber Monday deals," and "Best of Black Friday."
Even if you do nothing else, do this— it can immediately attract buyers even if you're running the exact same ads at the same price you've maintained for the rest of the year.
3. Use Ad Labels Wisely
We're big advocates of ad labeling here, which essentially allow you to sort your ads into different categories.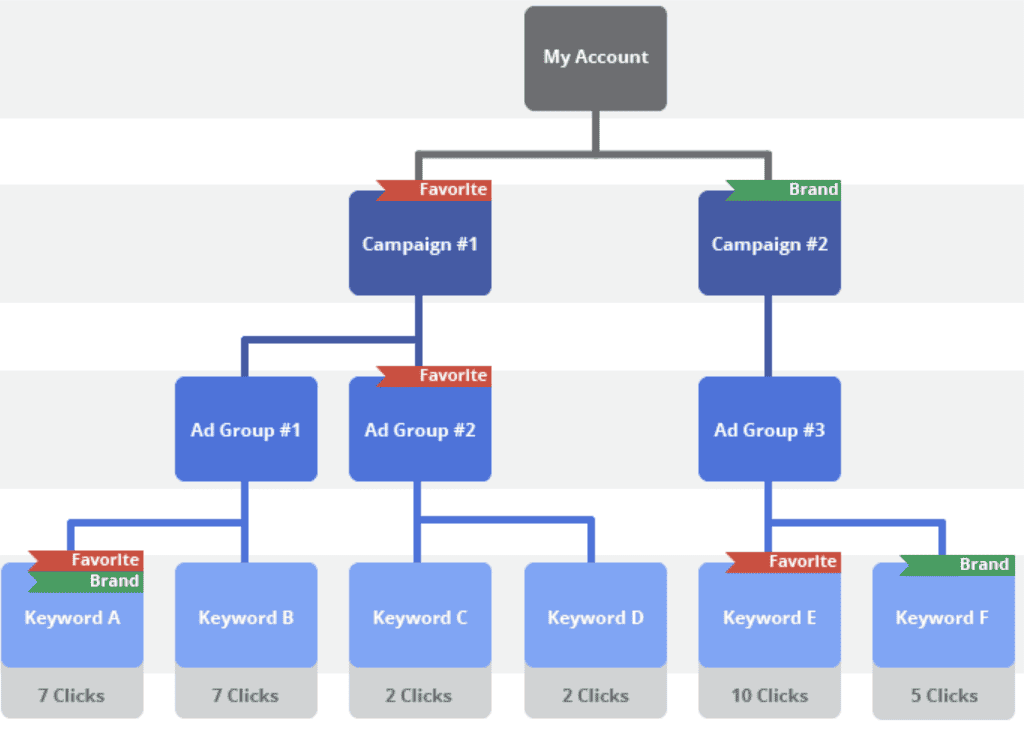 Most of our standard ads are given a "Legacy" or "Evergreen" label— those are the ads that are run year-round unless they need modification for any reason.
And it goes without saying that we recommend labeling your holiday ads accordingly.
You can add labels to campaigns, ad groups, and individual ads. To add labels to Search keywords, go to "Audiences, keywords, and content" and then "Search keywords." You can check the box next to the keyword in question. You'll see "Label" as one of the options in the heading above the table.

When you click it, you'll see the option to create new labels or add existing labels to that keyword. You can do this exact same process with any campaign, ad group, or ad you want to label.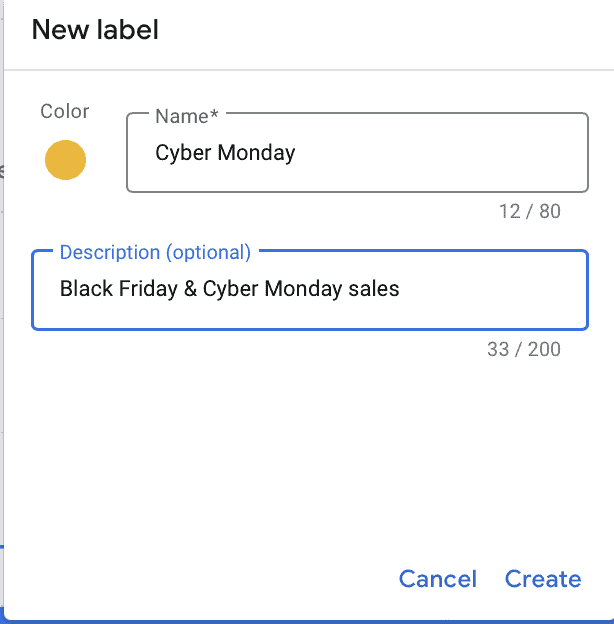 4. Start Running Promotions Early
Let's say you're a consumer. You want to get new luggage for your spouse's Christmas present, but it's pricey, so you know you'll be shooting for a Black Friday deal. Do you wait until Black Friday itself to try to see what you can find, or do you at least try to do some preliminary research a week or so in advance?
It's common for people to research their sales purchases before the big events, sometimes weeks before Black Friday itself.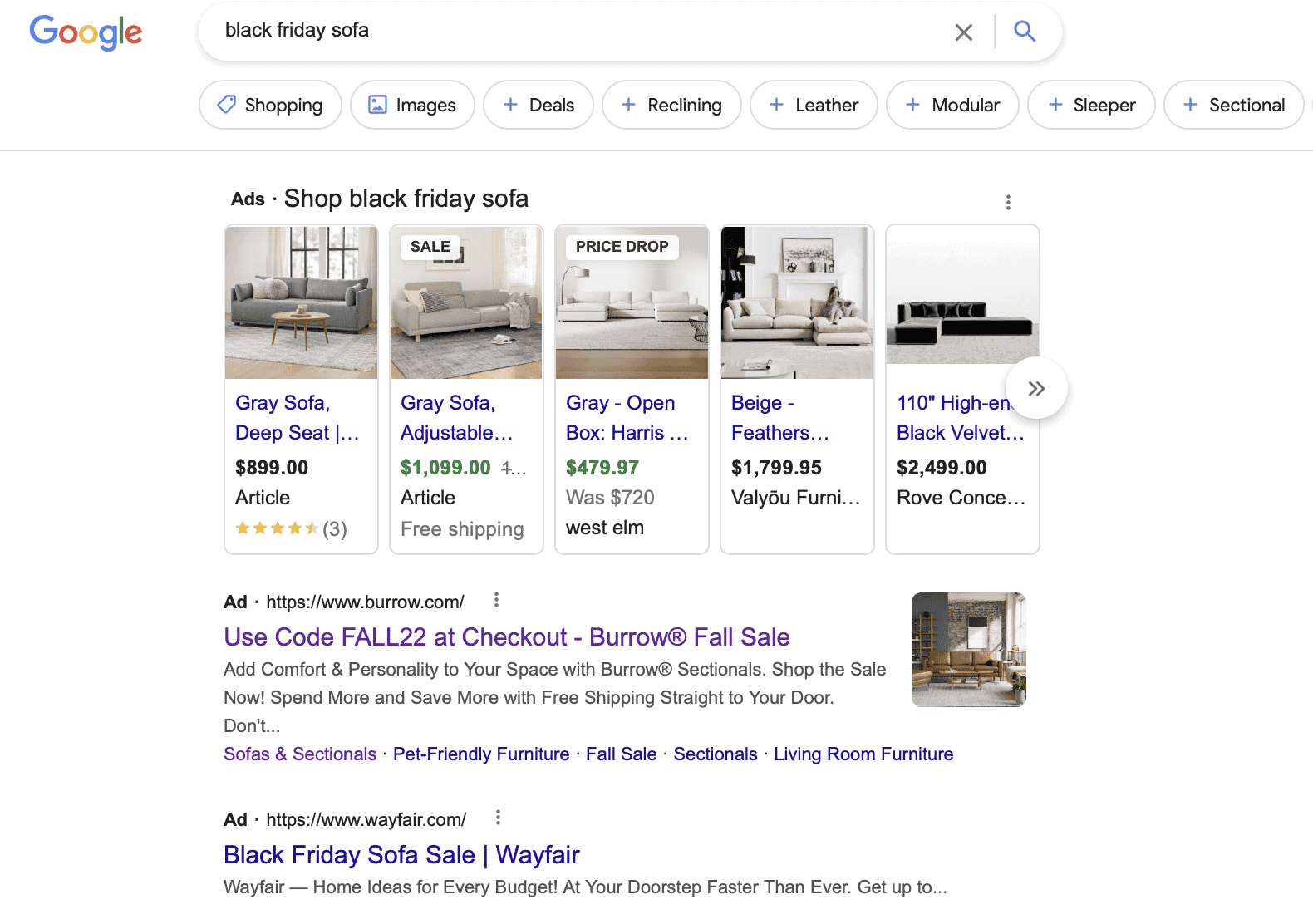 If you want to be part of that initial research process to capture truly high-intent users, having early promotions that mention your Black Friday sales is a great choice. These ads could take users to a landing page where they can see what deals you'll offer on the big day, and even sign up for reminders.
While this isn't a strategy that many brands use outside of the big box stores (which may send flyers or brochures), it is a good way to get ahead of the competition when people are researching a buying decision and are open to discovering new brands or products.
And for some brands, opening the option for customers to purchase a little early (think early in the week of Thanksgiving) can give you the ultimate competitive edge. This may be worth considering as well.
5. Use Google Ad Assets (aka Extensions)
Google Ad Assets— previously known as "Extensions"— allow you to add addition text to standard search ads. There are plenty of different options available, but the ones we want to focus on today are the promo extensions.
Promo assets are exactly what they sound like: They allow you to feature existing promotions in order to drive clicks. You can add text to offer context like "Black Friday" or "Best Sale of the Year", the discount or promotion available, and then a code (if needed).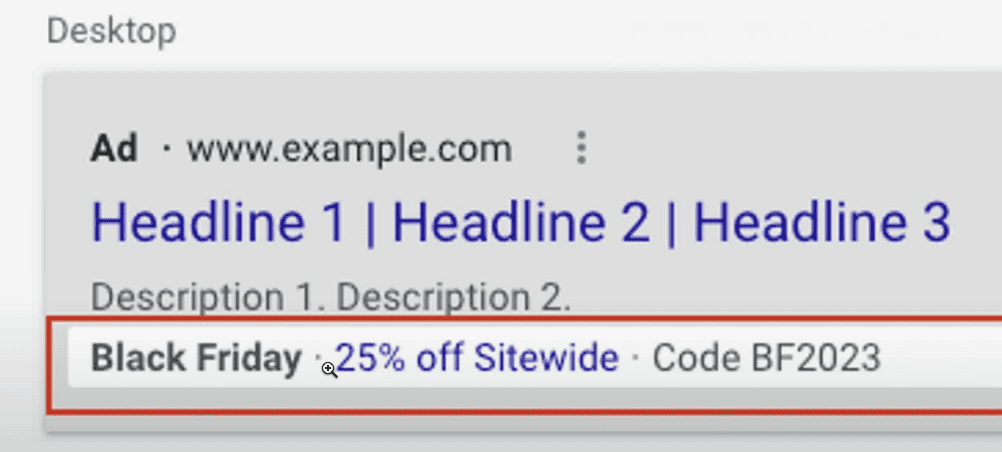 This is an easy way to highlight exactly what you're offering right from the search results page, all while you still get to use the headlines and descriptions for other high-value copy if needed.
You also want to look at both sitelink assets and price assets.
Sitelink assets allow you to add additional links and brief descriptions to your ad when Google chooses to display it. You can use this to feature different Black Friday or Cyber Monday promotions or landing pages.

Price assets are another good option; they allow you to feature starting prices for different items, and we always recommend using these to promote your big-ticket, hot-selling items on Black Friday and Cyber Monday. As an important note, though, you want to be careful here because you can't add any promotional text to the header or descriptions.
You can say: "LG TVs" but not "LG TVs on Black Friday Sale."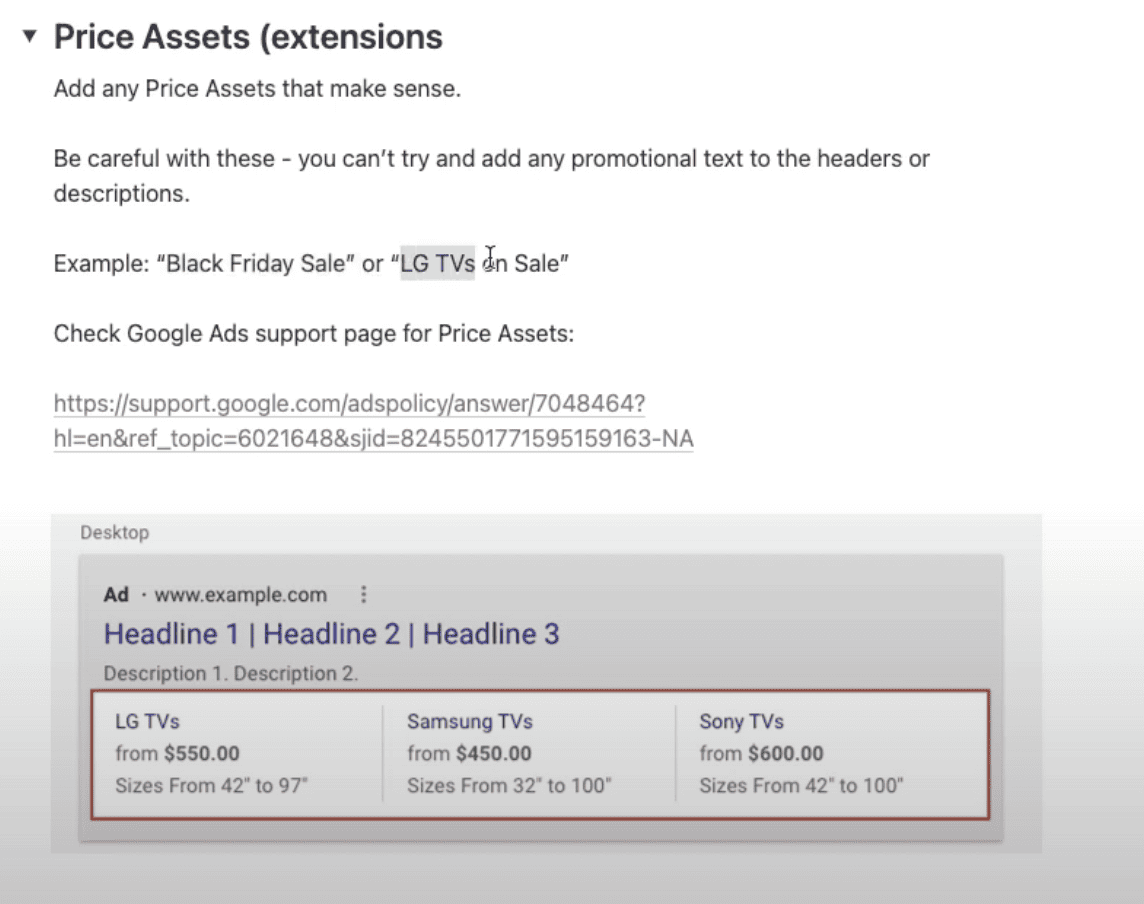 Google doesn't show every asset with every ad, but assets can display relevant information to users and are known to increase your CTR and conversion rates. For that reason, add all three assets to your holiday campaigns, and Google will choose the best ones to serve.
6. Optimize Your Shopping Campaigns
Black Friday and Cyber Monday sales focus heavily on tangible goods. That means if you sell physical goods you should be running Google Shopping Campaigns.
Google Shopping Campaigns allow your ad to appear above standard text search results for qualifying searches, featuring a picture, title, brand name, and price of the product. Google will show the searcher the products that are most similar to what they're looking for.
You can set up Google Shopping Campaigns through the Merchant Center.
Make sure that your product feeds are up to date, with current inventory information synced. You'll also want to set up sales pricing in advance with all your Black Friday discounts, having that pricing set to go live the day your sales are running.
You can do this by going to the "Promotions" tab in the Merchant Center and then adding in your promotional pricing information. When you do this, make sure you check the status of the promotions to ensure that they're approved and active.

These promotions are undeniably attention-grabbing in the search results and shopping tab, as you can see here: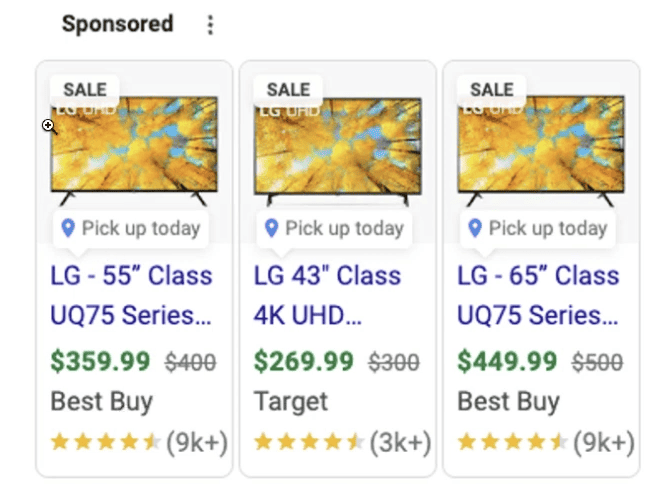 It's also crucial that all the products in your feed are well-optimized. Make sure that you're using keywords customers will use in the product title and description. You don't just want to say "Black shoes," for example; your product title will want to specify "Women's Black Leather Loafers."
Check out our best Shopping Optimization tips here:
<iframe width="560″ height="315″ src="https://www.youtube.com/embed/y3cO7_QuVHg?si=-4EHpZ4i4vYDdaz3″ title="YouTube video player" frameborder="0″ allow="accelerometer; autoplay; clipboard-write; encrypted-media; gyroscope; picture-in-picture; web-share" allowfullscreen></iframe>
And if you prefer text, can read more about Google Shopping optimization tips here.
7. Get Your Keyword Research On
We're all about keyword research— it's what makes the Google Ads world go 'round. And this time of year, you also want to conduct keyword research specifically for Black Friday and Cyber Monday phrases.
You can use Google's native keyword research tool and search for product names or categories along with "black friday" to see what's hot and what people are searching for.
In this example, we went back to October of last year and viewed the entire keyword history for "LG TV Black Friday." There was a huge spike that began in October, peaked in November, and died off in December— showing there was a lot of interest in Black Friday deals for this particular product.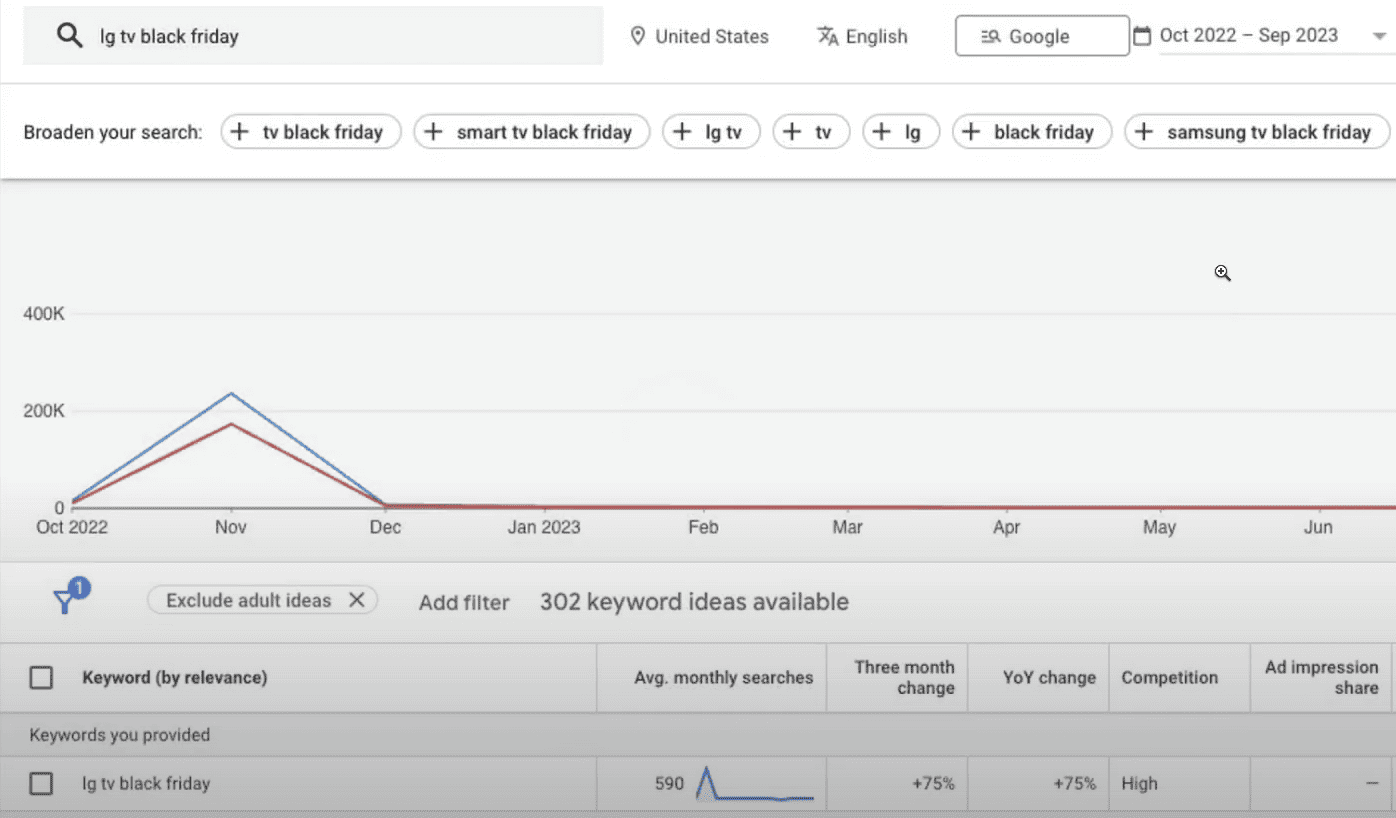 Sometimes the products you're selling won't have any volume for your product names + Black Friday. That's okay. You can still use the other strategies discussed here.
8. Test Out Competitor Keywords
If you want to try to grab some of the traffic that's intended for your competitors, there's no time quite like Black Friday to do so!
You can bid on your competitor's branded keywords, allowing you to show up in searches users make for the competition.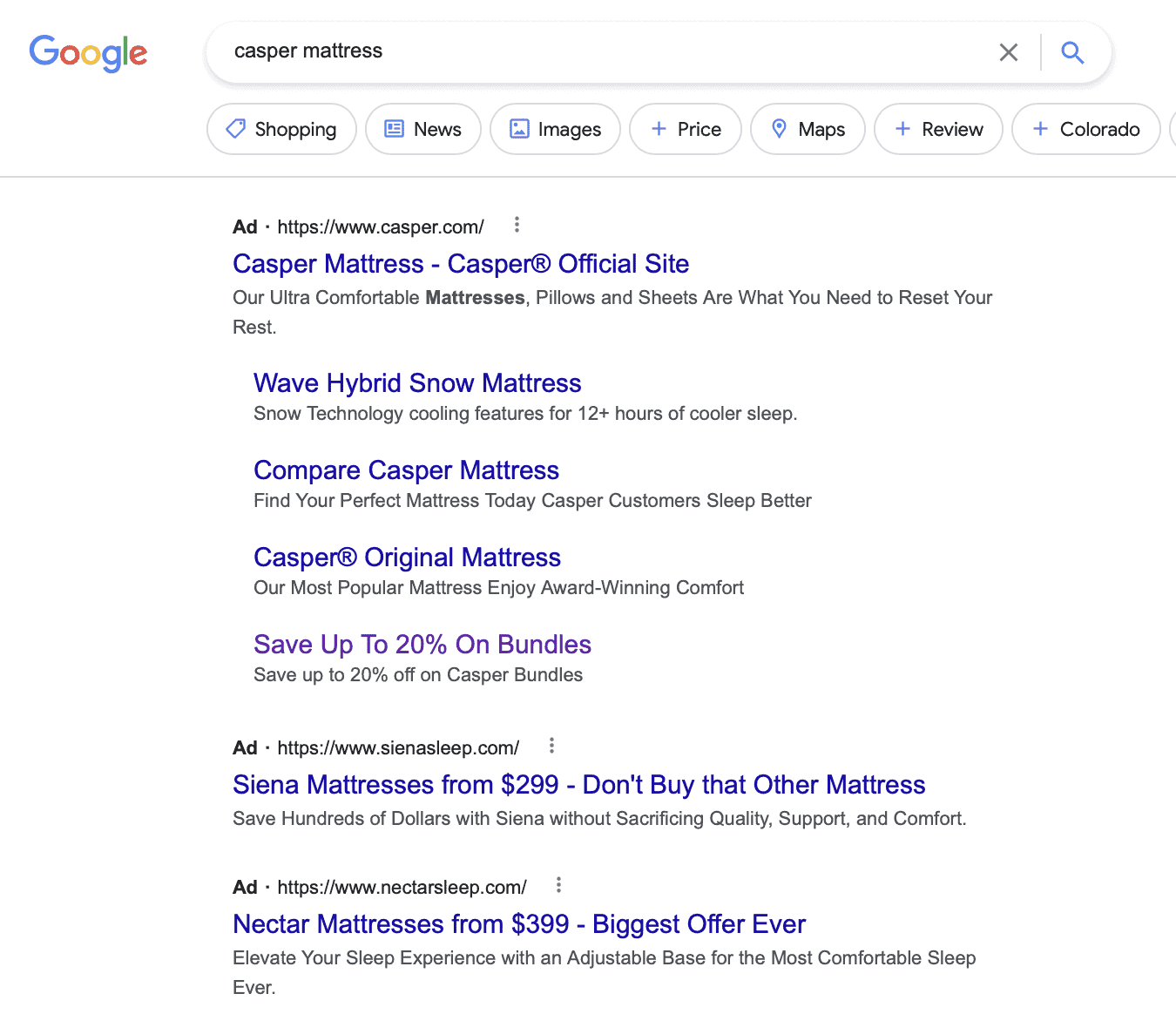 Branded keyword campaigns targeting your competitors should be only a small portion of your budget, but you might be able to snag purchases intended for your competition with this strategy.
Some brands are able to predict what promotions or prices their competitors will run, either based on current market trends, past holiday deals, or even a little insider knowledge. In some cases, brands start publishing their Black Friday prices early in November.
If you know that you can come in at a competitive price, be aggressive with this tactic and you'll almost certainly win sales if the rest of your strategies and the campaign itself is strong.
If you are unsure— this isn't a must-follow strategy. You can test it out, but be ready to pause the campaigns or go easy on them. There are plenty of other tactics in this guide that can help.
9. Choose Your Campaign Structure Strategically
If you're pretty much running a sitewide sale, this tactic isn't really relevant to your Black Friday and Cyber Monday Google Ad campaigns, so you can go ahead and skip to the next section.
If, however, you are running specific deals for individual products or groups of product categories, keep reading.
In this case, I typically take the time to build out segmented campaigns to market the on-sale products or product categories extremely aggressively. This is particularly important when running Performance Max campaigns. We'll start running them early in advance to Black Friday to warm the ads up and then get aggressive on the bidding.
If you're following this strategy, you will want to increase your bid for on-sale products and to remove the promoted products from your standard campaigns during this time of year. We also actually recommend decreasing your bids for your non-promoted products so that Google focuses its energy where you want it to most.
10. Market High-Demand Products on Their Own
Many businesses have certain high-demand products that consumers are chomping at the bits to get.
Most years, there will be a new or new-ish console that everyone is dying to get their hands on. In the pandemic, it was toilet paper.
When it comes to those big-ticket items your business is selling, make sure that you're adding extra effort to market those specific products individually.
You won't see Best Buy advertising "electronics"— you can bet they'll have individual Google Search Ads geared specifically towards the most-wanted televisions and gaming consoles. That's the best way to capture Black Friday users who are searching for specific products with search ads.
If you do want to increase your average order value and know that your high-value items will sell no matter what as long as people can get their hands on them, you can consider creating bundles. They buy nice luggage at a slight discount and they also get luggage tags and a neck pillow as part of a bundle. You increase the order value slightly and sell lower-demand items, too.
And we'll talk about this more in the next section, but you'll also want to be prepared to bid more on these items for the best results.
11. Know You'll Spend More & Adjust Bids if Needed
Google Ads works like an auction. You're bidding on placements in searches that use the keywords you're targeting (or that are relevant to your product feeds), and you're competing against everyone else who wants that same placement.
This means that during peak sales periods or for high-value keywords (including those targeting "Black Friday" during the week of Thanksgiving), you can expect your costs to go up.
No one loves this; we're all about minimizing ad costs and maximizing return on ad spend (ROAS). However, if you don't raise your bids as needed you're likely to generate low-quality clicks predominantly and miss out on a significant portion of potential sales.
Keep in mind that on Black Friday, searchers are extremely high intent; the advertiser that gets the first click is in a decent position to get the sale if the product and offer are what they're looking for.
Increasing Your Budget
Here's our best tip: You want to start increasing your budget in small increments up to one week before Black Friday. This allows you to capture growing interest that starts building before Black Friday and it gives Google time to adjust to your new bids and budget— especially if you're using Smart Bidding.
When deciding on how much to increase your budget, we recommend looking at Google Trends for the keywords in question. This will show you how much search intent increased during Black Friday the last year.
In the example below, the keyword volume doubled during the Black Friday period— so we'd want to double our budget this year.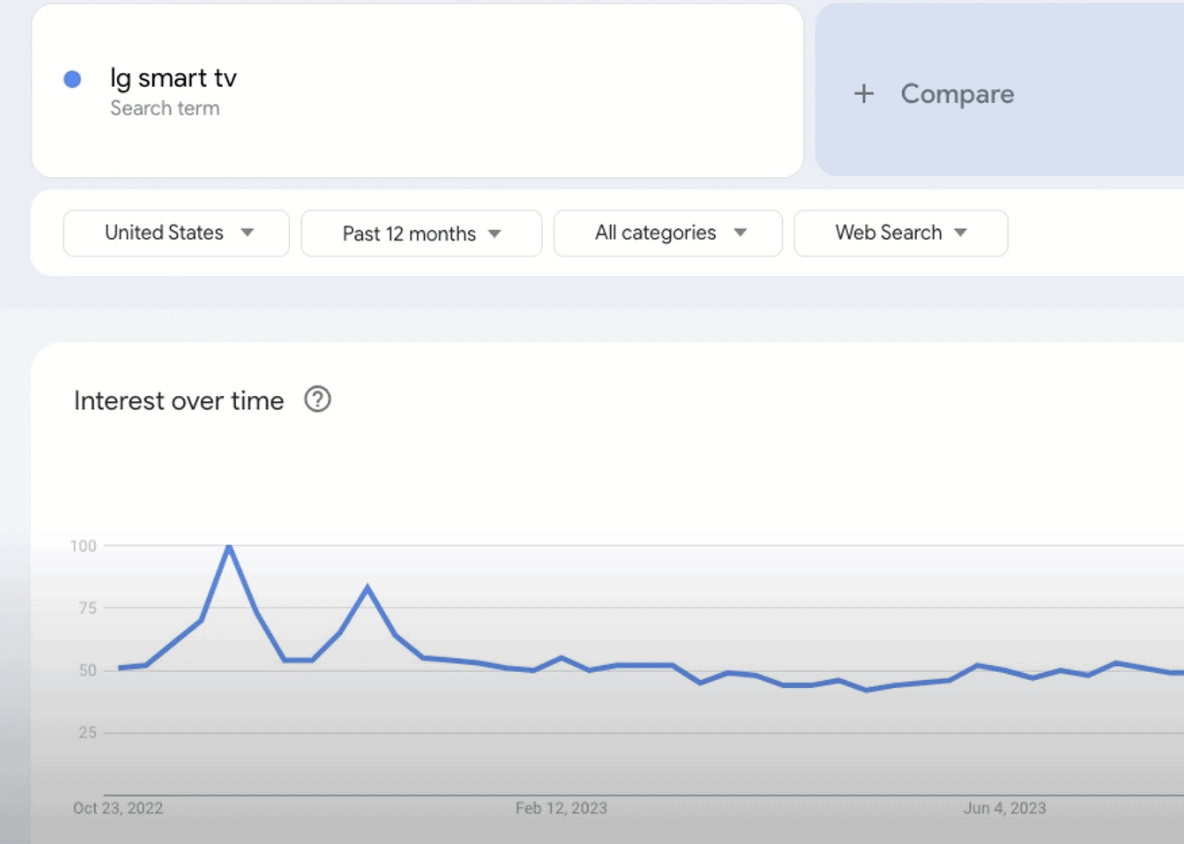 When in doubt: Double your budget for Black Friday and Cyber Monday. And if your campaigns are going well immediately before and during Black Friday, don't be afraid to bump up that budget.
For this reason, we always watch our client campaigns like a hawk on those major holiday sale days.
12. Choose Your Bidding Strategy
When it comes to bidding strategies for Black Friday and Cyber Monday Google Ads, we're big advocates of either using Seasonality Adjustments (which is what we recommend) or Lower ROAS Bids.
Seasonality Adjustments
If you've run Google Ads for last year's Black Friday, you can leverage that data to prepare Google's automated bidding for the increases in sales it should expect.
Under tools in settings at the top right of your Google Ads account, navigate to the Shared Library Column > Bid Strategies.
From here you can go to advanced controls and you will find Seasonality Adjustments as one of the options to choose from.

Using last year's data, you can tell Google Ads what increases in conversion rates it should expect across different campaign types during Black Friday.
Using this tool can help Google increase budgets and bids properly during Black Friday to make sure you maximize the return on your ads.
Lower ROAS Bids
If you're uncomfortable using the Seasonality Adjustments, then you can use the Lower ROAS Bid option. You'll want to start decreasing your ROAS target in small increments 1-2 weeks before Black Friday— and never make a drastic change on the actual day of.
13. Take Advantage of Auto-Rules
Auto-rules are a huge asset for Google Ads management in general, but they're a lifesaver come holiday Google Ads management.
And this is why those ad labels were so important earlier on.
You can set up two rules:
Enable Black Friday Ads, which applies to all paused ads with the condition of the ad label that contains "Black Friday" (or your label of choice)

Make sure you add in a start and end date

Pause Legacy Ads, which you can do by pausing all enabled ads that contain the label "legacy" (or your chosen label) with a start and end date.
This is an easy way to switch on and off the right ads at the right time.
14. Have a Backup Billing Option
This is the most simple but perhaps the most important strategy of all: Have a backup billing option on your account.
The last thing you want is to have an issue with a card or payment option day-of that causes you to completely miss out on this incredibly high-value opportunity. It sounds nearly apocalyptic, but we've seen it happen.
So right now, before you forget: Go add that backup billing option. Hopefully you won't need it, but you'll thanks us if you do.
15. Remember That Black Friday Isn't Over at Black Friday
Long gone are the days when Black Friday is just a single-day event. Some stores start their Black Friday sales as much as a week in advance, and Cyber Monday brings up the rear end of the holiday sales events for an added punch.
Cyber Monday is just as much of a massive sales day as Black Friday, so you need to reserve a solid percentage of your ad budget for the following Monday. Some users may miss Black Friday for any number of reasons, or they may circle around on Cyber Monday after they missed out (or couldn't find) a deal they wanted on Black Friday.
Have ads ready to go, mentioning Cyber Monday sales in your Search Ads copy for best results— and remember that you can use auto-rules to start any Cyber Monday campaigns on-time.
Final Thoughts
Google Ads is going to be one of the best weapons in your advertising arsenal when it comes to holiday marketing— especially Cyber Monday and Black Friday 2023. Use these Google Ads Black Friday tips to stay ahead of the competition and increase your sales.
Ready to get your campaigns set for Black Friday and Cyber Monday? Download our Google Ads Guide for Black Friday and Cyber Monday.