Google Shopping Feed Optimizations: How to Optimize Your Product Feeds
The Google Shopping tab is an insanely powerful opportunity for eCommerce brands with physical products and goods they want to sell. Shopping Ads and organic listings alike can drive massive sales potential fairly quickly.
The only downside to Google Shopping, of course, is that so many other competitors have caught on to its value. This makes it harder to stand out and drive both clicks and sales.
That's where Google Shopping Feed optimization comes into play. There are steps you can take to optimize your Google Product Feeds to get more visibility (which means more sales!) in the Shopping tab.
Why You Need to Optimize Your Google Shopping Feeds
While a great product listing carries a ton of weight once users actually click on your product's thumbnail in the Shopping tab, that dynamic and engaging copy isn't necessarily enough to get you initial visibility, too.
You must have competitive and well-optimized feeds and product listings so that you can get your best potential chance at ranking for your desired keywords and search terms. This can mean more reach, more visibility, and (you guessed it!) hopefully more sales.
Think of your product feed as a campaign structure, because that's essentially what it is. The stronger the feed is itself, the higher the relevance and positioning of the individual ads and listings in results.
1. Optimize Your Shopping Feed's Product Titles
In our experience, your Shopping Feed product titles are the most important part of optimizing your feed. Without well-optimized product titles, you're at a major disadvantage that's hard to overcome.
There are a number of different optimization tactics you should incorporate into your product titles. Let's take a close look at each one.
Include The Primary Keyword in the Product Title
You always want to include the primary keyword in your product title whenever possible. This is like SEO 101, and the same idea applies to your product feeds, too.
When you're using the primary keyword in the product title, it tells Google that this is about as relevant as it gets.
If someone is searching for "cordless vacuum" and your product title features the phrase "cordless vacuum," you're off to a great start.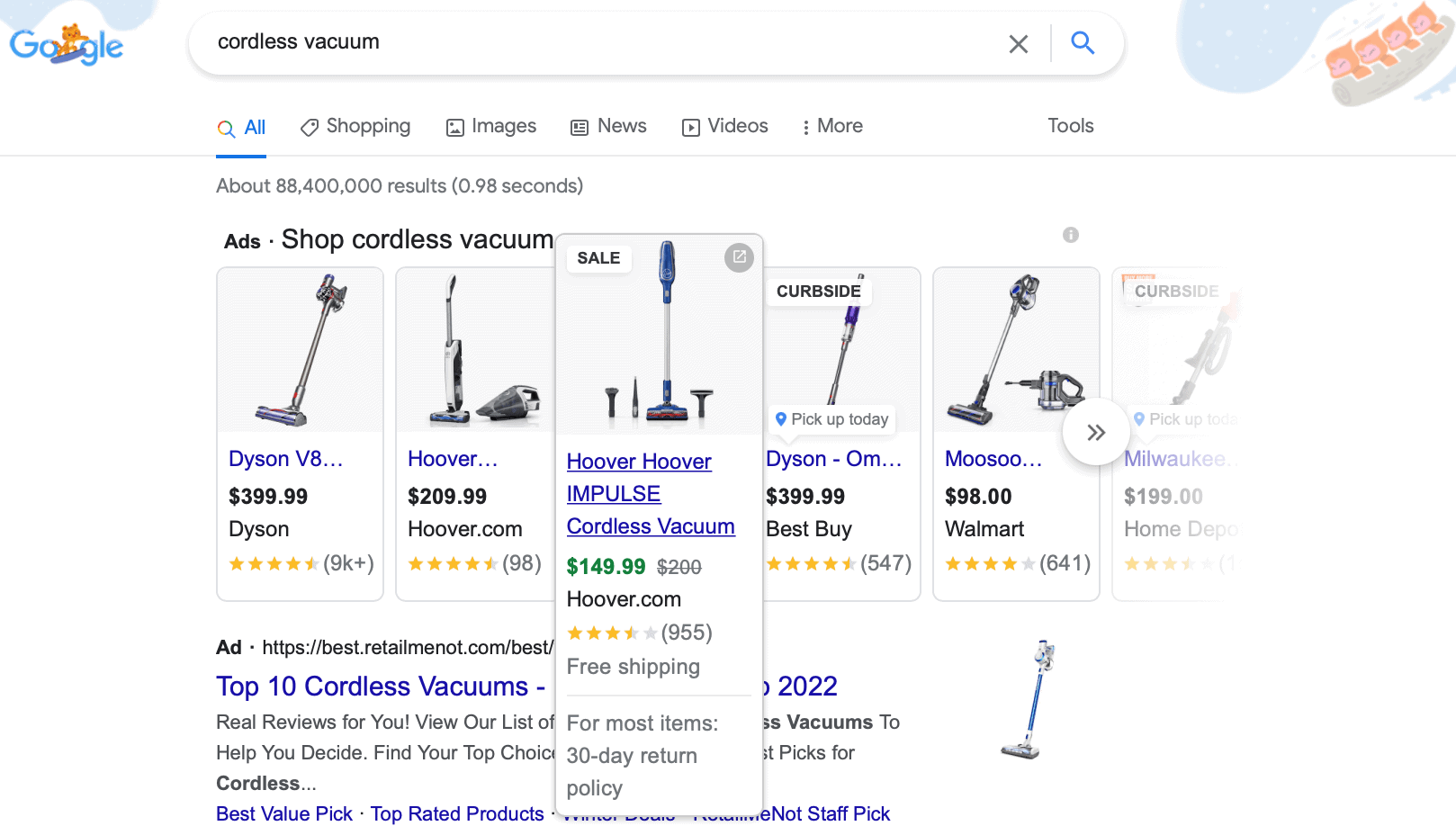 While it's best to try to have your exact keyword appear in your product title if at all possible, this isn't always realistic. As long as you get the primary keywords in there in some form, that's still better than nothing. You can see an example of this below, where "cordless vacuum" isn't used directly, but both "cordless" and "vacuum" make it into the product title.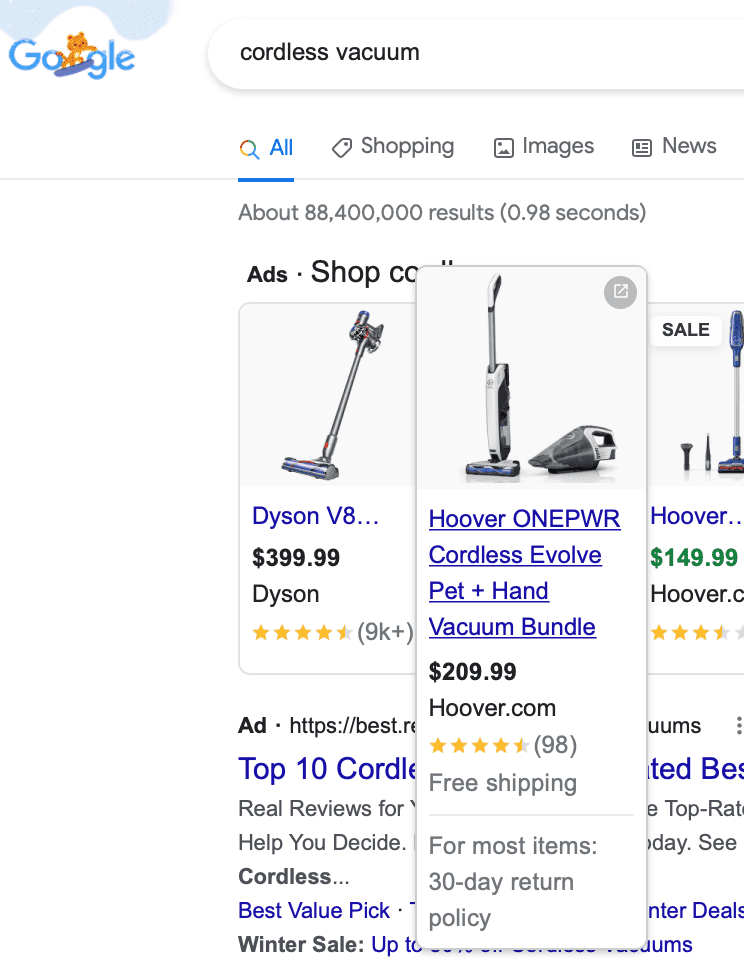 Don't forget to place that primary keyword within the first 150 characters of the product title for it to be registered, and know that users can only see 26 characters before it's cut off. Do whatever you can to make sure that the primary keyword is incredibly visible and at the front of your product title.
Use Rules to Add Product Categories to Product Titles
Sometimes a product is so niche that it may not show up in relevant searches, even if your title is optimized for specificy.
If I'm a small company that sells handcrafted fresh pasta, I might sell products like porcini fettuccine or cabernet linguine. Those become my product titles.
Very few people search directly for "porcini fettuccine" when looking for products to purchase, however; they're much more likely to search for "artisan pasta." Because of this, I might want to include the product category ("artisan pasta") on the end of all of my product titles to increase search friendliness and listing visibility.
You can use rules to do this when you're setting up your product feed. You can see an example of this where Target likely has used a shopping feed rule to add the brand name to products they're selling: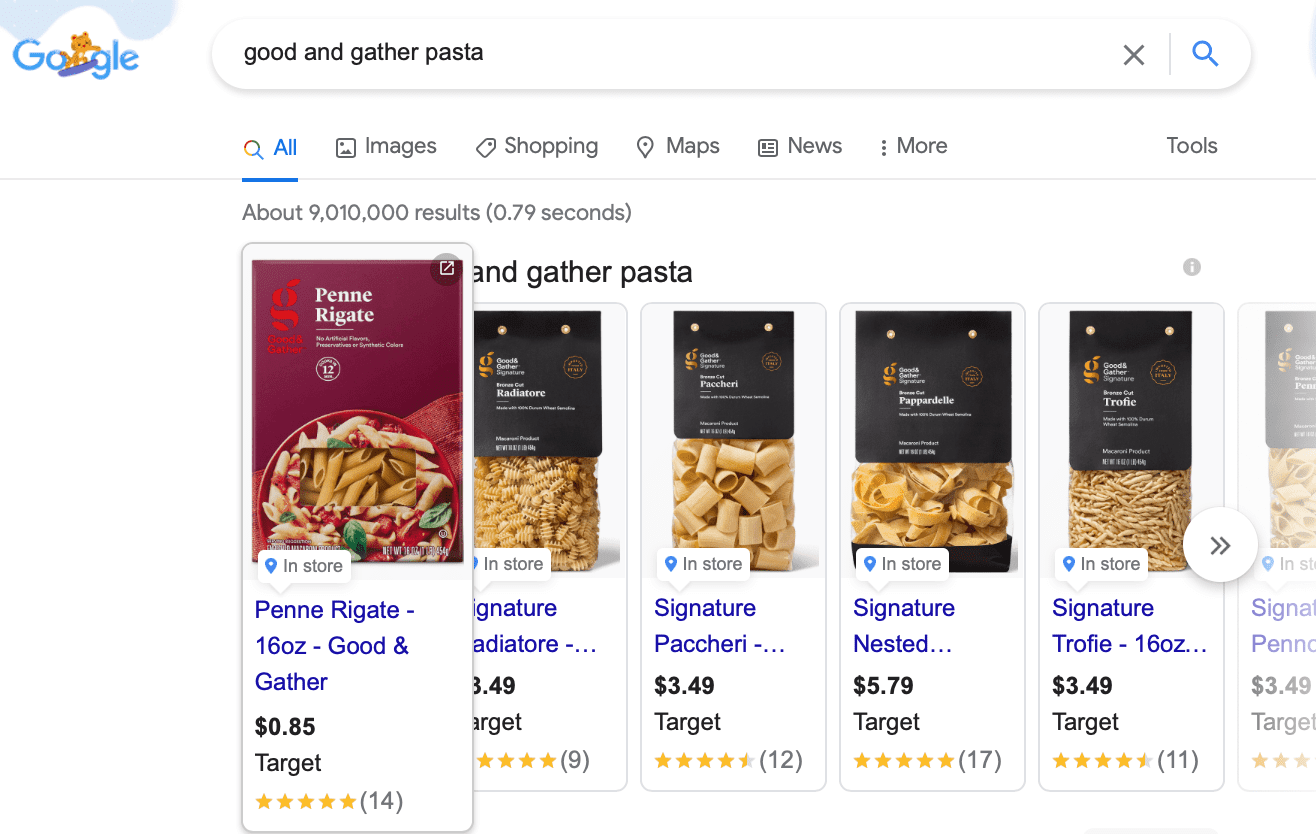 You can set rules for all products, but it's often a better idea to apply rules to individual product categories so that you're giving the right info for each product type. Color matters a great deal for clothing searches; it does not matter much for pasta products.
You can add rules to your Google product feeds by clicking on the product feed in question, and then scrolling down until you see the Rules section. You can then set rules by product type.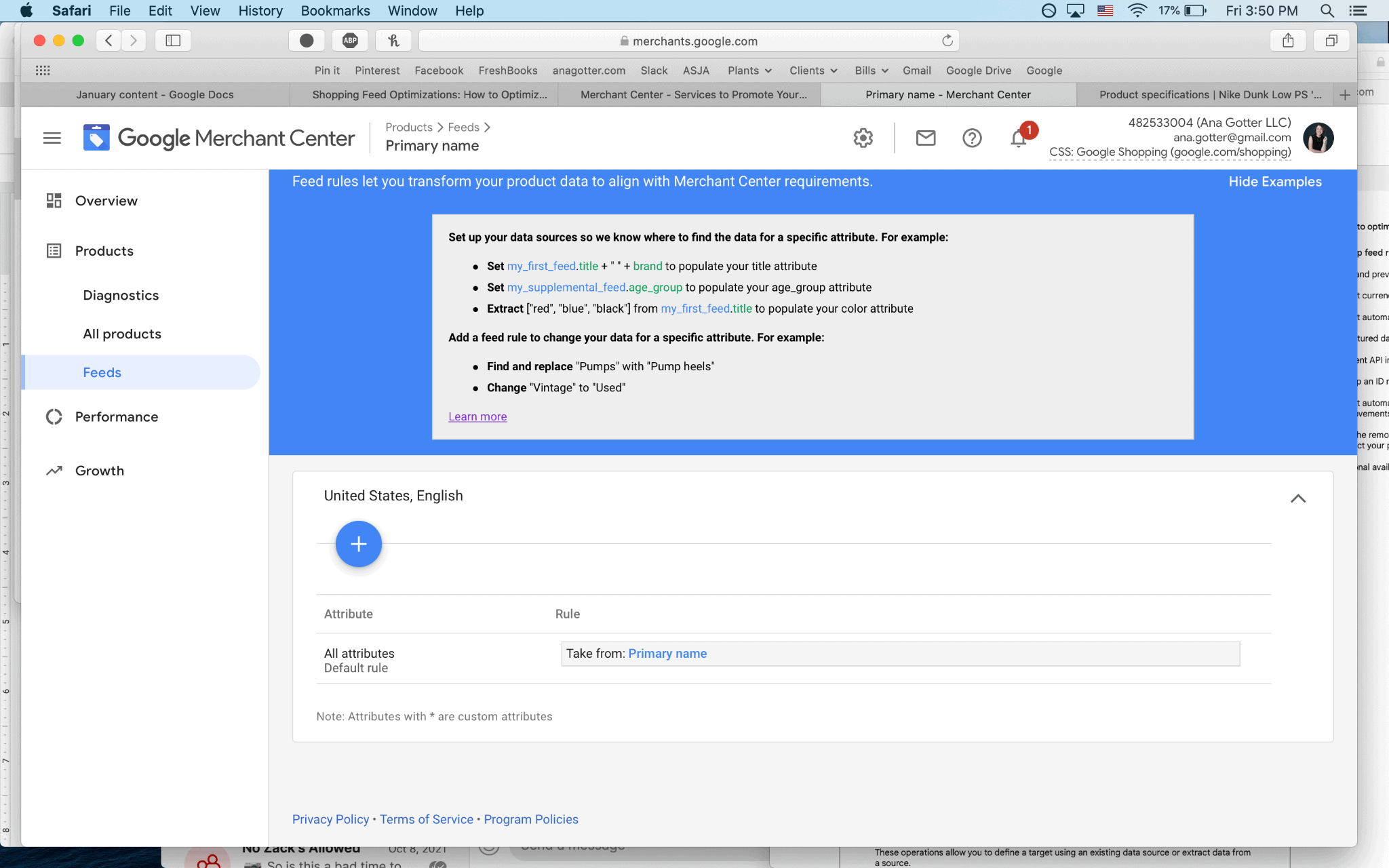 Fit As Much Qualifying Info Into Product Titles As Possible
Sometimes customers search for a generic term like "bookshelf" and want to browse and see what options are available to fill a blank wall in their home. In other cases, they're going to look for a "four foot by four foot bookshelf" in order to fit into a specific and very exact space.
When users are searching for the specific, you want to make sure that your product will pop up if relevant.
Because of this, fitting as much qualifying information into your product listing that will appeal to high-intent users is a great optimization tactic.
You can see examples of this below, where the first result for "rice cooker multi cooker" is "Aroma 8-cup stainless steel digital rice cooker & multi-cooker, 8 cup."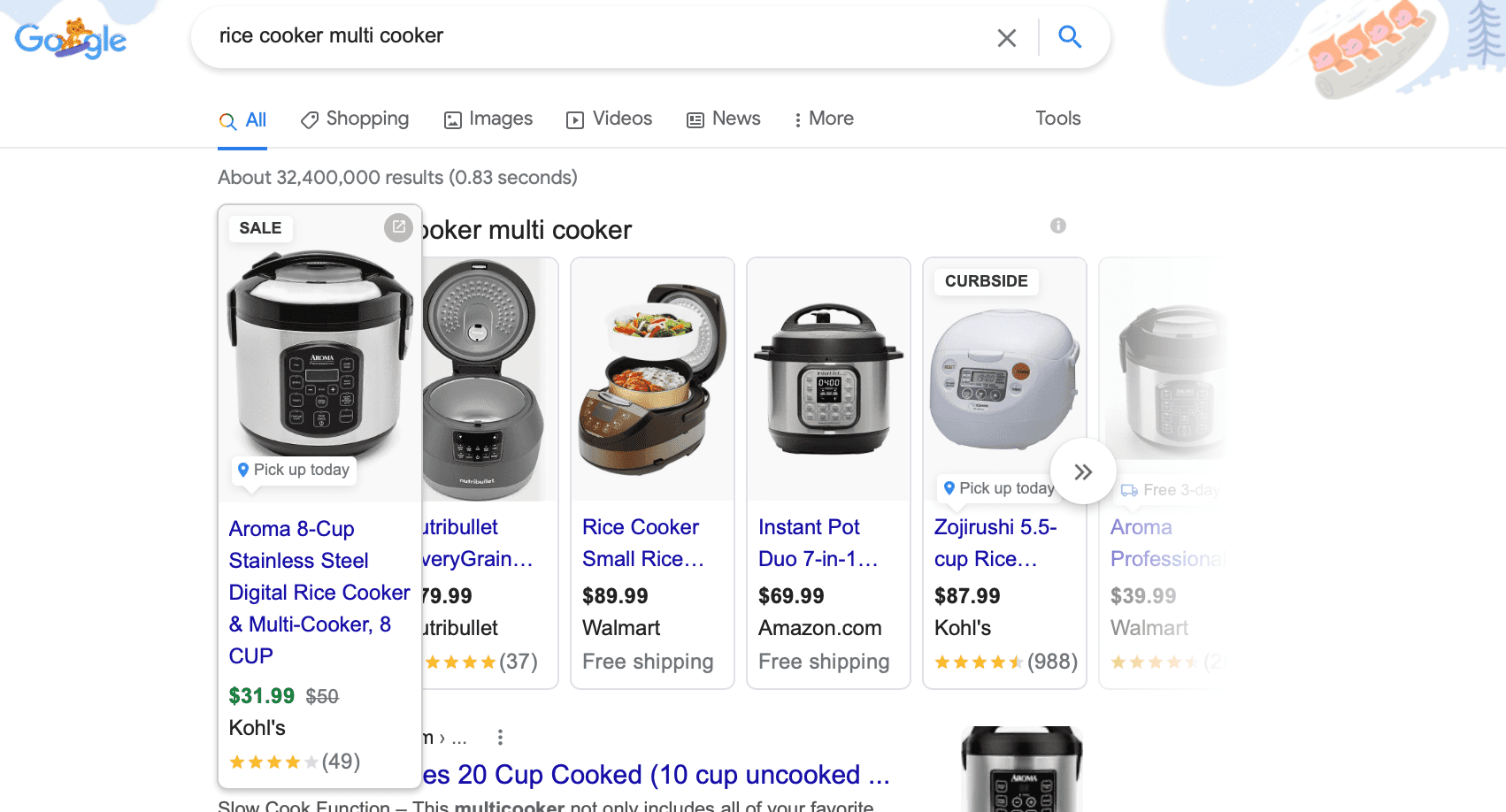 This is a ton of information. You get:
The brand name
The material (stainless steel instead of nonstick)
The fact that it's a digital rice cooker and multi-cooker (as opposed to something like a manual pressure cooker)
That it has an 8 cup capacity
Someone who is looking specifically for a stainless steel interior so that it can go in the dishwasher will immediately take note of that. And for customers who want an 8-cup capacity, that's also something they'd be happy to see. So the listing is already optimized for clicks, but if you have users searching for "stainless steel rice cooker," this increases the odds it will pop up in those searches, too.
Consider how many more hyper-specific searches the product above might show up in compared to the image below, which only has the product name, brand name, and retailer name: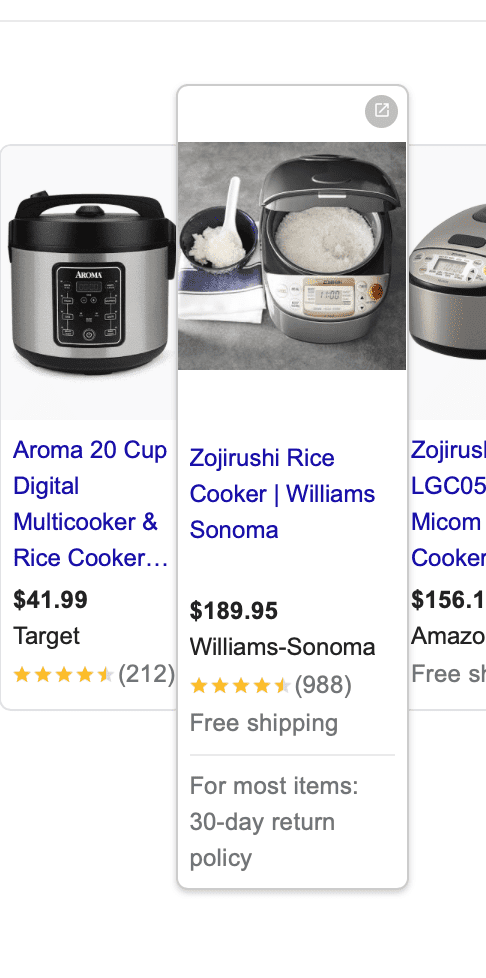 Different attributes you may want to consider include the following:
Product brand
Product collection
Product title
Product category (as we discussed above)
Product identifiers (color, gender, material)
So instead of having "Silver picture frame" as a product title, you might want to opt for "Jonny's Modern Elegance Silver Picture Frame, 8×6, Stainless Steel."
You can use a rule to add multiple attributes to product titles, and remember to always choose the attributes that will most directly impact buying decisions.
While this varies from business to business and audience to audience, these are a few good places to start for a few major industries:
Apparel: Brand, Gender, Product Type, Size, Material
Electronics: Brand, Product Title, Attributes (like "New" or "Eco-Friendly), Model #
Seasonal items: Occasion, Product Type, Attributes
Books: Title, Author, Format (Hardcover vs. Ebook)
Food + Beverage: Brand, Attributes, Title, Product Type, Flavor, Weight, Amount
Furniture + Home Decor: Brand, Product Type, Material, Size
Write Product Titles Manually As Needed
Sometimes rules and automation just don't cut it. If this is the case for your brand and you want full control over your product titles, don't be afraid to take control and write them yourself manually.
A manual approach is typically going to work best for brands that either have extensive resources or small inventories, or both. Large stores with hundreds or thousands of items in their inventory would have a much harder time maintaining this.
Make Sure It's Readable & Scannable
Every now and then I'm browsing the Shopping tab to look for a product, and I see a listing that's got so much information all jammed in with no formatting that it's almost difficult to read.
When users are looking at a page full of relevant search results, they're automatically in scanning mode. They're looking quickly at product descriptions and images that jump out at them, and if yours is difficult to scan, that automatically doesn't do you any favors. It may make it more difficult for Google to determine exactly what you're selling, which could hurt your impression share.
You don't want long run-on sentences, and it's good to break up long titles with basic punctuation.
Take a look at the scalability and readability between the two product descriptions below. In the first, there's no separation and it's hard to make out distinct phrases, which can be using. The listing on the right does a much better job of sharing the same information in a more readable way.
Know What Language Your Audience is Using
When you're doing keyword research, it's always important to understand the exact language your target audience is using.
Is someone searching for a "leash" or a "lead" to walk their dogs with? Different people have different terms they use, and you'll want to make sure your product titles are using the right terms to connect with your audience.
Here's an example of two brands that use different phrases for a similar product type: "On-ear headphones" and "over-ear" headphones.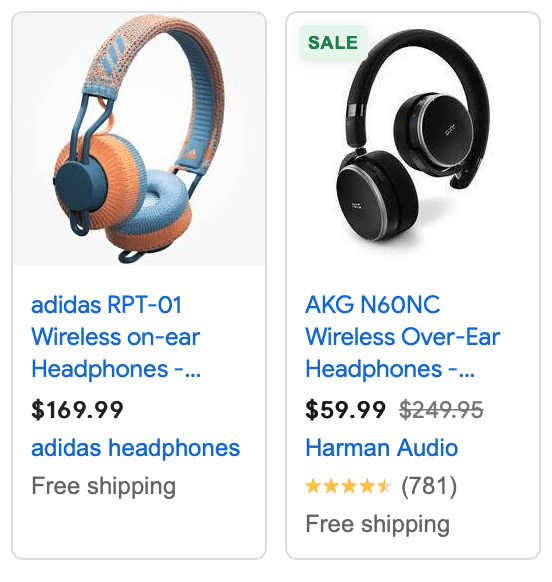 While the two listings appeared side by side, showing that Google can put two-and-two together and is pretty advanced with synonyms, it always helps to use the right terms that your audience is most likely to use.
If you're optimizing your Google Shopping feeds and you're targeting a users in a specific geographical location, remember to narrow this down with your keyword research to get the most accurate data possible.
Include Keywords in Product Descriptions
We know that product title optimization is important. Optimizing your shopping feed product descriptions are the next tip that we have, following closely behind in importance.
It's the same idea as product titles here: You want to include direct keywords in your product descriptions whenever possible.
You can use the primary keyword again, and you can also use alternative secondary keywords if you want to really cover your bases.
If you're selling organic looseleaf tea, you might try to make sure the following keywords made it into the product descriptions:
Handcrafted looseleaf tea
Organic tea leaves
Organic looseleaf tea
Either way, make sure that a core keyword shows up at least once in the product description, as you can see here: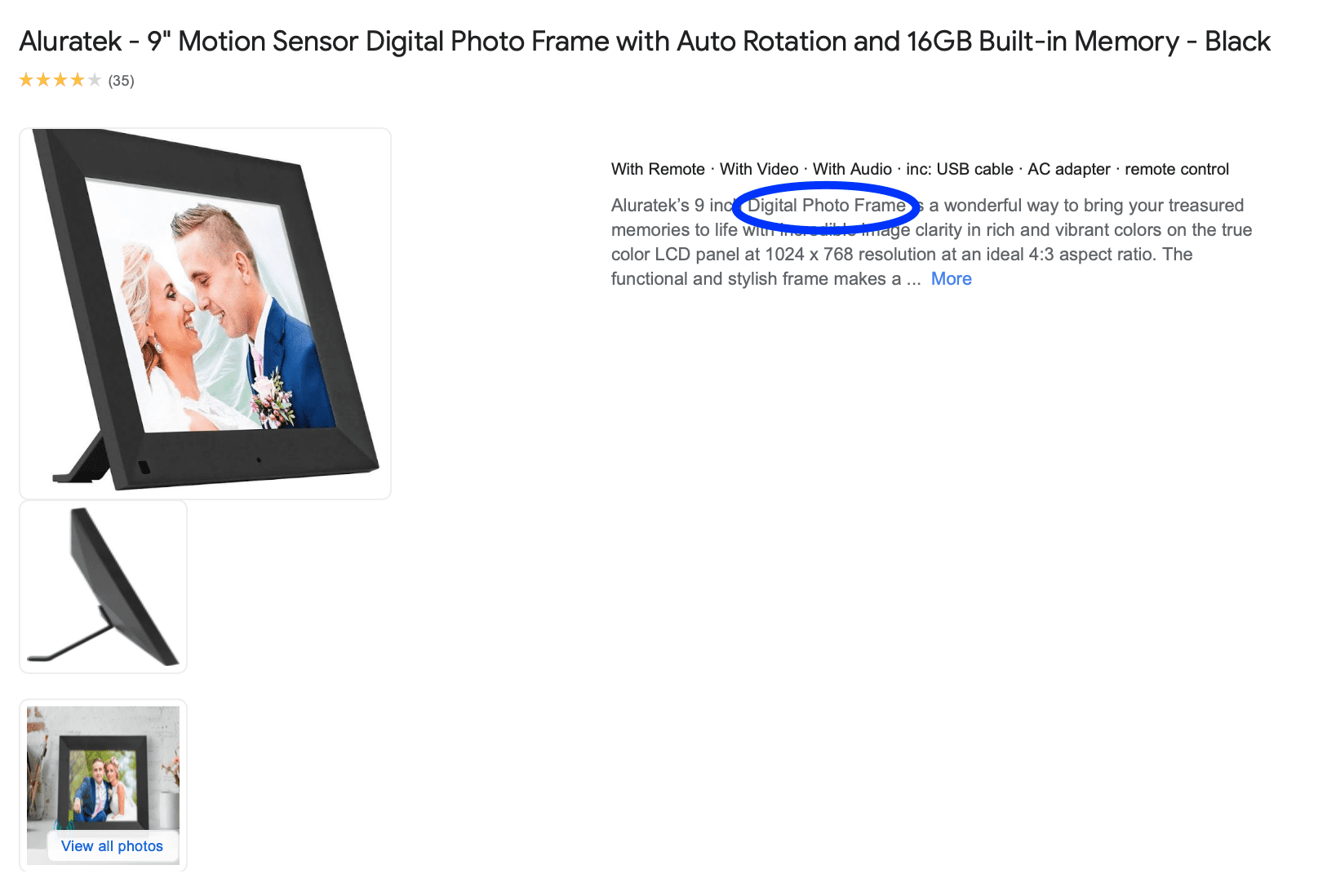 Include Every Relevant Attribute (Not Just What's Required)
When you're uploading your product feeds, it's easy to fall back on just entering in the data required and nothing else. (You can see this list here).
That's the last thing that you want to do.
Add as many relevant product attributes to your product feed as possible. It tells Google what your product is and exactly what characteristics it has. That goes a long way in helping them show your listing in the right place and for the right searches.
Google, after all, can't take a look at a picture and quite tell the difference between a pair of black and white running shoes and a penguin laying flat. (At least not yet). It's up to us to explain what the products are.
And remember that the more attributes you give to your products, the more opportunities you have to show up when users apply filters to their Shopping results.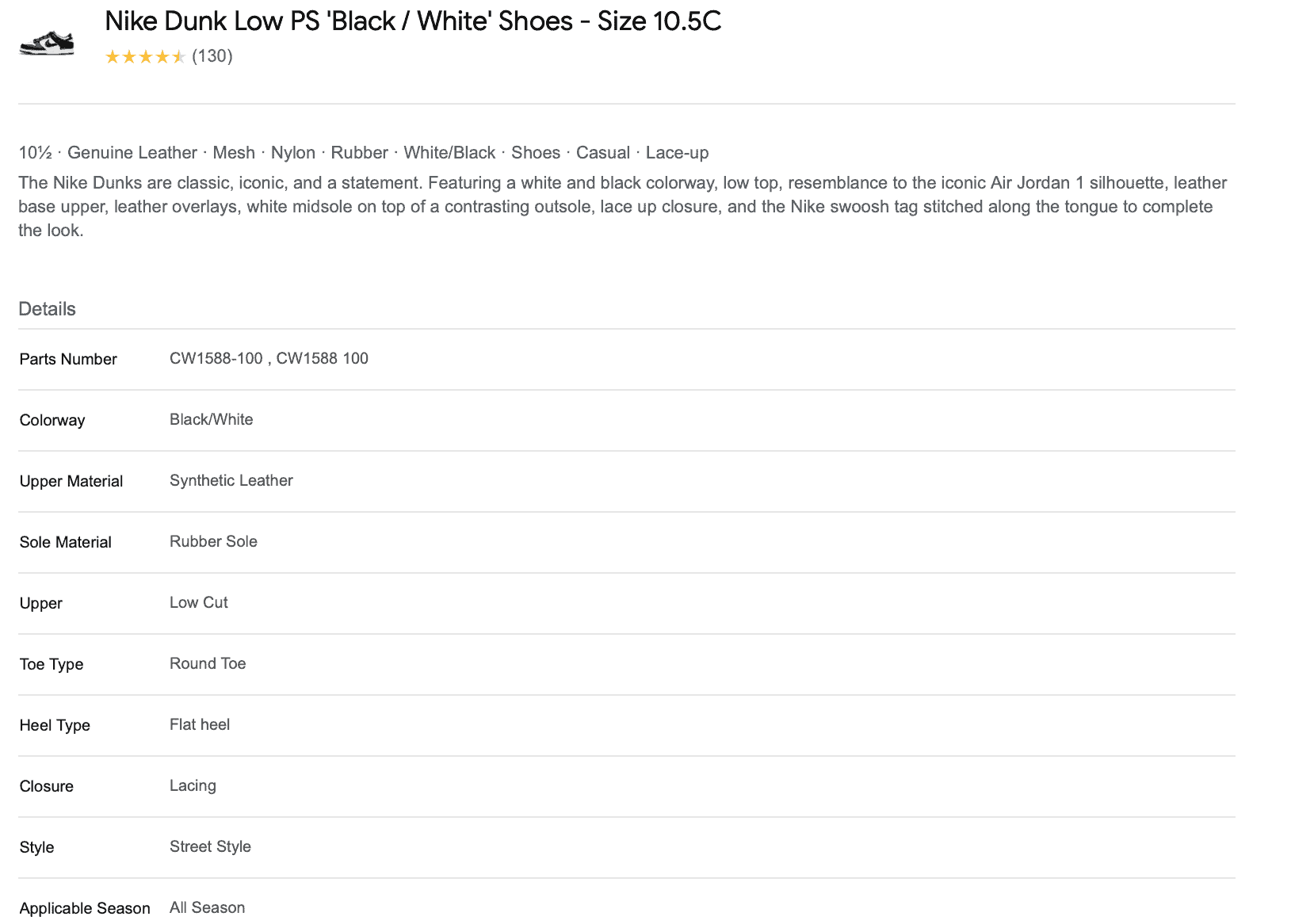 There are so many attributes that you can choose from, and while you don't need to add all or even most to the product title, you want to add them all here (even when not required). Pay special attention to attributes that may shift buying choices.
And keep in mind that you can use different attributes for campaign segmentation when you're monitoring or managing Shopping Ad campaigns. This allows you to take actions like running ads only for specific product types, or to give unique bids to certain product categories.
Make Sure Your Data is Up to Date
There are a number of reasons why your product data may not be completely up to date, but it often comes down to forgetting to make a manual adjustment or having an issue with data syncing.
Not only can this result in product feed violations, but it can also keep you from showing up in the right searches.
The best way to prevent this is to make sure that your feeds are regularly updated so that Google has all the right information at any point in time.
In order to help with this, we strongly recommend using the Product Feed API for automated updating. You can also use a variety of different data feed tools that can help with this (we'll talk more about those in a few sections).
And as always, make sure that you're looking for small human errors like misspellings, poor grammar, or even just confusing capitalization.
Add GTINs Whenever Possible
A GTIN is a "Global Trade Item Number," and it's used to identify specific products from a single company.
Not all products have GTINs. Small businesses that make artisanal or hand-crafted products, for example, likely won't have a GTIN.
Those Beats headphones that are sold at a variety of retailers all over the country, however, will most definitely have a GTIN— and it'll be the same regardless of which retailer is promoting the item.
It's imperative to add GTINs to your product feeds if they exist. This is for several reasons.
One: If Google knows that you have a GTIN but don't have it listed, the products may be removed from results and you may even receive a product feed violation.
Two: Google can use the GTIN to better determine which search results to feature your listing in.
Three: The GTIN can be used to increase your product reach by showing you under "other sellers" as an option users are viewing a product in Shopping. If you've got better seller ratings, better buying perks (like free shipping), or a better sale price, you could get the sale even if it wasn't your ad or listing the user originally clicked.
So go ahead and make sure that you have GTINs in your product data.
Keep Product Information Consistent
This is another "how does that happen" issue that ends up being fairly common.
You might have that leather purse you're selling as "minty sage" on your site but Google classifies it as "green." You choose to list the product as "green" on Google in the product title and "minty sage" on your site. Google notices a discrepancy when pulling data, and it may be flagged as incorrect information.
Keep your product title consistent across both your shopping feed and your site, and include "green" in the description and as a product attribute. This is the best way to ensure that your branding holds true while you're still in line with Google's more narrow product attribute options.
Consider Shopping Feed Tools
Want optimized shopping feeds but either don't want to tackle it yourself (or aren't confident that you can)?
There are data feed management tools that you can use to help with this. They'll make sure that your data is synced, and many will also actively look for opportunities to optimize your feeds. This may include split testing product titles or descriptions to see what gets you the best reach and the most clicks.
Some of the top data feed management tools to consider are:
As a nice bonus, some of these tools may offer additional Google Shopping features or data feed management for other platforms like Facebook or Instagram Ads. Take a look to see which works for you.
How Long Will It Take to See Feed Optimization Results?
As much as we'd love to say that Google shopping feed optimizations will provide instantaneous results, the reality is you're going to need to wait it out a bit.
It may take a few weeks to see the true impact of the feed optimization changes that you've made.
As a result, unless you need to conduct a full overhaul of your feed and you only want to test individual adjustments, test only one optimization at a time.
This might be:
Including more product attributes into your product titles
Adding GTINs to the product listings
Updating your product description
By making one change at a time, you can better assess the impact of each change to see what's actually working for you and what isn't.
And be patient! Give it a week or so to see what happens, and make sure that you're looking at impression share, clicks, and conversions.
If you get fewer clicks but more sales overall, the new product feed optimizations may have started sending you higher quality customers. Look at the entire picture before making further changes.
Final Thoughts
In order to capture the full potential of Google Shopping, investing time into optimizing your shopping feeds is the way to go. This will likely mean some split testing, or outsourcing to an agency to help guide you if you need help getting started.
Relevant, keyword-optimized, up-to-date and data-filled product listings are the best way to help Google connect you with the right audience members who are searching for you right now. It can increase your performance significantly, driving more impressions, reach, clicks, and ultimately conversions.
Looking for help when it comes to Google shopping feed optimizations? We can help you get the most out of your product feeds. Learn more about how we can help here.