How to Create Google Performance Max Campaigns
Google's Performance Max campaigns are all the rage right now in the digital marketing world. If you follow PPC news at all, you've likely heard about it. And if you haven't, we're positive that you will soon.
Google's Performance Max campaigns are becoming increasingly important, so we want to take the time to show you how to create Google Performance Max campaigns that will get your brand results at scale.
Recap: Performance Max Campaigns Matter
As we discussed in our Intro to Performance Max Campaign chapter, Google's Performance Max is a new type of campaign.
Here are the basics:
It's a goal-based campaign option that works for sales, lead, and conversion-focused objectives for Search and Shopping Ads
It's essentially a replacement for Smart Shopping Campaigns as they exist now
You can use a single campaign to create ads across the entire Google Ads inventory, including Search Ads, Display Ads, YouTube Ads, Maps, and more
They utilize machine learning to automation and optimize your campaigns through Smart bidding, budget optimization, audience optimization and more
And here's why it's particularly important: All smart shopping and local campaigns are going to be upgraded to Performance Max campaigns as of June 2022.
Who Has Access to Google's Performance Max Campaigns?
Everyone now has access to Google's Performance Max campaigns. If you're running ads on Google, you can create Performance Max campaigns. And with the changes starting in June 2022, we recommend that you get started testing them ASAP. You can also get the help of an expert Google Ads agency to get you up to date on Performance Campaigns.
How to Create Performance Max Campaigns on Google
Now for the reason that you've come to this post today: How to create Performance Max campaigns on Google!
Head to your Google Ads account, and then click to create a New Campaign.

The very first thing you'll be asked to do is choose a campaign goal. Choose one of the following options:
Sales
Leads
Website Traffic
Create a campaign without guidance
For this example, we're going to use Sales.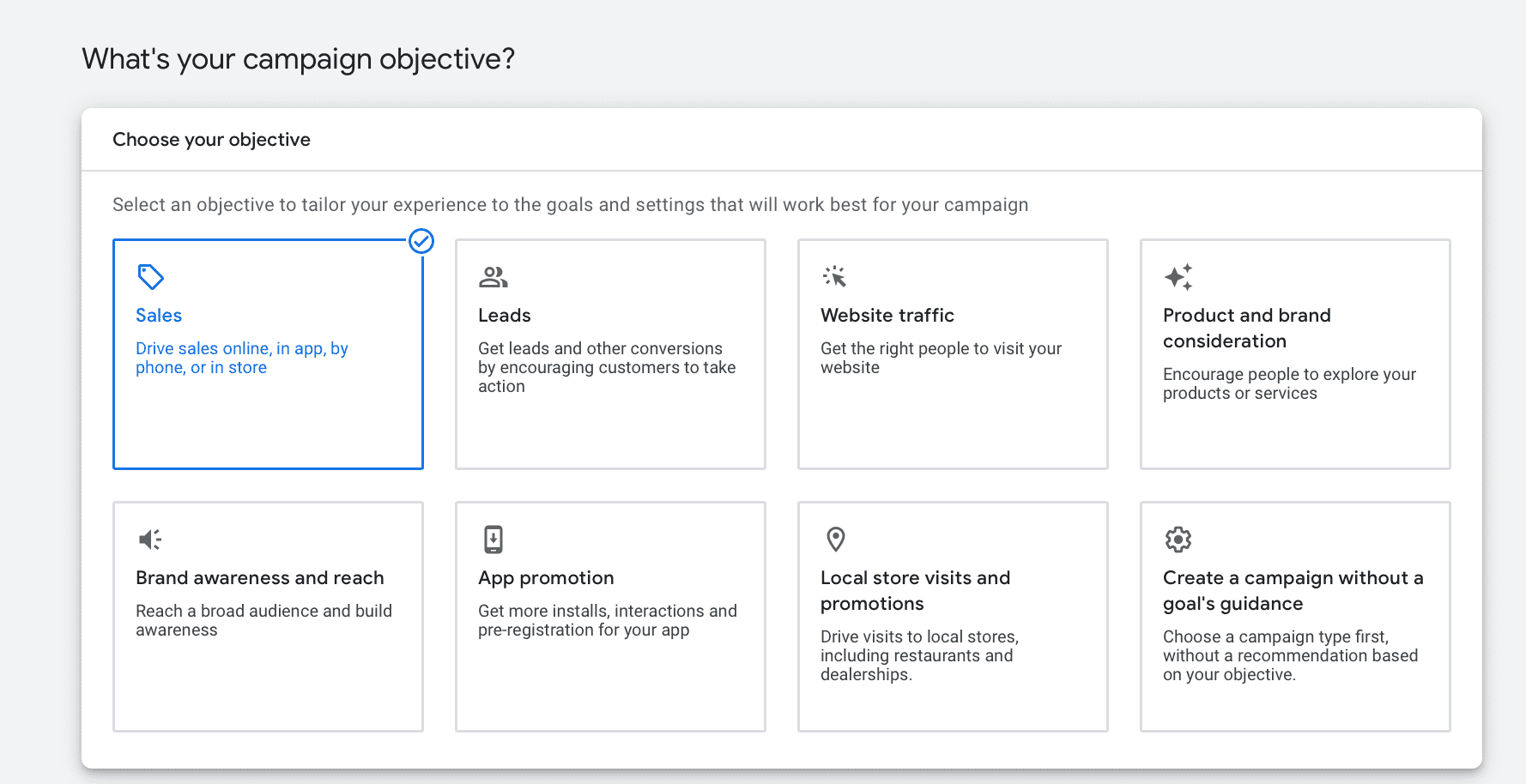 Next, choose the conversion goals you have for the campaign. This might include phone calls or online purchases.

Then when you can choose your campaign type, select "Performance Max" and name the campaign below.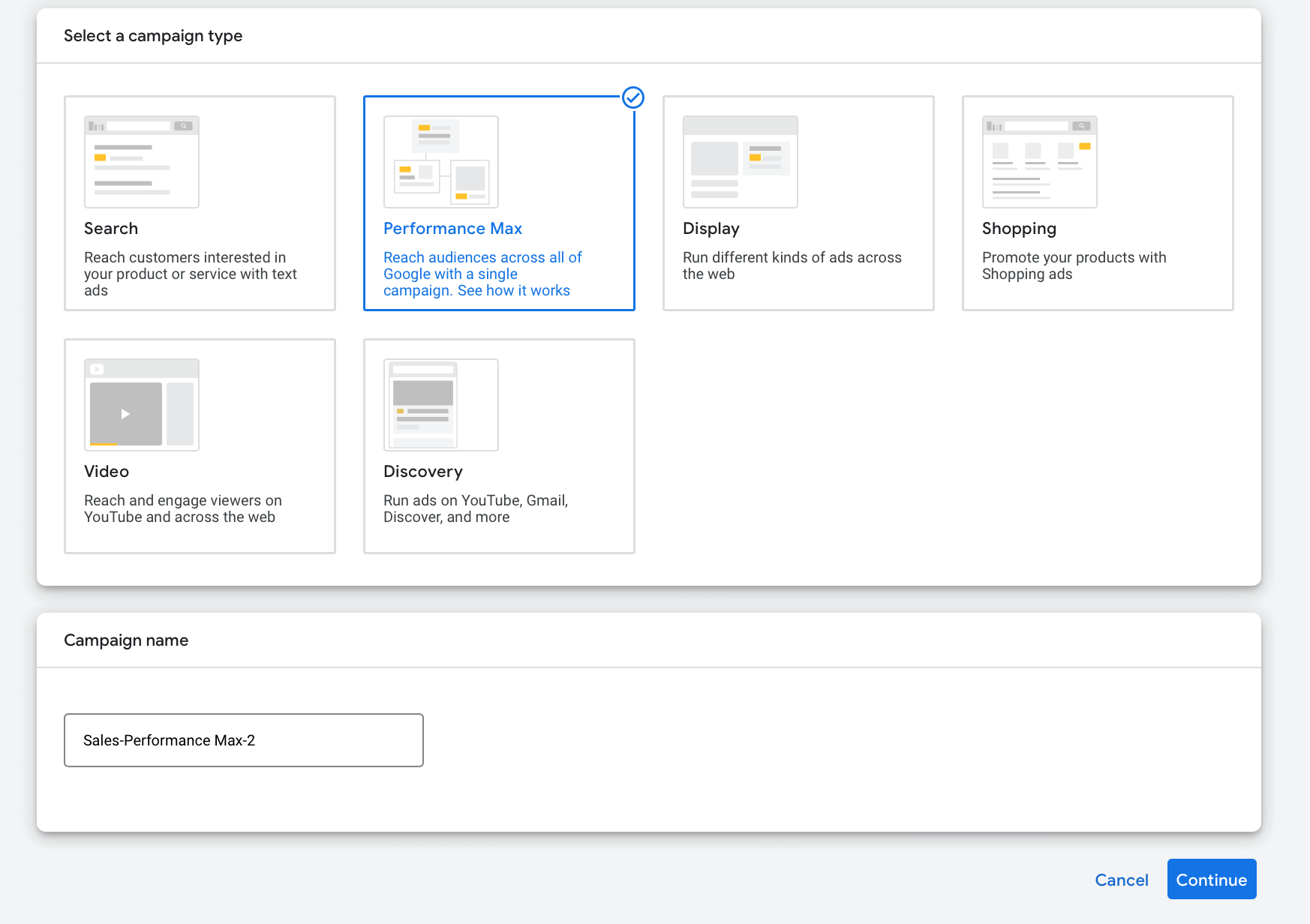 Then, select your budget and bidding. For Performance Max campaigns, Google will automatically focus on "conversion value." You can set a target return on ad spend if you choose.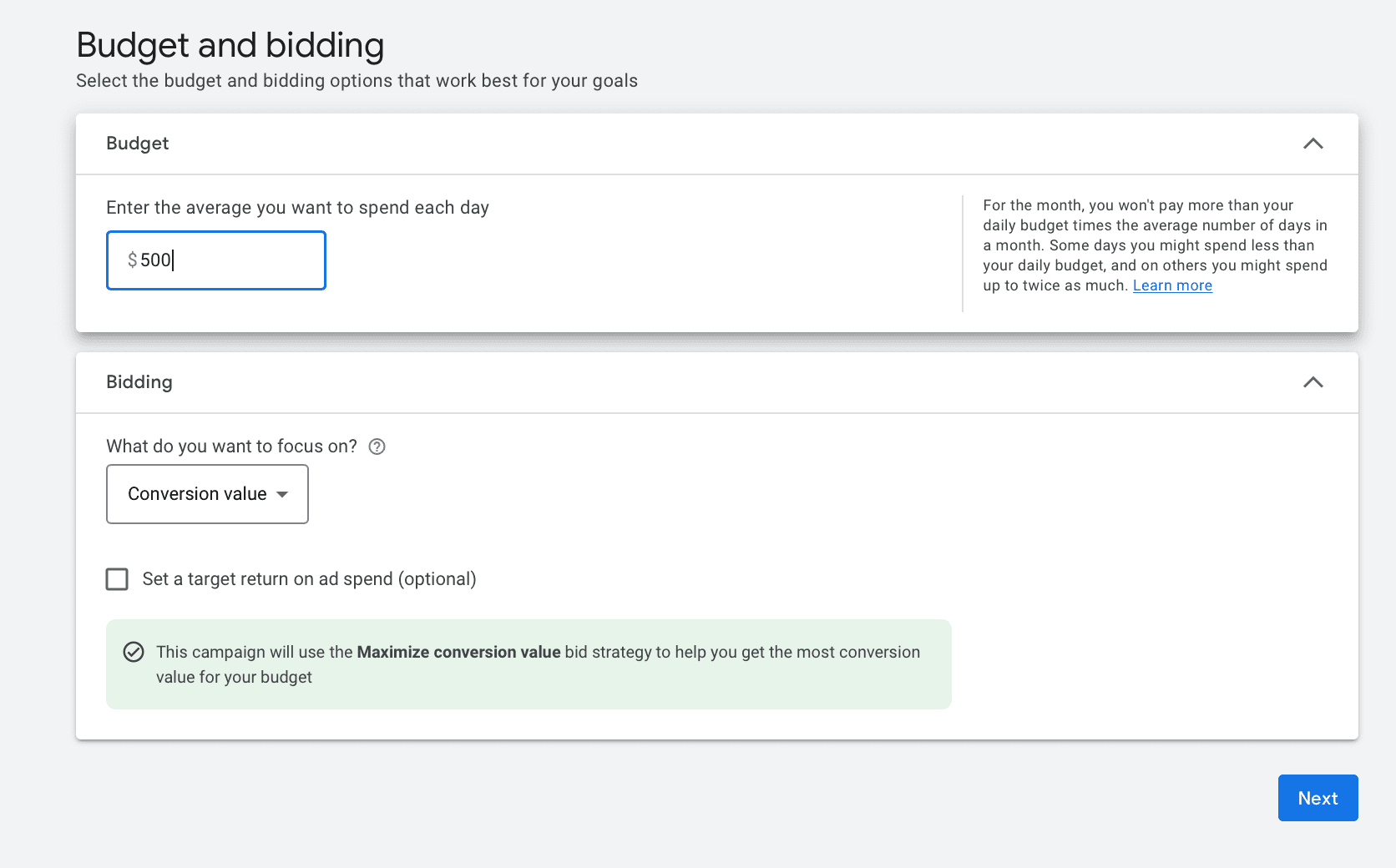 On the next page, you'll choose your campaign settings. This will include location targeting, language targeting, and the URLs that you want to send traffic to.
Pro Tip: You can exclude specific URLs from your site if you choose, or to only send traffic to specific URLs.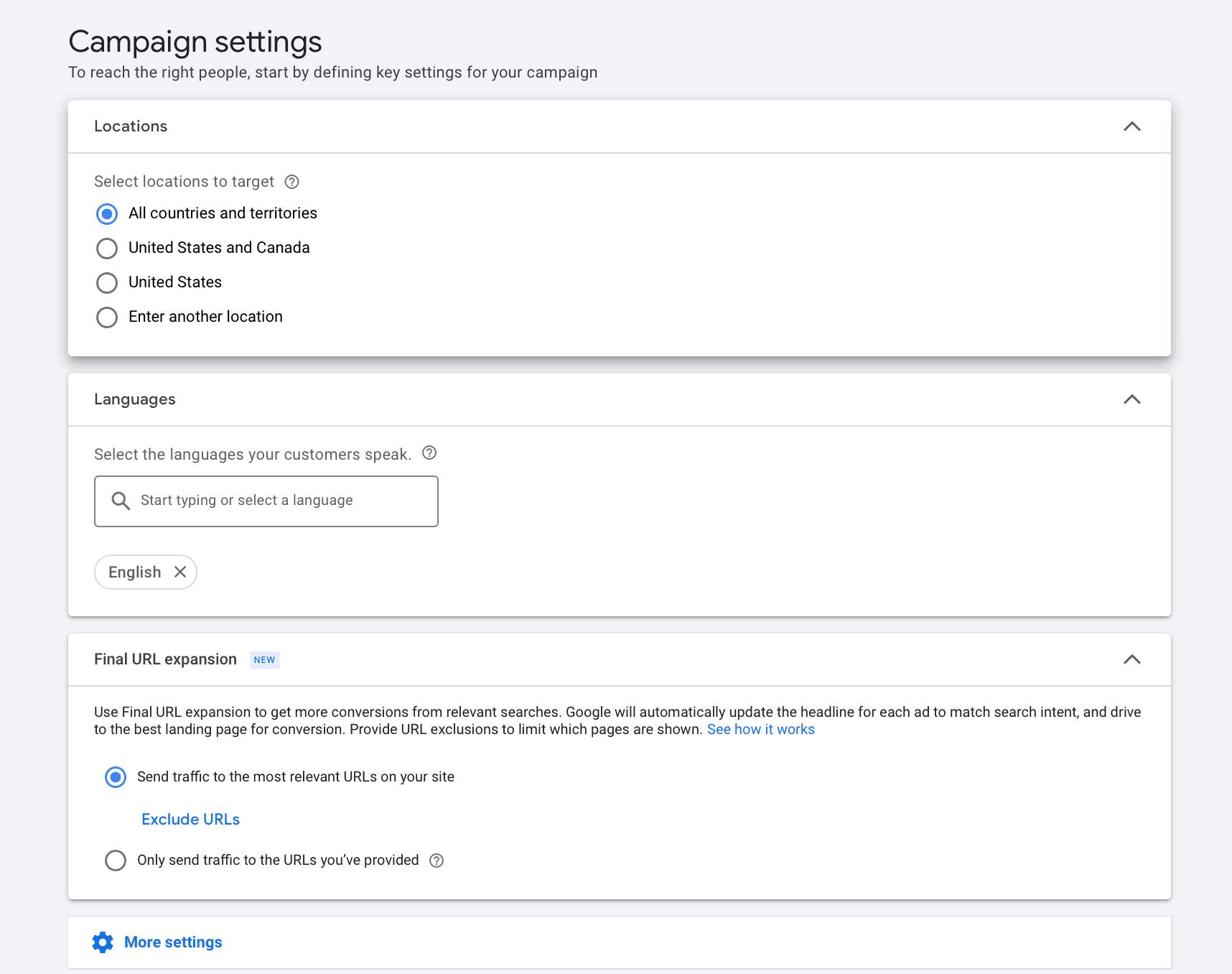 Finally, on the ad asset page, you're going to notice that the ad set up process looks completely different from setting up your standard search ads or display ads. You'll name each individual asset group, and then set the following:
Images
Videos
Logos
Headlines
Descriptions
The final URL
Make sure that you're previewing the ads under each ad type. And keep in mind that if you don't create a video for YouTube Ads, Google will create one for you, so it's best to put together even a quick short 30-second clip so that you're in control of your ad inventory.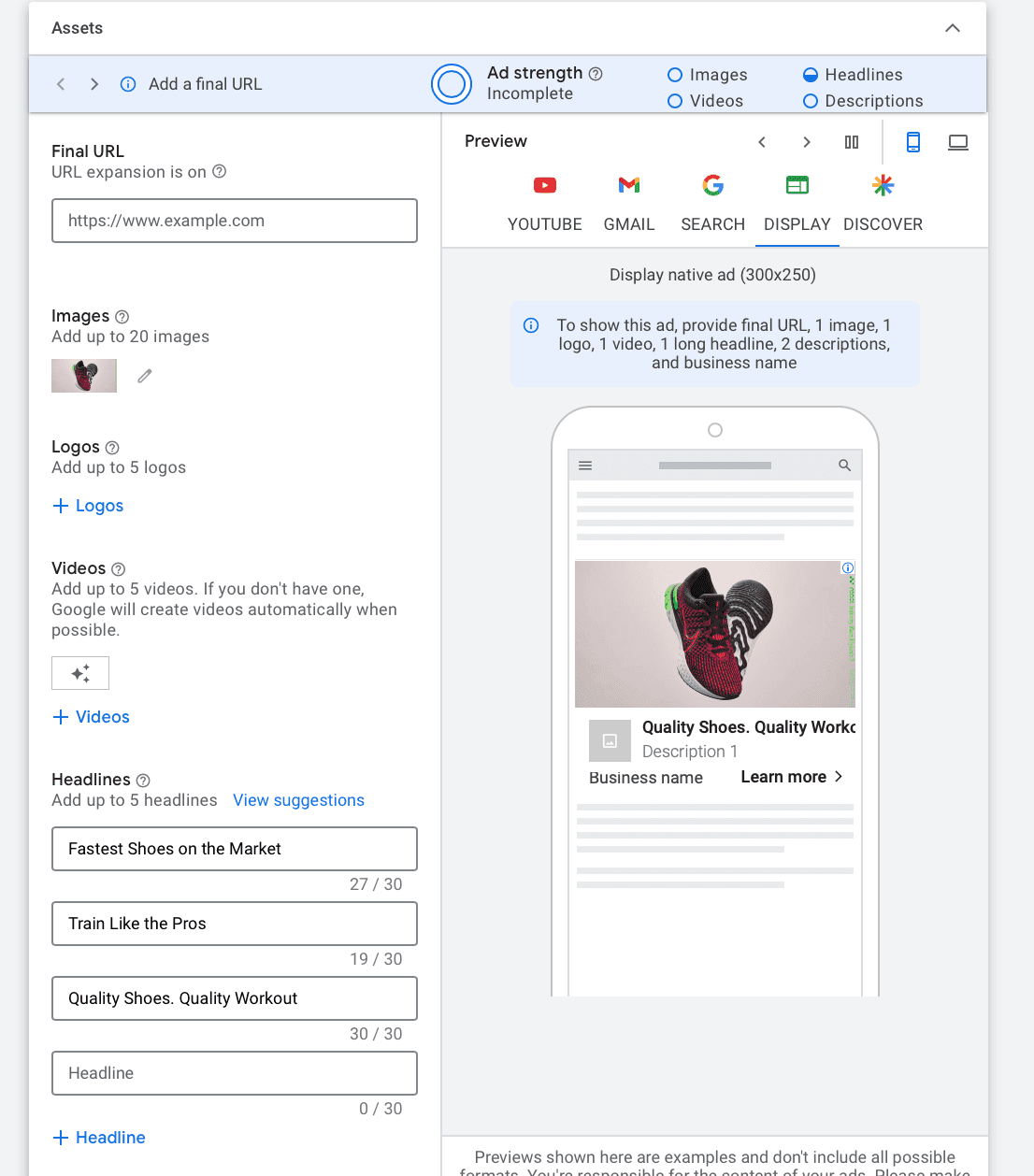 Targeting with Google Performance Max Campaigns
Last but not least: At the bottom of this page, you'll see an audience targeting option with "Create an Audience Signal."

There are several different options here. You can target custom segments, retarget to users who have interacted with your business, or use Google's information on interests and detailed demographics.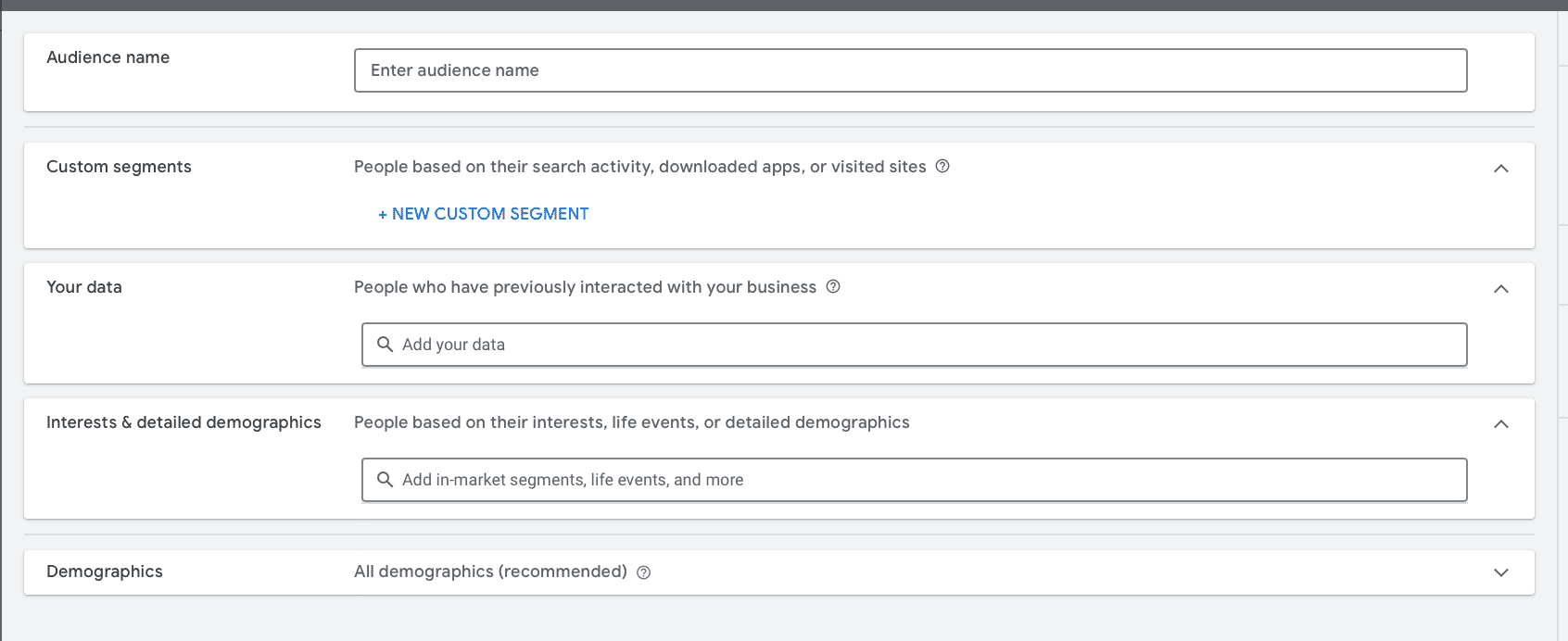 When you browse different segments, you may be able to tap into different audiences that are more likely to fit into your target customer niche. A car dealership, for example, might want to choose "in the market for buying a car," for example.

You can also create custom segments, showing your ad to users who have searched for certain keywords in the past and/or to users who have browsed websites similar to those that you'll list.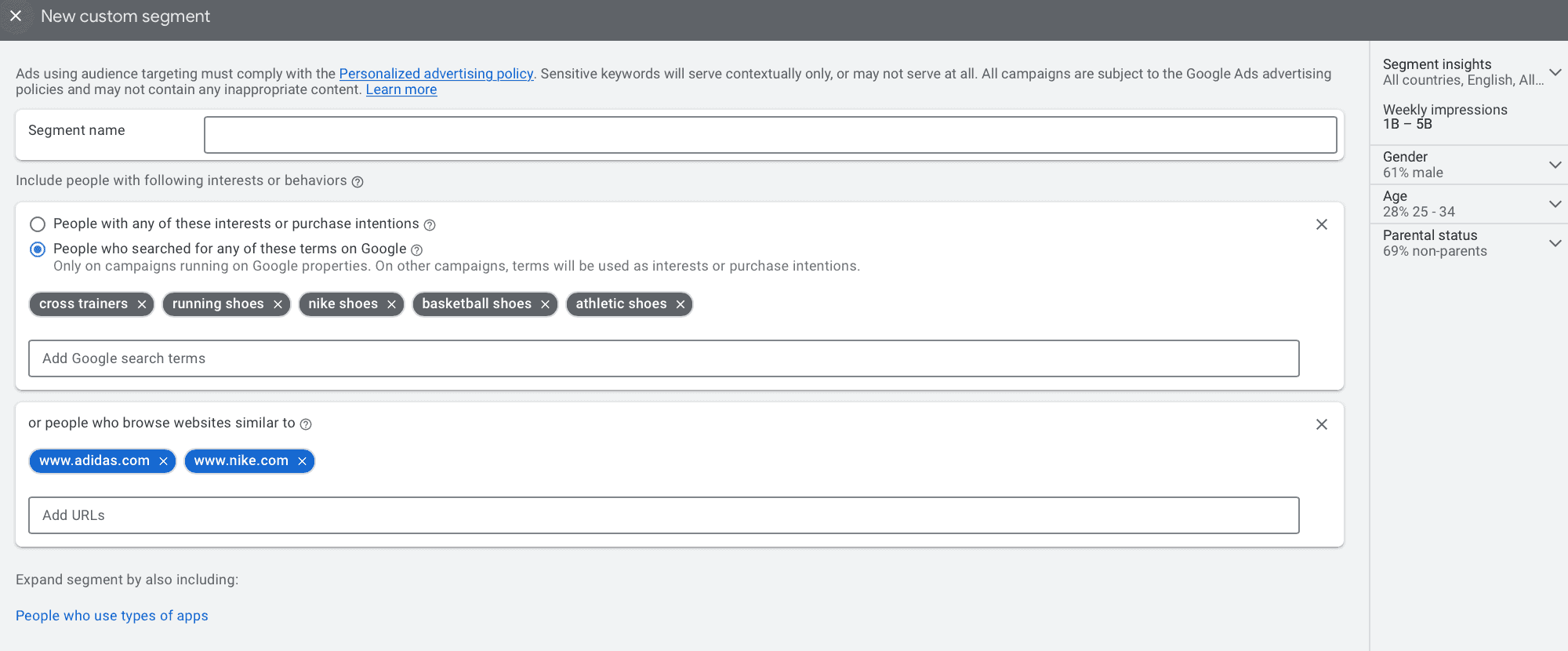 Keep in mind that you don't have to set any audience targeting. Google's machine learning can completely take over for you. That being said, we highly recommend creating audience signals to help steer Google in the right direction, especially when they're first learning about your audience.
4 Things to Keep in Mind When Creating Performance Max Campaigns
Google's Performance Max campaigns are new, so as we're writing this, we're still actively discovering new ways to optimize this campaign option for our clients to further increase the results that they're already getting. And we've got a hub chapter about Performance Max Optimization coming extremely soon based on that data.
That being said, there are a few things that you'll want to keep in mind right now. This includes the following:
Performance Max campaigns are becoming increasingly important, particularly for our eCommerce clients. You want to start migrating your smart shopping campaigns right now if you haven't already.
It takes time to see results. Whenever you're dealing with intensive optimization and automation from Google Ads (or any PPC algorithm), it's important to remember that true results take time. Google takes care of some of the trial and error to see which ads work and what audience members are most receptive to them. Give your campaigns a few weeks each to see where they stand before making significant changes.
Remember to keep asset groups relevant. Think of asset groups like ad groups in search ads. Keep them relevant and focused, and you'll get better results because of it.
Test, test, test. Test different types of ads, with different images, videos, and copy. Let Google do some of the heavy lifting and see what works— but remember to keep a super close eye on your campaigns to make sure that they're driving results. Some early data from third-parties saw decreased performance, though that may change as we learn more about optimization and best practices.
Final Thoughts
Google Performance Max campaigns are going to be an increasingly significant part of advertising on Google, so it's crucial for brands and advertisers to get on board right away. Start migrating your smart shopping campaigns ASAP so that you get to be in control of the transition.
Some brands are struggling to get results with Performance Max campaigns since we're still in the early days, but we've successfully been able to help our clients achieve strong ROAS and ROI with them. We're here to help if you need it.
Ready to get more results with the new Performance Max campaigns? Let us create, manage, and optimize your campaigns. Learn more about us here.