What Are Google's Performance Max Campaigns?
If you use Google Shopping Campaigns now (and some relevant Search Ads), you need to know about Performance Max campaigns.
Performance Max campaigns are relatively new (launching for all advertisers in November 2021), but they're a significant change to the platform that you'll want to take note of.
This is because Google is actively phasing out Smart Shopping campaigns and replacing it with Performance Max campaigns instead. Smart Shopping campaigns won't be available later this year, so it's important to make sure you understand how to use Performance Max campaigns now.
Let's take a look at exactly how these campaigns work and what you need to know about using them.
What Are Performance Max Campaigns?
As Google explains it, Performance Max is a new goal-based campaign option that allows the advertiser to access their entire Google Ads inventory from a single campaign. It's a replacement for Smart Shopping, and can work as an extension for sales, lead, and conversion-focused Search Ads.
This means that your keyword-based Search campaigns are complemented, and Google will automatically allow you to find more high-converting customers across multiple platforms in the Google network. This will include YouTube Ads, Display Ads, Search Ads, Gmail Ads, Discover Ads, Maps, and more.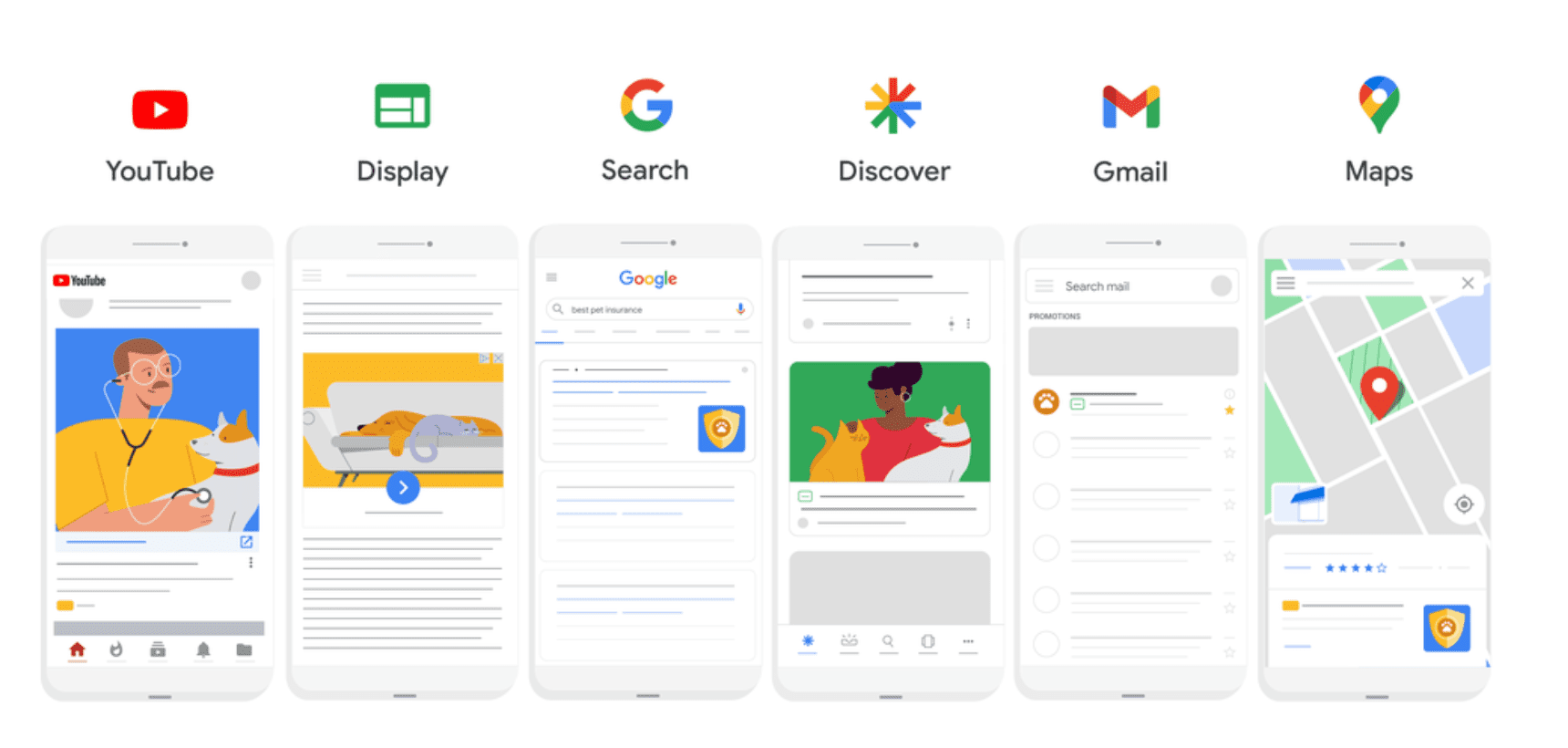 (Image source: Google)
They look at your specific conversion goals and then automatically optimize your campaigns accordingly. They'll find relevant ad placements across the entire Google network, giving you more chances to reach your target audience. They do this by using Smart Bidding and machine-learning-heavy automation tech through budget optimization, audiences, creatives, and attribution.
The Benefits of Performance Max Campaigns
Performance Max campaigns offer several key benefits.
First: There's a significant opportunity here to find more converting customers. You're going beyond "just" Search Ads, allowing you to have your ads appear more often in front of relevant users without needing to create multiple different campaigns to do so.
This is a wildly streamlined process: The ability to engage users across all of Google's channels automatically and in an optimized way.
And these users aren't just random people who can see your ad. Google has algorithms to interpret a customer's intents and preferences, and paired with the audience signals you've chosen, they can deliver the right ad to the right user at the right time… on any channel.
And in many cases, Google claims that this can even help you "unlock new audiences" that you either haven't reached before, or even potentially didn't know where there.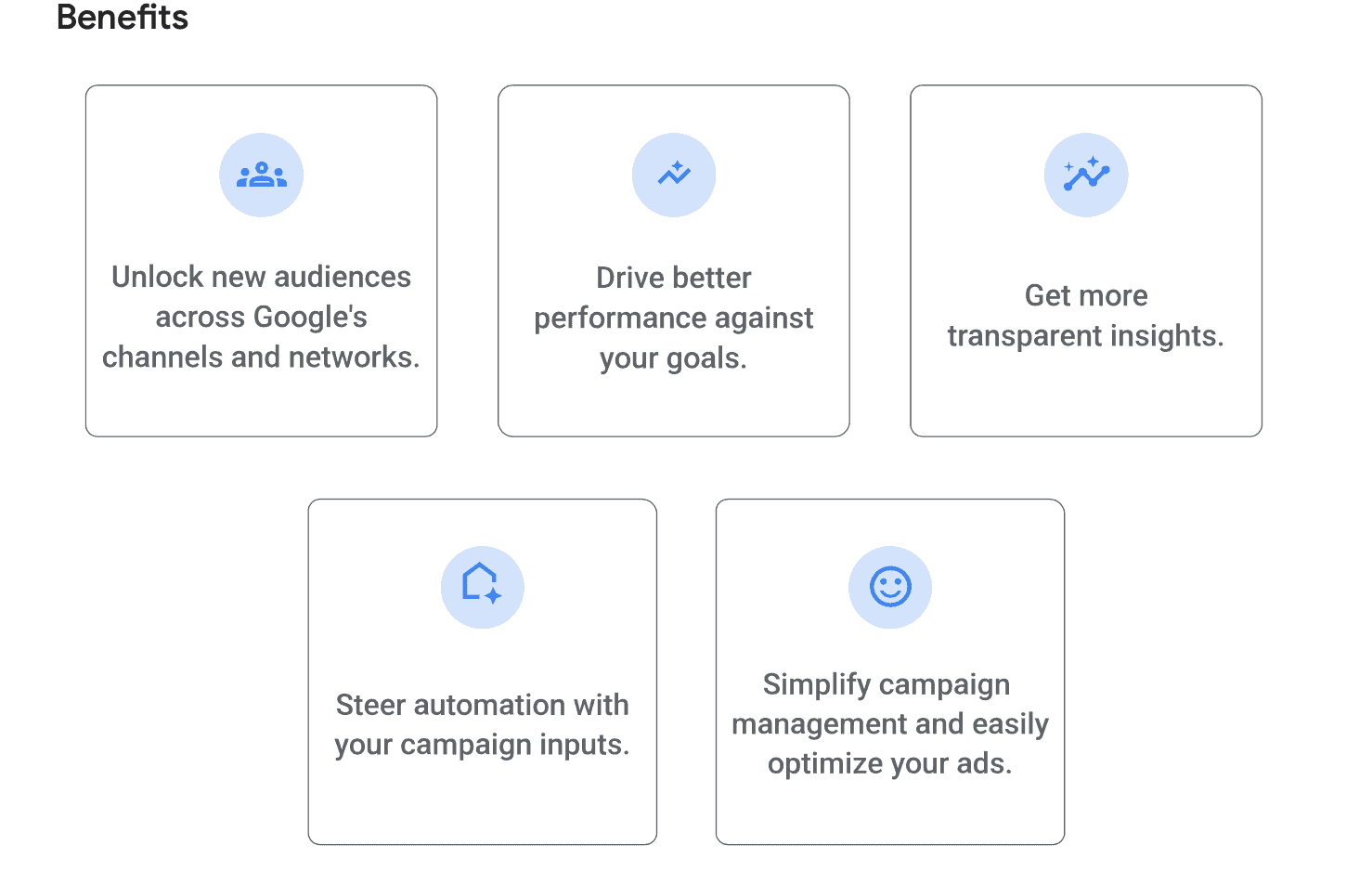 (Image source: Google)
This is partially thanks to the fact that Google's machine learning models are making more accurate predictions about which ads, creative, and audience combinations perform best for your specific brand. (This is partly why now is the perfect time for Responsive Search Ads to become the default option). They even look at different touch points that are driving your customers to conversions.
This data isn't kept in a total black box, either. Performance Max reporting is going to come with new data for advertisers, including information into rising search trends. This will make it easier for advertisers and brands to understand what's impacting their performance, and may even help you identify new opportunities for profitable campaigns.
What Types of Objectives Work With Performance Max Campaigns?
The Performance Max option isn't available for every ad objective.
It will be available if your advertising objective is one of the following:
Sales
Leads
Website traffic
Local store visits and promotions
This may change at some point in the future, but since these are more conversion-focused objectives (as opposed to just driving clicks to a site), these are easily the most valuable options for the Performance Max benefits.
Where Can I Find Google's Performance Max Campaigns?
We're going to have another chapter on exactly how to set up Performance Max campaigns in greater detail, but here's the basics:
You'll first need to choose a Performance-Max-qualified objective.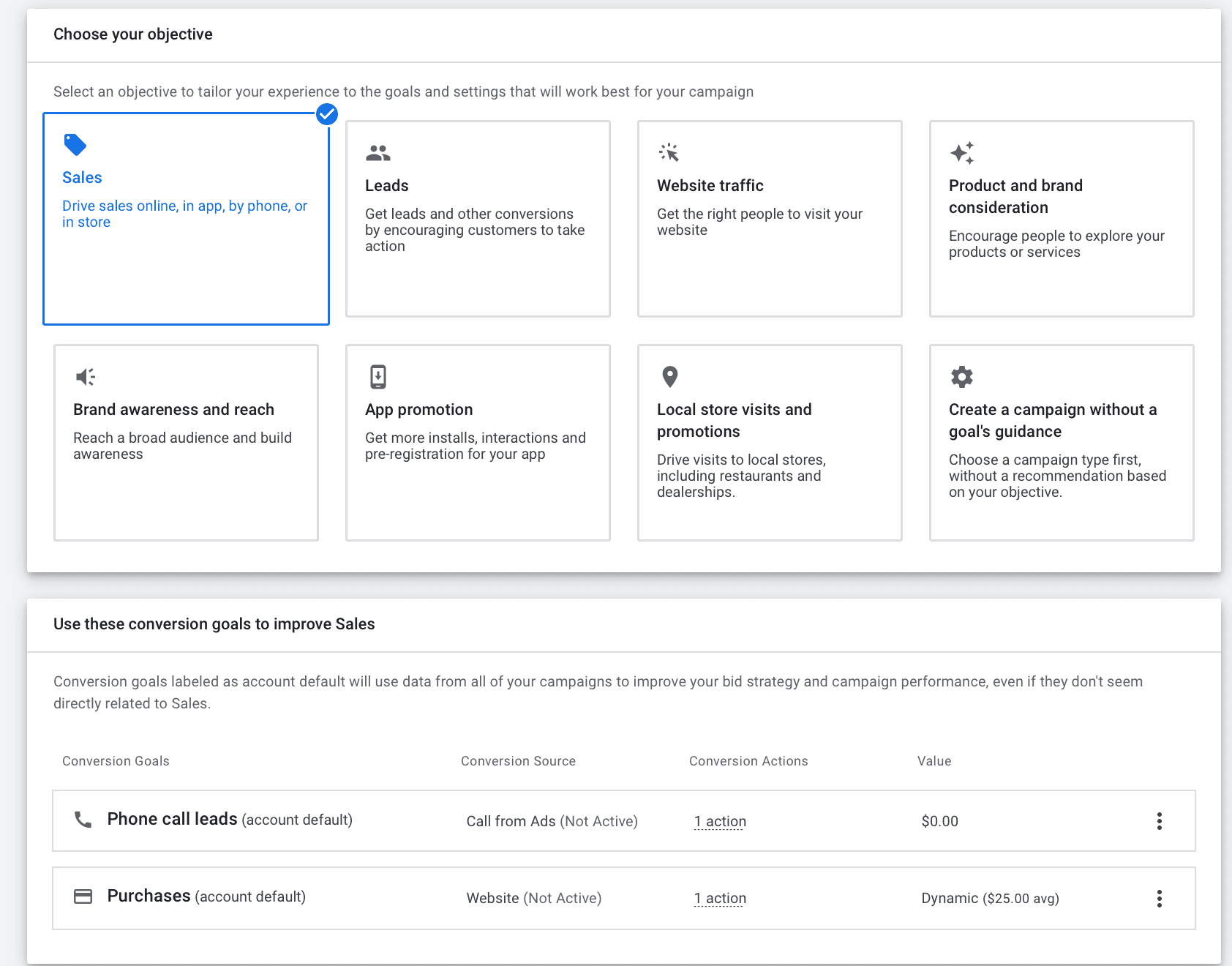 Then instead of clicking "Search" ads when selecting your campaign type, you'll select "Performance Max." Campaign set up will then ask for information for all needed placements (not just search ads) so that you can reach users across multiple channels.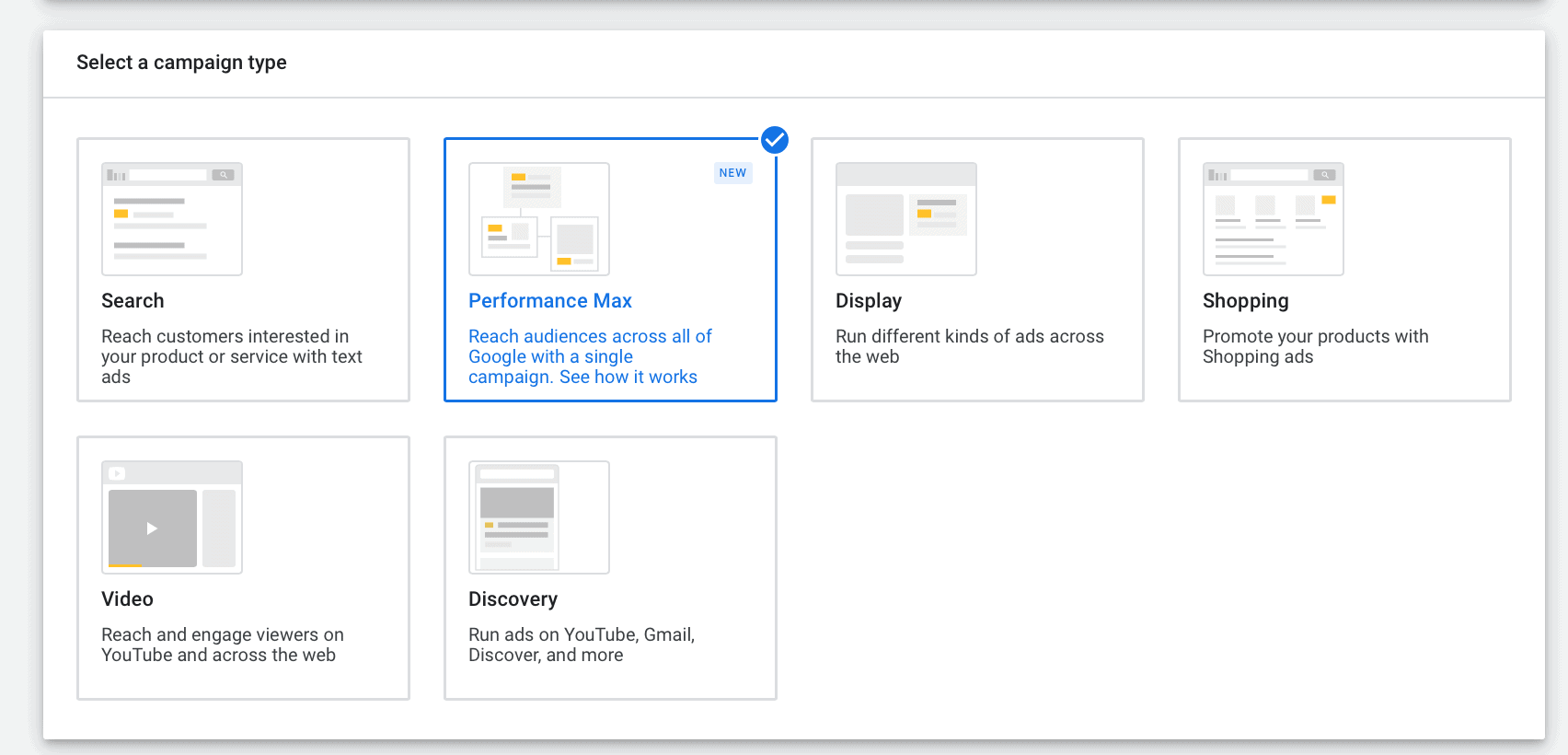 When to Use Performance Max on Google Ads
Performance Max campaigns only work for a few objectives, so you don't even have the option to use them all the time.
That said, there are a few specific situations when Google recommends using them. These include:
You're specifically optimizing for certain types of conversion goals like sales or leads generated
You are flexible about which channel your ads will appear on, and you're okay opting for a streamlined approach instead of one where you're creating individual ads
You want to quickly access all of Google's ad channels with a single campaign
You're prioritizing reach and/or conversion value, and want to go beyond Search campaigns
Final Thoughts
Performance Max campaigns are a newer feature, and while some advertisers are worried about a lack of control, the good news is that you're still getting plenty of control here.
Google isn't just randomly grabbing images and copy off your site. You're still getting to set all the criteria for which ads you're creating and what audiences that you're targeting, it's just a much more streamlined approach.
And Performance Max isn't a standalone bonus feature for Search Ads; it's something that Google is actively focused on. They've shared that they'll be actively developing it throughout this year and releasing additional features, so all brands need to know how to leverage these campaigns.
Want to learn more about Performance Max campaigns? Learn more about Performance Max campaigns in our dedicated hub! 
If you need help setting up and running your campaigns, we've got you covered. Find out how our solution-driven Google Ads services can help scale up your PPC campaigns' performance.