How to Create Google's Dynamic Search Ads
While most of us want to control every aspect of our ad campaigns, sometimes brands and advertisers need to find a more streamlined, automated solution for ad generation and creation.
This may be true if you have a particularly large inventory, an extensive site, or are trying to reach diverse audiences.
If this is ringing a bell, Google's dynamic search ads may be an option for you.
What Are Google's Dynamic Search Ads?
Google's dynamic search ads are an automated ad type that uses the content on your website to create or enhance your ads when it comes to keyword-based campaigns.
They'll generate headlines from your website, and automatically select landing pages from your site to send users to when they click on your ad. The only thing the advertiser needs to do is to add descriptions for the copy.
Here's a simple breakdown of what happens:
A user enters a search query on Google
Google recognizes that your initial ad is a good fit for the search intent
They crawl your site and generate a relevant headline based on the user search and attach the right landing page to the ad, while using your ad description copy
The headline and landing page, therefore, are hyper-specific to the ad in question
Ideally, users see the relevant-to-them ad result and click
How do Dynamic Search Ads Work?
Dynamic Search Ads pull content from different pages on your website and fine-tunes your ads to the searches accordingly. You can narrow this down further through targeting to tell Google which specific landing pages you want DSAs to use (don't worry—we'll show you how to do this in a bit!).
This means if you have out-of-date offers on certain landing pages or landing pages that have exclusive offers for existing members, for example, that you don't want showing up in ads, you can keep them from being added to an ad campaign.
The entire purpose is to increase relevance and show users that you have what they're looking for.
So here's an example of what this might look like.
First, we search for "national parks pass." The highlighted ad features the headline "National Park Annual Pass — Save Big, with US Park Pass."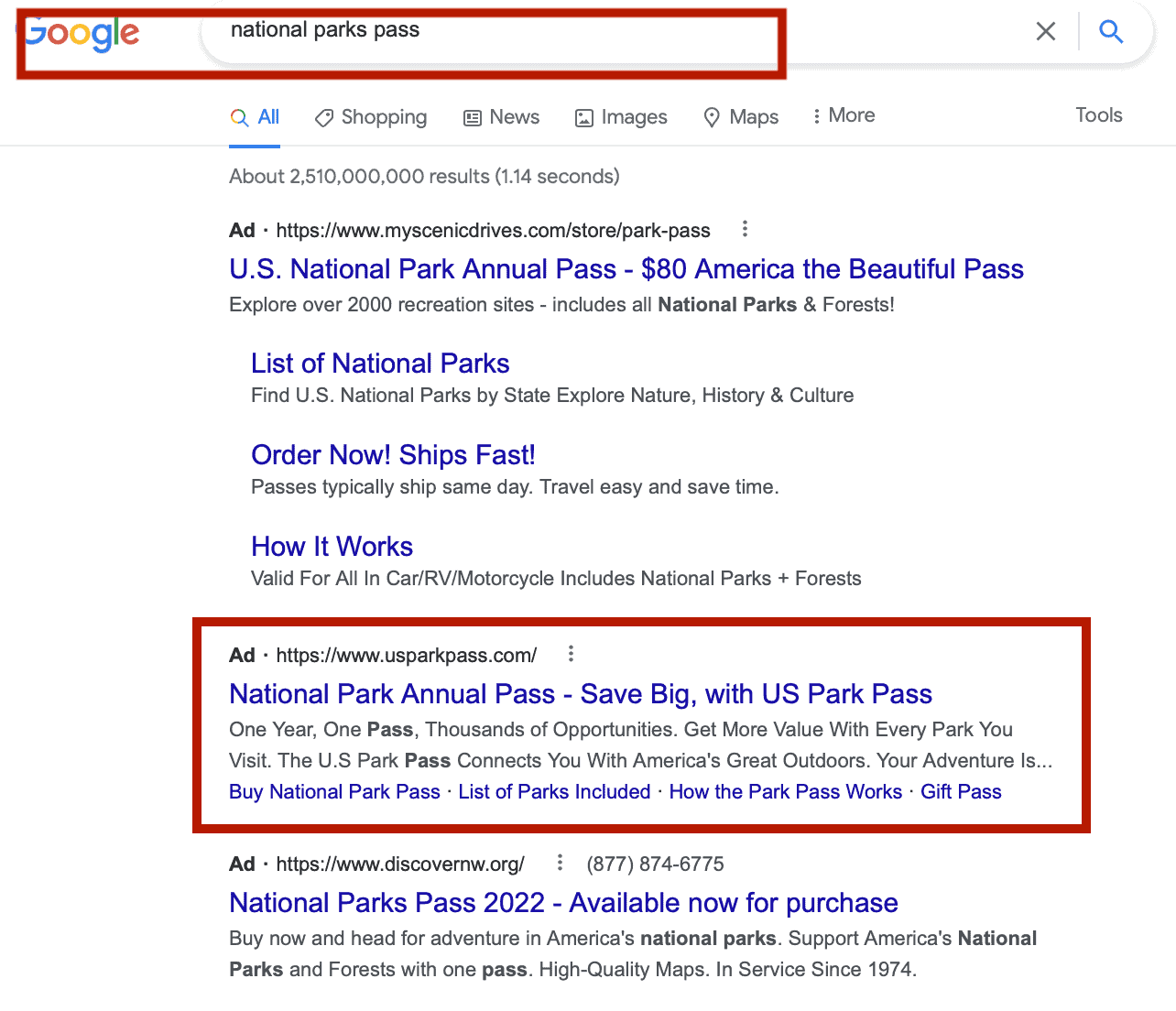 Now let's search for "America the Beautiful pass" (which is the most commonly purchased national park pass). The same site has an almost identical ad (with slightly less copy, and no extensions) except the headline is different. It reads "National Parks Pass— Buy America the Beautiful Pass." It's tailored to the specific keyword and lets users know that the exact pass they want is offered.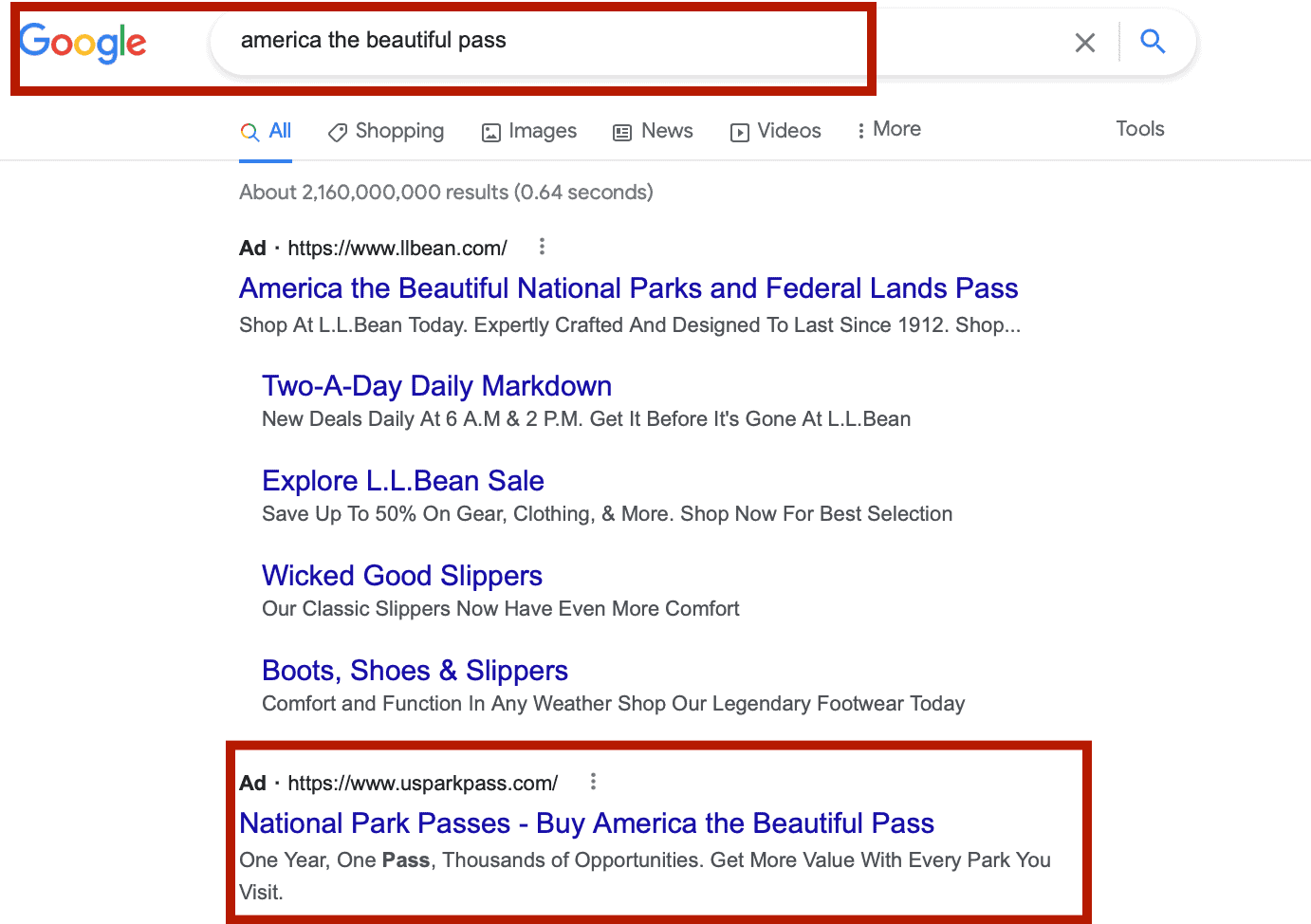 The ad copy used in both is the same, but the headline and potentially landing page could have been automatically generated by Google thanks to DSAs.
Who Should Use Dynamic Search Ads?
We recommend that all of our clients at least test dynamic search ads, but you'll want to watch them carefully— particularly if you don't have a well-structured, optimized site.
Pro Tip: Plug your website url into the Keyword Planner tool and review the keyword results Google shows. This will give you an idea of how well Google will crawl your website for DSA.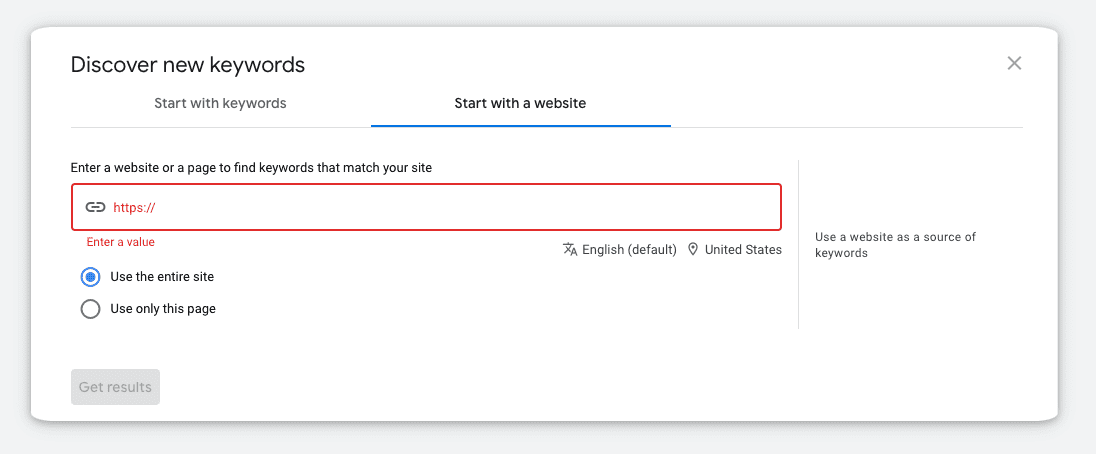 Either way, Google's algorithms are incredible, and they're pretty accurate. They typically are going to do a great job finding landing pages that fit the search intent and create an appropriate headline, especially if your pages are SEO optimized already.
In most cases, of course, your results will typically be best if your website is already in great shape, with clearly defined landing pages and content that's created with search engine optimization and keywords in mind.
If they don't work for you, you can always disable them and opt to try something like dynamic keyword insertion.
How to Create Dynamic Search Ads
Want to create dynamic search ads?
First: Make sure you're familiar with Google's standard search ads. Our Search Ads Hub has everything you need to get you up to date.
Next: Go to Google Ads and start by creating a Google Search Ad campaign.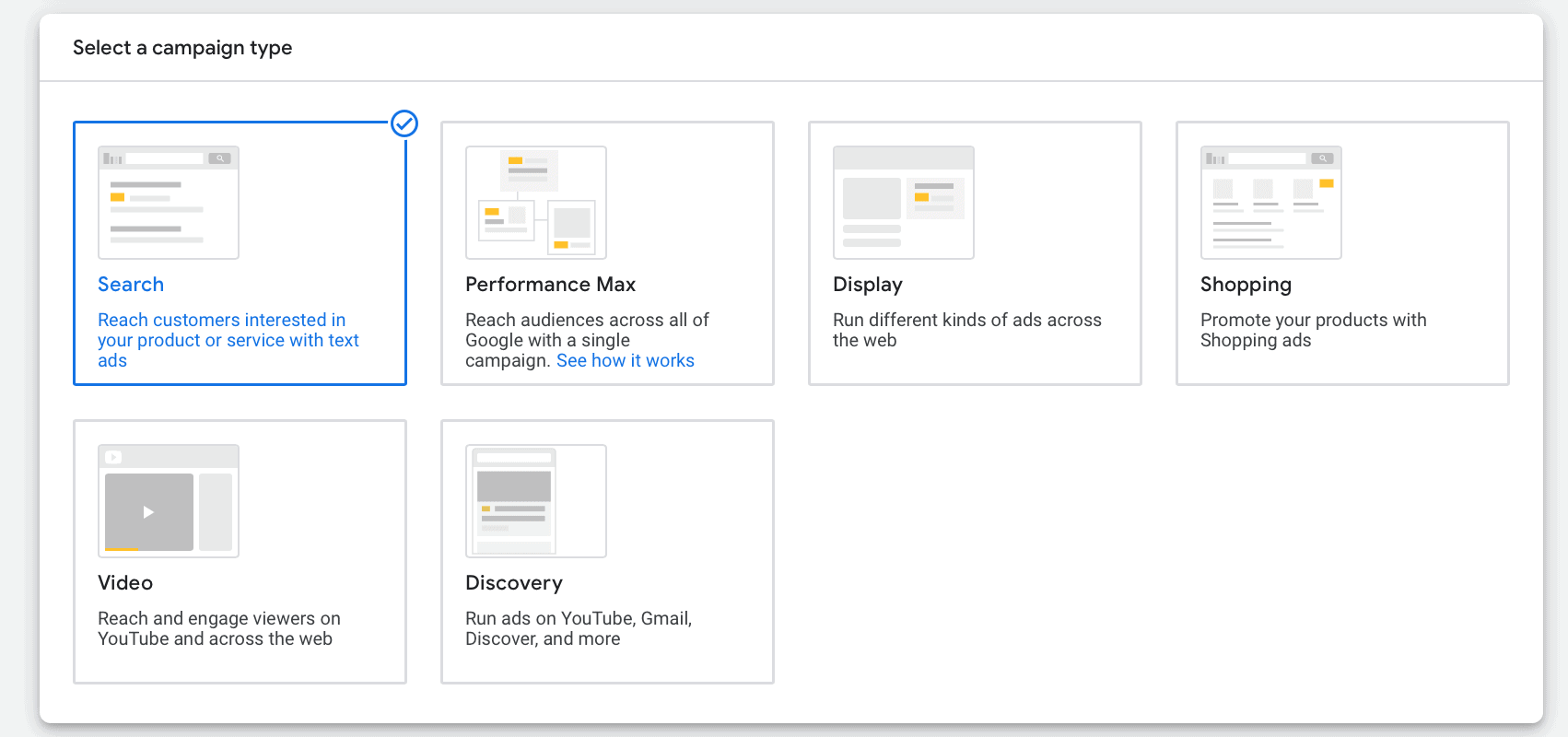 Then choose what ways you want to reach your goal, which will likely include site visits. And pro tip: When you name your campaign, consider labeling it with "Dynamic Search" or "DSA" in addition to the campaign name so it's easier to track.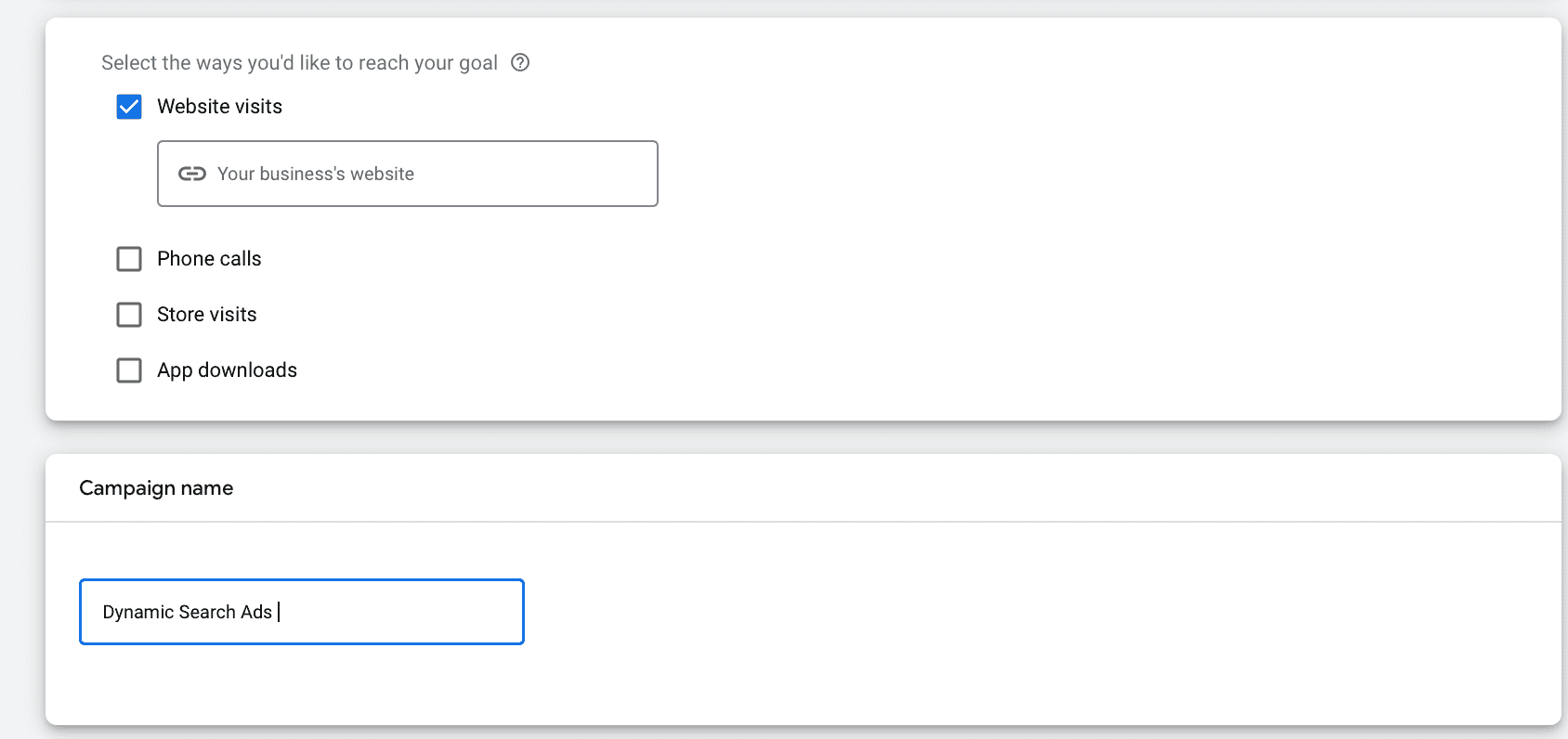 On the next page, you'll choose your budget and bids just like you do with standard search ads. You can also set up location targeting and language targeting. Underneath this you'll see the option to choose audience segments (which defines your targeting) and to set up dynamic search ads.
If you want to, you can add audience segments. If not, go ahead and skip to dynamic search option and click the drop-down menu.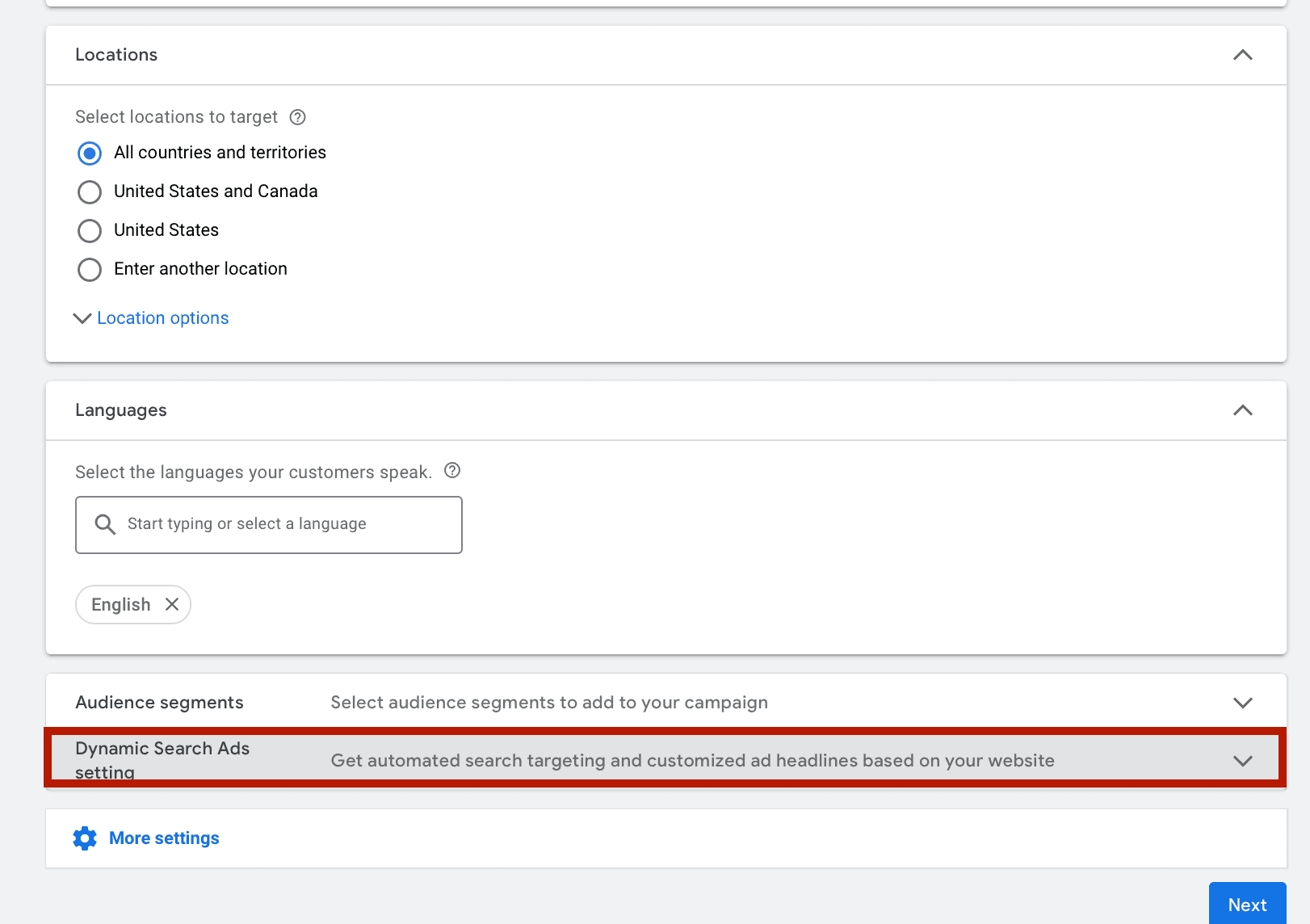 Here's where you start the process of creating the dynamic search ad. You'll enter your domain that you want to run dynamic search ads from, and the language you want the ads to appear in.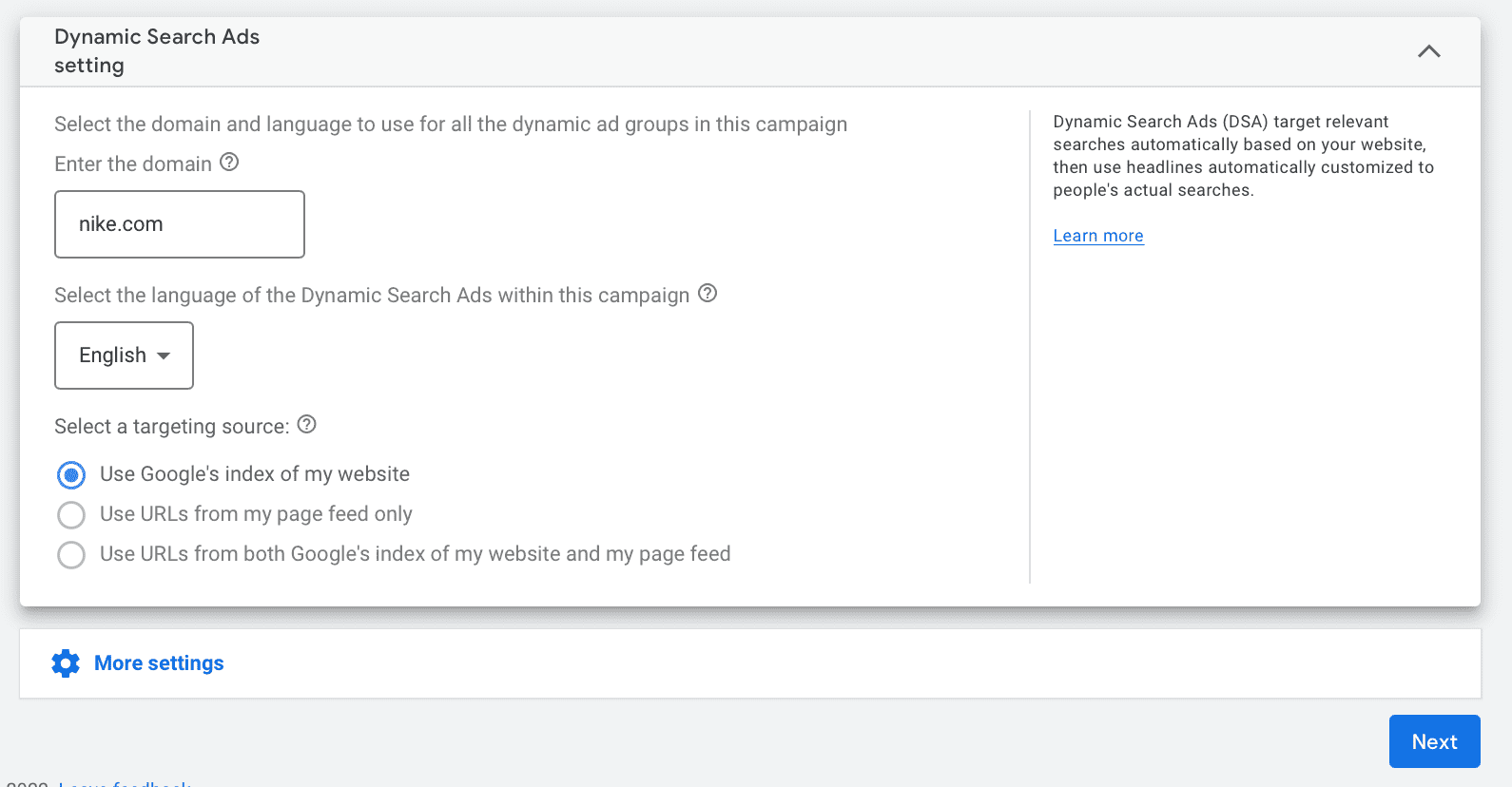 You'll notice at the bottom of this section that you'll choose a targeting source. These are your options:
Google's index of your site. Unless you've chosen to have specific pages not indexed, it will pull from your full site. This works if you want to cast a wide net, but check Google's Search Console or the Keyword Planner Tool and double check that your site is indexing properly.
URLs from your page feed. You can set up a page feed through Google, which provides Google with a specific list of landing pages that you want them to use for dynamic search ads.
Both Google's index and your page feed. Some brands may have a few pages that are strategically not indexed to keep them from coming up in search, but that you still want to have ads sent to for lead acquisition or sales purposes. A combination of the two can help you cover your bases.
Choose which you want, and then click "Next."
Once you do, you'll see that the ad creation process no longer looks like the standard ad creation process.
You'll be asked which categories of search keywords you want to trigger the specific ads you'll be creating next. Remember that the headlines and landing pages will be created dynamically, not the copy itself. Depending on what you're selling and how broad your offerings are, you may need to create individual ads for different types of categories.
You can also select different webpages that you want to include as options for Google to pull from.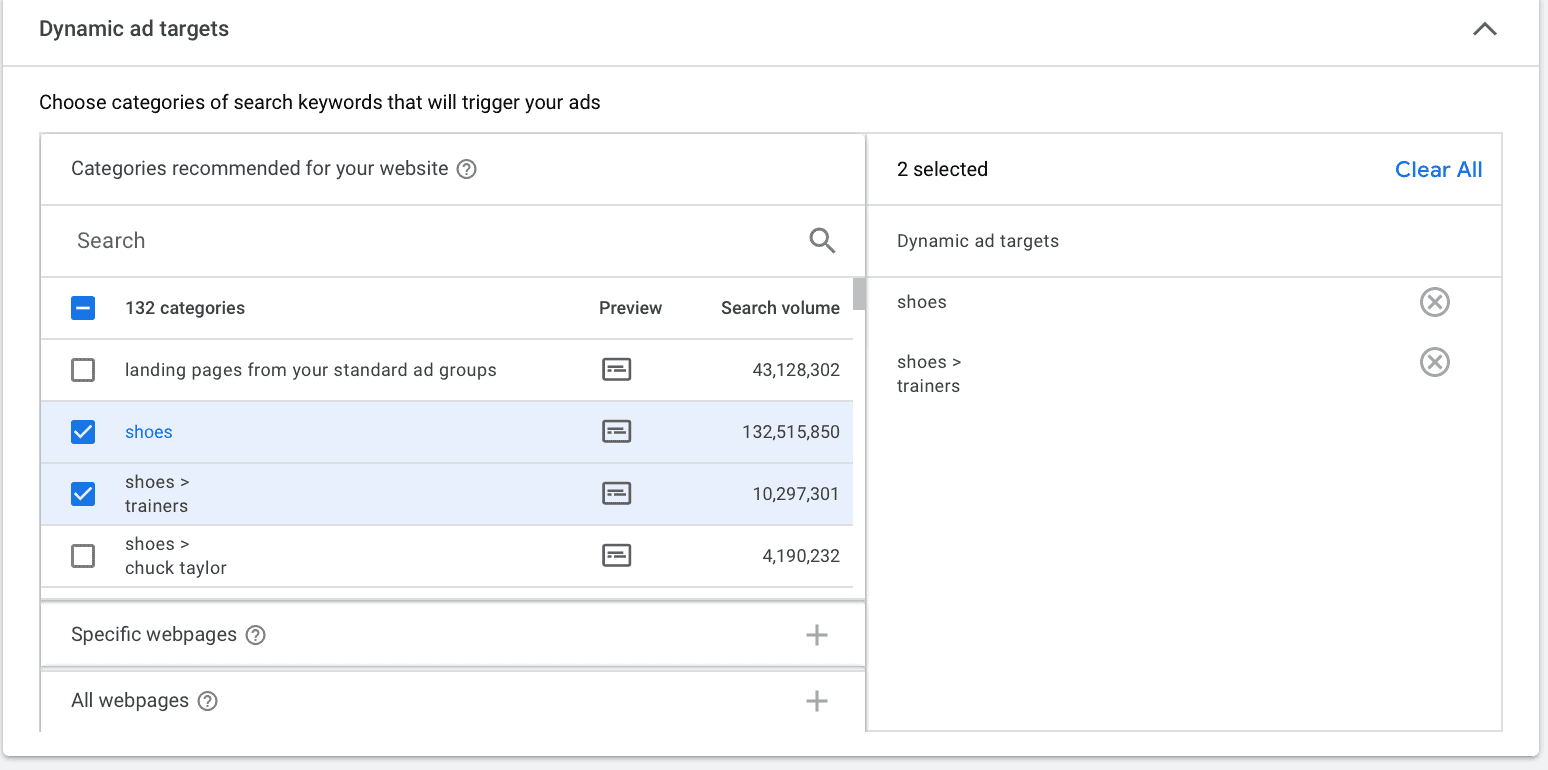 After you've selected the above options, it's time to actually create the ad. You'll see that the headline and URL are labeled as "dynamically generated" so you won't even see a real preview, but you get to control the two ad descriptions. You can also implement a tracking template for your URL if you choose.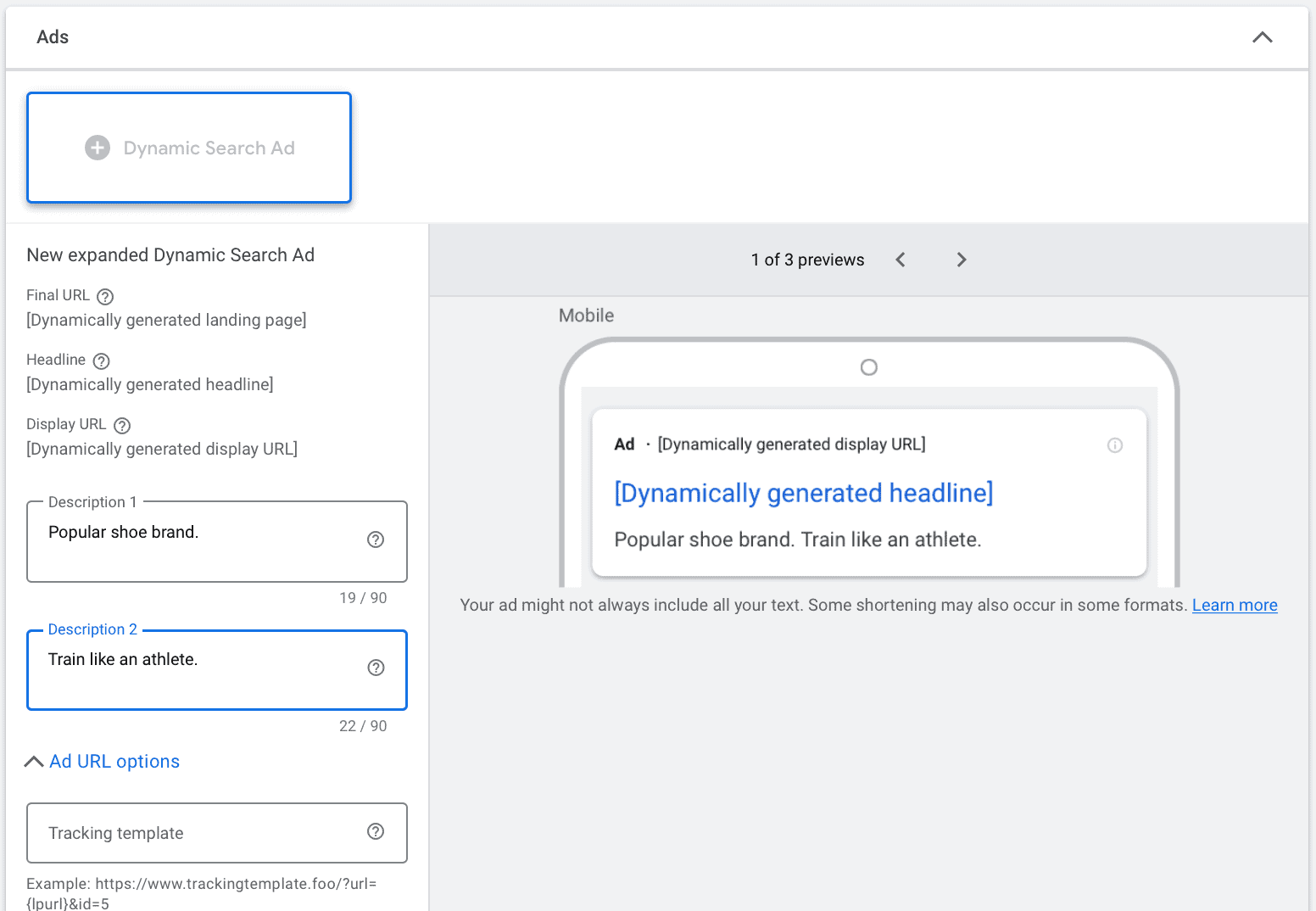 Last but not least, you'll be asked to review extensions before finalizing your ad. We always recommend enabling relevant extensions, because Google will pick and choose which to add to qualifying campaigns based on their own algorithms.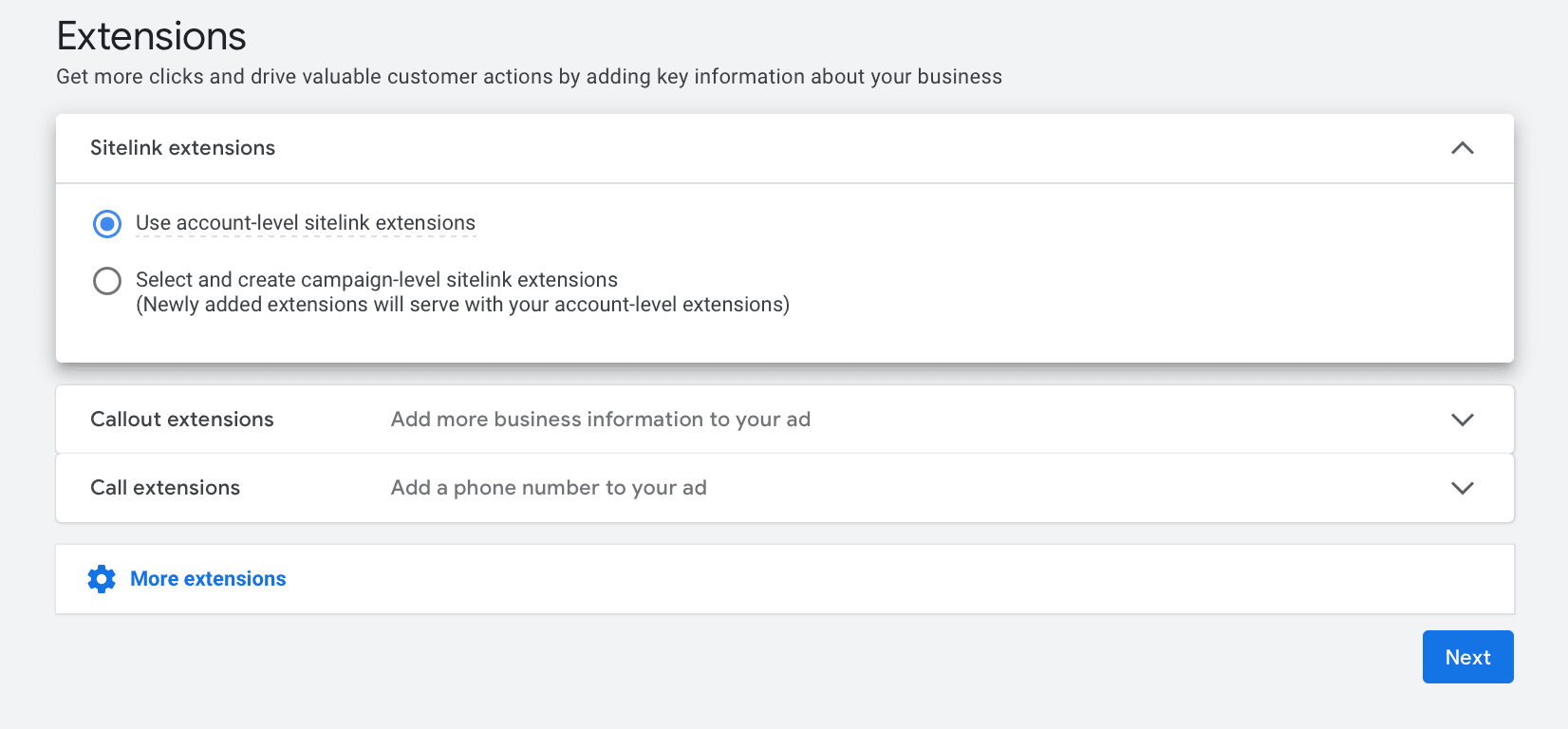 Then finalize your ad, double check that you're happy with all of your choices (and that you've proofread the copy!) and submit it for review.
Dynamic Search Ads Best Practices
When you're ready to test dynamic search ads for your business, you're going to want to make sure you're taking every step possible to get the most out of them.
These are the dynamic search ads best practices we use for all of our clients' campaigns:
Comb through the data closely & test.
This is true of every campaign (we devote an enormous amount of time to looking through our clients' campaigns no matter what), but it's always a little extra true when you're using any kind of automation. You should also consider running split tests with different product categories or category groupings and see what performs best.
Pay close attention to the copy that you're using.
You've really only got one core job here when it comes to ad creation (strategy aside, of course), and that's the two ad descriptions.
Look at all the product pages and categories, and consider the keywords that might be used to trigger your ad given that. Are they all a fit for the specific copy that you have in the descriptions? If there's a chance that they won't match, you're going to want to break things down more by category instead.
Use these campaigns to find high-value keywords for standard campaigns.
Because Google is doing some of the heavy lifting and you're not importing keyword lists like you would for standard search ad campaigns, this may be a time where you discover new keywords that are bringing in a great deal of traffic and/or high quality leads to your site.
If you find any keywords that meet this criteria, consider testing them in a standard search ad campaign and see how they work for you there with copy that's tailored specifically to that search phrase.
Use two ads that are completely different.
You can really only test descriptions when it comes to testing DSAs. For that purpose, we strongly recommend testing different "themes" of copy so to speak.
If you're running an ad promoting a New York hotel, you might try testing these two different versions of copy in different ads to see what's most effective:
Luxury New York Hotel. Vacation in comfort with plush robes, 24/7 concierge, and breakfast in bed. Book Now.
Luxury New Year hotel in the middle of downtown. Walking access to Broadway, Time Square, & more.
They're appealing to different pain points and potentially different audience segments.
Create Negative Auto-Targets.
This makes sure that you don't end up driving traffic to pages that you don't want to drive traffic to.
Plenty of businesses, for example, may not want to pay $6 on a click to a blog for a lower-intent keyword.
We recommend excluding blog post pages by negating the page URL that stores your blog content, and any other resource libraries you don't want to drive traffic to.
You may also want to consider negating the following unless they:
Gift Card pages
FAQ articles
About Us pages
Negate exact match keywords from your DSA campaign.
Go take a look at your normal Search campaigns, and make a full list of all the Exact Match keywords that you're bidding on. You'll want to then upload this list as your negative keywords for your DSAs.
We strongly prefer to use DSA campaigns to act more like a mining tool then to compete against the carefully-crafted-for-individual-keywords campaigns that you've already got running.
Negate Brand Terms
Want to make sure that you aren't showing up in branded searches, or that your branded keyword campaigns are kept separate? Negate brand terms of your own, and definitely make sure that you're negating competitors' brand terms.
Create a DSA+RLSA Campaign
You can create a single campaign that utilizes both dynamic search ads and remarketing lists search ads.
To do this, you just need to head to your Audience section, and set it to "Target Only" to a remarketing audience. This way, your automated ads will only show up to specific audience segments that you're remarketing to.
This is an easy way to reach out to users who have interacted with your brand, and you can tailor the description copy to the specific audience you're targeting while still taking advantage of the automation from DSAs.
Final Thoughts
Dynamic search ads can be a useful tool when it comes to expanding your reach beyond your high-value, manually created campaigns. You may never know exactly what blindspots you have and what other keywords or searches you could benefit from, and DSAs can help you find them.
Know you need help with your Google Search Ads and not sure where to start? We're an experienced Google Ads agency offering hands-on, collaborative advertising services for our clients. Learn more about how we work here.