Audience Layering for Google Search Ads: How to Reach Your Target Audience
Google Ads can be a one-size-fits-all that allows you to capture any users who search for your particular targeted keywords. That can be a good thing, but it can also backfire.
Some businesses have exceptionally broad definitions of who may fit into their target audience.
A standard $15 leather dog collar, for example, will appeal to an enormous number of Americans. It's not the cheapest option but it's also accessible for most budgets, it can be shipped anywhere in the country, and the only thing all audience members have in common is being a dog owner or wanting to buy a gift for a dog owner— which the keyword pretty much implies.
This isn't true for many products and brands, however.
Many customers, for example, might not be a fit for a $650 hair dryer. B2B brands also often have very niche ideal customer profiles. They may only want to reach brands that have at least 100 employees or that belong to a specific industry.
If you have any limits on your audience at all— which most brands do– it can be useful to know how to utilize audience layering for Google Ads. An expert Google Ads agency can also help optimize your audience layering.
What is Audience Layering for Google Ads?
Audience layering for Google Ads is the practice of adding different audience targeting criteria to determine either who can see your ads, or who you're willing to pay more to see your ads.
This is possible for multiple different ad platforms throughout Google's ad inventory, including Search Ads.
Want to target potential clients anywhere in the world who speak English and who have up to 10k employees, are interested in business tech, and are looking for ad and marketing services?
You can.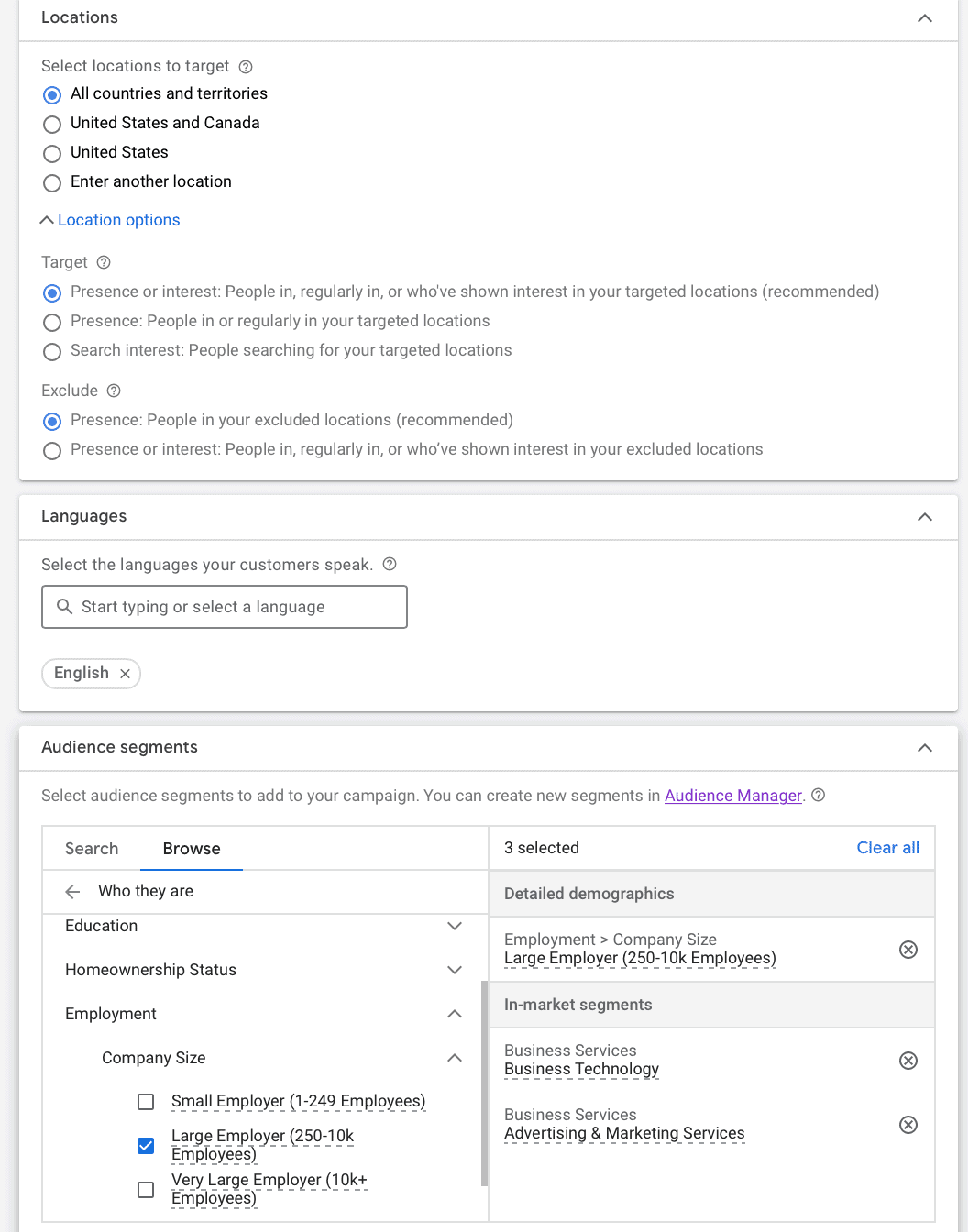 It gives you more control over who sees specific ad campaigns, ultimately giving advertisers and brands one more weapon in their arsenal to test different strategies for ad relevance and results improvement.
Does Audience Layering Exclude All Other Searchers?
There are two audience targeting options that are ironclad, and ensure that your ads will only be shown to users who meet that criteria.
Location targeting, for example, allows you to determine that you'll only show ads to (or exclude certain users from seeing ads) in specific zip codes or geo-targeted locations. Those locations can either be their current place, where they visited in the past, or where they're researching.
Language is the other one. Your ads are only going to be shown to users who are navigating Google in the language you've set, which is the language your ads will appear in.
For these two options, any choice you make is definitive.
For the other targeting options, however, it doesn't have to be.
At the bottom of the audience segments advanced targeting options, you'll see a small section labeled "Targeting setting for this campaign."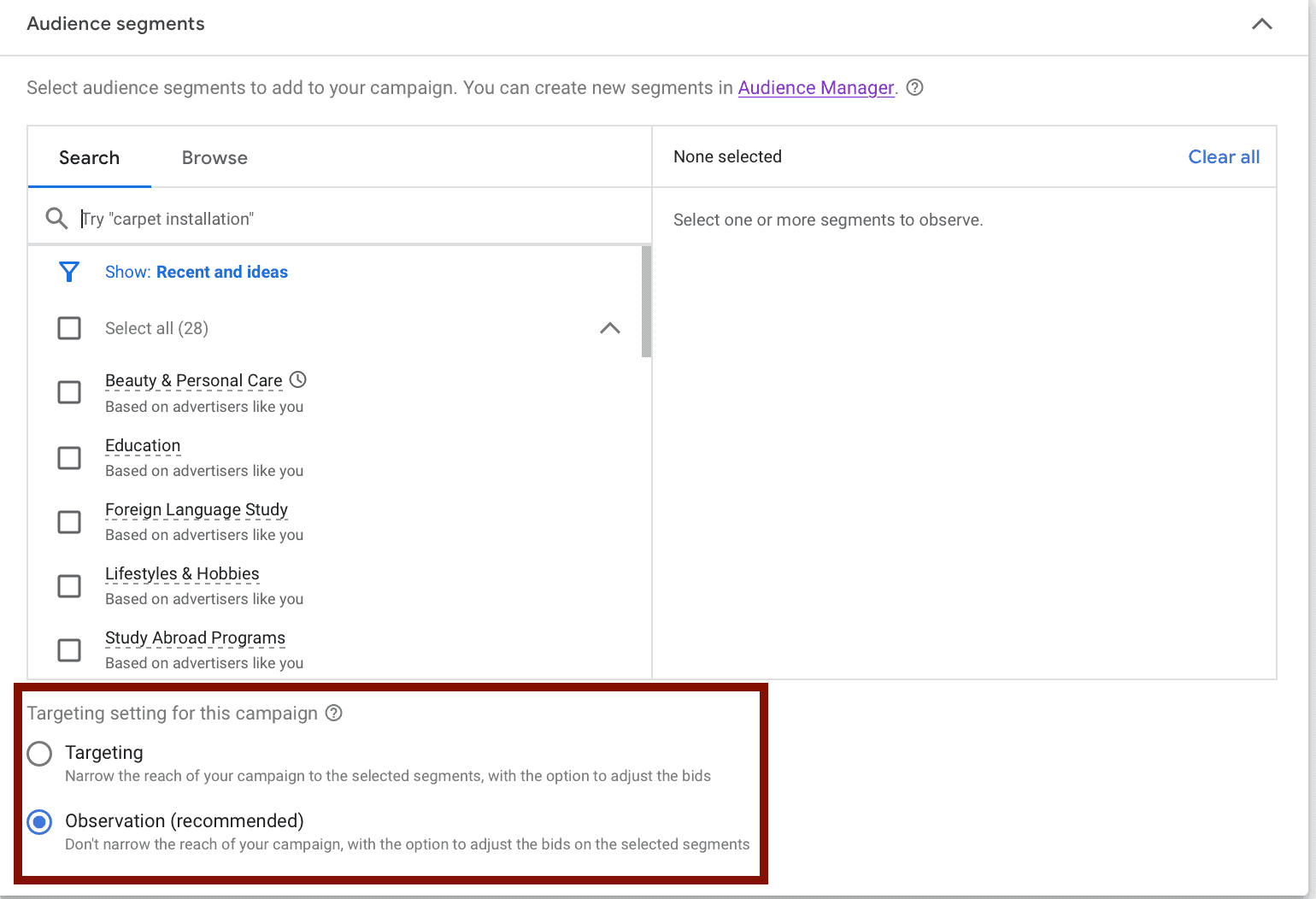 These determine how definitive you want your audience layering to be.
The "Targeting" setting ensures that the reach of your campaign will be narrowed down to the selected segmented. You can just the bids of these segments, but only users will see these ads. It doesn't matter if someone else searches for your target keyword— if they don't meet the criteria to Google's knowledge, they won't see the ad.
The "Observation" setting is recommended by Google, and it's much more flexible. It serves more like a guideline for Google about who you want to see your ad, and you can adjust your bids on selected segments. If you want to pay more for audience segments that you know to be high-intent and high-value, you can up your bid for those specific users.
It's an easy way to try to prioritize users who are more likely to be high-value and high intent, allocating more potential ad spend (or at least being willing to spend more) for the exact type of users you're hoping to connect with.
The 5 Audience Layering Options for Google Ads
When most people talk about audience layering, they're primarily talking about the five different audience segment options.
These include demographics, interests and habits, what they're in-market for, retargeting options, and combined audience segments.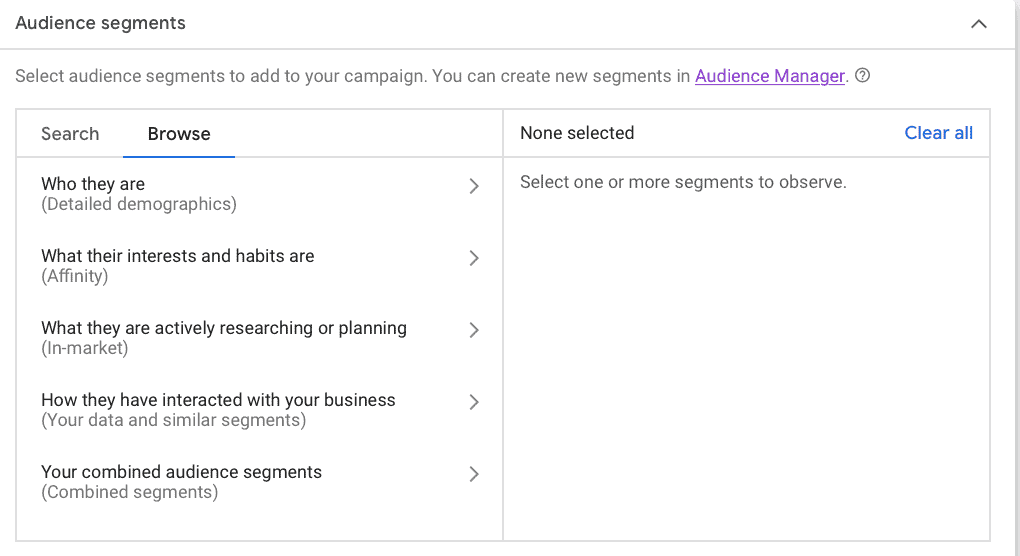 When you're using audience layering, you can either search for an audience segment qualifier that you think will be there, like "buying a home." You can also browse based on the five different categories above.
Demographic Targeting
Demographic targeting focuses entirely in quantifiable information regarding who a user is.
Are they married? Are they parents? Do they have a college degree, or own or rent their own home?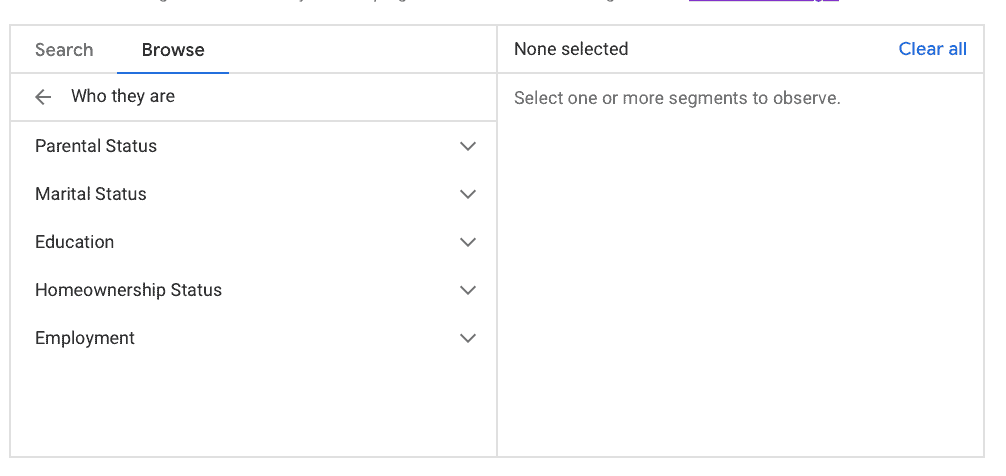 This information can tell you a lot about a potential lead.
Someone selling interior design services, for example, may want to target homeowners instead of renters, as homeowners will be more likely to invest more in a permanent home they own.
Interests
Interests and habits (which make up the "affinity segment"), is all about what users are doing in their free time. And since so many users turn to Google for information regarding hobbies, past times, and activities, there's plenty of different options to choose from.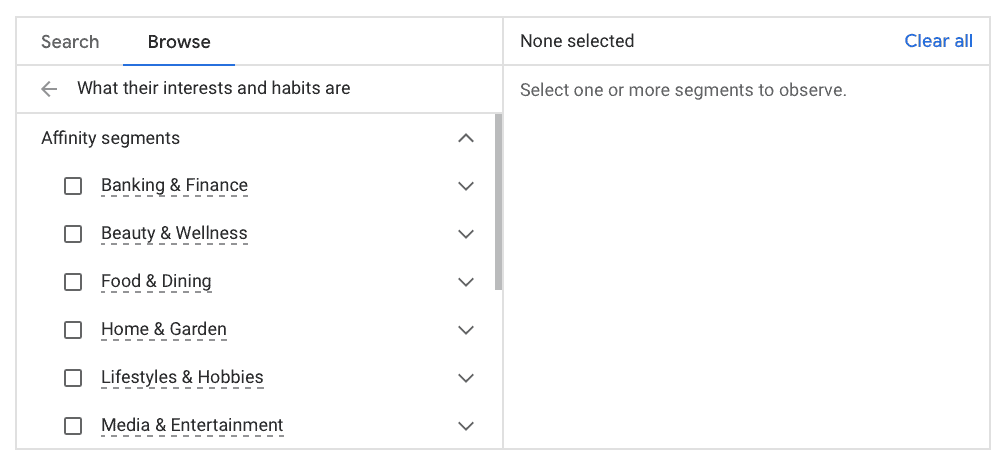 Most subtopics like "food & dining" and "home & garden" have multiple specific options under their drop-down menus.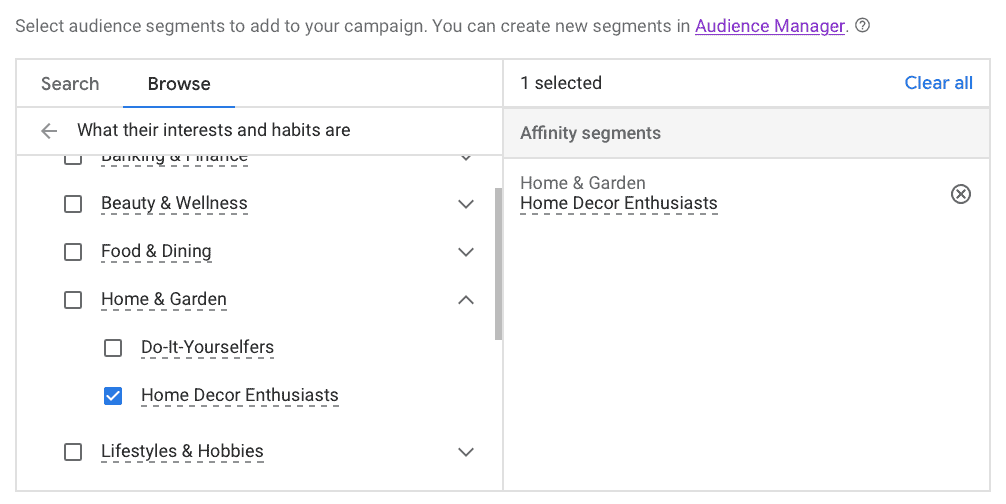 Someone who falls under the category of a "home decor enthusiastic" is likely to be more interested in elaborate, modern planters for their patio that cost than other audience members who might just be looking for something quick and easy.
These audiences may be worth bidding more in, for example, in Shopping Ads as a result.
Actively Researching & Planning
This is perhaps one of the most valuable segments you can add to your audience layering campaigns, if you have a category that fits.
The in-market segment is made up of different purchasing decisions that users are actively researching or planning.
Want to reach users who are looking at buying a new house? Setting up a nursery for your first-born baby? Starting a business, or trying to get in shape?
You can do that.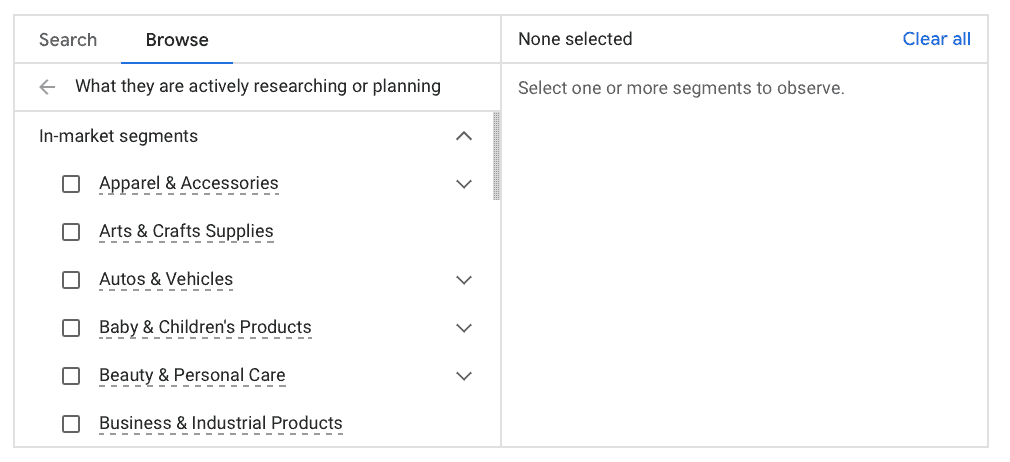 This segment is useful for both service-based and eCommerce businesses.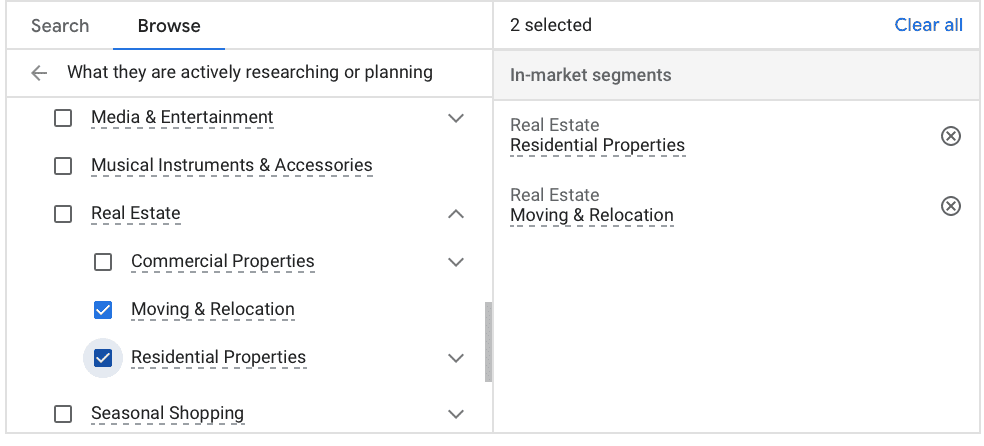 And while it can be used alone, it can also be layered with audience segments. Combining affinity with in-market segments or demographics can be a great way to go. Targeting users who love home decor and are moving soon, for example, might open up a door to a larger-than-average order value.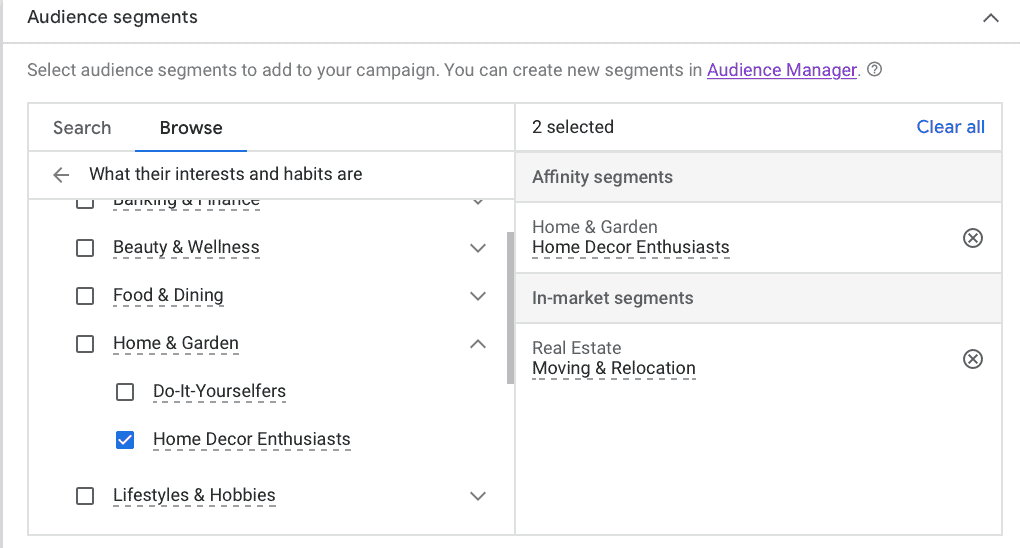 Retargeting
If you want to show your ads to users who have already interacted with your business in some way (or to bid more on them), this audience segment is a good one to look at.
You can retarget users based on specific tracked interactions they've taken. This can include actions taken within your app, videos watched on YouTube, or abandoned carts on your site.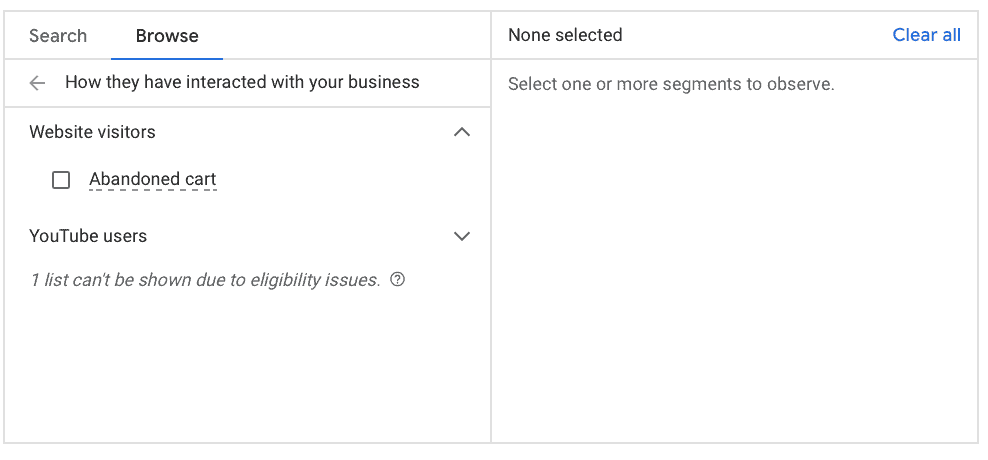 You'll need to set up conversion tracking in order to be able to utilize this data and create these audience segments. Learn more about different options for this here.
Combined Audience Segments
Your combined audience segments are custom audience segments that you can create through your Audience Manager. This includes Custom Match audience segments, which are list-based.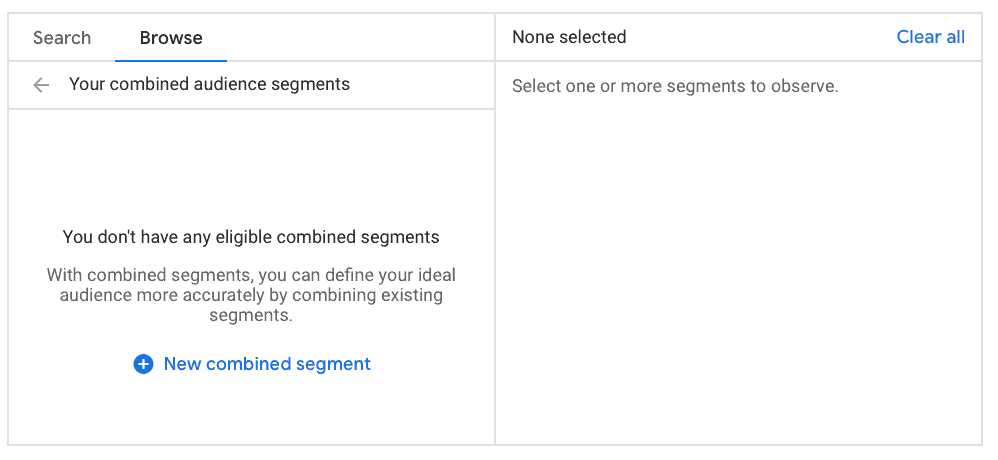 When Should I Use Audience Layering for Google Search Ads?
This is the important question: When should you actually use audience layering for Google Ads?
The answer is a bit tricky. The reality is that Google does a pretty solid job getting your ads in relevant placements overtime thanks to machine learning, particularly once you've got negative keywords in place.
Because of this, you don't really need audience layering for Search Ads alone, but it may be necessary for Performance Max campaigns that are utilizing Display Ads and other demand generation-style ad options.
You can use it if you want to create specific campaigns that will only be shown to specific audience segments, or if you want to bid more on the specific audience segments.
This isn't a bad concept to try; it may rule out audience members that are using the right keywords but that aren't a fit, and increase relevant ad placements amongst your target audience. This could, in theory, reduce wasted ad spend on clicks you don't need.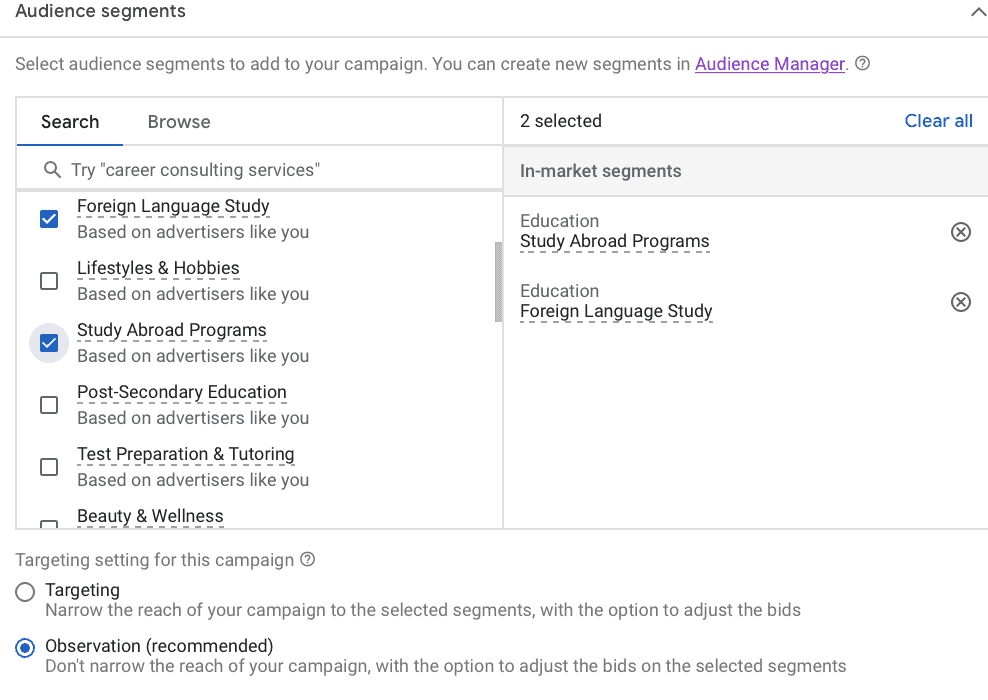 If you're ever going to implement audience layering with your campaigns, we recommend running a split test. Create two identical campaigns and use audience layering for one. This will help you see if the layering increases performance with overall lead value, or if it just seems to narrow your reach.
If you have no reason for running specific audience campaigns or running split tests with audience segmentation and targeting, then at the very least, we recommend applying a few top performing audiences set to observation mode to just analyze the performance of these audiences.
Audience Layering Best Practices
Thinking about creating campaigns with audience layering on Google Ads?
These are the best practices that you want to keep in mind:
Know that you don't need audience layering. As we mentioned above, Google does a lot of the heavy lifting. Be careful not to limit your potential reach to the point where you exclude potential customers.
Observation audience layering can be a good option. It allows you to bid more for potentially high-value users, which can increase the odds that you are able to attract and convert high value users while you're maintaining your overall budget.
Test different audience segment combinations. Different combinations of audience segments can absolutely yield different results. It's crucial to test unique options and see which are responsible for better results. If you have two affinity-based options, for example, only one may be responsible for bringing in high-value clicks. Determining that can help you optimize your campaigns further.
Final Thoughts
Audience layering is a useful tool for Google Ads, and when used correctly and as-needed, it can help you more effectively reach your target audience.
Because it can limit your potential reach and even cost you to miss out on sales or clicks when not executed correctly, however, we recommend a cautious hand and a careful strategy.
If you're interested in adding audience layering to your campaigns, consider working with an experienced ad agency to help. We can introduce new audience layering options as a test, as well as find other ways to improve and optimize your campaigns.
Need help with your Google Search Ad campaigns? We can help with the strategy, execution, management, and optimization. Get in touch with us here.