How to Show Google Product Ratings in Product Listings
Your Google product listing contains a ton of information when it appears in the Shopping tab, but in many cases, customers are only seeing a small snapshot of that info as they browse through the listings.
They see the product image, title, brand name, and price. Sometimes they'll also see product review information, with a score between one and five stars and the number of reviews left next to it.
That's what we're here to talk about today: Google Product Ratings for Product Listings and Shopping Ads.
What Are Google Product Ratings for Google Shopping
Google product ratings can be added to your product feeds so that they can be displayed on both your organic and paid Google Shopping listings.
Product ratings can be between zero and five stars at the bottom of the product listing preview. The number of reviews is featured next to the star rating. They also show up when users view the full product listing in detail.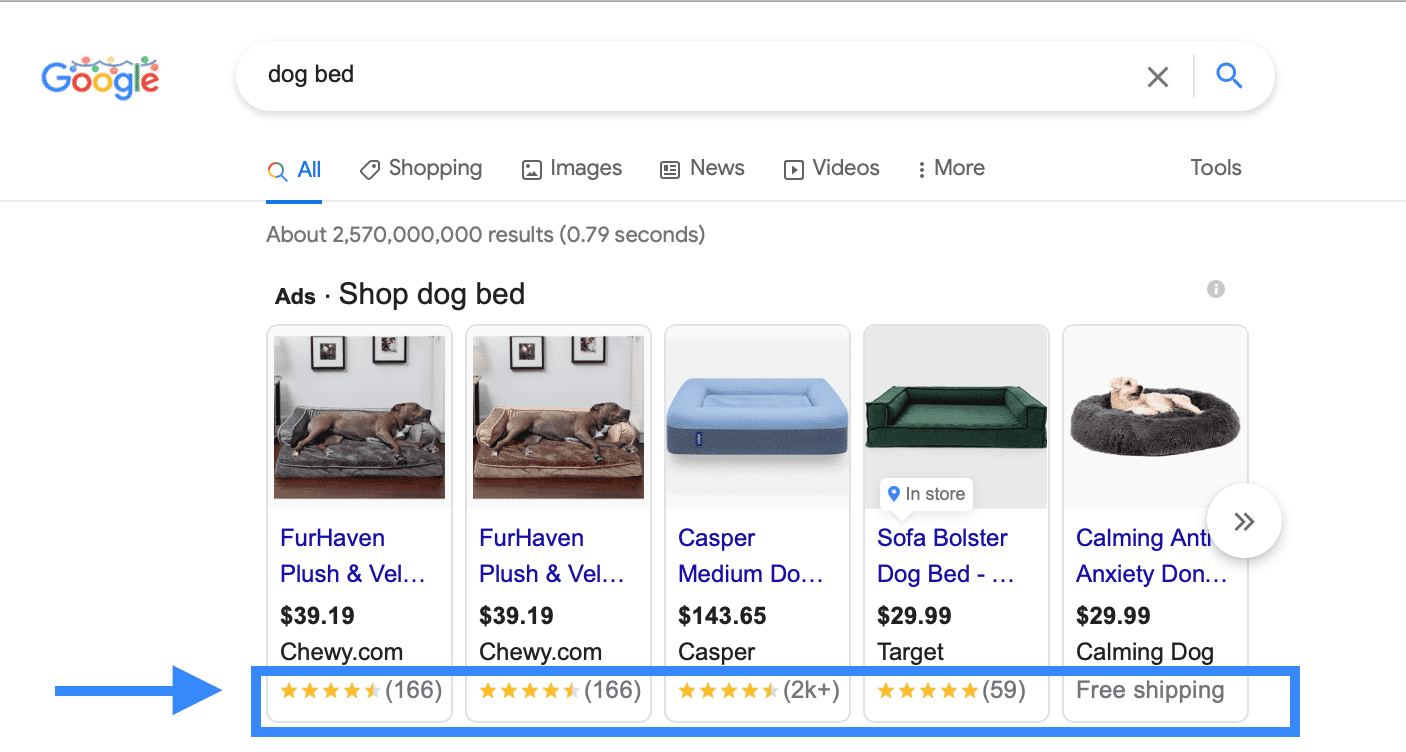 As you can see above, product ratings are extremely prominent in Shopping listings. The bright yellow of the stars undeniably helps the reviews stick out, and it's imperative to note that users are only getting a few key snippets of information here… and the reviews are one of those snippets.
The reviews collected for your product rating come from a number of different sources, including from your site, from online marketplaces, and from third-party review sites. This makes it easy to amass an enormous number of reviews from different platforms that you're already using.
Know that if you don't go through the work of adding product ratings to your listing, this information will just be missing from it. While this doesn't sound so terrible, the reality is that you don't want your listing to be the only one in a lineup of products that don't have reviews; customers are much less likely to purchase from you.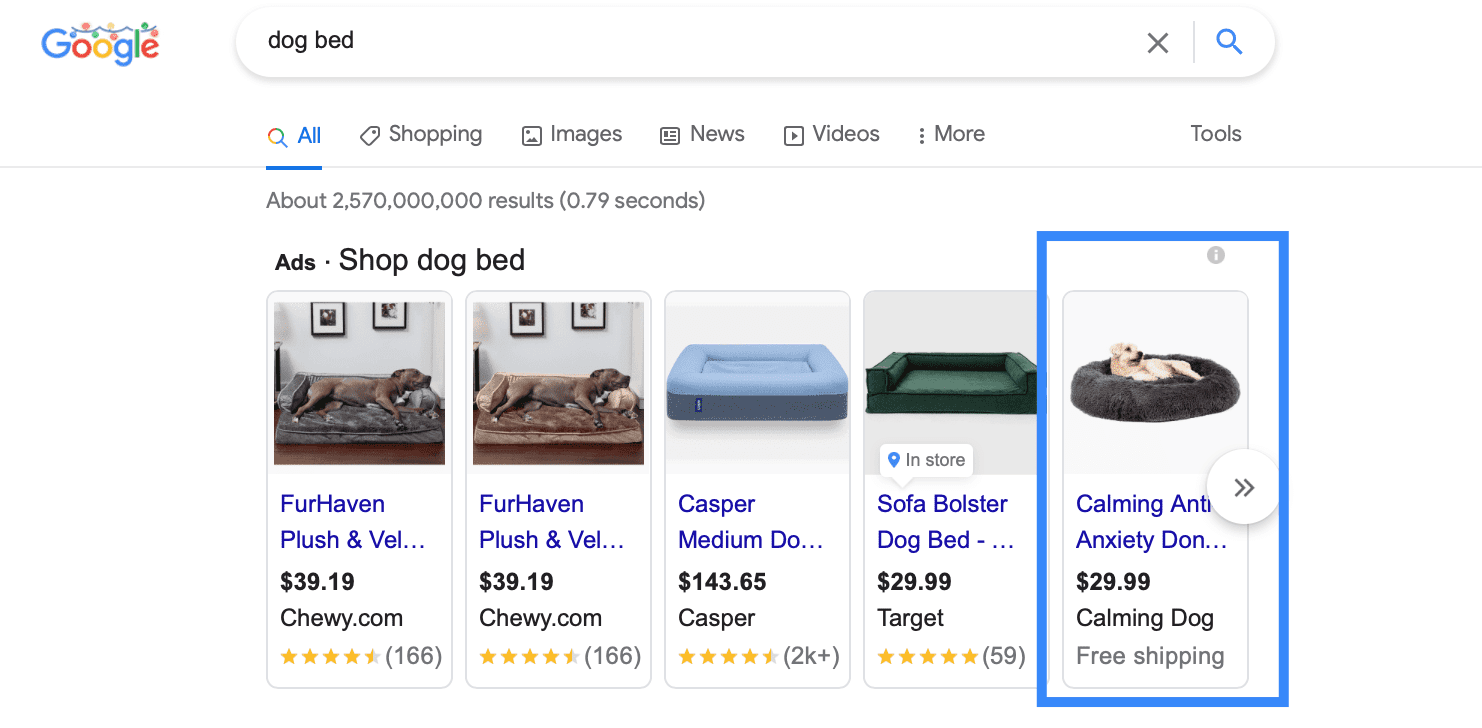 How do Google Product Ratings Work?
Google product ratings can come from several different sources, but the baseline is this:
Google can actually use their algorithms to search for products and reviews. They're able to sort through online sites, marketplaces, and third-party sites because they look at your product's specified Globally Used Unique Product Identifiers, which will be consistent for your product whether it's selling on your site, on Amazon, or on a third-party retailer's site.
These identifiers can include the following:
GTINs. This is a "Global Trade Item Number" used to identify trade items worldwide. You can see how to get a GTIN number here. These are often featured near a product's barcode when packaged.
MPN. This is a manufacturer-assigned alphanumeric value like PS-2193. It's required for products that don't have a GTIN (except for custom-made items), and it can be used to identify a single set of products amongst others created by the same manufacturer.
Brand name. This is a required product feed attribute for Google Shopping, and it simply states the product's brand name. This isn't necessarily the seller's name. Bed Bath and Beyond, for example, sells multiple products from different brands, like Under the Canopy or Oxo. The brand name is what's needed, not the retailer name.
Are Product Ratings Different Than Seller Ratings?
Since we've just briefly touched on the subject of sellers vs brand, let's take a quick look at another important differentiator here: product ratings vs seller ratings.
Product ratings show up immediately on product listings and in their previews. This is the five-star rating given to that specific product from past customers. It assess the quality of the item purchased itself.
Your seller rating is different. That's a rating buyers give to the brand they purchased from, and factors like site experience, on-time delivery, and customer service can play important roles here. Is the person processing payment and distributing those products reliable?
While having both high product and sellers ratings are important, this post is exclusively about the former.
Why You Need to Add Product Ratings for Google Shopping Listings
We've already talked briefly about why product ratings on your Google lists are so important, but these are the biggest reasons:
It helps to capture attention right away– those star ratings undeniably stand out, which is one of the hardest things to do in a full gallery of competing products
It's invaluable and definitive social proof
It helps to build trust and win over customer confident
It shows that your products have something over on potential customers
Customers see highly-rated products as being less risky to test, because so many others have liked the product
Higher-rated items are likely to have high visibility with organic listings, all else being equal
Customers can actually sort items by rating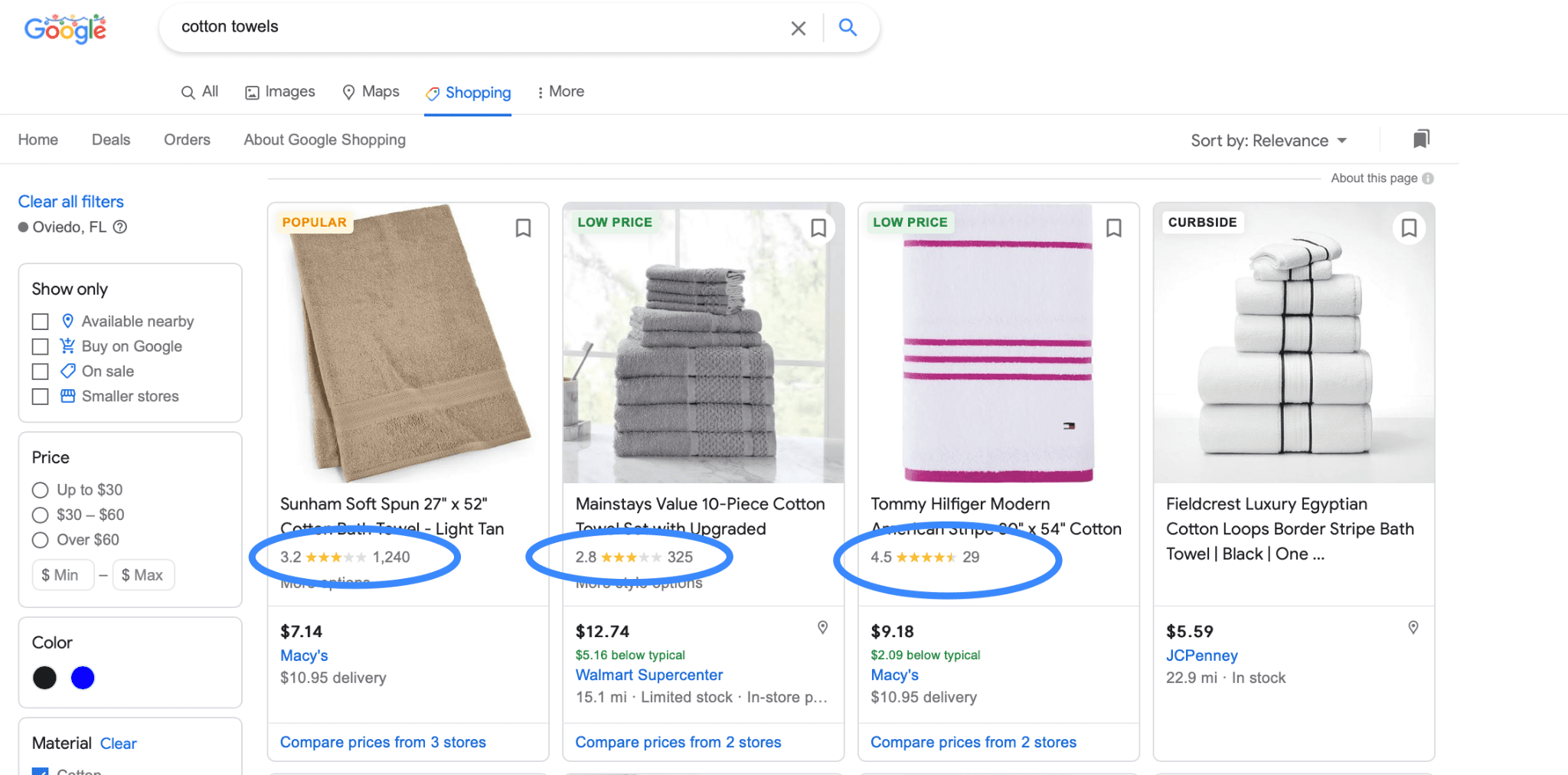 Can I Add Product Ratings to My Google Shopping Listings?
Wondering about your eligibility? We've got an answer.
Right now, Google product ratings are supported in 104 countries, though some of these only have product ratings available in a beta program. You can check your eligibility here. US and Canada are included on the list of participating countries.
There are also a few more things you'll need to check off Google's list:
You must have an account running Shopping ads
Some countries will require a business registration number (BRN)
You must have a minimum of 50 reviews for all products in total
Every individual product needs a minimum of 3 reviews in order to have their review displayed
You need to apply; we'll show you how to do this in just a second.
Before You Start: Google Product Rating Policies
Last but not least: Before you get started setting up Google product ratings, make sure that you know Google's policies.
These include the following:
You need to give Google monthly updates of all your reviews; it's recommended to upload your reviews more frequently so that shoppers get the most up-to-date information, but it must be once a month at minimum
You cannot exclude any negative reviews that you receive (and you wouldn't want to— more on that in a bit)
The reviews themselves must comply with Google's content guidelines— no hate speech, no spam, no duplicate reviews, etc.
Retailers should collect and "own" their own reviews
Customers can add photos to their reviews, but they must follow certain rules
Reviews should be high-quality and add value to shoppers who are considering purchasing
While we can't control what users publish for their reviews (that's a whole thing in and of itself), remember that you can encourage high quality reviews by asking users pointed questions when you send them the review prompt. This may increase the likelihood of a quality review.
How to Add Google Product Ratings to Your Listings
Adding Google product ratings to your Shopping listings is actually relatively straightforward.
First, you need to apply for the program. At the bottom of the page, you'll see a few qualifying questions. Answer them to submit your application– you'll generally hear within about two weeks.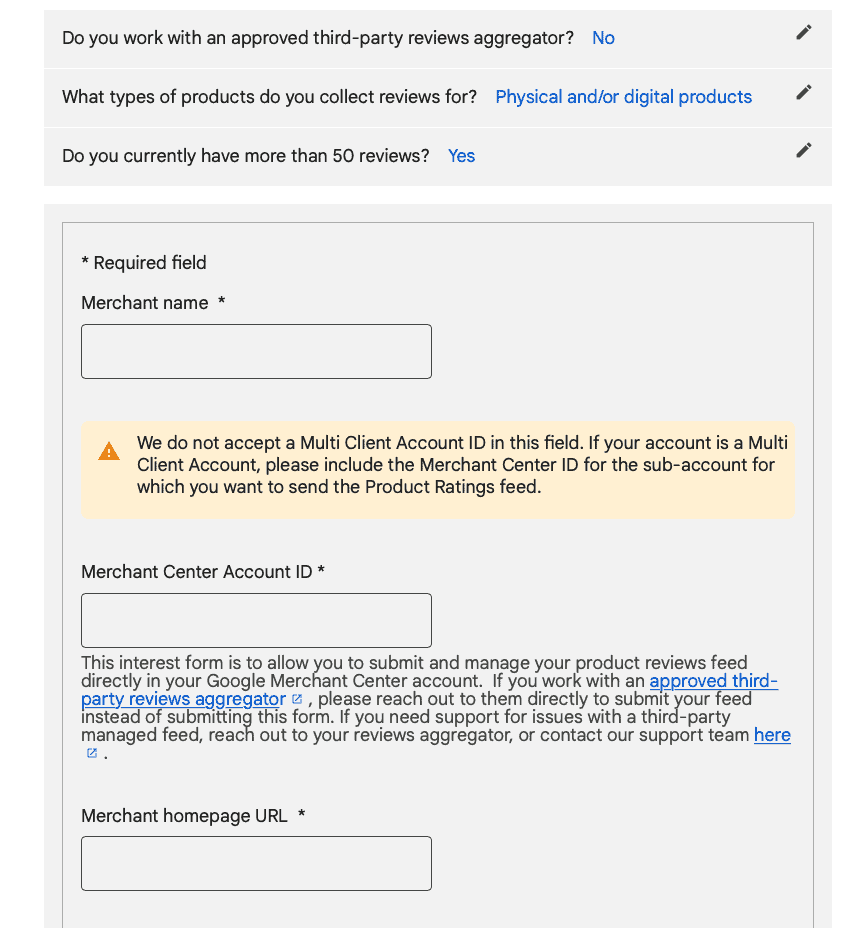 You can also access this link by going to your Google Merchant Center Account, and finding the "Growth" and then "Manage Programs" tab. When you scroll all the way to the bottom on this page, you'll see "Product Ratings."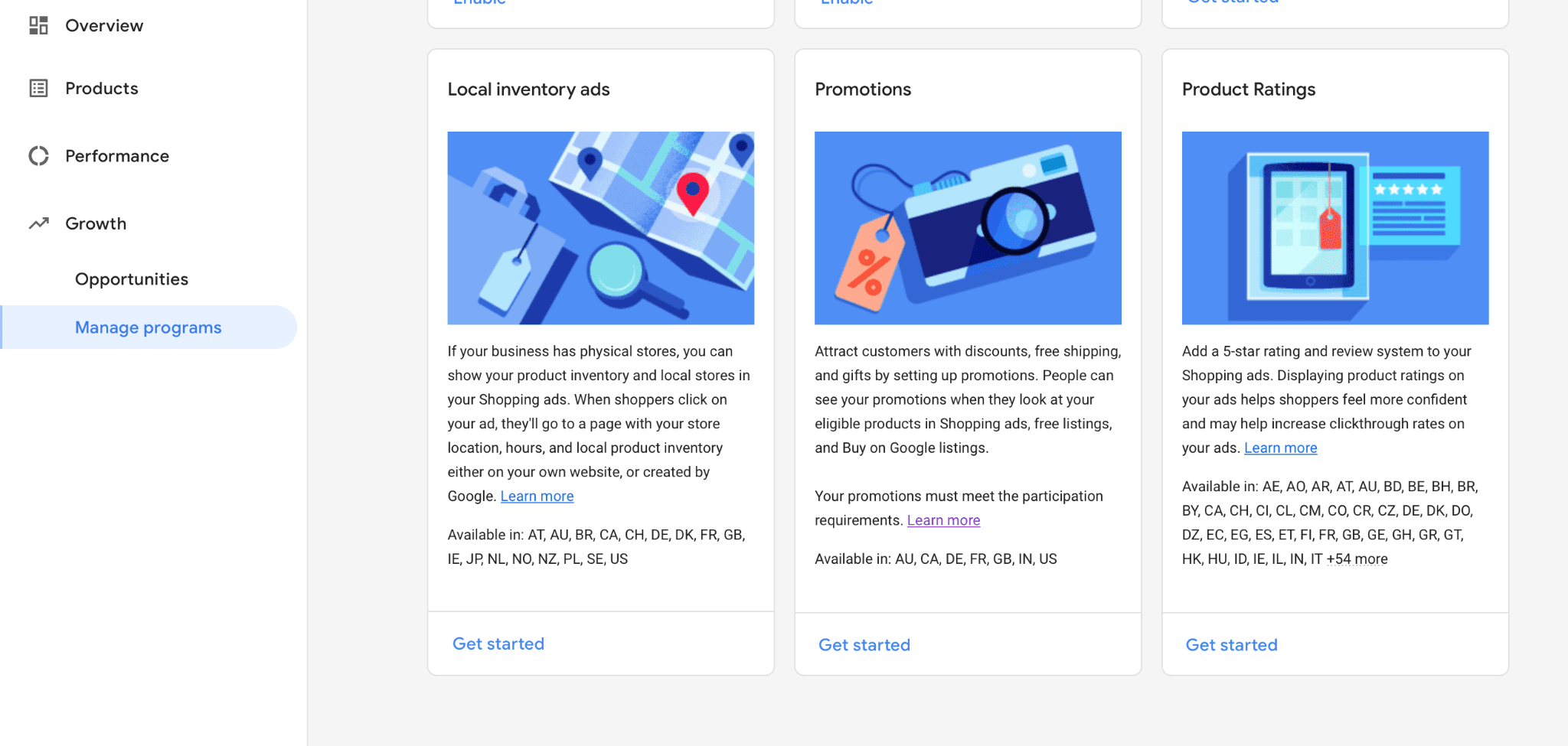 Once they approve, you'll take the following steps.
Determine Where You'll Pull Reviews From
First, you must decide where you want to source your reviews from. There are three different options, and each has its own pros and cons.
Google Customer Reviews
The first option we're going to look at is Google customer reviews.
This is Google's own solution to helping merchants aggregate reviews, and it's only possible if you have GTINs for your products.
The pros of this method:
You get a fancy "Google certified review" badge for your website
It's free, unlike third-party apps
It's easy to set up
You don't need to set them up via complex syncing methods
The disadvantages:
Your customers don't have the strongest branded experience since it's a survey from Google and not one that you customize
Customers must opt-in before making their purchase to be able to get the review request email; this can decrease the number of users who participate.
How to Set Up Google Review Collection
Go to your Merchant center account, and go back to the "Growth" and then "Manage programs" tab.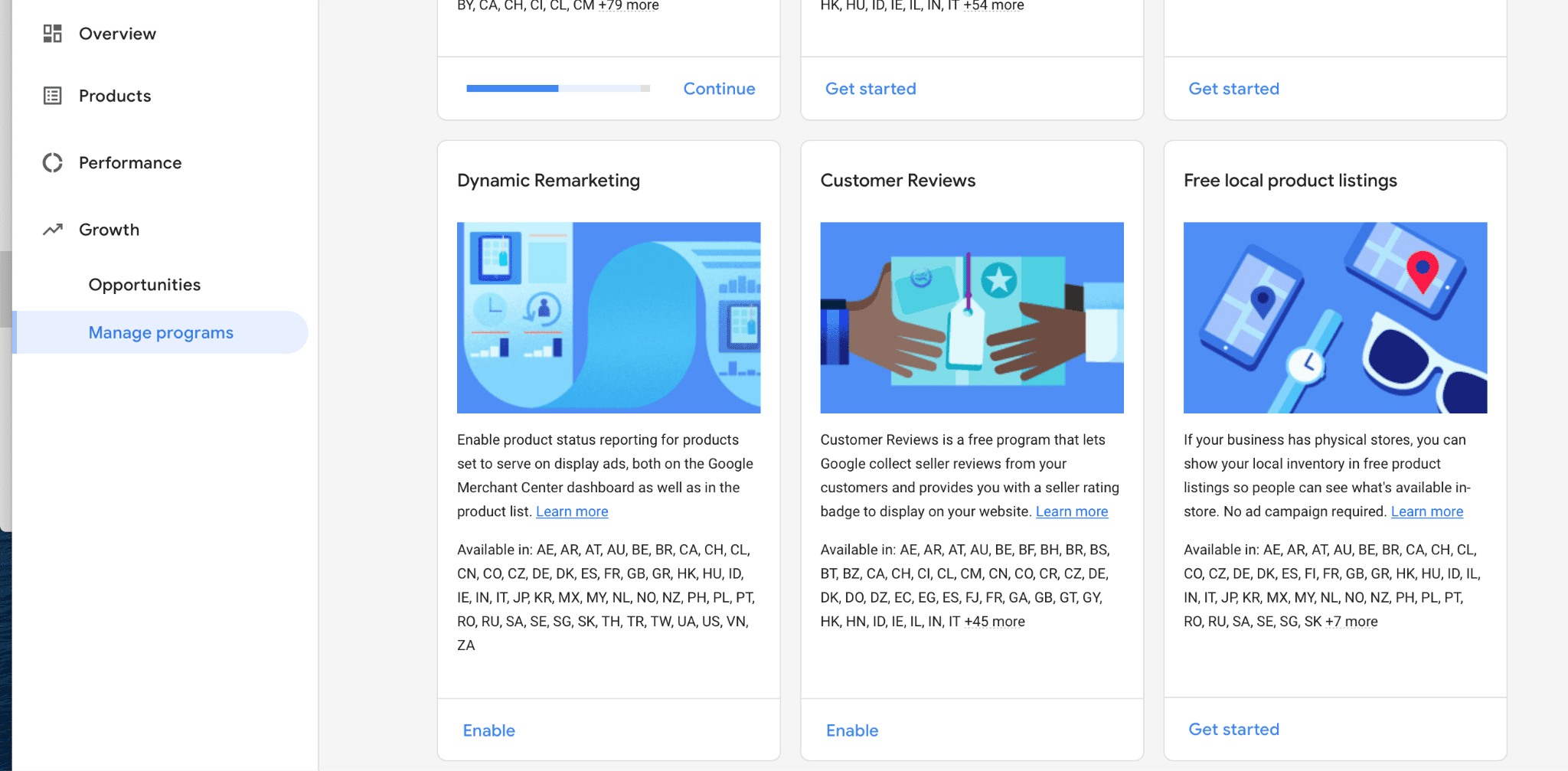 You'll see "Customer Reviews" half way down. Click "Enabled," and then read and agree to the terms and conditions.
That's it!
Third-Party Aggregator
Third-party aggregators are paid services that collect reviews for your products on your behalf.
These are the benefits:
Review feeds for products will be created automatically
You can send a product review request to all of your customers in a way that matches your company's branding (and for each product purchased)
You can collect reviews from multiple sites, including your own, marketplaces, and more
Setting up a scheduled feed in the Merchant Center is easy, and it's great for automation
The only significant disadvantage: These sites aren't free.
Still, if you're investing a great deal in Shopping Ads and have a large number of reviews, this may be the option you want to consider.
All of these third-party aggregators are supported by Google:
Manual Uploads
Finally, you do have the option of adding reviews manually to your product feed.
The advantage: Free, while still letting you collect reviews from multiple sites. The downside of course is all the extra work involved.
This is easily the most work, as you need to create product review feeds and collect the reviews yourselves. If you want to do this, remember that:
You need to send an updated to feed Google at least once monthly
You must have product matching set up either through a GTIN, brand, or MPN (ideally all of them)
5 Google Product Ratings Tips & Tricks
To get the most out of Google product ratings for your Shopping listings, remember these 5 best practices:
Make sure that you're aggressively optimizing for reviews. Send emails after purchases, let customers know directly how valuable reviews are for your business, have easy-to-use review collecting forms, and if needed make sure that users are opting-in.
Never try to hide negative reviews. This can get you in trouble with Google, and with users. It can make you seem untrustworthy, and customers are less likely to purchase. Remember that a 4.8 review can be more trustworthy than a perfect 5.0, because they seem more authentic.
Never purchase reviews. Same idea as above. Goes against Google's policies, and people can tell when you've bought a bunch of reviews.
Remember to try to amass positive seller ratings, too. Both matter and can influence who customers purchase from.
If you're starting with mediocre reviews, try to push for new reviews before adding them to your campaign. A long list of 3 star-rated products probably won't help you much. Have a significant push to generate more reviews before syncing up your product feeds so they can actually help you. Reach out to past customers who you know had positive experiences and ask them to leave reviews for products they've purchased.
Final Thoughts
Google product ratings can go a long way in helping your product listing stand out and snag the sale, whether they're showing up in organic listings or in those coveted paid Shopping Ad slots. We've seen firsthand how this can completely change clients' campaigns, so this is an important step that you definitely do not want to skip.
Next up, we're going to talk about Seller Ratings so you can use both to take advantage of social proof to build trust and earn more sales.
And don't forget to keep an eye out on our Google Shopping Hub for more walkthroughs and strategies to better run and optimize your Google Shopping campaigns!
Need help with optimizing your Google Shopping? We can help. Find out how we use solution-focused Google Ads services to manage your account and maximize your campaigns.