What is Google Shopping?
Most brands understand the importance of optimizing their content for search engines so that they can rank well and be discovered by customers who are at different points of their buyer's journey. They turn to text-based ads and organic optimization alike to try to get their products in front of their target audience.
Driving people to your site isn't the only way to promote your eCommerce products, however, and it's not even necessarily the best.
Google Shopping is.
What is Google Shopping?
Google Shopping is a part of Google's search engine that allows customers to search through millions of product listings and browse to find the item that meets the criteria of what they're looking for.
You've definitely seen this feature in play before when using Google. When you search for a physical product like "cotton towels," "dining room table," or "eucalyptus candle," Shopping features typically pop up. This is displayed above the rest of the search results and shows different products available for purchase from a collection of different brands and sellers.
In many cases, it will be the Shopping Ads that pop up at the top of the SERPs, but you can click on the "Shopping" tab right below the search bar to see more listings.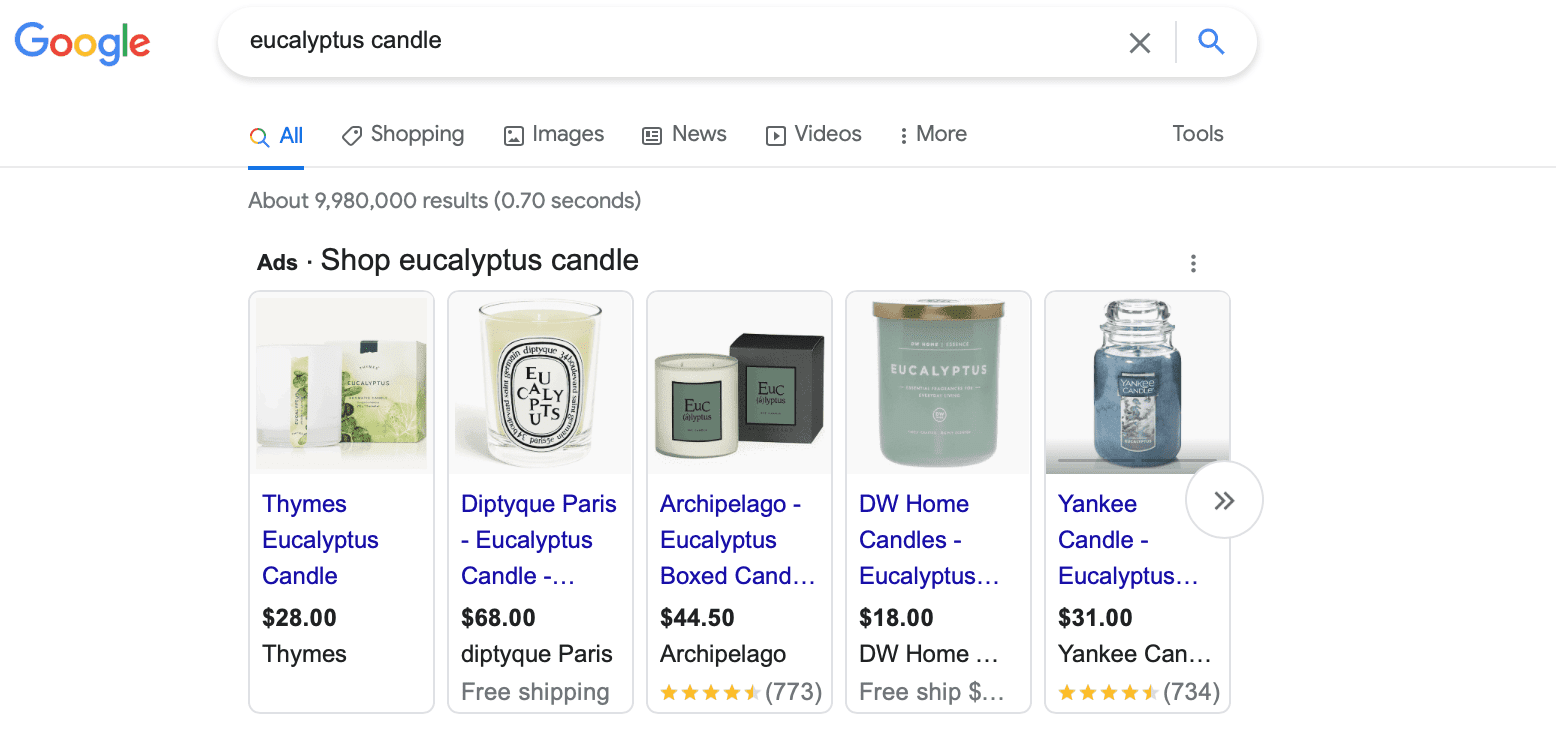 Once you're on Google's Shopping tab, you can see paid and organic listings alike. You can browse nearly endlessly, but you can also use an abundance of different filters that are often product-specific to help you find what you're looking for.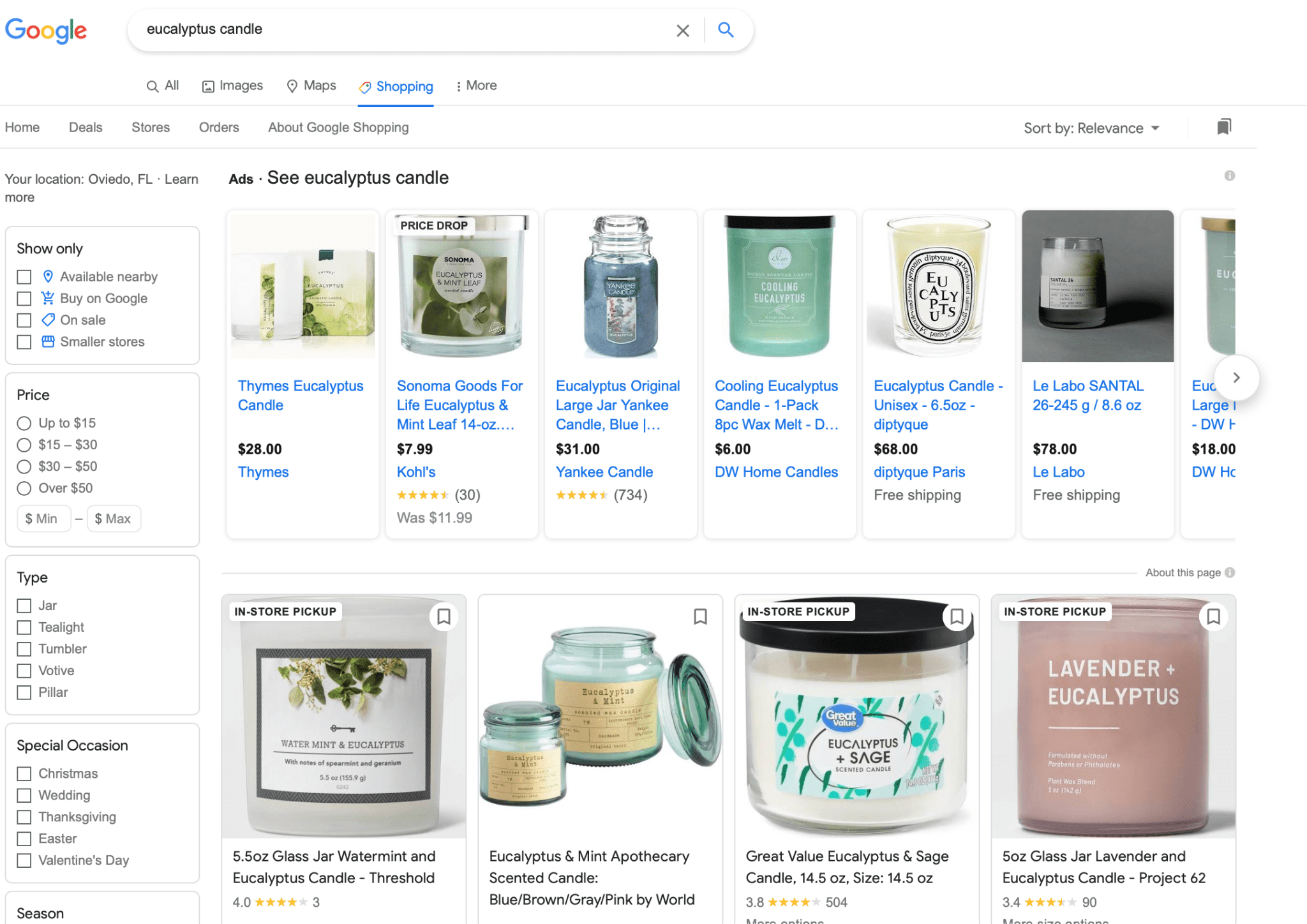 Candles, for example, allow you to sort by the type of candle (votive, tumbler, jar, etc.), by season or special occasion, and whether or not it's scented. A search for blankets, on the other hand, would let you sort by material, size, and color.
Brands can create organic, free listings to appear in the Shopping tab. And if you want extra visibility, Google Shopping Ads are a great option that allow you to pay for more reach and high placements when user are searching or browsing.
How Google Shopping Works
Google Shopping shows consumers products from different sellers and advertisers who have created listings and/or ads with them.
With the exception of Ads, Google Shopping products are listed in order of relevance based on the search terms you've used, product reviews, and the user's past individual Google activity.
Reviews are collected from third-party review companies, sellers, and advertisers who are required to provide all reviews (not just positive). The reviews are shown to users while they're browsing so they can make informed decisions.
Ads are labeled accordingly with a "Sponsored" tag, showing that they've paid to increase the visibility and rank of their products.
When the user decides to purchase, they'll click to go to the seller's site unless it's a Buy on Google offer (in which case they'll purchase directly from the Google tab). They'll see pricing for the item and applicable taxes on the offer, and may find more information about shipping costs on the seller's site.
Why eCommerce Brands Should Take Advantage of Google Shopping
There has never been a single eCommerce client who came to us that we didn't recommend Google Shopping for.
There are plenty of advantages that brands should consider.
The massive reach and visibility that you can get with this feature (even organically) is incredible.
Plenty of people will start their buyer's journey on Google, looking for specific products like "red leather boots" or "dog toys for tough chewers." Google's product listings use incredible algorithms and filters to show relevant products to customers; if you're able to be one of those products, you could be looking at immediate sales.
Keep the following in mind:
What Does It Cost?
Google's Shopping Ads have costs associated with performance. These are going to be cost-per-clicks (CPCs) when users click on the product ad.
The average CPC is $0.66, though this is only a benchmark. These costs vary depending on the keyword that you're targeting, and quick keyword research can give you a good idea of what you might be spending per action.
In April 2020, Google released Free Listing to the Google Shopping tabs. Paid Shopping Ad listings still appear higher and more often than free listing, however by simply creating a Merchant Center account and uploading a product feed retailers now have the option to show their products in the Google Shopping tab where Google decides to list free listings.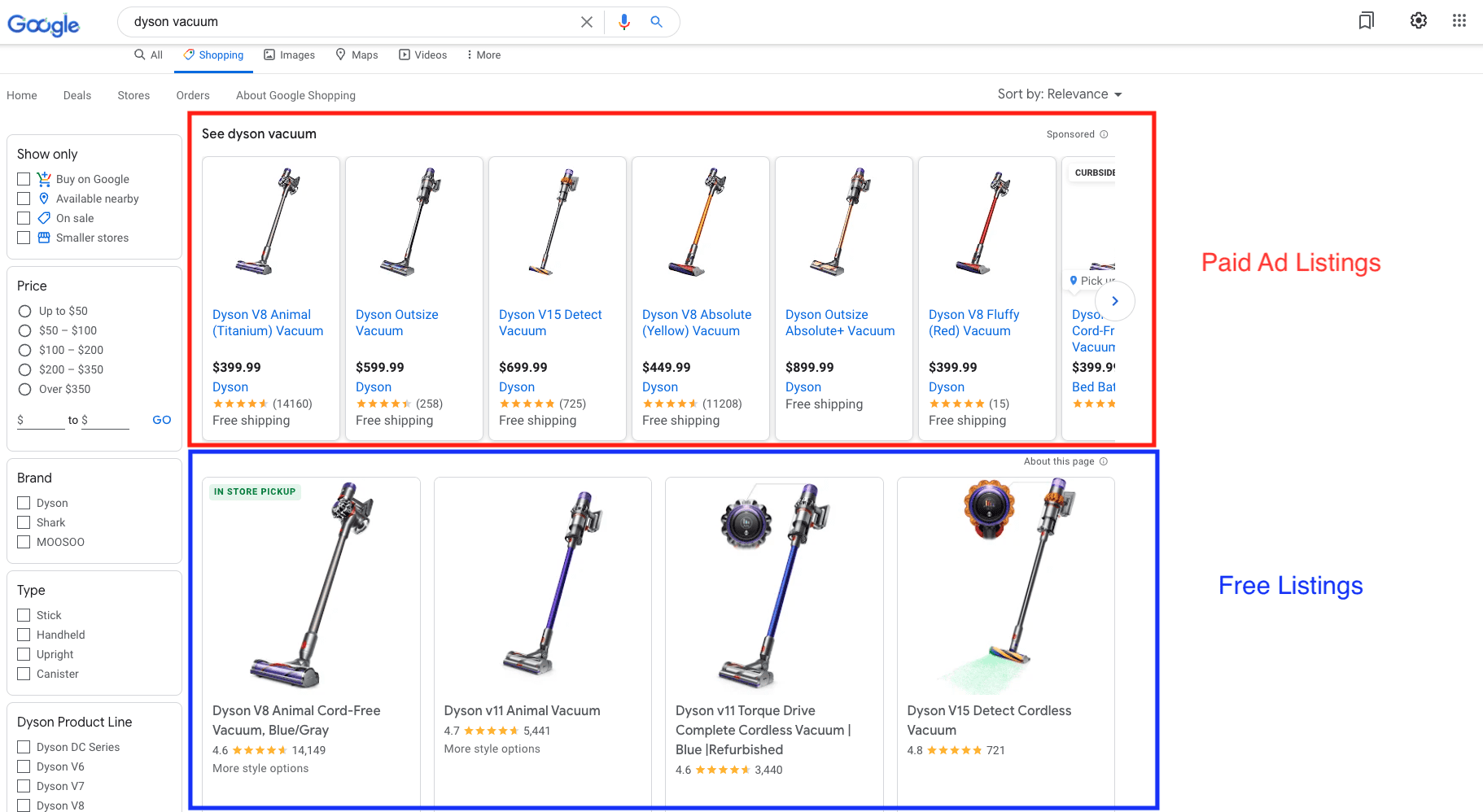 How to Get Started with Google Shopping
Getting started with Google Shopping is relatively easy, and we're creating a list of resources about how you can get started.
The first step is to set up your Google Merchant Center account.
The next is to create a product feed. so that you can generate shopping ad listings.
Make sure you stay tuned and check out this entire hub so you can learn everything you need to know about Google Shopping and how to use the features for your business.
Are There Any Downsides to Using Google Shopping?
There are no real downsides to Google Shopping aside from the small time investment it takes to set up your product feeds.
There is a concern that some brands have that promoting their products on Google will just encourage users to browse Google's database instead of the company's site, but this isn't really how it works. If your product shows up in Google shopping and a user clicks to see more, that user was already going to see other products that would catch their attention and click to see more. The best option is to throw your name in the hat and to have a chance to get that conversion.
You want to get the visibility to get a better shot at earning the sale. And once they purchase once or see something like they, they'll be more likely to check out your site for other items, too.
Final Thoughts
Google Shopping is an exceptional tool that eCommerce brands can use to promote their products, gain more visibility, build brand awareness, and drive immediate sales. Make sure you're checking out the other sections in our Google Shopping Hub to take full advantage of this feature and everything it has to offer.
Want to learn more about getting the most out of Google Shopping? Keep reading here.